Summer Just Got Better: Save 10% off your Australian road trip out of Cairns!
Are you ready to upgrade your summer with a road trip? Great, we've got a deal as sweet as a cool ice cream on a hot Queensland day! Save 10% off any JUCY campervan or car when you travel from JUCY Cairns, opening up the Tropical Far North, Queensland, and the whole east coast for a once-in-a-lifetime adventure!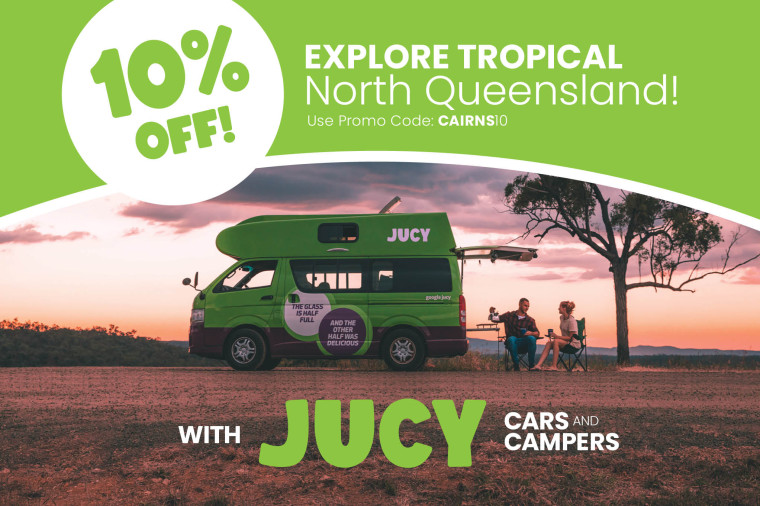 The Important Stuff About our Deal
*Minimum $100 spend required on Travello voucher. Discount is received once online booking check-in is complete.
Whether you want to head north to the Daintree, the oldest rainforest in the world, travel the length of Queensland to our Brisbane or Gold Coast branches, or plan an epic adventure down to Sydney or Melbourne, we've got you! Saving 10% off your JUCY wheels means more money for incredible attractions and only-in-Australia experiences. Of course, you can also spend your savings on ice cream!
Explore Captivating Cairns & Beyond
Tropical Far North Queensland's kicking-off point is Cairns, a city so synonymous with epic adventures that it wouldn't be surprising to have to jet boat, sky dive or scuba dive your way downtown from the airport. Until that becomes a reality (someone, please?), you can catch our free airport shuttle.
From Cairns, you can readily access the Great Barrier Reef, the beachy paradise of Port Douglas, and the luscious hinterland vibes of Atherton Tablelands. There are also several opportunities to experience Indigenous-led activities that deepen your connection to Far North Queensland before heading south.
That's Not All! Get $50 Off Your Road Trip Adventures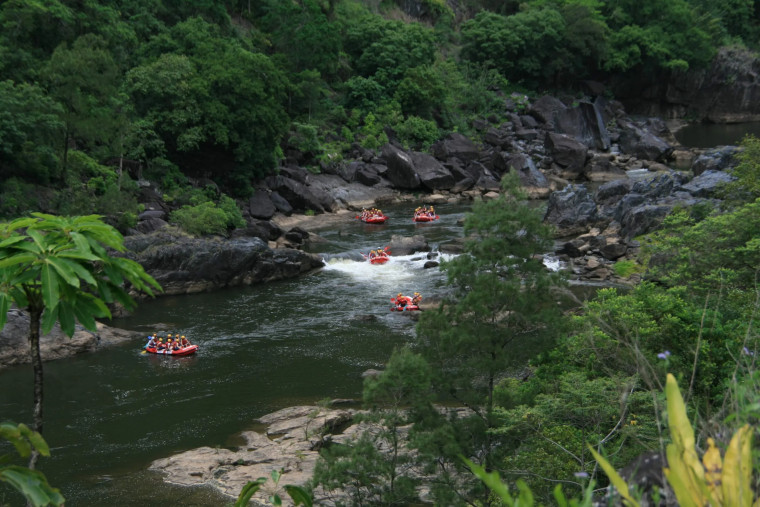 While you may think our 10% discount is a helpful boost to your summer road trip plans, we've not stopped there. We've got mates in high places and we asked them for a little something something for your road trip. Yup, our mates at Travello are giving JUCY customers $50 off one of their many adventures along the way! Given that Australia's east coast is a smorgasbord of activities, this is a sweet treat to receive. Think of it like the sprinkles to your super-sized ice cream!
Fifty big ones towards a Full day Snorkelling tour? Who can say no! Or maybe you'd like to put these extra savings towards a White Water Rafting at Barron river? And wouldn't a discount towards a full day sailing the Great Barrier Reef really be the cherry on top? It would us!
What does a once-in-a-lifetime road trip mean to you?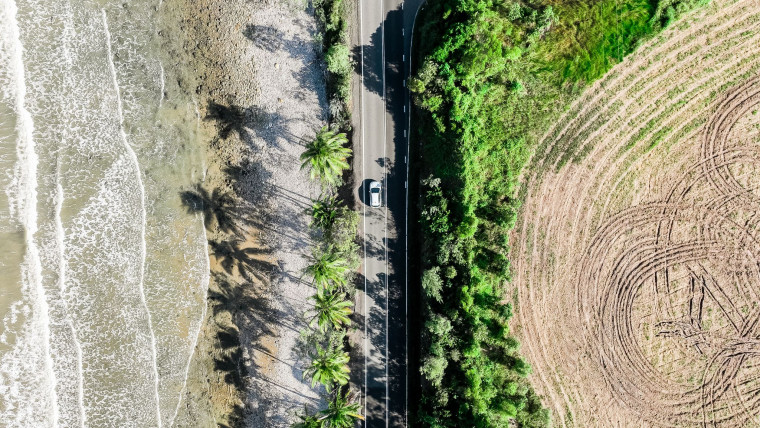 If you've never explored Australia before, you may be thinking Australia is itself THE once-in-a-lifetime trip. It is, though, a destination that settles deep into your heart, and one trip becomes three, becomes an annual pilgrimage. Seriously!
We recommend breaking down Australia into once-in-a-lifetime regions. The country is so vast and so diverse that you could easily find unbelievable attractions to do every year until the ripe old age of 100! We'll be here to help you with your planning until then (we've been around 20+ years already, so you know we're committed), and we've got some stellar itinerary ideas for you to choose from for your summer roadie.
Cairns to Brisbane
Cairns to Brisbane is a journey filled with all the best things in life – dazzling beaches, spectacular mountains, lush landscapes, and wildlife unlike any other. It's a once-in-a-lifetime for you and a FOMO-inducing roadie for everyone back home. Use our thorough 13-day itinerary to help you plan. It includes highlights like Mission Beach, Airlie Beach, and Noosa.
Cairns to the Gold Coast
Why stop in Brissie when the Gold Coast (and our Gold Coast branch) is only an hour down the road. It'd be rude not to keep going, right? Especially when there are broad white sand beaches, bush hiking trails in the hinterland, and more Instagram-fabulous spots than you can possibly imagine! Take our Cairns to Brisbane roadie, add this game-changing 5-day Gold Coast itinerary, and you've got a road trip for the record books!
Cairns to Sydney
Ready to hit the major landmarks between Cairns and Sydney? Tackle this bonza Cairns to Sydney itineraryto experience the best of Mackay, Cape Hillsborough, Byron Bay, and Coffs Harbour. Sweet as!
Cairns to Melbourne
For travel to our Melbourne City and Melbourne Airport branches, add this Sydney to Melbourneroadie. It's a gourmet-focused gem because there are so many tasty stops en route. If you're really into tasting your way around a destination as much as sightseeing, check out our new Melbourne foodie blog. Just make sure you pack your stretchy pants!
If this has inspired you to do your first 'once-in-a-lifetime' JUCY road trip (or your seventh), call us to book your 10% off JUCY road trip on 1800 150 850. Alternatively, click BOOK NOW using the CAIRNS10 promo code.