Inspirationen für Reisen mit Mietwagen in Australien
Die Planung einer Selbstfahrerreise kann eine Menge Arbeit sein, besonders in einem so großen Land wie Australien! Wenn Sie sich für JUCY entscheiden, bekommen Sie aber nicht nur einen Mietwagen, sondern auch unser Wissen für Ihre Reise. Wir geben Ihnen alle Reiseideen und Tipps, die Sie für die Planung Ihrer Reise benötigen. Ob Sie Reisevorschläge für die Strecke Cairns nach Sydney benötigen, an den besten Nationalparks in NSW interessiert sind oder sich über das erste Mal Linksfahren informieren wollen, wir haben die Informationen für Sie!
Wir bei JUCY sind alle begeisterte Reisende. So können wir Ihnen eine umfassende Sammlung von Hinweisen und Tipps bieten, um Sie bei der Planung zu unterstützen und Sie für Ihre bevorstehende Reise bestens zu rüsten. Wenn Sie hier nicht die Informationen finden, die Sie benötigen, können Sie unsere Mitarbeiter unter 1800 150 850 anrufen.
Wir können es kaum erwarten, dass Sie bald das Beste von Australien erleben werden!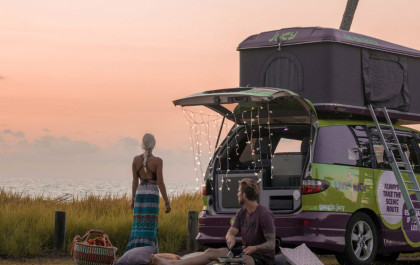 The Captain Cook highway is 75 kilometers of highway sandwiched between rainforest and coral-studded waters. It's only a short highway, so it's best taken at a leisurely pace.
Autoreise in Australien mit Stil: Wählen Sie Ihren JUCY Mietwagen.