Long Weekend Campervan Road Trip From Christchurch To Kaikōura
Wild Thing, I Think I Love You: Take a Wild Long Weekend Campervan Road Trip from Christchurch to Kaikōura.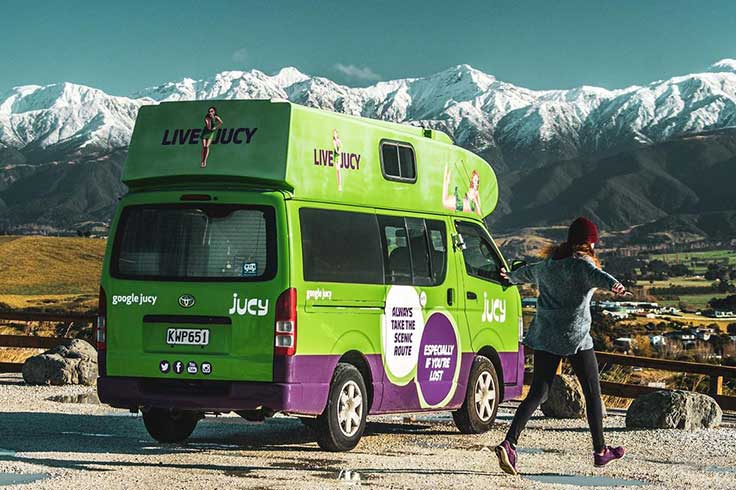 Road trip to where the wild things are! Take in the sights on this fun, long weekend campervan road trip from Christchurch to Kaikōura.
Ready to let your hair down on a wild vacay? Okay, so we don't mean party-like-it's-spring-break kinda wild. And we definitely don't mean let your hair down like you end up dancing on a table at a dive bar kinda wild.
We mean wild, as in wildlife, wild landscapes, and wild-at-heart feels as you adventure your way around Christchurch, Hurunui, and Kaikōura. And let your hair down because you don't want to get it caught up in your scuba mask while dolphin swimming, yeah?
All this on a long weekend road trip from Christchurch to Kaikōura in your JUCY campervan rental! Heading northbound from our Ōtautahi Christchurch Airport branch, you'll drive the 450 km Alpine Touring Route (New Zealand's newest). We promise you'll experience more wild ways than a wild Cardi B birthday party. It's the perfect weekend trip!
Day One: Christchurch to GorE Bay
Depart our JUCY Christchurch branch for the wide-open plans of Hurunui, passing the wild surf beaches to your right and a range of inland hiking routes to your left. Waikuku Beach is a neat spot to walk: the locals often make neat tepees with beach driftwood.


Beach, Please
Continue on, planning your travels to coincide with lunchtime. For a fast-but-delicious bite, the pies at Buncos in Amberley are some of the best on the South Island (with yum gluten-free options too).
Pick a vibrant vineyard or chic cellar door in the North Canterbury wine region if you'd like some fancier fare. With over 90 vineyards (yes, really), and 15 cellar doors, this is the coolest little wine region you've possibly never heard of. It would be rude to pass with stopping, right? Besides, sitting amid the lush rolling North Canterbury pastures makes everything taste fresher, which makes your cheese platter healthier - in our eyes, anyway.
For the sober driver, don't forget to grab a bottle for the campground later, so you don't miss out!
Jet Setter
Sated in both eyes and belly, continue north to Cheviot for an exhilarating jet boating adventure on the Hurunui River. Whizz past the wild North Canterbury coastline and hold on tight as the skipper skilfully navigates the jet through narrow canyons and skims the shallow river braids.
Unlike other tourist destinations, the team at Energy Jet have a whole 100km-stretch of river exclusively to themselves. This means your trip can be tailored more readily (ask for more spins, trust us!). Grab some supplies while you're in Cheviot (or stop in Amberley) in prep for cooking in your JUCY campervan tonight.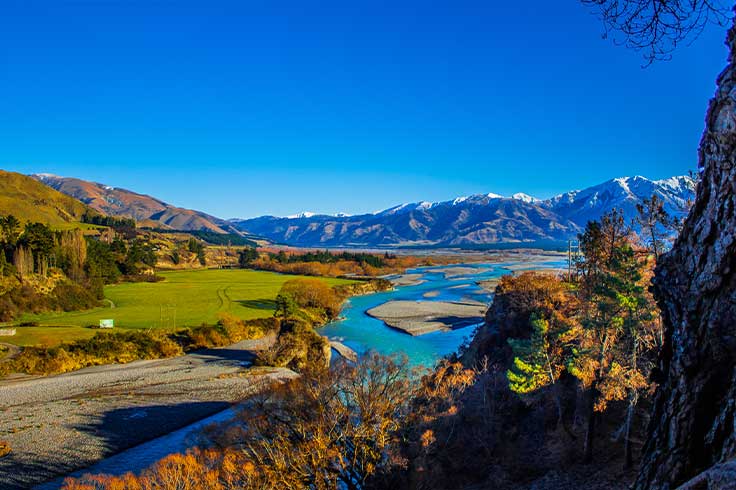 Summer Lovin'
Detour inland for 20 minutes to reach the sleepy, 14-person community of Gore Bay. If you grew up in New Zealand, this is going to take you back to every cool summer bach/beach holiday you've ever had where the ocean, your swimmers, and maybe a Jelly Tip ice cream were all you needed in life. The lack of cell service here makes it even easier to forget adulting things and have some childlike fun, instead!
Surf's Up
The surf conditions in Gore Bay are pretty consistently mint, in part thanks to the offshore westerly winds. With waves suited from beginners upwards, this is a great place to try your hand at surfing. Book a lesson with Gore Bay Surf Coaching. If you're planning on travelling with your own surfboard, our Condo and XXXX campers can fit shortboards easily.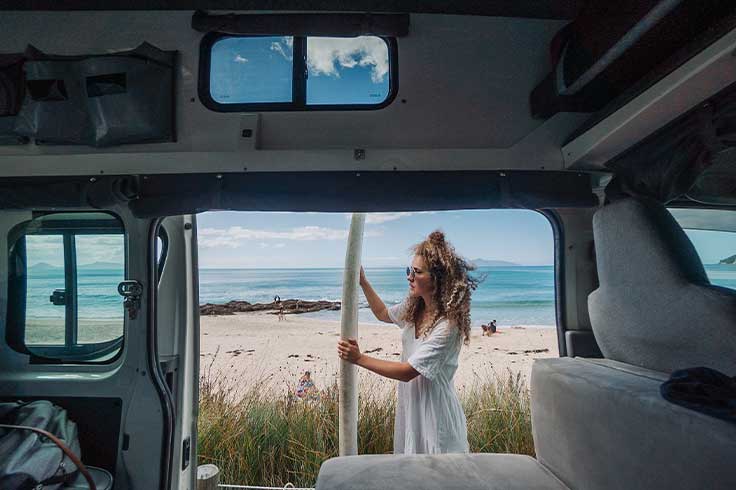 So Bad(lands), it's Good
While you're in Gore Bay, do not miss checking out the Badlands erosion towers of the Cathedral Cliffs. You can peek from the lookout (check out the alpacas in the field behind you). However, we'd recommend you take the 3km Tweedies Gully Track: the start is in the centre of Gore Bay. Pack a picnic (and torch) and tramp before sunset for a fiery view across Pegasus Bay and beyond. Sunsets are often spectacular around here.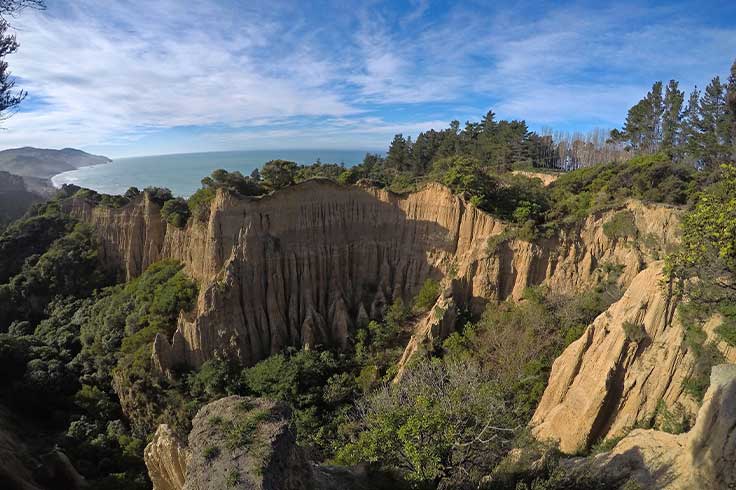 Where to Camp:
Gore Bay is very camper friendly, so spend a peaceful night at Gore Bay Campgrounds in your JUCY wheels (unless you're in a hurry to get to Kaikōura). It's a perfect first night stop on your long weekend campervan road trip from Christchurch!
Day Two: Gore BAY to Kaikōura
Start the day with a camper brekkie (how do eggs florentine sound?) before driving an hour north to New Zealand's 'marine Serengeti'. So-called because just about everything wow-worthy you could find in the ocean is off Kaikōura's shores!
This coastal gem not only has whales, seals, and dolphins are more, it's also got brilliant hiking trails, thrilling mountain bike options, and even llama trekking!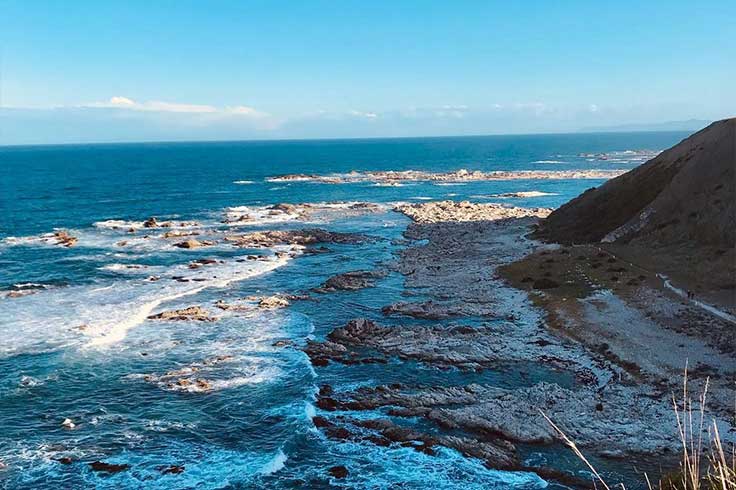 Spread Your Wings
It's not only albatross that you'll spot on Kaikōura's Albatross Encounter. They may be the tour headliner – that 3.6-metre wingspan is impressive - but there are plenty of supporting acts to wow, too. Thanks to the nutrient-rich deep-water canyon off the coast of Kaikōura, great albatross, lesser albatross, shearwaters, petrels, shags, penguins, and more congregate to feast and fly.
Whaled About It
For many, the highlight of their visit to Kaikōura is the time spent up-close-and-personal with a whale or four. Giant sperm whales are Kaikōura's year-round residents (along with 2,400 humans), and you may also see humpbacks, southern rights, and more.
Sail the open seas with Whale Watch Kaikōura, or soar above, on a 30-minute whale watching flight. Or both. We'd definitely consider both a Kaikōura must do! You can also combine a chopper ride with whale watching.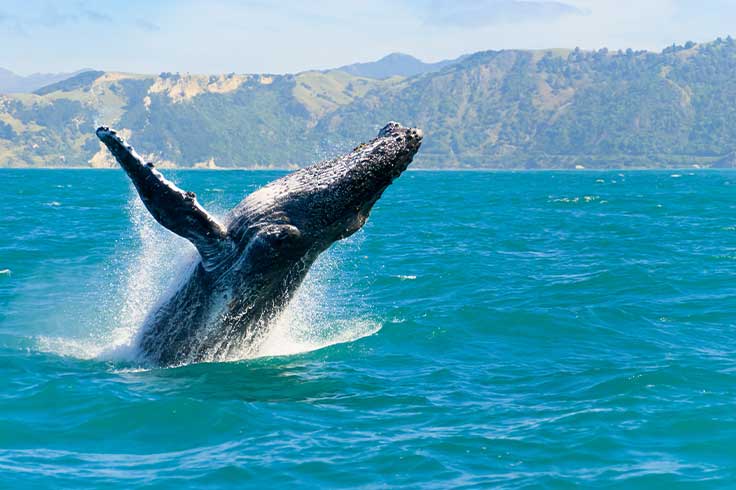 No ProbLlama
With all the action in the water, you're be forgiven for thinking that every animal encounter is a wet one. But, nope, there's also llama trekking! And this isn't 'trekking' where you walk a llama around a farmyard (though that is available as a 'taster' option). This is you, your mates, a guide, and your new buck-toothed fuzzy friend, the llama. On the half-day llama trek, you'll get to explore Kaikōura along a coastal beach walk, including a stop at the peninsular seal colony.
Seal of Approval
Listed as one of the Lonely Planet's top 10 wildlife encounters, swimming with the seals is another Kaikōura must do. In an intimate group, you'll head to the shallow waters where seals love to chill. Once in the water, you'll enjoy their company (at a safe distance) as they swim, spin, dive, and play around you! Seal kayaking is also a thing, btw!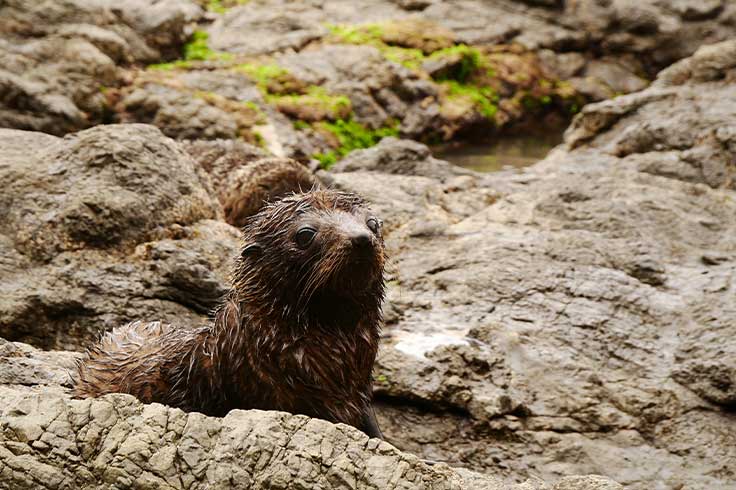 A Walk on the Wild Side
Kaikōura's tagline is "where the mountains meet the sea", and this coastal gem does both perfectly. The rugged Kaikōura Ranges are twin mountain ranges, paralleling the coast for 60 kilometres. If you're into hiking, there are 13 trails to choose from, with the all-day Mount Fyffe Summit one of the most popular. The Kaikōura Peninsula Walkway is a 2-hour tramp, or loop here in 3.5-hours.
As You Bike it
For mountain bikers, there is a range of trails to tackle, from cruising routes like the Kowhai River Bike Trail to the advanced white-knuckler on Mount Fyffe. The expansive views make up for the energy expended to reach the latter.
You Gotta Be In it to Swim it
Want the marine trifecta? It's possible – in 24 hours – to whale watch, kayak or swim with seals, and swim with dolphins! You game? Hopping in the water with playful dusky dolphins and learning how to safely engage with them is – it's gonna sound cliché, but it's true – life-changing! There's an option to watch from aboard if you're not game for Kaikōura's chilly water temps.
This Is How We Row
Sunset kayaking is special at the best of times, but in Kaikōura, it's sublime. How could it not be when alongside the hues of the setting sun, a fur seal is 100% guaranteed, too! If you're lucky, maybe a blue penguin, albatross, or dusky dolphin may make a cameo on your 3-hour tour.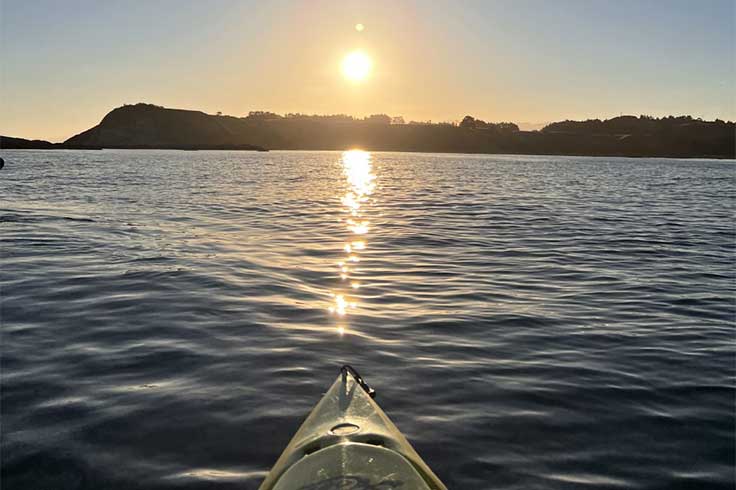 Cray-Cray for Crayfish
If you're into your seafood, Kaikōura and crayfish go together like Ben and Jerry. Indulge in fresh, locally caught crayfish at a range of Kaikōura eateries, including the you-can't-miss-it Karaka Lobster, the famed Nins Bin, or the no-frills Cods and Crays.
Where to camp:
For a room with a view, park your JUCY camper at the Kaikōura Top 10 Holiday Park. Ensure another good night sleeping in nature on your long weekend campervan road trip from Christchurch.
Day Three: Kaikōura to Christchurch
Squeeze in whatever activities you couldn't fit in yesterday from our mammoth list before heading out of Kaikōura on your next adventure. Or not so much an adventure but the antidote to the ones you've just had: the hot springs at Hanmer!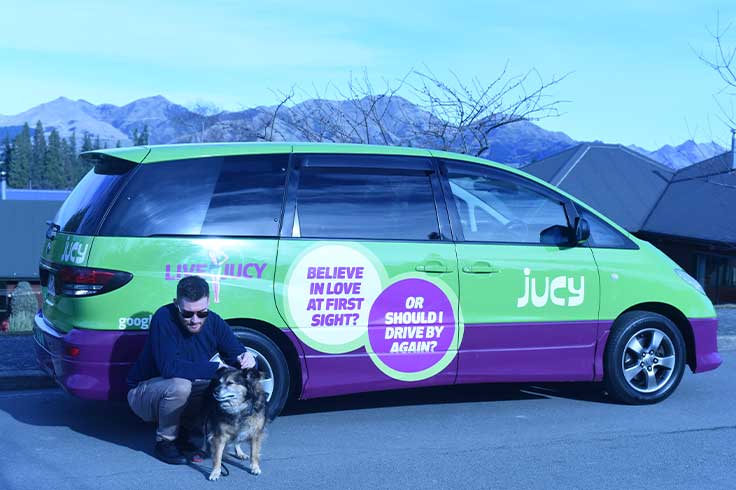 Spring(s) Clean
In under two hours, you can trade marine magic for muscle-relaxing magic at the gorgeous Hanmer Springs. New Zealand's most famous thermal pools are inland across the inner Kaikōura Ranges.
Sulphur pools, rock pools, slides, a lazy river, and more afford the opportunity to follow-up the action of the past couple of days with inaction, recuperation, and indulgence. The cute Hanmer Springs alpine village is perfect for grabbing a bite to eat and wandering the boutique shops, too, before making your way 90-mins back to Christchurch.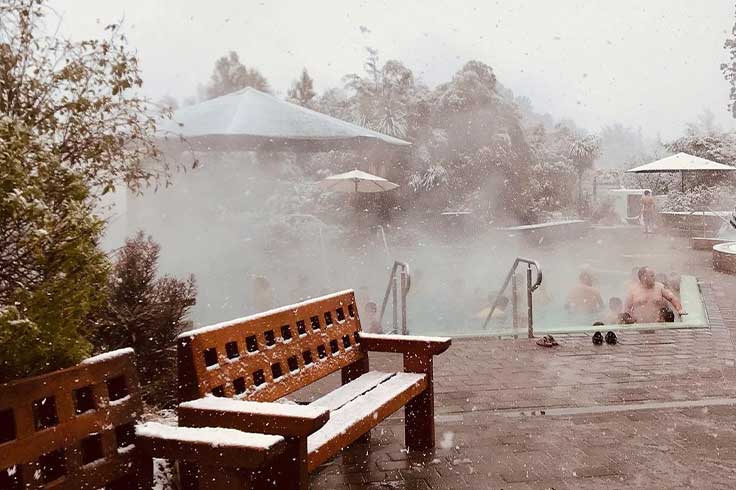 The Good Kind of Ice-olation
On your way back to our Christchurch Airport branch, why not stop at the nearby attraction, the International Antarctic Centre. Of course, you can include this in a day trip from Christchurch, but we love to include it longer itineraries, too, as it's such a contrast from the rest of your adventure! Heading to Antarctica is a mission, but thanks to the attention to detail and in-depth exhibits, you can see, feel, touch, and fall in love with the world's least hospitable continent (unless you're a penguin).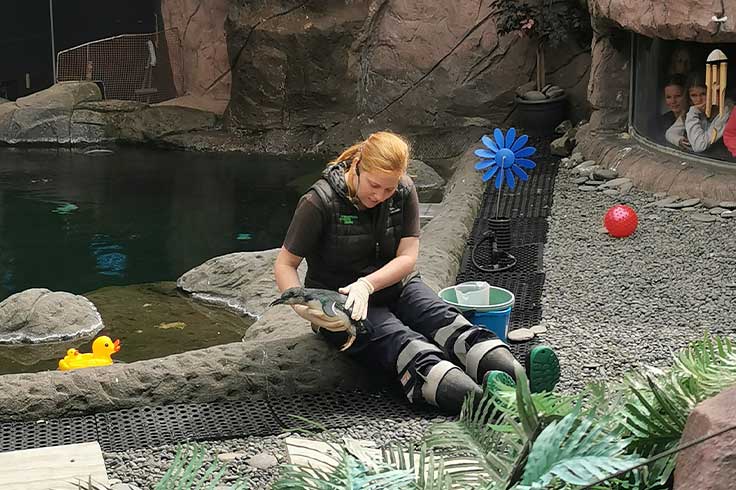 Into the Wild(life Park)
Also close to JUCY in Christchurch, consider the Orana Wildlife Park, where 1,000 animals from around the world live across 80-hectares. There are 12 daily presentations (mainly feedings), so time your visit with your wildlife fave.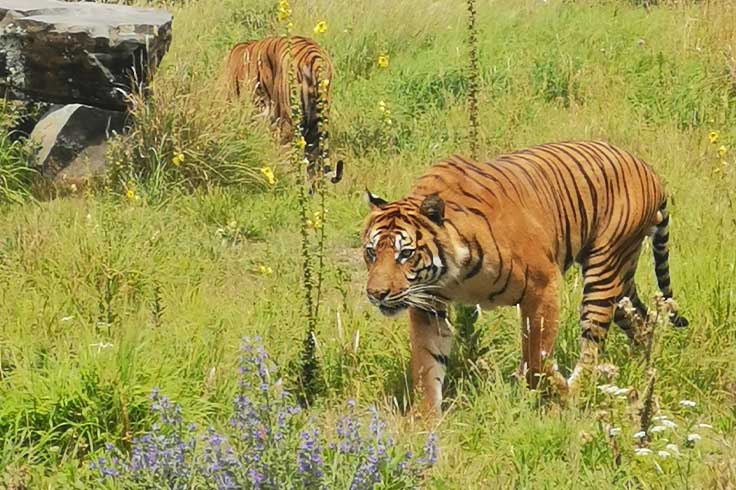 Got More Time? Add These to Your Itinerary
Got more adventure in you than a long weekend escape? Why not add these lesser-known destinations to your itinerary for a longer getaway. Instead of a long weekend campervan road trip from Christchurch, why not make it a week?
A Peak Experience
Ninety minutes from Christchurch or an hour from Kaikōura, Mt Lyford is often missed from a road trip north. We're not sure why; it's got a bunch of cool things to do year-round at the private Mt Lyford Adventure Park (mountain access pass required)!
In summer, hike or mountain bike across the 27 km of trails on Lyford, Terako and Tinline Mountains, located in the Amuri Ranges. In winter, ski or board Mt Lyford, rent snowshoes and poles to explore on foot, or go ice skating on Lake Stella. And year-round, a soak in their wood-fired hot tubs under the dark night sky is incredible.
Got a JUCY car hire? You can stay at Lake Stella in cute mountain huts.
Head for the Hills
The Dalai Lama called Castle Hill the "spiritual centre of the universe", and Māori have long-recognised its spiritual significance. At first glance, Castle Hill may look like a bunch of large boulders dotted across the countryside, but spend time here, and you'll begin to feel its magic. Meditate, hang, or wander among the rocks (or all three) and soak up the good vibes.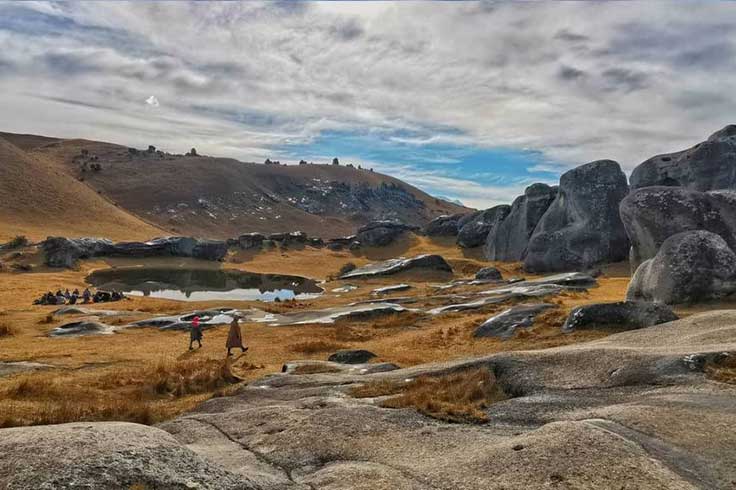 Travelling with the Kids?
The JUCY Condo campervan rental and the Alpine Pacific Touring Route are a great combo for a family centred road trip. Check out this kid-friendly itinerary here.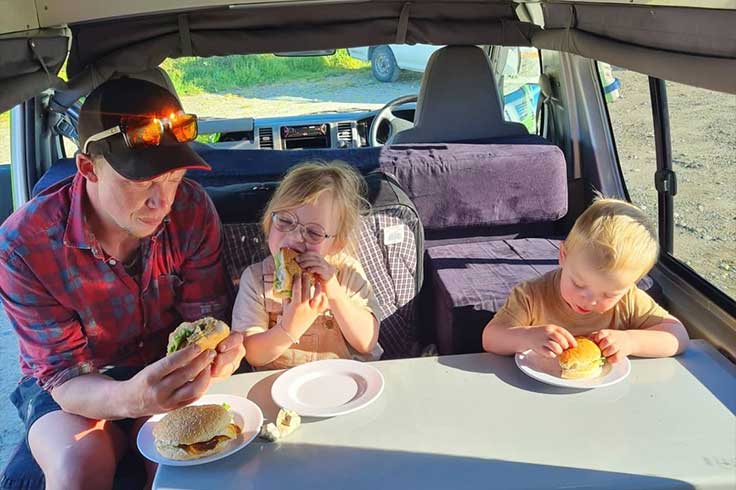 WIN Your Roadie with our 100% Refund Giveaway
Want to know what's better than a road trip along the Alpine Pacific Touring Route? A 100% JUCY refund, too!
No, you don't need to write to Dan the Boss and pretend you had a sucky time. We want you to have a good time and the opportunity to win the cost of your road trip back, so we run a monthly competition. Yes, monthly!
To enter, you only need to add a tag (@jucyworld) and a hashtag (#JUCYMoments) to what you're most likely already doing – celebrating your time on the road on Facebook or Instagram (with a side of humblebrag).
Not on socials? No worries, there's a video uploading option, too. To check out all the deets on winning a refund on your JUCY campervan (or car) road trip, head here.
Ready to respond to the call of the wild on a long weekend campervan road trip from Christchurch to Kaikōura?


book your JUCY campervan hire by calling us on 0800 399 736 or clicking book NOW! Do the wild thing; you know you want to!