'One More' for the Road: It's your Last chance!
There's still time to get in one more road trip before that chill really sets in, and we've got 10% off this May and June to make it happen!
Have you ever felt like you needed 'one more' to be done with something? Like one more slice of carrot cake before the diet starts. One more toast to the happy couple at a wedding before calling it a night. One more hug with your mum before jetting off on your OE.

With JUCY's 10% off discount for May and June, you get to have one more road trip before that chill reeeally sets in. It's only proper to have 'one more' to say goodbye to summer respectfully, right?

Whether you'd like one more place checked off your Kiwi bucket list, one more jaunt to your fave beach town, or one more roadie to see your friends and fam, we're giving you the nudge to go and do it with 10% off!

Important Deets:
Book before 28 June 2022
Travel before 30 June 2022
3-day minimum on all campervan bookings
Pick-up and drop off from JUCY Auckland, Christchurch, and Queenstown
Promo code: NZ10
Click BOOK NOW or contact our friendly JUCY Crew!

Get Inspired
Keen for 'one more' roadie and open to cool ideas on where to go? How about a long weekend to the 'Marine Serengeti'? Or a 5-day romantic getaway out of Auckland? Or drive these epic day trips out of Queenstown?
Whether you're in a JUCY car or sleeping under the stars in one of our custom campervans, we've got a ton of inspiring blogs and handy hits to help your long weekend getaway planning.
We've even got this awesome Matariki blog if you're making the most of NZ's first Matariki public holiday on June 24th.

Book with Confidence with JUCY
The borders may have reopened, but we're committed to our COVID-safe practices and keeping you (and our crew) safe when travelling with us. Alongside safe and clean vehicles, you'll benefit from our flexible cancellation policies. You can find all the info here.

Click BOOK NOW or contact our friendly JUCY Crew!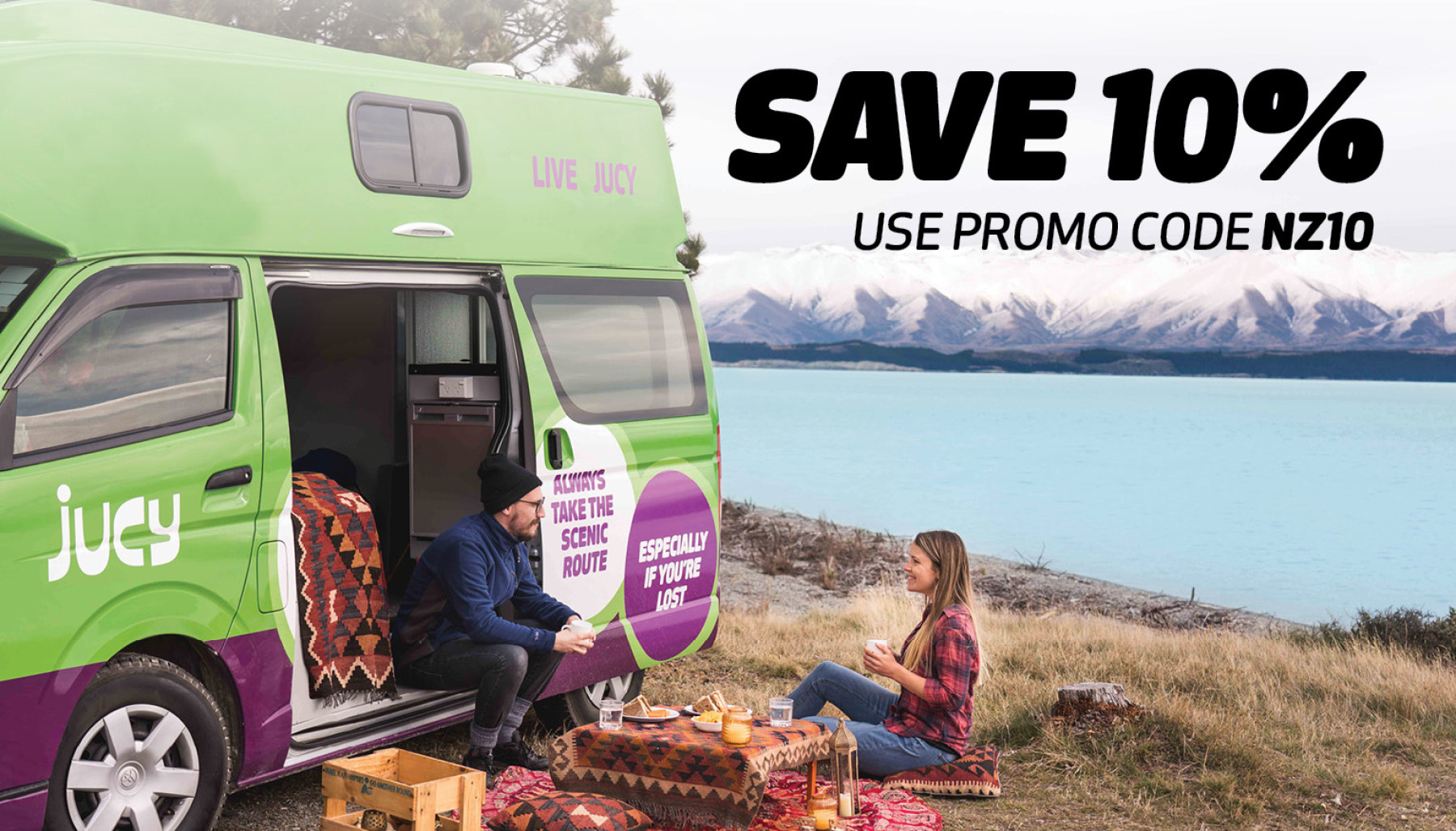 The Fine Print (T&Cs)
Our 'one more' promo terms and conditions (boring, but we gotta, y'know?).
The promo code NZ10 must be applied at the time of booking.
3-day minimum hire for campervan rentals applies; no minimum hire period for car rentals.
Booking and travel must be within the specified deal dates.
This promotion is for new bookings only and cannot be added to existing bookings.
This offer may not be used in conjunction with any other JUCY offers and does not apply to the excess reduction options or any extras.
All other standard JUCY terms and conditions apply.