The JUCY BurgerFuel Campervan
Take an exclusive NZ adventure in the BurgerFuel-themed JUCY camper
Take your Kiwi adventure up a level when you travel in the limited-edition JUCY BurgerFuel campervan. It's the ultimate Kiwi adventure.
The exclusive JUCY BurgerFuel campervan is self-contained, ensuring the ultimate freedom as you seek New Zealand's magic. Park anywhere that freedom camping is permitted, wake fresh in one of the comfy double beds, and cook a feast in the nifty kitchen (standing up, no less). It's great for one, a plus-one or one truly memorable family adventure (baby and car seats are available).
You'll also discover that driving the JUCY BurgerFuel Condo is a breeze. The compact-yet-clever design offers a spacious 'home' for four. Yet it's nifty enough to get into any city centre parking spot. Plus, the camper has an automatic transmission. Too easy!
You've got to be in it to win it! Head to your nearest BurgerFuel, purchase any Fush and Chups meal or large burger, then enter your deets here.
Don't want to wait to see if you win? Email your travel dates to [email protected] to book your roadie vacay in our limited-edition BurgerFuel JUCY Condo campervan. Yay!
Other campervan options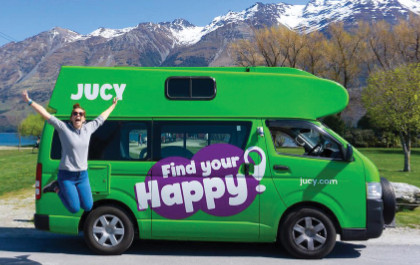 Eine Legende auf den neuseeländischen Straßen, unser Condo für 4 Personen, mit Küche, Toilette und self-contained Zertifikat.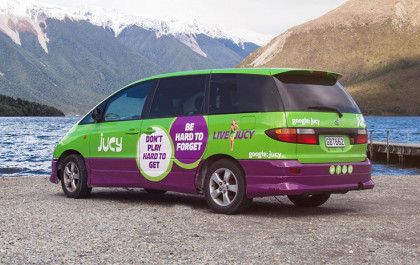 Auf der Suche nach einem flotten, sparsamen Campervan? Unsere Cabana verfügt über eine Küche und bietet Platz für 2 Personen.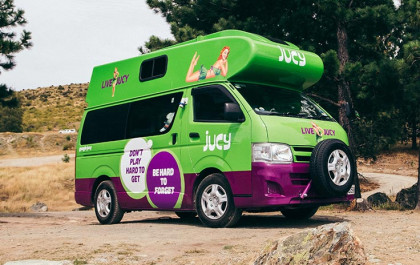 Drei Personen passen in den JUCY Chaser! Er ist mit einer Küche, einer Dusche und einer Toilette ausgestattet.