Campervan Mietstationen Neuseeland
JUCY Campervans und Wohnmobile an einem unserer fünf günstigen Standorte auf Nord- und Südinseln abholen und abgeben. Genießen Sie bei Ihrer Ankunft einen kostenlosen Flughafentransfer und ein freundliches Kia Ora von unseren Filialmitarbeitern.
Kontakt
Gebührenfrei: 0800 399 736
NZ Direkt: +64 9 374 4360
E-Mail: [email protected]
Informationen zu Mietoptionen für Campervans in Neuseeland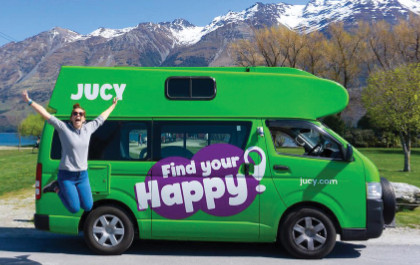 Eine Legende auf den neuseeländischen Straßen, unser Condo für 4 Personen, mit Küche, Toilette und self-contained Zertifikat.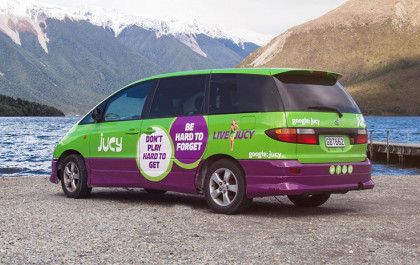 Auf der Suche nach einem flotten, sparsamen Campervan? Unsere Cabana verfügt über eine Küche und bietet Platz für 2 Personen.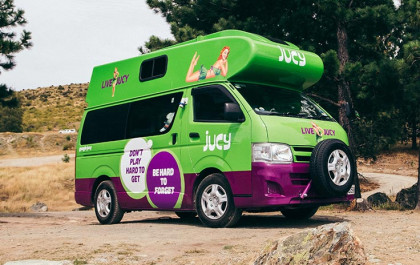 Drei Personen passen in den JUCY Chaser! Er ist mit einer Küche, einer Dusche und einer Toilette ausgestattet.
Campervan Vermietzentrale in Neuseeland wählen
Egal, ob Sie vom Ausland zum Flughafen Auckland fliegen oder nur ein Skiwochenende in Queenstown verbringen, wir sind genau dort, wo Sie uns brauchen.

Wählen Sie eine unserer fünf Mietstationen für Campervans und Wohnmobile, um mehr über das Abholen und Abgeben eines Fahrzeugs zu erfahren.
Inspirieren lassen: Rundreise durch Neuseeland planen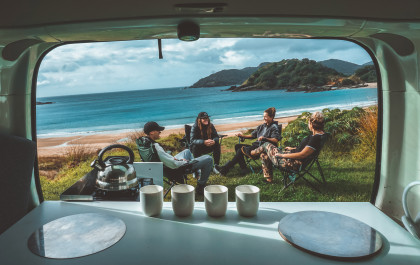 There's still time to get in one more road trip before that chill really sets in, and we've got 10% off this May and June to make it happen! BOOK YOUR...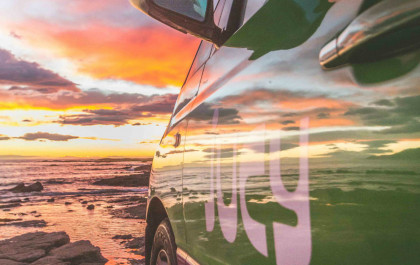 Neuseeland weiß, wie man die Spannung im Winter steigert.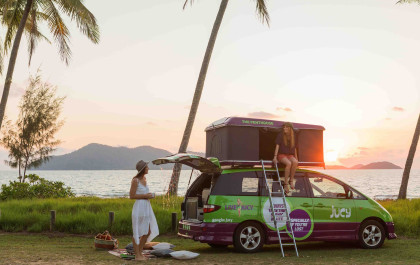 SEE AUSTRALIA WITH OUR 15% OFF CAMPERS DEAL!To celebrate the arrival of snag season, we are offering explorers 15% off our entire Australian fleet of vans! Book your Adelaide, New South Wales, Queensland...
Alle Artikel ansehen
Campervan Reisen in Neuseeland
Das Hauptziel einer Neuseelandreise in einem Campervan oder Wohnmobil ist es, bei den Erkundungstouren so viel Freiheit wie möglich zu haben. Das Bett reist immer mit, sodass man keine Hotelzimmer im Voraus buchen oder sich Gedanken über die zusätzlichen Kosten eines Zimmers pro Nacht machen muss.

Sie können jederzeit irgendwo anhalten und eine heiße Tasse Tee genießen oder (legale) Freedom-Campingplätze an malerischen Orten finden, wenn Sie mit einem Fahrzeug unterwegs sind das das self-cotained Zertifikat hat.

Stellen Sie sich vor, Sie rollen aus dem Bett, öffnen die Tür Ihres Fahrzeugs, treten nach draußen und begrüßen den Sonnenaufgang direkt über dem Meer oder lassen sich auf einem abgelegenen Campingplatz nieder, der nur von Kiwis (den Vögeln) und vielleicht einer Handvoll abenteuerlustiger Kiwis (die Leute) bewohnt ist.

Sie können Ihre Pläne aus Lust und Laune heraus ändern, indem Sie den landschaftlich reizvollen Umweg wählen und die weniger befahrene Straße nehmen.

Mit der besten Campervanvermietung in Neuseeland können Sie all dies und noch viel mehr tun.

Dank der zahlreichen Anmietstationen für Campervans und Wohnmobile von JUCY können Sie Ihre Reiseroute ganz nach Ihren Interessen und verfügbarer Zeit gestalten. Mit der Flexibilität, den Camper an fünf verschiedenen Orten abgeben zu können, kann man auch mit begrenzter Zeit eine beeindruckende Menge des Landes abdecken.
Camper experiences in New Zealand

New Zealand Sights

New Zealand facts
Camper experiences in New Zealand
Das Schwierigste daran, Neuseeland in einem Campervan oder Wohnmobil zu bereisen, ist die Entscheidung, in welche Richtung es gehen soll. Egal, ob man sich für Norden, Süden, Osten oder Westen entscheidet, man wird überall Abenteuer erleben.
- Roadtrip von Auckland zur Bay of Islands, um Delfine und goldene Strände zu entdecken
- Fahren Sie von Christchurch nach Queenstown, um den Lake Tekapo, den Lindis Pass und Wanaka zu entdecken
- Begeben Sie sich von Wellington nach Christchurch, um die Magie der Marlborough Sounds, die üppigen Weinberge in der Nähe von Blenheim und die Walbeobachtung in Kaikoura zu erleben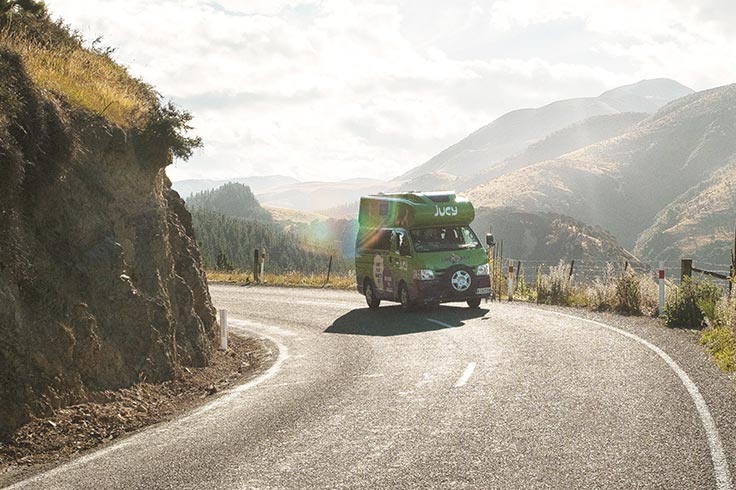 Sie werden in Neuseeland an fast jeder Straßenbiegung auf schillernde Landschaften stoßen. Schnüren Sie Ihre Wanderschuhe und erkunden Sie die Natur!
- Besuchen Sie den Abel Tasman National Park, um wunderschöne goldene Strände zu sehen
- Besuchen Sie Hobbiton für eine Portion Eskapismus mit dem Thema "Herr der Ringe"
- Bummeln Sie durch die farbenfrohen Lupinen am Ufer des Tekapo-Sees
- Erkunden Sie die Gletscher Fox und Franz Josef an der Westküste der Südinsel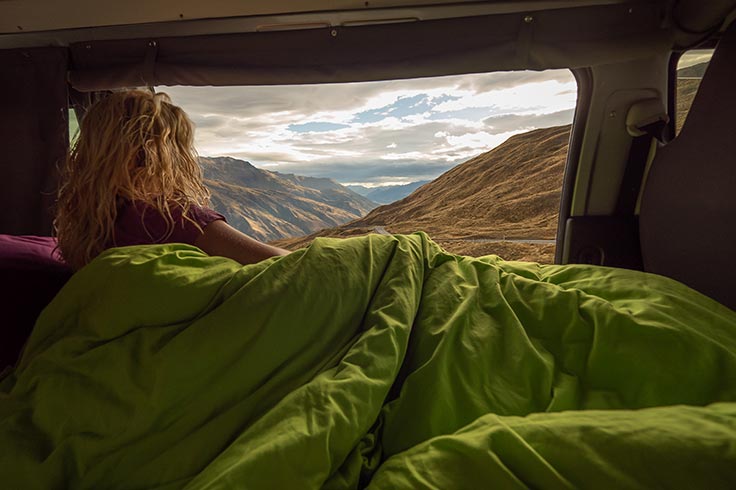 Neuseeland ist ein interessantes kleines Land am Ende der Welt!
- 30% Neuseelands sind bewaldet. Besuchen Sie einen Nationalpark, um ein Gefühl für die einzigartige einheimische Flora des Landes zu bekommen!
- Neuseeland ist die Heimat des längsten Ortsnamens der Welt. Taumatawhakatangihangakoauotamateapokaiwhenuakitanatahu, ein Hügel in Hawkes Bay
- Es gibt keinen Ort in Neuseeland, der mehr als 150 Kilometer vom Meer entfernt ist - Sie sind immer nur ein paar Stunden vom Strand entfernt!
- Der Blue Lake im Nelson Lakes National Park ist offiziell der klarste See der Welt