Travel with 'mans best friend', your furbabies! We know that dogs are part of the family, and no Kiwi road trip adventure is complete without your four-legged friends!
This summer live the pug-life with JUCY!
We are mutts about fur babies, which is why we're giving JUCY lovers a green light to travel in our dog-friendly Adventure Wagon and save $200.
Check out our pawsome summer special details below:
Dogs in vehicle booking fee is now $0 (usually $200)
Book: 12 Oct - 30 Nov 2021
Travel: 12 Oct - anytime
Vehicle types: Adventure Wagon car hire
Standard JUCY T&Cs apply
Ready for an epic JUCY road trip adventure with your best friend? Book Now!
How do I book a vehicle that caters to my dog?
So, you'd like to take your dog/s on your next roadie? Book online and add the dog fee when adding extra items to your online booking. Alternatively, drop us an email with the following information and our crew will get back to you with suitable camper options: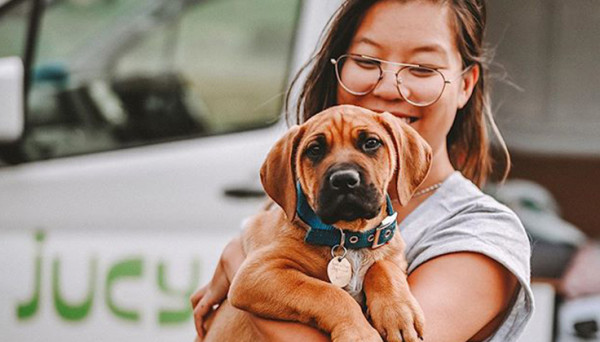 Before you book, please read our following terms:
Well-behaved and registered dogs are welcome to join you on your adventure

A maximum of two dogs per vehicle
Eligible JUCY vehicles are; Chaser, Condo, Cabana, & Adventure Wagon

An additional booking fee of $200 per hire applies (to cover standard cleaning for your dog/s). But if you book a Adventure Wagon between 12 Oct and 30 Nov 2021 (travel anytime), the $200 fee is on JUCY.

We recommend that you plan ahead, checking that dogs are permitted at your intended destination. Many of NZ's holiday parks now accept dogs, but some may not be able to accommodate them. Please also take note of reserve areas and beaches that have restrictions

At pick-up and drop-off, please ensure that your dog/s are secure on a lead, supervised by an adult, and remain outside of our branch

Please check that your dog/s are clean and dry before entering the vehicle

Please don't leave your dog/s unattended in the vehicle

While travelling, please safely restrain your dog/s in the rear of the vehicle

In the event that the vehicle is returned in an unacceptable manner due to unreasonable damage or soiling caused by your pet, JUCY reserves the right to charge an additional fee to your credit card

Please note that costs arising from damage and soiling caused by pets are not covered by JUCY's excess reduction plans. These costs are the responsibility of the hirer.
What are you waiting for? Book that roadie with your bestie today!