Take a break with 10% off JUCY Auckland Campervan Hire!
Wishing there was a long weekend between now and Labour Day? Well, unless you move to South Canterbury to celebrate their anniversary day in September, you'll need to be your own genie and conjure up your own long weekend. Thankfully, you won't need to use one of your three wishes on accommodation as we've got a 10% discount campervan hire offer on our affordable campervan range between now and the end of October! Perfect if you're in need of a break from the hustle of everyday life.
Auckland is a city worthy of your bonus long weekend plans. It's got a slice of every good thing NZ has to offer. Gorgeous mountains and bush to explore: check. Beaches to chill on or get wild at: check. Culture and cool sites to explore: check. Delish meals to indulge in: check. Plus: discounted JUCY campervans: CHECK!
The Important Stuff
The deal

:

Nab 10% discount on your JUCY campervan hire (daily rate)

Book & travel

: 2nd August to 31 October 2022

Location

:

Auckland Airport

, pick-up and drop-off only

Vehicle category

:

any JUCY campervan*

Minimum rental

: 3 days

JUCY Campervan Promo code

: AUCKLAND10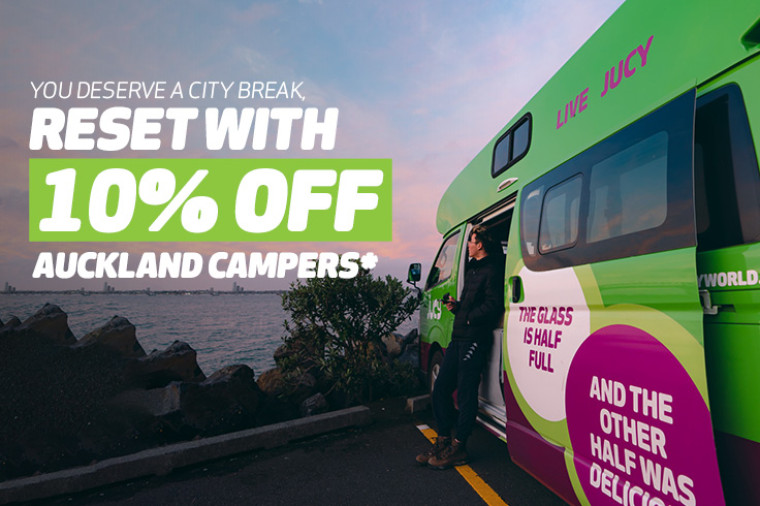 So where could you go? If you're in need of some R&R to escape city life, why not select some of the destinations from our epic wellness blog? Or maybe make it a mission to hit up the 10 best beaches from Auckland? If you and your S/O are feeling encouraged to DIY your own long weekend, how about a rom-com worthy romantic road trip?
If you'd prefer to head further afield, the double whammy of low season rates (and travellers) on an already underappreciated North Island road trip route makes for a brilliant quiet-ish getaway – perfect for switching life mode off and holiday mode on!
While you may think Auckland's weather won't be great for a winter/spring road trip, it's currently 18 degrees c and sunny as we write this, proving that Auckland's sunnier climes make for a good roadie any time of the year. Packing a few warmer clothes for the evening is a worthwhile trade with the empty beaches, quiet hiking trails, and crowd-less lookouts (better selfies FTW)!
Campgrounds are super chill in the cooler months, too. Nightly rates are generally lower, and you have more of their shared facilities to enjoy. Sometimes it's fun to plan your roadie around NZ's cool campgrounds. Check out this carefully crafted list of our favourite North Island campgrounds and see what inspires you. Low season campground rates plus JUCY discounts equal a cost-efficient made-up long weekend! Plus, our vehicles are super easy to drive, so no clunky beasts to park and even better – no expensive (even clunkier) petrol prices to factor in! Not sure what camper to choose? Check out this handy guide.
Another way to plan a road trip? With your gut! Not your gut instincts (though those definitely help), but your actual belly! Want to sample Auckland's best pies? Or the North Island's (possibly Aotearoa's) best chippie? Or finally make it to Paeroa for a selfie under the L&P bottle (#travelgoals)? We've picked our fave places for the best Kiwi foods, and plenty are doable on an Auckland-based roadie!
With your affordable road trip basics taken care of, what are you going to use your other two genie wishes on? Choose wisely!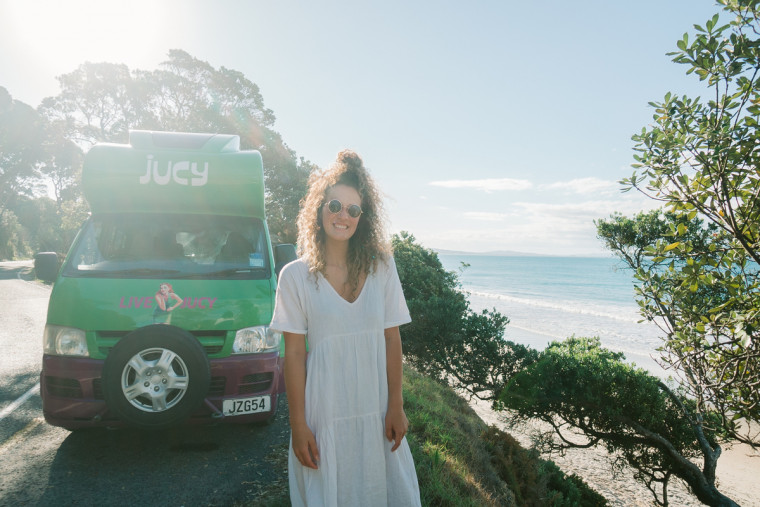 10% Off Auckland Campervan Rental Terms and Conditions
The promo code AUCKLAND10 must be applied at the time of booking.
· A minimum hire period applies, and all bookings are subject to availability.
· Booking and travel must occur within the specified deal dates.
· The promotion is for new bookings only and must be added during the booking process. It cannot be applied to existing bookings.
· This offer must not be used in conjunction with any other JUCY offers.
· The offer does not apply to the excess reduction options nor any extras.
· All other standard JUCY Terms and Conditions apply