Welcome Star RV to the JUCY family!
While we know that many JUCY customers are more than happy to live green and purple for the rest of their adventure road-tripping days. We also know that some have wished upon a star for a little more. Maybe it's a bit more space now there are kids in tow. Or a more spacious vehicle so all your new buddies can come on the ride. Whatever the reason, you've got it, and it's called Star RV!
Star RV is for those who are looking for something a little more. We heard you when you told us of your growing families and bigger friend networks (and that some of you wanted to splurge). You will enjoy the feel of freedom with Star RV's comfortable vehicles, with space for the whole family. Well, hurrah, Star RV's offering perfectly complements JUCY vehicles.
Star RV's Polaris 6 Motorhome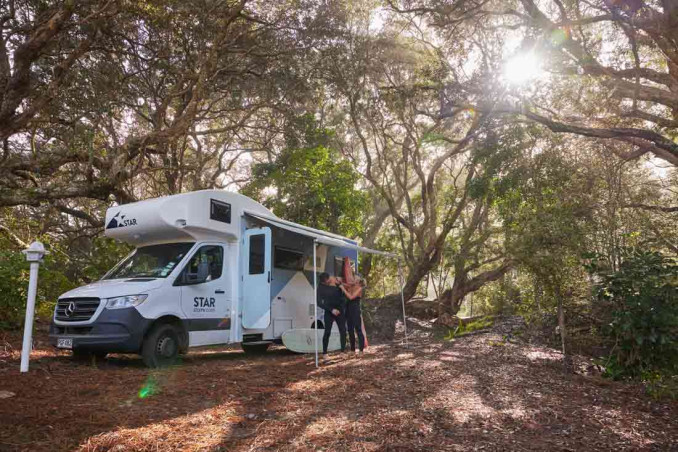 Ready to take the whole family away, whether it's your actual kin or your friend fam? The Polaris 6 means you can travel in groups of six, enjoying the self-contained kitchen, toilet, and shower. The Polaris 6 is available in both Australia and New Zealand.
Spacious and comfortable, Polaris 6 amplifies your road trip experience. Whether you're travelling to a natural wonder, entertaining at a campsite, or enjoying a deep sleep from your cosy Polaris 6 bed.
Star RV's Polaris 4 Motorhome
Our Polaris 4 is an innovative four berth motorhome featuring a unique bed lift system that makes the most of space and offers superior comfort and convenience for the discerning traveler. When not in use the bed system allows for greater entertainment space and comfortable travel. Something special awaits with the Star RV Polaris 4!
Locations
Star RV is available for pick-up at Auckland, Christchurch and Queenstown branch locations, allowing you access to the best of New Zealand's sights, attractions, and once-in-a-lifetime experiences.