Lassen Sie sich in Ihrem JUCY Campervan inspirieren.
Wilde Berglandschaft, die den Atem wegnimmt. Malerische und kuriose Kleinstädte mit Einheimischen, die beim Vorbeifahren winken. Delphine und Wale tummeln sich an der Küste, während Sie Ihren Camper für die Nacht vorbereiten. Die Milchstraße ist so hell wie nie zuvor, dazu ein paar Snacks aus der Campervanküche. All dies ist nicht nur in ein JUCY Campervan Traum sondern ganz einfach möglich. Schauen Sie sich unsere Instagram Seite an, und Sie werden es selbst sehen. Was noch? Buchen Sie Ihren neuseeländischen Campervan und markieren Sie uns mit #jucyworld in den sozialen Medien damit wir sehen können, wie Sie in Ihrem JUCY Camper leben.
Wir sind wirklich verrückt aufs Reisen. Es begann vor fast 20 Jahren, also können wir es eine gesunde Besessenheit nennen, Reisen zu unserem "Ding" gemacht zu haben. Wir teilen unser Neuseeland Reisehinweise mit Leidenschaft. Aus diesem Grund finden Sie diese Seite gefüllt mit Inspiration für Ihre Reise – inklusive Reiserouten und Sehenswürdigkeiten. Wir haben sogar einige tolle Campervan Rezepte für magische Momente in denen Sie unterm Sternenhimmel kochen. Viel Spaß!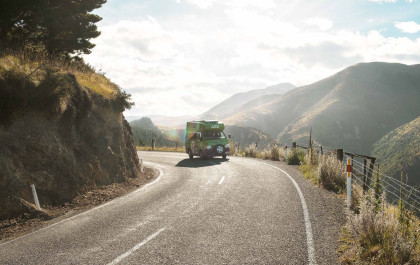 Taking a road trip from Christchurch to Wanaka via the west coast of the South Island is a great way to discover more remote destinations.
Erkunden Sie Neuseeland auf Ihre Weise in unseren maßgeschneiderten Campervans.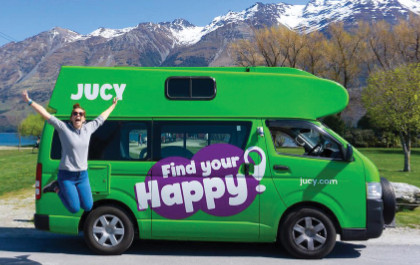 Eine Legende auf den neuseeländischen Straßen, unser Condo für 4 Personen, mit Küche, Toilette und self-contained Zertifikat.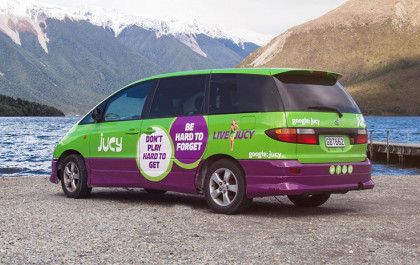 Auf der Suche nach einem flotten, sparsamen Campervan? Unsere Cabana verfügt über eine Küche und bietet Platz für 2 Personen.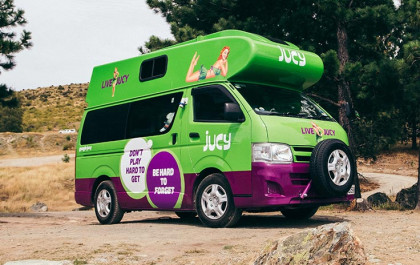 Drei Personen passen in den JUCY Chaser! Er ist mit einer Küche, einer Dusche und einer Toilette ausgestattet.