Wish Upon a Star
We know we've been big on the news front lately – and we're not stopping now! We're amped to let you know that we've just welcomed Star RV to the JUCY fam!
About Star RV
While we know that many JUCY customers are more than happy to live green and purple for the rest of their adventure road-tripping days. We also know that some have wished upon a star for a little more. Maybe it's a bit more space now there are kids in tow. Or a more spacious vehicle so all your new buddies can come on the ride. Whatever the reason, you've got it, and it's called Star RV!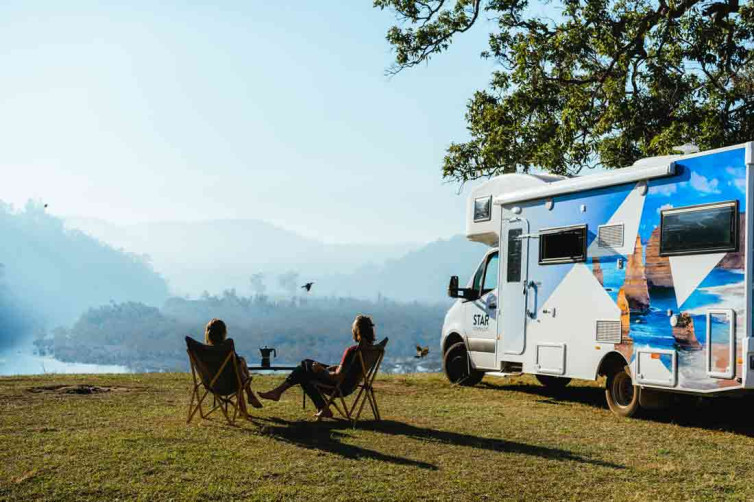 JUCY and Star RV are like-minded in our love of adventure, spontaneous right turns, and a commitment to helping you find your happy! What about the amazing experience that you love with JUCY? You'll still get them with Star RV.
Like:
Easy online check-in

Smooth vehicle pick-ups,

and s

wift vehicle drop-offs (with a free airport shuttle drop off during business hours) at the end of your epic journey

A team of passionate experts who not only love a road trip but excitedly support your roadie planning, too

24/7 roadside assistance, no matter how far off the beaten track you're exploring
With Star RV, you'll also enjoy modern RV models with plenty of storage, designed with spaciousness and comfort in mind. Choose to bring your own bedding or add quality bed linen and towels to your booking for an effortless vacay (one that doesn't end with you needing to do another load of washing)!
Guiding Star: Star RV Locations
Look for the star on the JUCY branch locations across New Zealand and Australia! You can pick up and drop off at any of these locations, even one-way (for a fee). This excludes Star RV's Perth and Hobart branches, where base-to-base travel is the go.
Star Quality: Star RV Vehicles
The spacy, comfy Star RV motorhomes are on the road and ready for your bookings. How exciting is that? If you're planning a New Zealand road trip, you can enjoy the Polaris 4 and Polaris 6. For Aussie adventures, the spacious Polaris 6 is where it's at! BTW, the '4' and the '6' represent the number of peeps it sleeps!
For adventures around Australia, the spacious Polaris 6 means you can pack the whole clan on a life-changing Aussie road trip! Exciting, huh?
We've always reached for the stars at JUCY, and now they're part of the family! We're so stoked to be working together to deliver even more ways to get you on the road and find your happy.
Thanking your lucky stars for this epic news and ready to make a booking? BOOK NOW or call +64 9600 08 05 to talk to Star RV team.