Check out our Australian camper van rentals
Where to hire your JUCY camper in Australia
Creating a plan for your road trip around Australia can be a challenge – there are so many destinations to choose from! We make it easier by offering seven branch locations to start and end your travels, no matter where you decide to explore.
At JUCY rentals we have a range of campervans for hire to suit your road trip need. Plan a budget backpack adventure in our El Cheapo camper. Take the family on the holiday of a lifetime in a Condo. Or select the Compass with its Penthouse for that special someone.
Are you ready to road trip Australia with a campervan rental?
Save with our campervan hire deals
Nab yourself a JUCY campervan bargain! Whether it's our smooth one-way relocation deals, savings from our travel and campground mates, or a sweet winter discount, we're keen to help you save a buck or two.
If you spy a JUCY deal – such as our $1 relocation specials – you'll need to be quick. They usually last as long as a chocolate cake does at JUCY HQ. Our partner deals are typically year-round but do check the T&Cs for any blackout periods.
Don't miss out! Check our deals here.
JUCY camper reviews
We love talking JUCY, but we love it more when our customers do. When you read real-time, real-people reviews, you can book your Australian campervan with confidence.
People hire from us because of our great value, custom-built campervans, our friendly service, and choice of Australian branch locations. We've also gained fans for all the extras that we provide to make your Australian camper trip a legendary one.
Read on to find out all the reasons people love JUCY!
The best car hire service I have ever experienced!!! I will definitely use them again and highly recommend them!
This is my 2nd time using Jucy vans & the great staff here at the Brisbane office always go above and beyond,they're so friendly & welcoming & helpful that I can not fault anything about Jucy hire at all. I will be getting the word out to my family & friends to use this service when hiring.Thanks Jucy you will lose us again soon.
The staff were wonderful. The process was relatively easy. The car was fabulous.
Great service overall and very friendly staff
The car was exactly what we needed didn't skip a beat n was reasonably priced. Would def use again and recommend
Customer service was great and shuttle bus from airport quick and easy, no issues at all. Will book again.
Jucy is great . Reasonable, best cars and extremely convenient
Very friendly and helpful staff, good prices, easy process up on pick up.
Road trip Australia in a JUCY rental
Whether it's your first trip to Australia or 15th, it can be overwhelming to look at a map of this enormous island and have to narrow down where to go. Do you want a beach trip, a national park adventure, or to head to the outback? Or all of these thrills? The whole country is so attractive that even narrowing down your travel selections by state, it can still be a lot to digest. They each have their own gems to lure you in, 100s in fact.
We're all about planning ahead. Like pick a region, buy a flight, and book a campervan (hint, hint). But beyond that, what if you pick up your campervan rental, chuck in your bags, and just drive. That's the freedom you have when you take not only your luggage on an adventure but your bed and kitchen, too. It's why we love campervans and made them our business! That sweet, sweet sense of freedom.
Wake one day to kangaroos hopping around your JUCY wheels. Another, see the sunrise across the red-and-orange hues of the outback. Cook a feast from the back of your campervan rental as native birds sing to you from the treetops. It may sound poetic, but in Australia, it's possible. We know because we're regularly tagged #jucyworld in these pinch-me moments that happen in campervans around the country.
Like a best friend during a romance crisis, we're on hand to support as you tackle the task of choosing where in Australia to go. We offer free travel advice with our 24/7 customer service numbers, as well as tips and itineraries in our Get Inspired section.
Let's go!
Australia at a glance
Attractions in Australia
Travel like a local in a campervan
Australia at a glance
Aside from 'it's awesome, come now', what else do you need to know about Australia?
Australia's coastline is over 50,000km, linked by over 10,000 beaches. That's a lot of potential driving (good thing we offer unlimited mileage).
There are 55 national parks, and 15 World Heritage-listed sites. Many are home to the wildlife that is unique to Australia.
There are over 4,000 designated free camping sites in Australia, though you'll need to be a self-contained vehicle and come prepared.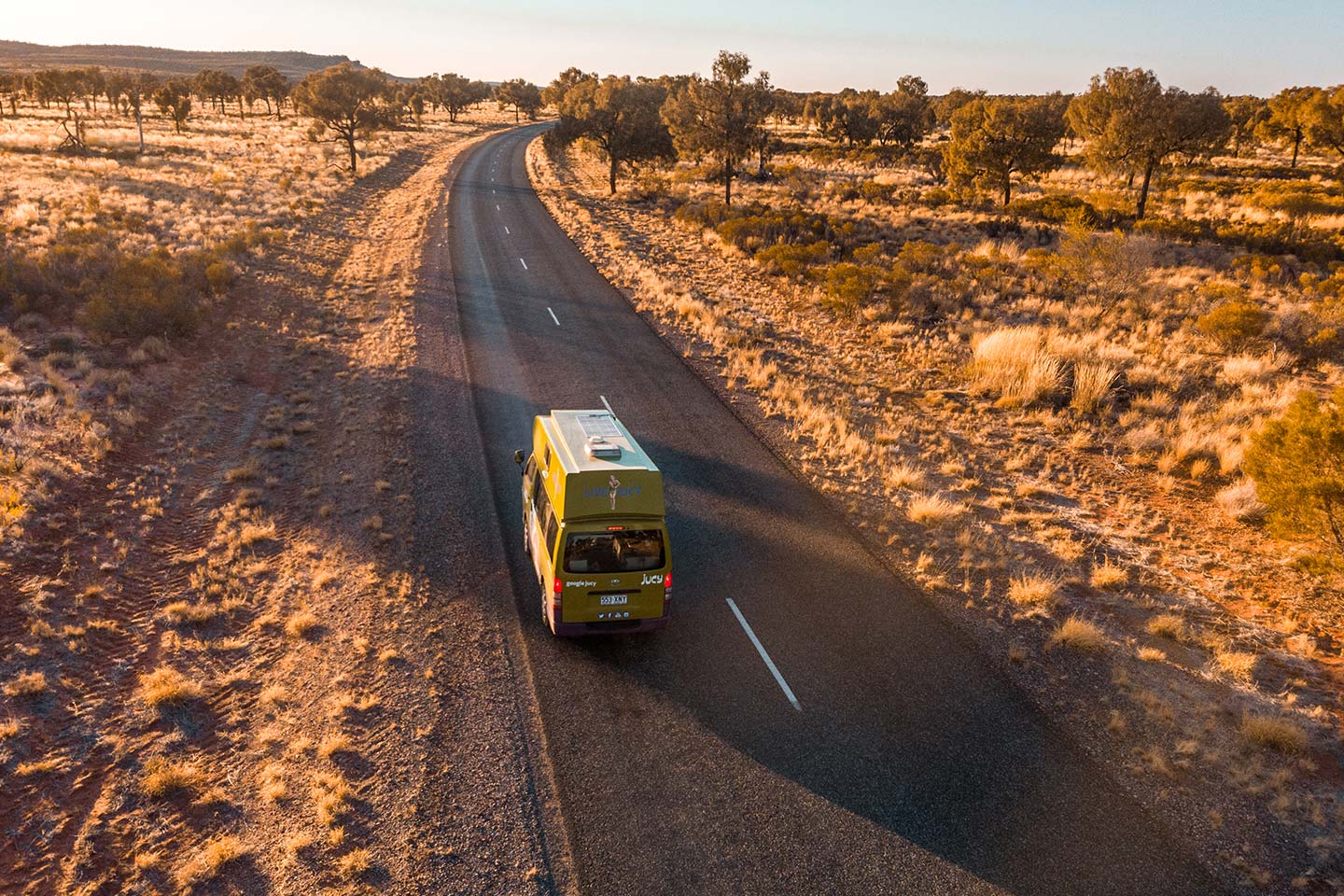 Attractions in Australia
Australian attractions make driving one of the most memorable ways to holiday here. Here are some options:
Spending time on a beach in Australia is a no-brainer. It's a must to step on squeaky white sand and jump in the surf!
With the tallest mountain, Kosciuszko, at only 2228m, Australia isn't known for its summit scaling, but that doesn't mean they are to be skipped. Especially in the ski season!
Outback Australia is as unique to the country as your fingerprint is to you. It's don't miss it if you have the time, particularly the sacredness of Uluru.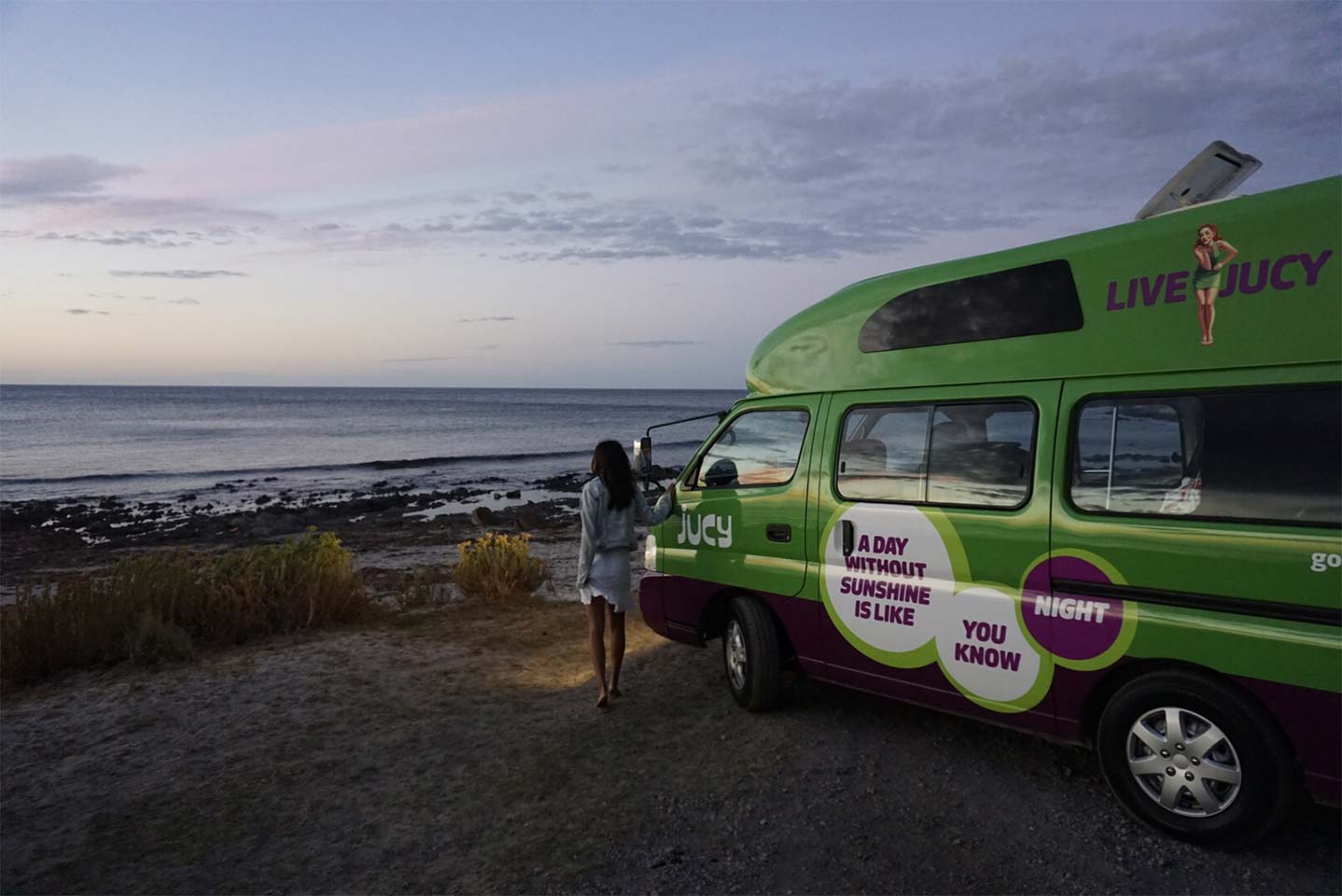 Travel like a local in a campervan
For full cultural immersion, travel like a local when you're in Australia. Here's how:
Start every day with a flat white – seriously, it's the coffee of choice! You can even get flat white coffee sachets so you can make it in your camper kitchen.
Get out in the ocean. With 50,000+ kilometres of coastline, it's no wonder Aussies are surf and water obsessed.
Don't take yourself too seriously. Like, ever. The Aussie attitude to life is pretty balanced, so relax and say, 'no worries', no matter what happens!