JUCY Campervan Hire Adelaide Airport
The highlights of Adelaide and South Australia are best experienced in the freedom of van hire Adelaide.
With five JUCY campervan rental types to choose from – whether it's for yourself, your buddies, or your family – we have a JUCY rental to suit your budget and needs. We have cheap campervan hire and car hire available at JUCY Adelaide.
And best of all? During business hours you can catch a free shuttle bus from the airport to JUCY Adelaide branch for a fast getaway. Read further down the page to find out all the deets for picking up your JUCY campervan rental!
Contact JUCY Campervan Hire Adelaide
| | |
| --- | --- |
| Address: | 25-27 Kinkaid Avenue, North Plympton, SA 5037 |
| Reservations: | 1800 150 850 |
| Hours: | 08:00am - 05:00pm Monday to Friday |
| | 09:00am - 04:00pm Saturday |
Please note our JUCY Adelaide branch is closed on Sundays, Christmas Day, Boxing Day, and New Years Day.
JUCY campervan rentals Adelaide
When convenience, price, and excellent customer service is king, you know JUCY campervan hire Adelaide has your back for your epic Australian road trip. With over five campervan rental models to hire from our Adelaide Airport branch, you can select the size, features, and daily rate you need for that trip of a lifetime.
Whether you're looking to take a posse in our Condo or Compass, or are seeking a compact campervan, we've got you. Plus, we provide campervan hire for 18-year-olds and over for no extra charge. If you're looking for cheap car hire Adelaide then we will sort you out too.
And that's not all! Save your dollars for Australian attractions because we include unlimited mileage, bedding and kitchen essentials, plus 24/7 roadside assistance for all Adelaide campervan hire bookings.
Flying into Adelaide? No worries! We'll pick you up from Adelaide Airport with our free shuttle service.
JUCY Adelaide airport shuttle

Picking up your JUCY rental

Dropping off your JUCY rental
JUCY Adelaide airport shuttle
Note: Our branch airport shuttle runs on demand during JUCY business hours, and the last shuttle leaves the airport 30 minutes before closing time.
Want a free ride? Here are three easy steps to get our absolutely FREE shuttle from Adelaide Airport to our JUCY branch:
Step 1
Get off the plane, stretch your legs, and smell the fresh Adelaide air for the first time!
Step 2
Collect your bags and call us on 1800 150 850. Select option #1, then #6 to request your free shuttle transfer.
Step 3
Exit the terminal to the left and walk towards the Taxi Stand across the plaza. You'll see a pedestrian crossing and a red Australian Post box to the left. Wait here for your JUCY shuttle to arrive.
Wondering if you'll see us coming? Our shuttle van is bright green and purple, so it's almost impossible to miss us!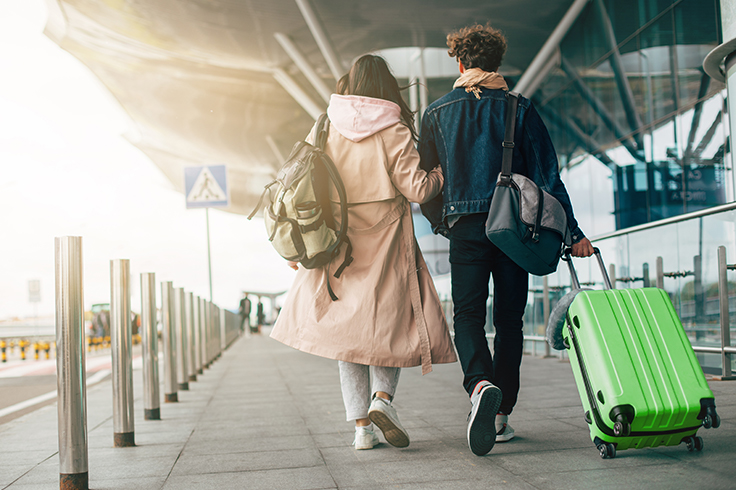 Picking up your JUCY rental
In the words of Michael Jackson, we "Wanna be Startin' Something". In this case, it's a cool Adelaide campervan hire roadie with YOU!
Here's what happens when you come to pick up your campervan hire Adelaide:
Did you fly into Adelaide? Great, we offer a free shuttle bus ride during our business hours. Check the tab to the left to read all about it.
Upon arrival at our green-and-purple Adelaide HQ, we will get serious for a hot minute while you do your paperwork. Once that's out of the way, we can have some fun as we show you all the cool things on your JUCY camper. Now's the perfect time to hit us up for some travel advice or driving tips. If you're heading north into the outback, the latter is a great idea!
For campervan pick-ups, we request that you're at the branch no later than 4 pm on weekdays and 3 pm on weekends.
After-Hours pick-up is unavailable until further notice.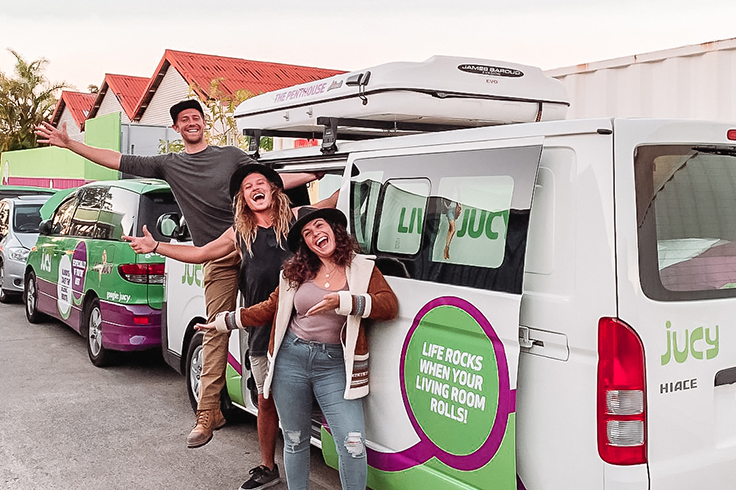 Dropping off your JUCY rental
We know dropping off your trusty and safe campervan hire Adelaide is going to be with sweet sorrow, so we've made it easy with these steps:
Drive your campervan rental to JUCY Adelaide Airport at 25-27 Kinkaid Avenue, North Plympton. You can't miss our green and purple building!
Before you drive in, have you remembered to fuel up? The nearest petrol station is X Convenience Netley, 294 Marion Road, Netley SA 5037. if you need to chuck a quick uey (Aussie speak for turn around) to get some gas.
Before you hand your keys in, can you do us a favour and check you've removed all your belongings? Not just the obvious stuff like your backpack or wheelie, but sunglasses from the glove box, your mates Kindle on the back seat, and any rubbish you've collected along the way.
Our JUCY crew is here to not only grab your camper key but also bid you a fond farewell. Until next time!
You can now jump on the next available shuttle. We recommend leaving about 45 minutes between the time you need to be at the airport and dropping off your JUCY campervan.
Our last shuttle to the airport departs at 4pm on weekdays, and 3pm on Saturdays. If you miss our last shuttle, it's about 10 minutes away, and $10-15 in an Uber.
JUCY RENTALS IS NOW ZERO CONTACT FOR ALL VEHICLE PICK UPS AND DROP OFFS!
JUCY's new zero contact booking option allows you to pick up and drop off all vehicles 24 hours a day and 7 days a week(except Melbourne Airport) with a contactless experience to minimize human contact.
We also offer after-hours pick up and drop off for both cars and campervans now! Find out more information here.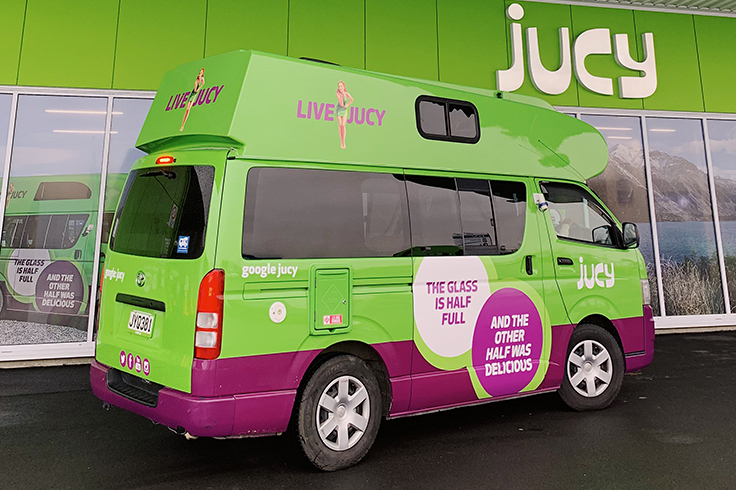 JUCY Rentals Adelaide options
Discover the best of Adelaide and South Australia when you hire a JUCY camper
Adelaide and South Australia may just be one of Australia's most underappreciated tourism regions. Vibrant Adelaide is an excellent start point for journeys around the state or along Australia's iconic routes.
How about exploring the coastal gems from Adelaide to Melbourne? Or heading into the heart of the country northwards to Uluru and Alice Springs? You can be sure there are 'wow' moments as frequently as you hear "are we there yet" from the back seats.
Around Adelaide, hiring wheels gives you easy access to the delights of the Adelaide Hills. Also, drive to the marine-rich waters of Port Elliot to go whale and dolphin spotting, and there are many locations to spy native Australian wildlife.
Drive further afield to take in the bubblegum-pink tones of Lake Bumbunga. Our regional fave is to wake to kangaroos chewing around your camper at the Deep Creek Conservation Park (Trig campground is best).

Adelaide is also famous for its foodie culture so, stock your fridge with local treats at the famous Adelaide Market. Don't forget to stop by Stall 55 for Aboriginal delicacies. Also, we always keep a stash of Adelaide-local Haigh's chocolate in the campervan fridge. Yum!
Adelaide and South Australia are sure to impress no matter the time of year you visit! Keep in mind, though, that if you're travelling from December to March, it's best to book ahead as we will sell out!