JUCY Campervan Hire Brisbane
Are you looking for cheap campervan hire in Queensland? The JUCY Brisbane crew has been hiring out the best campervan rentals in Brisbane for over 10 years.
Whether you're looking to explore your backyard with a local Brisbane campervan hire road trip; head down the coast, further to Outback Queensland, or on a one-way campervan rental from Brisbane to Cairns. JUCY Rentals has got you covered with the best car rentals or RV hire Brisbane for your ultimate Queensland road trip.
At JUCY Campervan hire Brisbane, you will be greeted by our friendly team who take pride to ensure that you have the best campervan rental Brisbane. Plus, we don't only have vans for hire, but we have JUCY car rental options and our on-site mechanics will ensure you have a safe campervan rental in Brisbane.
We are passionate about travel and understand that there is so much to do on your Queensland campervan road trip. At JUCY campervan rentals Brisbane, we are here to share more local tips and road trips, or you can check out our blog itineraries for some inspiration. Before you leave the city, we recommend checking out the epic views when you drive up Mt Cootha or enjoy Streets Beach, which is the only man-made beach located within the middle of an Australian city.
We know that you will want to make the most of your Brisbane campervan hire so we will be speedy to get you on the road when you pick up your campervan rental Brisbane. To get you on the road as quickly and safely as we can, we recommend opting for our zero-contact campervan hire options.
To get to the JUCY Campervan Hire Brisbane branch, it's located in Eagle Farm so only a short (free) shuttle ride away from Brisbane Airport. If you'd like a pick up from the Brisbane Airport with the JUCY rentals shuttle then please feel free to give the JUCY crew a call and we will come to pick you up within business hours
Contact JUCY Campervan Hire Brisbane
| | |
| --- | --- |
| Address: | 771 Kingsford Smith Drive, Eagle Farm, QLD 4009 |
| Reservations: | 1800 150 850 |
| Hours: | 08:00am - 05:00pm Monday to Friday |
| | 08:00am - 02:00pm Saturday |
| | 09:00am - 02:00pm Sunday |
Please note that you can't pick up or drop off your JUCY Brisbane campervan rental on Christmas Day as we are closed.
Your adventure starts here! Just don't forget to hashtag #jucyworld when you're getting your Brisbane campervan hire, checking out what's on in Brisbane and road-tripping Australia!
JUCY Brisbane Campervan Hire
There are so many things to do in Brisbane, that's why at JUCY; we pride ourselves on getting you into a cheap campervan hire Brisbane and on the road as quickly as possible. Every day we aim to give travellers the green light to have the time of their lives and provide the best campervan hire Brisbane.
Your JUCY Brisbane campervan hire experience starts with a quick shuttle bus from Brisbane Airport to then pick up your caravan hire from JUCY rentals Brisbane. Less than 10 minutes away, it's perfect for any domestic or international flight arrivals. Traveling from Brisbane city to get your campervan hire Australia? We're just over 15 minutes by car or jump on the train. Too easy!
You're about to start the trip of a lifetime, and we want you to do it your way. That's why we have six models of campers for rent, plus we offer unlimited kilometers, and even allow one-way journeys (for a fee).
Book your Brisbane campervan hire or call our crew on 1800 150 850.
JUCY Brisbane airport shuttle

Picking up your JUCY rental

Dropping off your JUCY rental
JUCY Brisbane airport shuttle
Note: Our branch airport shuttle runs on demand during JUCY business hours, and the last shuttle leaves the airport 30 minutes before closing time.
Want a free ride? Here are three easy steps to get our absolutely FREE shuttle from Brisbane Airport to our JUCY branch:
Step 1
Get off the plane, stretch your legs, and smell the incredible Queensland fresh air for the first time!
Step 2
Collect your bags and call us on 1800 150 850. Select option #1, then #2 to book your free shuttle transfer during branch hours.
Step 3
International Airport - proceed to the left end of the arrivals hall, exit the terminal, go down the ramp and follow the signs to the Bus and Coach area. Wait here for the shuttle to collect you.
Domestic Airport - exit the terminal, cross the skywalk, and go down the travellator to B1/B2 on the ground floor. This is your waiting point for your JUCY shuttle.
Wondering if you'll see us coming? Our shuttle van is bright green and purple, so it's almost impossible to miss us!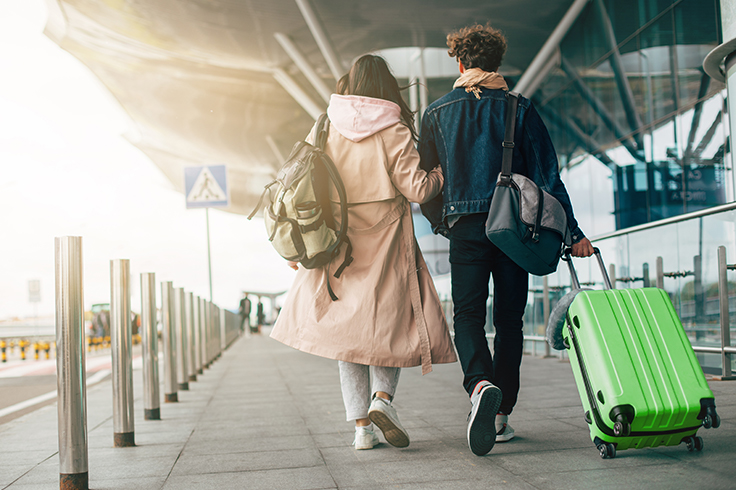 Picking up your JUCY rental
When you pick up your JUCY campervan rental Brisbane, we'd love to hang and chat. However, we don't think we're quite as exciting as actually getting on your road trip around Queensland and beyond so we'll do our best to get you into your Brisbane campervan hire quickly. Here's what you need to know:
Before we kick-off, did you see we have a free airport shuttle? Check the tab to the left if you're either starting or ending your campervan hire from Brisbane Airport.
Expect a warm JUCY welcome when you finally arrive at our green-and-purple HQ. We'll take you through a little paperwork, your campervan rental show-through, then you'll be free to head off. If you have any questions about where to go, best food to stock up on before you leave (Tim Tams, trust us), or how to drive on the other side of the road, our crew will be stoked to assist.
Please note the last time for campervan pick-ups to start is at 4 pm on weekdays and 1 pm on weekends.
After-Hours pick-up is unavailable until further notice.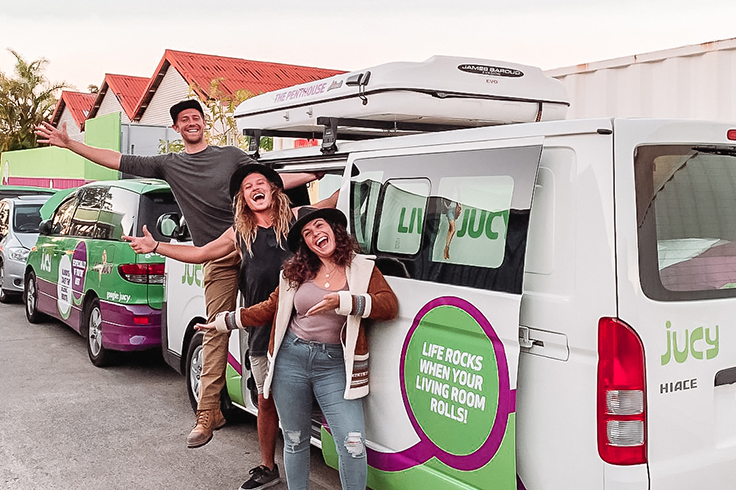 Dropping off your JUCY rental
Dropping off your beloved campervan rental Brisbane is sad – the road trip's over! But, we've made it easy to lessen your pain post-campervan hire! Here's how:
Drive to our Brisbane Airport branch. The address is 771 Kingsford Smith Drive at Eagle Farm.
Close to the branch, stop and refuel at a petrol station. The nearest one is at Caltex Eagle Farm, 645/647 Kingsford Smith Drive, Eagle Farm QLD 4009.
Empty your campervan rental of all your belongings, even those Hungry Jacks wrappers. You take care of the rubbish, and our crew will take care of your meat pie and lamington crumbs… (We've all been there)!
Hand in your keys and maybe share a yarn or two about your trip with our friendly crew.
Wave farewell as you hop aboard the next shuttle to Brisbane Airport. Missing you already!
If you're not heading to the airport next, we can help you order a cab to your next destination. Just ask!
JUCY RENTALS IS NOW ZERO CONTACT FOR ALL VEHICLE PICK UPS AND DROP OFFS!
JUCY's new zero contact booking option allows you to pick up and drop off all vehicles 24 hours a day and 7 days a week(except Melbourne Airport) with a contactless experience to minimize human contact.
We also offer after-hours pick up and drop off for both cars and campervans now! Find out more information here.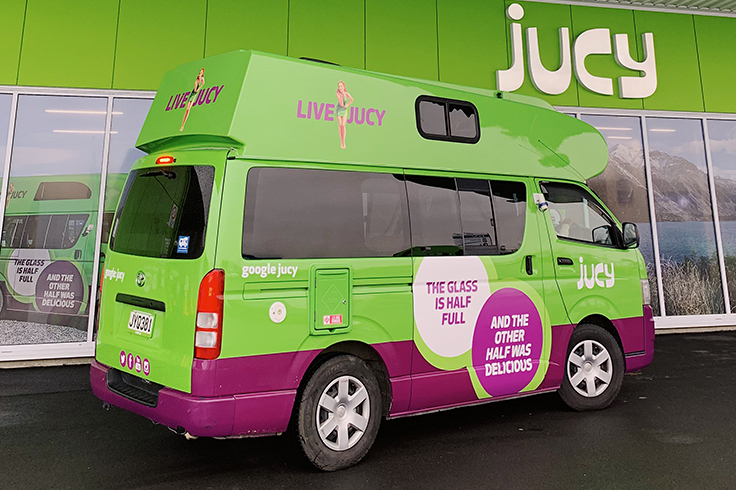 Choose your JUCY campervan rental Brisbane
Your Australian east coast adventure starts with the freedom of a camper
When you first see the magic of Australia's East Coast, you'll find it's a 'pinch me' moment. Like, seriously? Can these beautiful sandy white beaches be yours to walk along? Can that dolphin in the surf be welcoming you in to play? Was that kangaroo hopping past your campervan at sunrise? The answer is YES, and so much more.
Whether you're looking to stay close to Brisbane's stunning natural wonders, or planning a roadie to the other side of the country, we have a campervan ready to join you on your adventure. Consider your JUCY wheels as your trusty sidekick, the Robin to your Batman.
Better than Robin, in fact, as our custom-camper features and gadgets are in place, designed to ensure your comfort on the road. Some sleep two, most sleep four, and our pop-up tents are a neat addition to our fleet. They allow you to drive through the day with a smaller vehicle footprint, then extend it by night when you set-up your rooftop tent.
All our vans come with a kitchen sink so you can see the sunrise with breakfast burritos, and see it set as you make campsite corn fritters. The kitchen is awesome for the budget, too!
The extra benefits when you hire your campervan with JUCY is that every rental comes with bedding and kitchen kits, as well as 24/7 roadside assistance. Also, last we checked, we're not your mum, so we're not going to restrict you with a 'curfew' on how far you can drive – unlimited mileage for all! Wahoo!
If this sounds like your idea of an epic road trip, you can grab a quote above, book now, or speak to a real-life JUCY human when you call 1800 150 850.