Campervan Hire Melbourne Airport
There's no time to waste when the sights of Melbourne, Victoria, and beyond are waiting for you! That's why we have a JUCY branch close to Melbourne Airport and a free shuttle to get you to your campervan rental.
Choose one of our six campervan models by size, features, or budget. We also permit one-way trips. Perfect if you want to drive from Melbourne to Sydney or road trip up the East Coast to Cairns.
Did you know that during business hours you can catch a free shuttle bus from the airport to JUCY Melbourne Airport? Read further down the page to find out all the deets for picking up your JUCY campervan rental!
Contact JUCY Campervan Hire Melbourne Airport
| | |
| --- | --- |
| Address: | 1 Silicon Place, Tullamarine, VIC 3043 |
| Reservations: | 1800 150 850 |
| Hours: | 08:00am - 06:00pm Monday to Friday |
| | 08:00am - 02:00pm Saturday |
| | 10:00am - 02:00pm Sunday |
JUCY Melbourne campervan hire is closed on Christmas Day only
JUCY rentals Melbourne Airport
Ready for a legendary road trip around Australia? Whether you're exploring the wildlife of Victoria, heading along the iconic Great Ocean Road, or driving north to Cairns, it's best experienced in a campervan.
Starting your trip at Melbourne Airport means you're on the road in record time. We're only a short ride from the terminal, and offer a free shuttle bus ride to get you there. Like, who can wait when there's an adventure to get underway?
That's not all we thought of, though. We also offer unlimited mileage, bedding and kitchen kits, 24/7 roadside assistance, and free travel advice. And, we rent to any licensed drivers, 18 and older. We got you, boo.
Thought of a campervan question? Give our friendly crew a call on 1800 150 850, also 24/7.
JUCY airport shuttle

Picking up your vehicle

Dropping off your vehicle
Note: Our branch airport shuttle runs on demand during JUCY business hours, and the last shuttle leaves the airport 30 minutes before closing time.
Want a free ride? Here are three easy steps to get our absolutely FREE shuttle from Melbourne Airport to our JUCY branch:
Step 1
Get off the plane, stretch your legs, and smell the fresh Victorian air for the first time!
Step 2
Collect your bags and call us on 1800 150 850. Select option #1, then #1 to request your free shuttle transfer.
Step 3
Exit the terminal, head to the Hotels & Off Airport Buses waiting area and hang here until we arrive.
Wondering if you'll see us coming? Our shuttle van is bright green and purple, so it's almost impossible to miss us!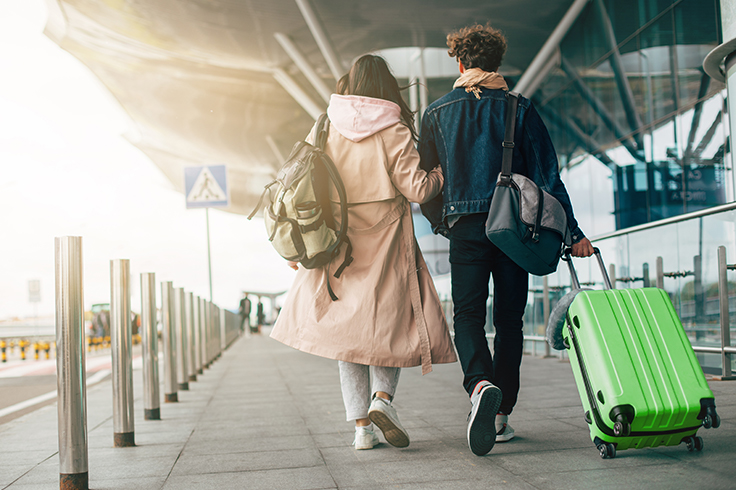 OMG! You made it. Yay. Here's what you need to know about picking up your JUCY campervan:
If you've come from the airport, you're welcome to ride with us on our free shuttle bus! Read the tab to the left to find out how.
We're not a stuffy company (does the green and purple campervan give that away?) so we'll get the un-JUCY paperwork out the way ASAP. After that, it's the fun part where we show you around your new home for the next-however-many-days! A vehicle show-through is awesome for us too, as we love to reveal where we stored all the cool hidden extras. This is the perfect time to take advantage of our offer of free travel advice, too. We get super excited sharing where to go in the area (and eat, we're definitely food motivated). We can even help if you're feeling a bit nervous about driving on the other side of the road. Just talk to our friendly crew.
Although we're open a bit later, we do ask that you reach us an hour before we close. That means by 5pm on weekdays and 1pm on weekends.
We do not offer after-hour pick-ups for campervans at this branch.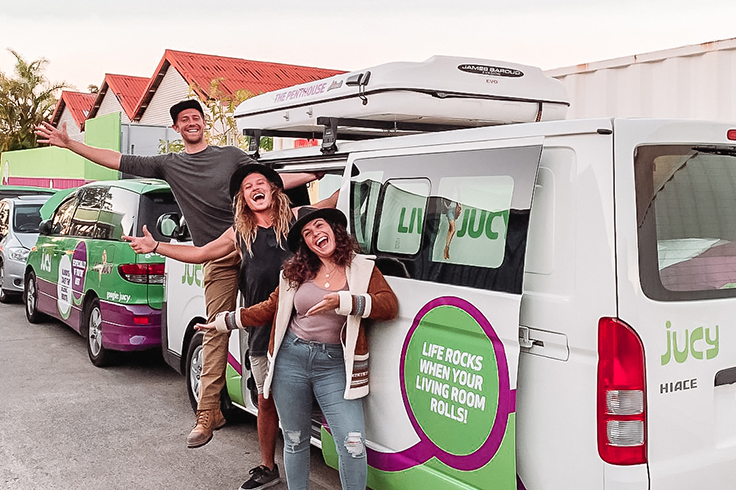 Dropping off your vehicle
Awww, we have to say goodbye? Okay, let's make it brief. Follow these steps:
Drive to our Melbourne Airport branch at 1 Silicon Place, Tullamarine. We recommend timing your drop off with at least 45 extra minutes from the time you need to be at the airport.
Remember to fuel up! If you forget, a quick back track to the Caltex Star Mart, Sharps Road, Tullamarine VIC 3043. should sort it.
Next, grab your belongings out of your campervan. Experience tells us that, unless you're super organised, you'll probably find one sandal under a seat, your togs wrapped in one of our towels, and an important document in a seat back. We'd love it if you also cleared out your rubbish at the same time.
Hand in your keys to our friendly JUCY crew.
Once the above steps are complete, jump on the next shuttle bus to the airport. We'll try not to shed a tear as we wave goodbye.
All the vehicles must be returned within office hours, after-hours service is not available at this location.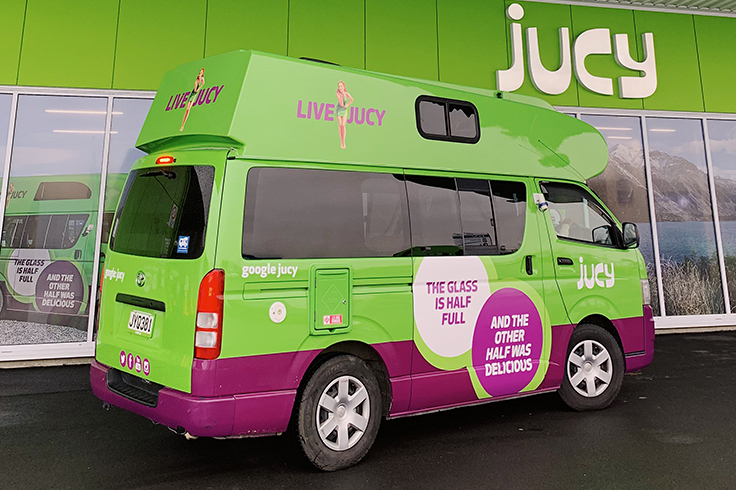 Choose your JUCY Campervan Hire Melbourne
Uncover Melbourne, Victoria, and Australia's secrets when you travel in a JUCY camper
Melbourne is the gateway to Victoria, Tasmania, and some of Australia's most iconic roads. Whether you're hiring a campervan to explore the state, or to head out of it, the convenience and freedom of driving your home are second to none.
One of the unsung pleasures of Victoria is spotting the wildlife that calls the state home – it's like one giant wildlife park! Exploring by campervan is like you got the keys to the zoo and snuck in overnight. Bucket list moment without any laws broken. Score.
So where to go? Stop by the Otway Ranges for native Australian wildlife in their natural habitat. Find the world's smallest penguins on Phillip Island. Find more kangaroos than campers when you park the night in the Grampians. And make sure your travel companions are watching the ocean for marine life. It's not uncommon to see whales and dolphins playing tag in the waves (just remember to pull over in a safe place).
Imagine waking in the penthouse bed of your Compass or Champ campervan and looking down to find wallabies grazing around you? With six campervan models to choose from, you can choose by budget, by size, or by the cool features that make your roadie that little bit more special.
No matter your road trip plans, driving out from our handy Melbourne Airport branch, you'll know you're in good hands with JUCY. Along with 24/7 roadside assistance, we also offer travel advice, as well as a ton of cool itineraries in our Get Inspired section.
If you have a question, give us a call on 1800 150 850.