Campervan Hire Sydney Airport
Sydney is a natural place to start a New South Wales or Australia campervan road trip. Once you've picked up your Sydney campervan hire there are so many epic road trips to see sights from iconic beaches, towns, outback gems, mountain havens, and a wide-ranging number of attractions.
Whether you want to discover local things to do in Sydney surrounds or explore the East Coast, it is all easy with a cheap campervan hire from Sydney airport. Many travellers start their Australian road trip adventure with a campervan rental Sydney to escape the hustle and bustle and explore more of Australia's backyard.
Long considered the best way to tour here, a caravan hire in Sydney is an affordable way to take a day trip or road trip further to the central coast and beyond. With six custom-built campervan rentals to choose from, we have one to suit your budget and travel style.
Did you know that during business hours you can catch a free shuttle bus from the airport to JUCY Sydney? Read further down the page to find out all the deets for picking up your JUCY campervan rental!
Contact JUCY Campervan Hire Sydney
| | |
| --- | --- |
| Address: | 286 Coward Street, Mascot, NSW 2020 |
| Reservations: | 1800 150 850 |
| Hours: | 08:00am - 05:00pm Monday to Friday |
| | 08:00am - 02:00pm Saturday |
| | 09:00am - 02:00pm Sunday |
JUCY Campervan Hire Sydney
We know that there's more to picking a cheap campervan rental Sydney than just price. There are size, features, style, and bonus extras to take into consideration.
That's why we offer six different custom-built campervan rentals in Australia. You can choose whether you want two beds or four, how much space you need, as well as your trip budget. Plus, we custom-fit JUCY campervan rentals and have spent nearly 20 years perfecting what should go in them. That experience counts for a lot, you'll see.
We get travel and how to best do it by self-driving with a car rental or campervan hire. Sydney. We're passionate about sharing what we know. Whether you're getting a van hire Sydney to explore locally, NSW or all of Australia, we come along for the ride with you (not literally, of course, that would be creepy).

Are you ready to ride with a JUCY campervan hire? Pick up a campervan rental Sydney and get on the road to explore Australia.
JUCY Sydney airport shuttle

Picking up your JUCY rental Sydney

Dropping off your JUCY rental Sydney
JUCY Sydney airport shuttle
Note: Our branch airport shuttle runs on demand during JUCY business hours, and the last shuttle leaves the airport 30 minutes before closing time.
Want a free ride? Here are three easy steps to get our absolutely FREE shuttle from Sydney Airport to our JUCY branch:
Step 1
Get off the plane, stretch your legs, and smell the incredible Sydney air for the first time!
Step 2
Collect your bags and call us on 1800 150 850. Select option #1, then #4 to request your free shuttle transfer.
Step 3
Exit either the domestic or international terminal to the left and the Rideshare pick-up signs (it's about a 4-minute walk). Wait at the Rideshare Pick-up area for your JUCY shuttle to arrive.
Wondering if you'll see us coming? Our shuttle van is bright green and purple, so it's almost impossible to miss us!
Need to make a call? You'll find one at the "Meeting Point" in Sydney's International Terminal you can freephone from.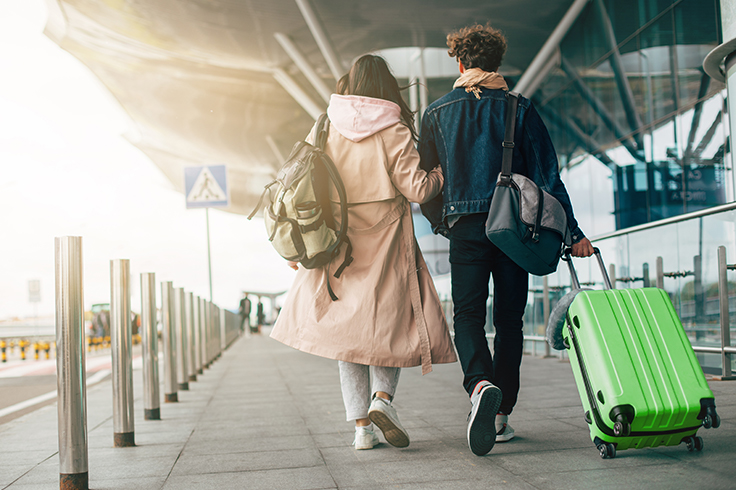 Picking up your JUCY rental Sydney
We're people-people at JUCY Sydney. That's why we get excited about every single customer coming to visit us. Not only do we get to help bring your planned road trip to life, but we also get to talk about travel – our fave subject! Aside from sharing as many travel tips with you on arrival, the following will also happen:
If you're arriving at Sydney Airport – domestic or international

–

we'll pick you up in

our JUCY

shuttle bus. It's free! Check the tab to the left to find out more

Aside from a warm welcome by our Sydney Airport branch crew, you'll also need to complete a little paperwork and check

your

JUCY campervan rental. We can even help with some tips if this is your first time driving on the left side of the road

Unless you're coming out of hours (see below), you'll need to arrive by 4.30 pm on weekdays or 1.30 pm on weekends to pick up your camper
After-Hours pick-up is unavailable until further notice.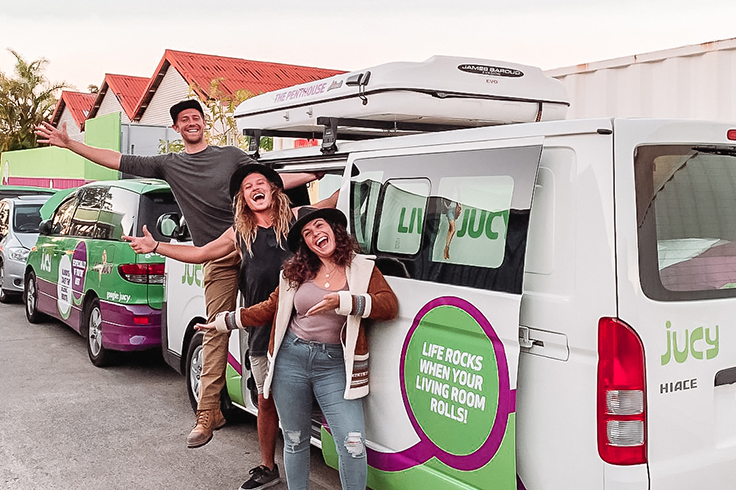 Dropping off your JUCY rental Sydney
All good things must come to an end – even epic Aussie road trips. We prefer au revoir over goodbye! To drop off your campervan, follow these steps:
Drive to our branch at 286 Coward Street, Mascot, NSW 2020
We recommend adding an extra 45 minutes to your schedule if you're planning to jump on our shuttle bus to the airport.
As you're getting close to the branch, you'll need to fill up the petrol tank. Our nearest gas station is BP Mascot.
Park your JUCY campervan rental, empty your belongings, and pull out your Treasure Island skills as you dig deep for lost items. We've seen it all: left passports, electronic gadgets, and a weirdly high number of left thongs (that's a flip flop to you). Can you clear any rubbish out at the same time, too, please?
Hand in your key to our friendly crew. You're now welcome to jump aboard the next shuttle to the airport. It's free! The last bus goes at 4.30 pm on weekdays and 1.30 pm on weekends. We'll see you next time, yeah?
If you're returning your car after hours, read this:
Follow the steps above: drive, fill up, remove your gear and rubbish
Enter through the gate and proceed up the driveway
Please park your vehicle in the carpark beside the office building
Next up, check the windows are all closed, then lock the car
Return keys in the Key Return Box located on the office building
We're sad to say it, but you're now free to depart. Sob.

To Airport: Please make your own way to Sydney Airport via Taxi or Uber (approx. $20/6 mins/2 km).
To City: An Uber/Taxi will cost approx. $30 (13km/25mins)
JUCY RENTALS IS NOW ZERO CONTACT FOR ALL VEHICLE PICK UPS AND DROP OFFS!
JUCY's new zero contact booking option allows you to pick up and drop off all vehicles 24 hours a day and 7 days a week(except Melbourne Airport) with a contactless experience to minimize human contact.
We also offer after-hours pick up and drop off for both cars and campervans now! Find out more information here.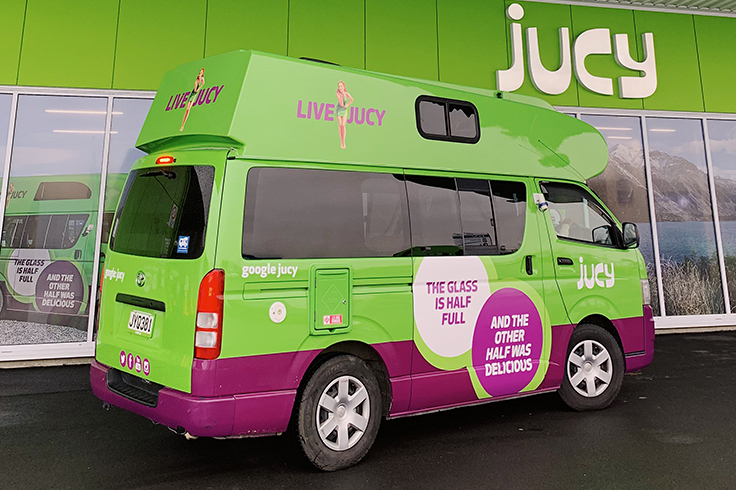 JUCY Sydney Campervan Hire
Life is sweet when you travel in a JUCY camper
You've known moments of freedom in your life. The wind in your hair when you sailed, the free-fall feeling off a diving board, the first time you rode a bicycle without help. Well, Sydney campervan hire is like adding all those feelings together, and then some!
Sydney campervan hire freedom is stopping where you feel like it (legally, of course). It's taking a left when you had planned to go right. It's waking in a campground and opening your windows to watch wallabies chewing the grass around you. We can't think of a better way to see Australia!
It's why we offer you six campervan hire models from our JUCY Sydney campervan branch. Whether you're on a budget and need our low-cost El Cheapo campervan, or you're planning an adventure with the kids, we've used our experience (nearly 20 years worth), to create a campervan to match.
We custom-build our campervan interiors, and that makes a sweet difference when you're on the road. We're experts at finding cubbyholes for things that need storing well. Wait and see!
We also love Australia and have thought up poems, and raps, and love songs for all the places that have touched our hearts here. You're probably not going to get us rapping on the phone, but if you call JUCY rentals on 1800 150 850, we will happily share our travel advice with you, for free. If you're not willing to take that risk with the rap song (tee hee), you'll also find a ton of tips and itineraries in our Get Inspired section on here.
So, whether you're planning a journey to the beautiful Blue Mountains, to bohemian Byron Bay, or far across the outback, we're ready to help make your Australian dream a road trip reality.