Your Australian campervan road trip inspiration
When you decide to explore Australia by hiring a JUCY campervan, you're saying yes. Yes to wildlife hanging around your camper at dawn, yes to cooking in your kitchen while the sunsets over some incredible natural sight, and heck yes to spontaneous side trips and crazy roadside statues! Call us biased, but we think campervan hire offers the ultimate freedom when you are exploring Australia's magnificent sights and attractions!
We've been in the campervan rental business for close to 20 years now. That's how we perfected custom-built campervan fit-outs, and also how we have so much travel info among our JUCY crew.
We're big on sharing, like the campervan Oprah, that's why we've pulled together a ton of inspirational road trip itineraries, travel tips, free camping advice, and even some tasty campground recipes to help you plan a road trip for Australia.
Check out our inspirational content here, or call our passionate crew on 1800 150 850, 24/7. You can also follow us on Instagram for some daily travel inspo!
We can't wait for your JUCY Australia camper road trip.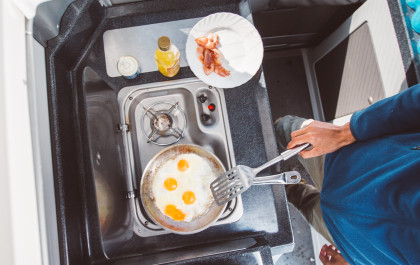 Experiencing the best of Australia's flavours is as important as seeing the best sights on your road trip! Use this handy guide to sample the top 10 Aussie flavours as…
The freedom to travel Australia in our custom-built campervans