5 Gold Coast Wellness Road Trip Days Out
Planning a GC roadie? Read our top five Gold Coast wellness road trip add-ons. We share what's best in Byron Bay, Burleigh & beyond.
Ready to add a Gold Coast wellness road trip to your travel wish list? Here's why: if there's one thing 2020/21 has taught us, it's that wellness matters. Whether that's physically, emotionally, or mentally, we need balance in health and life to ensure that we ride the tough times as fluidly as the good.
At JUCY, we're as familiar with how road trips can elevate your wellness as we are with the roadie destinations themselves. We've long been matching our vehicles with nature-based activities to invite more wellness into our lives. From driving to stunning destinations that lift the soul, to watching sunsets at campgrounds, to buying fresh produce to cook in our custom camper kitchens. We love the headspace it all brings.
Giving back is a part of a wellness attitude, too. That's why we're sharing our top wellness spots in Southern Queensland and Northern New South Wales.
Forget riding the rough times; ride with us as we share our pick of the best Gold Coast wellness road trips.
The Perfect Wellness Day in the Currumbin Valley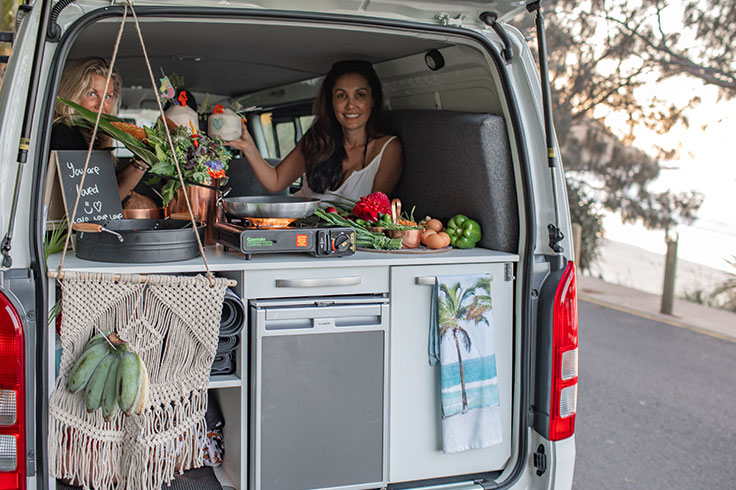 Drive only seven kilometres from our JUCY Gold Coast Airport branch to reach the Currumbin area. In Currumbin, you can have it all because it offers everything from a stunning beach right through to its verdant hinterland.
Currumbin's most famous attraction is the Currumbin Wildlife Sanctuary. This heritage-listed sanctuary covers 27 hectares, with a range of Aussie critters and creatures to amuse and educate (and rehabilitate at their on-site hospital). The animal encounters are particularly special. Our pick? Breakfast or high tea with the koalas!
Head into the Currumbin hinterland next, but first, cake! Pasture and Co, located at the sustainable Currumbin Eco Village, has a sumptuous carrot cake that's worth the stop alone. Remember, self-care comes in all forms, and as long as you enjoy it (and you will), then it's good for you! Grab the Green Bowl if you prefer healthy eats.
A further 15-minute (particularly lush) drive inland, and you'll find yourself at Cougal Cascades. Part of the wildlife-filled Springbrook National Park, you can enjoy an easy rainforest walk to reach these scenic falls. Walk down to the rock pools for a refreshing dip.
One thing guaranteed to boost your wellness levels is a hearty organic feast. Stop by Freeman's Organic Farm and fill your JUCY campervan fridge with local produce.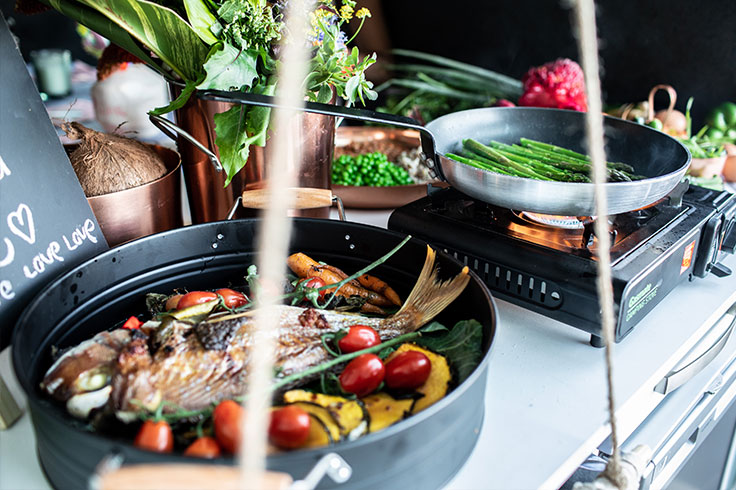 Head back towards the coast to visit the Dust Temple. An art-filled space for your creative soul. This converted warehouse has art exhibits, live music, dance, and a popular café.
Conclude your Gold Coast wellness road trip today with a casual sunset dinner and drinks at Currumbin Surf Life Savings Club.
Connect to Country on a Byron Bay Day Trip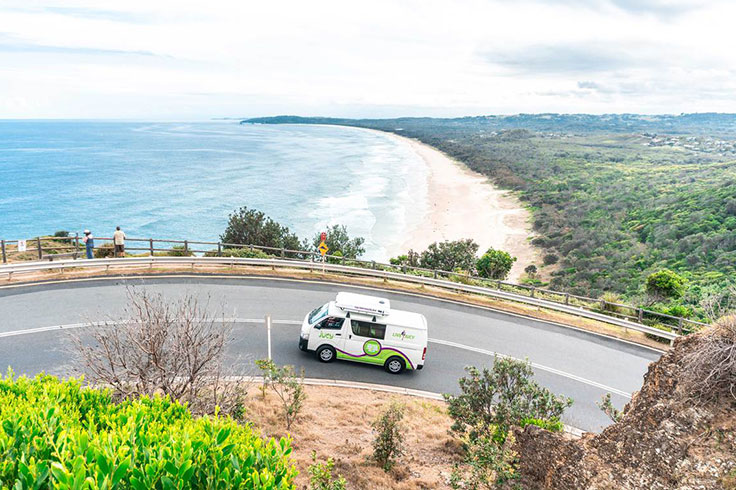 Drive from the Gold Coast to Byron Bay in Northern NSW. The most obvious way to boost your vibes in Byron is to bump into a Hemsworth, but bar this (it's not impossible, just improbable), we've got the next best things for a Byron wellness day out. Probably Australia's most well-known wellness destination, a little insider intel saves you from wasting your hard-earned cash on a cranial skull reading from Guru <insert spiritually cheesy name here>.
Start the day with an invigorating hike to Cape Byron Lighthouse. Meditate or do some short breathwork at the top of this iconic Byron landmark, before continuing your 4K walk on the Cape Byron track. Earlybird's, you'll love the sunrise here.
You've earned a brekkie feast after your hike; collect your reward at Three Blue Ducks. Located on an 86-acre biological farm and native ingredients are often used, including the macadamias that grow here. This is the ultimate farm-to-table experience. Enjoy breakfast there, or purchase a picnic to take into the hinterland.
Head inland now to Crystal Castle to experience the Zen-like ambience of the world's largest crystals set amid a gorgeous get-away-from-it-all garden. Sit inside a ginormous amethyst geode, hug a giant rose quartz, and stand in awe between two of the tallest crystals on earth (and obvs take an Insta-snap). Be sure to coincide your visit with one of the free, super relaxing sound baths.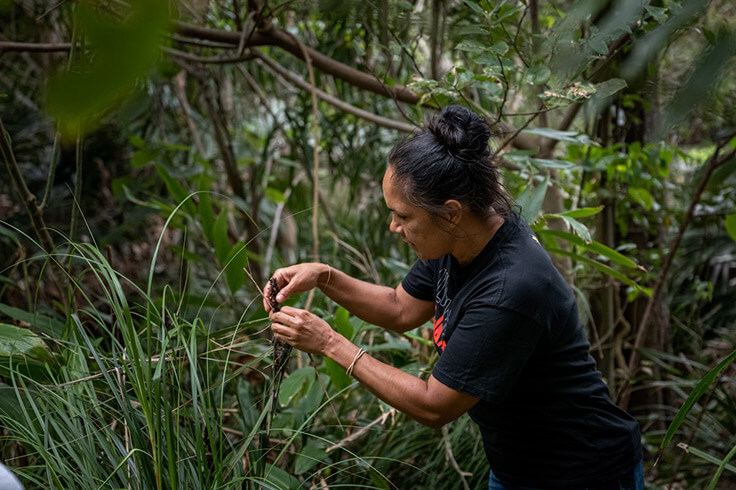 Return to the coast in time for Explore Byron Bay's late afternoon Cape Byron aboriginal tour. Lead by the charming Delta Kay, a local Arakwal Bundjalung woman, you'll learn about the region's indigenous culture, customs, and ceremonies, before finishing up with a spot of bush tucker at the end. Often wellness equals self-care, but this tour is a wellness experience for you, the community, and the planet as Delta reveals Arakwal Bundjalung's connection to the land. It's a Byron must-do.
Continue the bush tucker theme at the awarded Karkalla, where Bundjalung native, Mindy Woods, weaves indigenous ingredients and locally sourced seafood into decadent dishes.
Connect with Your Soul in Burleigh Heads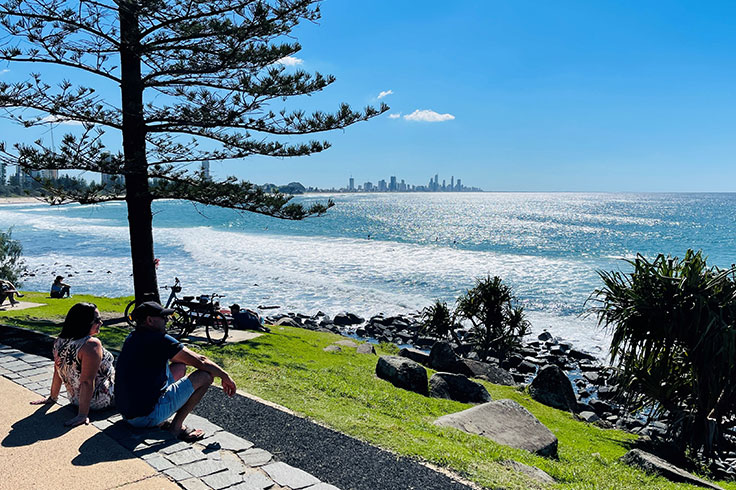 Burleigh Heads is the region's wellness Mecca with an un-Byron vibe. Meaning you don't need to look head-to-toe perfect while you visit (unless you decide to go to trendy Burleigh Pavilion).
At the midway point on the Gold Coast, Burleigh offers cool eateries, ripper surf, wellness from the everyday to the woo-woo, and community vibes where the locals happily say hi.
Burleigh Head National Park is your top wellness spot in the Burleigh 'hood. Not only because it's the local's walking trail but also for the spiritual vibes many feel here. It's sacred for a reason. The rainforest circuit offers expansive views across the southern Gold Coast and, if you're visiting from June to November, watch the horizon for passing whales from the Tumgum Lookout. Sunrise at the lookout is magnificent, too, as it watching the pro surfers tackle the renowned point break. Start your day hiking Burleigh Head before stopping by the ever-popular Nook Espresso to grab a coffee to enjoy on the gorgeous sandy beach.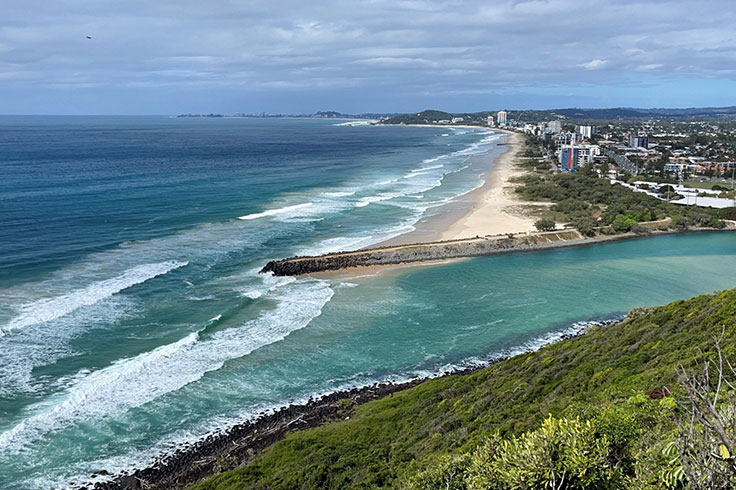 Next, immerse yourself in the 4,000+ history of the traditional landowners of Jellurgal (Burleigh Head) - the Kombumerri clan at the Jellurgal Aboriginal Cultural Centre.
Not stopping for something yummy on James Street is practically an offence visiting Burleigh. Goodies from Social Brew or Tarte will not disappoint. If you're in town on a Saturday, the Burleigh Farmer's Market is a fab place for fresh local produce for your camper kitchen.
Post–lunch - If you're open-minded - go all-in on the Burleigh wellness vibes with an ocean-like Kahuna massage, Chinese cupping, or an energy healing session – all offered by Burleigh locals.
Chakras aligned, meet the talented Lisa from Soul Grit Photography for a golden hour photoshoot (that means the light is a bit spesh). Great if you're celebrating, reconnecting, or just because (you're fabulous).
A total Burleigh vibe, follow up with a sunset picnic at John Laws Park. If you're DIYing, head to Burleigh Baker and Doughnut Time for treats, or pre-order the ultimate in deliciousness from Marishka's Honey Cakes. For an all-time chill experience, coordinate a pop-up picnic with Events by BK.
Conclude your day with a meditation or sound healing session at Freedom Float Centre. Check here for upcoming events or try their float tank experience instead. It's all a blissful conclusion to your high vibing, wellbeing-inducing, mellow-AF Burleigh Heads day trip.
Connect with Wildlife in Lamington National Park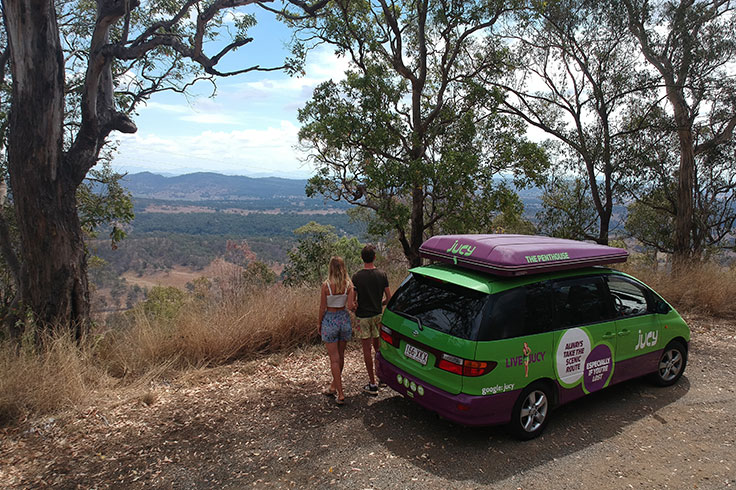 It's legit a scientific fact that hiking is good for your wellbeing, making a visit to Lamington National Park – with its 320 kilometres of hiking trails - equal to 10 wheatgrass shots, one kundalini yoga class, and a Reiki session (not a scientific fact). This ancient national park sits within the UNESCO World Heritage Gondwana Rainforests. It is home to an abundance of lush flora and fauna – some of which is over 225 million years old!
With 24 trails within Lamington to choose from, it's a bit like selecting an ice-cream flavour at Burleigh Gelato Co (so hard). Our faves? For a 1.5-hour hike, we love the Moran Falls Track, where exotic birds fly over the rainforest canopy as you make your way to falls and gorge. For a family-friendly walk, Centenary Track gives you Lamington highlights. For more experienced hikers, the full-day Coomera Circuit at Binna Burra is where it is at. And by is, we mean waterfalls, lookouts, gorges, and expansive wilderness.
The reason we love Lamington is not only because of the national park itself (there are plenty of others in the region that also fill us with joy - Springbrook, Tamborine, Wollumbin/Mt Warning). Nope, it's that it's near O'Reilly's Rainforest Retreat, a gorgeous Lamington campground/accommodation provider.
The views from O'Reilly's across the McPherson range are uplifting for the soul in themselves. A perfect start to the day, whether you're opening your campervan blinds in the campground or your curtains in one of their mountain view rooms. O'Reilly's Lost World Spa also swats your tension away (if you have any left by this point) like it's a pesky fly around your afternoon tea. However, for the ultimate stress reliever, O'Reilly's also own Mountainview Alpaca Farm on their Canungra Valley Vineyards. It's impossible to feel anything but happy when you're walking an alpaca, trust us! We recommend at least two nights at O'Reilly's.
Pro tip: Want to hike with experienced peeps? Join either the Gold Coast Hiking Community or, for female travellers, the Women Hiking and Adventures Gold Coast Group. Both are free groups and offer frequent meetups.
Connect with the Healing Power of Water on the Southern Gold Coast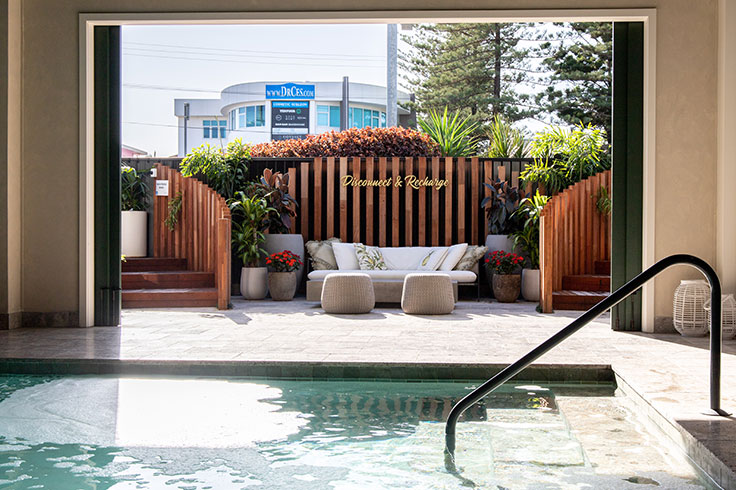 If you've ever slept by the ocean, a river or a running stream, then you understand the healing power of water. Today's Gold Coast wellness road trip day out is on, in, and around the water.
Start the day listening to the waves crash nearby as you enjoy a spot of free outdoor yoga. The City of Gold Coast offers dozens of free local classes. Alternatively, if your dates align, we're fans of Cool2BeConscious's Sunday Stillness breathwork and meditation sessions on Burleigh Beach.
Next, grab a board to get acquainted with the Gold Coast's famed surf. Burleigh Heads and Currumbin Alley offer world-class waves if you're experienced. If not, join our buddies at Get Wet Surf School for a 2-hour lesson. JUCY peeps get 25% off!
If surfing is not your jam, take a mellow paddleboard on Tallebudgera Creek. Scenic, calm, and no waves mean you don't even need to engage your core (well, maybe a little) to enjoy your time SUPing. Rent your board from Leanne; she's got kayaks, too.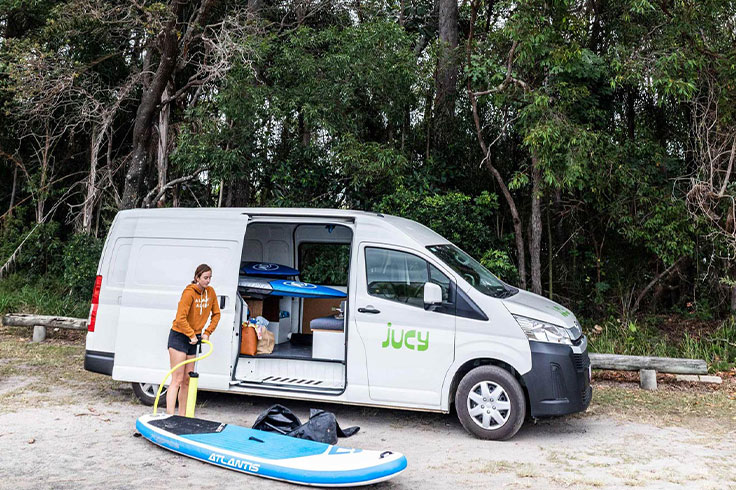 Whether you're in one of our campervans or been matching your JUCY car hire with holiday park cabins, you've likely to be over campground showers. Good job the lush, relaxing Soak Bathhouse in Miami is ready for your pampering pleasure!
Soak Bathhouse's gorgeous (v. Insta-fabulous) facilities offer indoor and outdoor mineral pools, a sauna, steam room, and cold plunge (great for your health, btw). If you opt for a Soak massage (recommended), pay a nominal fee to add 30-minutes in the rejuvenating pools; otherwise, bookings are in 90-minute slots. They also offer a rejuvenating LED facial. Together, everything makes the perfect spa half-day
Dine by the water to round out your day at the delectable Rick Shores in Burleigh Heads (the Moreton bug rolls are swoon-worthy) or at the Burleigh Pavilion upstairs. If you're on a budget, grab fish and chips from Red Hot Cod (gluten-free batter available) and take them to the beach.
Connect with the Best Gold Coast Campgrounds
If you wanted to make these five Gold Coast wellness road trips into one epically chill campervan or car roadie, then it's easy to pick one or two campgrounds and day trip in and out. Nothing – besides O'Reilly's/Lamington National Park – is more than an hour away from our JUCY Gold Coast branch.
Tallebudgera Creek Tourist Pak is in a gorgeous waterfront location nestled between Palm Beach and Burleigh Heads.
Nobby Beach Holiday Village is a 5-minute' drive from Burleigh Heads.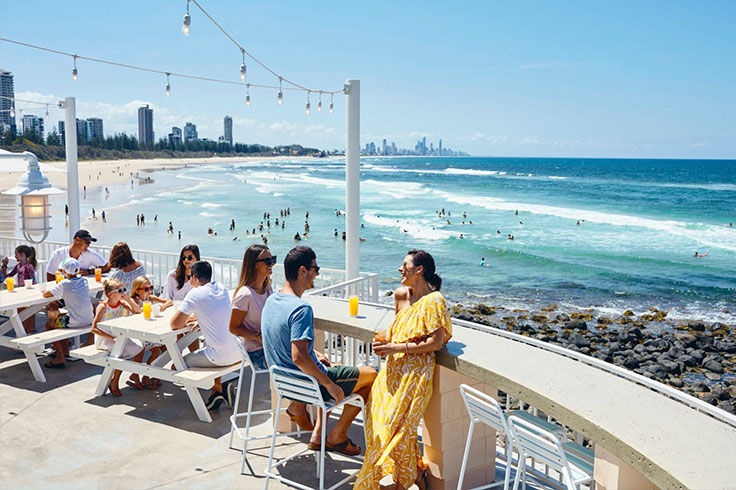 Already feeling more mindful just from reading this? Awesome, sounds like a Gold Coast wellness road trip is just what the holistic doctor ordered. Let our friendly JUCY crew take your vital statistics (that's a campervan or car hire booking) or click the BOOK button below and get your Australian vacay locked in. And then you'll be OM your way (wellness dad joke special!).
BOOK your wellness Gold Coast campervan hire with JUCY now!