6-day JUCY Coaster Road Trip From Brisbane to Stanthorpe
the Ultimate School Holiday Fun 6-Day campervan Road trip itinerary from Brisbane to Stanthorpe
AUTHOR: Globetrotting Minis
Discover the best parts of the Scenic Rim and Southern Granite Country on a family-friendly campervan road trip from Brisbane.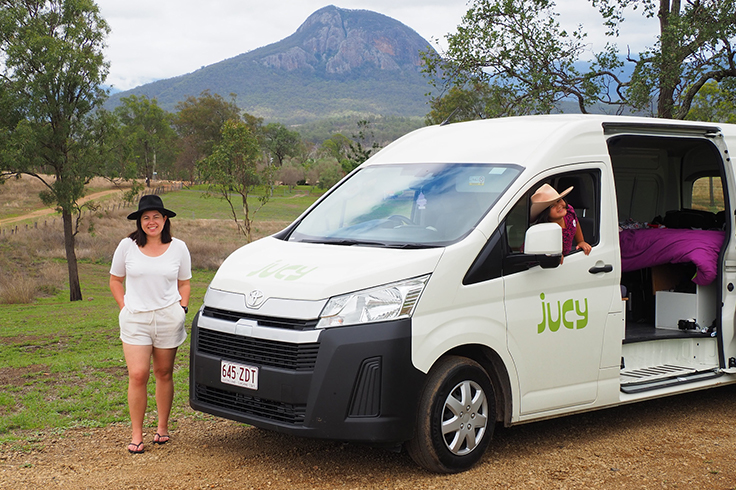 Mapping out a road trip for the family is so exciting. Queensland's diverse landscape is why we've traded the coastline for fresh produce, waterfalls, granite boulders, stargazing, and country farm life for six-days in a JUCY Coaster.
Brisbane's direct route to Stanthorpe is a minimal 250km trek, but we've jam-packed this itinerary with a range of nature's experience. Follow our six-day campervan road trip itinerary for family-friendly, off-the-beaten-track adventures through Southern Downs Queensland Country, Scenic Rim, and Granite Belt Wine Region.
Queensland ethos, "Come as you are, leave a little different."
DAY 1: BRISBANE TO LAKE MOOGERAH
Distance: 158km, 2hr 18m
An early start is best. At 8 am we pack in the minis head to JUCY Brisbane to pick up the campervan. Suppose you're coming from Brisbane Airport, no worries, JUCY has a dedicated Airport shuttle service for your convenience. You'll be treated to superfast, friendly service, sign the vision board, JUCY Bingo for the minis, beep beep, your six-day camperavn road trip from Brisbane to Stanthorpe officially commences.
Stop one, Rafter and Rose, a quaint cafe with a visually pleasing interior and laneway. Family-owned by green thumbs Lisa and Candy. Lisa explains it takes 40 hours a week to maintain the visual displays and continuously updates the interior. Ask Candy to whip up the kids special for the minis: coffee, and a chat, a great way to start the adventures.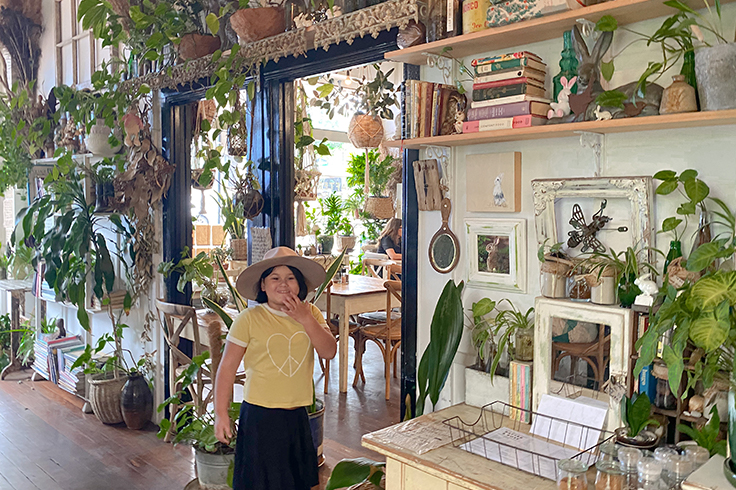 Welcome, midday at Summerland Camels. The minis can cuddle, feed, or ride a camel. Farm Tours are also available where you'll learn the science and benefits behind camel milk, history, production, and farming. Sit on the Queenslander verandah, overlooking a country view, whilst the minis interact on the farm or source camel goods in the gift store.
Before you leave, take a pic with humped friends; if it's not on the Gram, it's a Scam.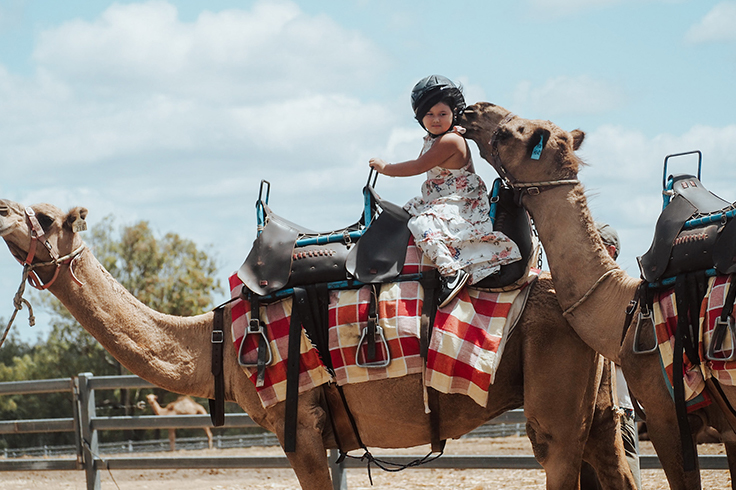 Set the Jucy Coaster GPS to Kooroomba Lavender Farm. Rolling hills and views of Mount Alford amongst the lavender plantation set the tone for day one on the road. Stroll through purple rows of nature and head out back to the giant swing.
Check out the lavender gift shop, snag smellies for your Jucy Coaster, or a purple furry friend for a mini. One regret was not purchasing a silk lavender sleeping mask. It could've made for a great inclusion on the road.
Leave stop three on a high, delicious meal, tranquil scenery, and phenomenal wine. We dined on awarding winning chefs' recommendation of Tasmania pan-seared salmon with roast lavender potatoes wedges, basil cream sauce, and pickled apple and fennel slaw now, isn't that literally a mouthful. Lavender scones are also a hit; take some for the road or devour a bite.
Bellies full, back in the JUCY Coaster, to settle in for the night. Have you completed your JUCY Bingo and Needing supplies?, swing by Ritchies Super IGA, High Street, Boonah. Find local produce whilst the minis learn iconic landmarks in each aisle.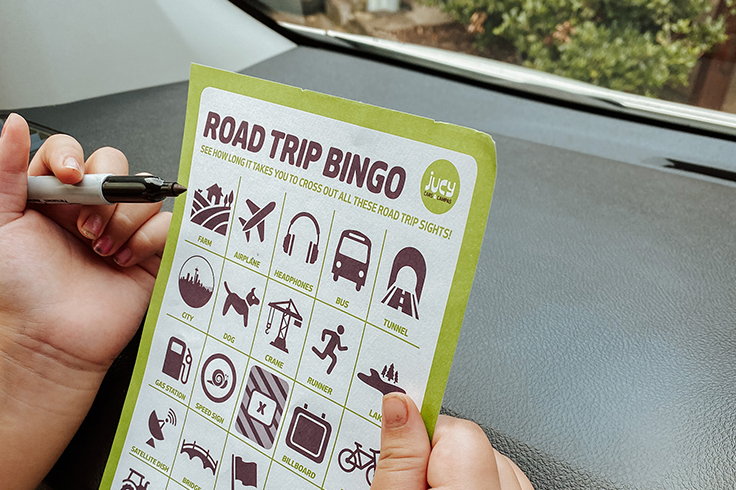 If you're visiting during Christmas, you'll find the street lined with crochet art. Spot festive friends atop, Commercial Hotel Boonah also available for food and beverage options.
Arrive at Lake Moogerah Caravan Park for your first night aboard the Jucy Coaster. Office hours are 8 am to 6 pm; call ahead if you'll arrive outside of these times; the camp managers are friendly and helpful. They'll equip you with a code for amenities in the instance of your late arrival.
As your JUCY Coaster is unpowered, non-powered sites are available for $22AUD; the camping ground backs Lake Moogerah & Mount Edwards, there's a playground for the minis, kitchen, and shower block location is central. Get settled in with nature's sounds seeping through your eardrums, sleep tight; you'll need it after an enthralling end to day one.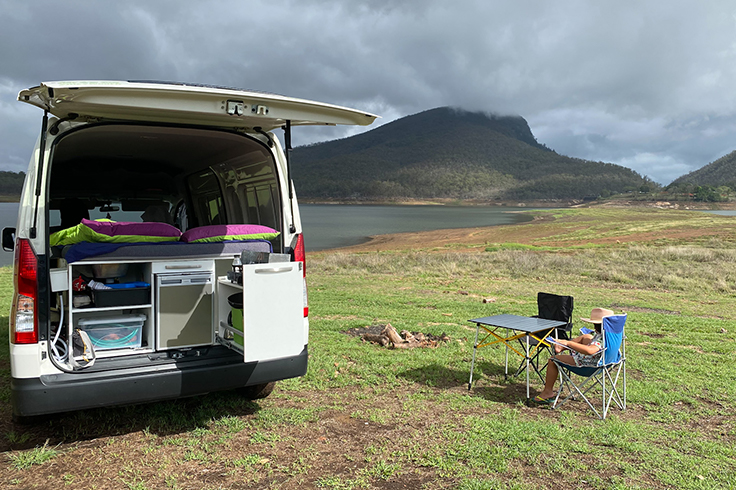 DAY 2: LAKE MOOGERAH TO WARWICK
Distance: 186km, 2hr 25min
In true #JUCYWORLD style, we start day two with a camp stove breaky enjoying the views of Mount Greville and Mount Edwards.
Spot Parrots, Rainbow Lorikeets before sprawls of water sports enthusiasts take the Moogerah Dam. Today you have options, Fred Haigh Park is minutes away, or make your way to Mount Edwards, 632m above sea level and tackle Mount Edwards hike. You'll need 3 hours for a 6.5km return.
If hiking is not an option, move through the region to Allora, the attractively unusual town brushed with Hollywood ties. Be transformed in the Mary Poppins on Herbert Street, 200m from the town precinct, where author Pamela L Travers once called home. The Victorian time capsule is now owned by Les and Loraine Struthers and was recreated in the movie 'Saving Mr. Banks' 'Tours need to be booked ahead at the cost of $15. The bank vault is still in the home; I dare you to try closing it, not light work.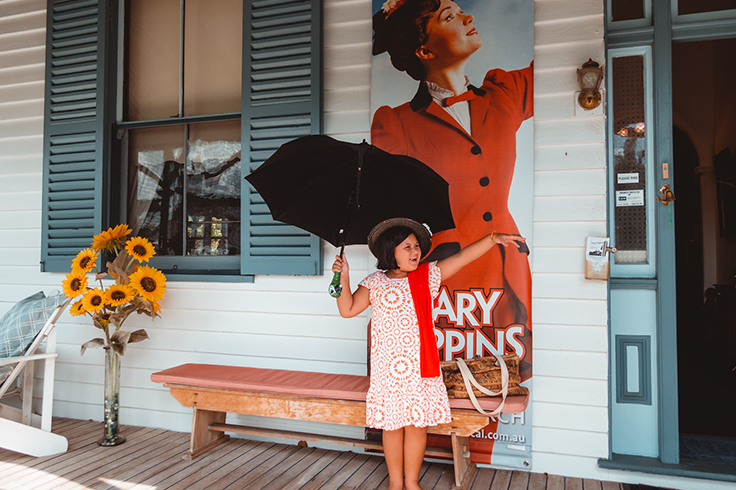 Grab a bite at Amys Country Cafe Allora. Country cafes feel homely and so do the burgers.
Darling Downs Zoo in the tranquil rural setting will appease the minis. Take an hour here, grab a map at the front office and make your way around the course. Here you'll find the only pride of African Lions in Queensland, Baboons, Monkeys, Marmosets, African Serval, endangered Sumatran Tiger, tropical birds, Kangaroos and White Wallabies, Deer, Crocodiles and Alligator, Boa Constrictors and Tortoises, unusual South American animals like Brazilian Tapir and Capybara and much, much more.. Don't miss the monkeys, they are fun and cheeky, loads of smiles for the minis.
A golden treasure hunt for sunflowers will cap the afternoon; depending on the season; you'll find the Cunningham Highway between Warwick and Allora is lined with a sea of yellow. Clifton Leyburn Road is also lined. I'd recommend contacting Warwick Information Centre to confirm fields abloom to avoid disappointment.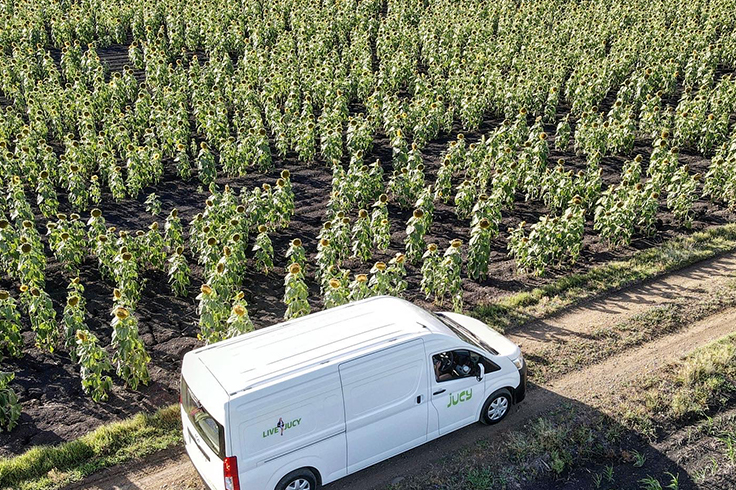 50 mins on the road, you'll arrive at Freedom Lifestyle Parks Warwick, where you'll make rest. Take advantage of the impeccable kitchen, shower, and laundry amenities; if you need to do laundry, this is the place to do it. The minis will be entertained by an onsite playground and pool.
Warwick township is a short drive, and it's time to fuel up the Coaster with Diesel ready for day three; conveniently, United Petroleum is located a stone's throw away next door.
DAY 3: WARWICK TO STANTHORPE
Distance: 70km, 1hr
Day three is jam-packed as you trade kilometers for activities. Is an early start, breakfast on the skillet, bypassing St Mary's Church to clock up steps with Fitness walks of Warwick. Choose one of 5 Maps to leisurely stroll through Warwick public buildings, be awed by its relaxed and friendly country town vibe. Food and water supplies can be obtained in Warwicks CBD. You may not eat until later, so stock up for the minis.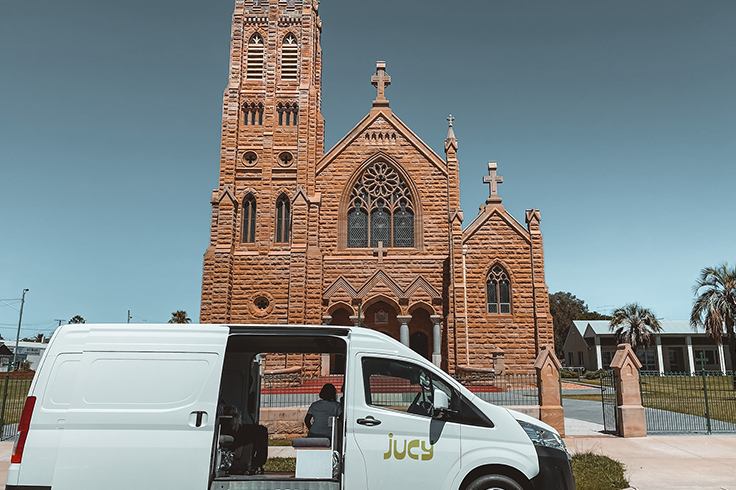 Back in the JUCY Coaster caffeinated, steps calculated to onward to The Big Apple. Not like New York but Stanthorpes's own. Hang a right over Thulimbah railway station, a colourful backdrop for any budding photographer.
Follow the signs to Castle Glen nestled in the heart of the Granite belt Countryside. You'll likely bump into the Owner Cedric who is dedicated to an organic philosophy, manufacturing "World First' Creme Liqueurs without chemicals and preservatives. Disclaimer, entering the stone Castle, you'll find 500 + preservative-free, natural, vegan options, allocate 30mins to an hour for your visit.
While the minis are thrust into a Medi-evil fairytale, enjoy tastings: my top pick, banana chocolate, and raspberry.
You'll move the Coaster all of 12 Kms through the next three destinations. Get ready to lose your bearings at dead ends on an expedition for clues in a gigantic Granite Belt Maze. If that isn't enough fun, a mini maze and mini-golf await you. Allow 1 - 2 hours at this stop. Keep an eye out for the mystical driveway arch on your way to this destination. I assure you'll want to stop for inspection.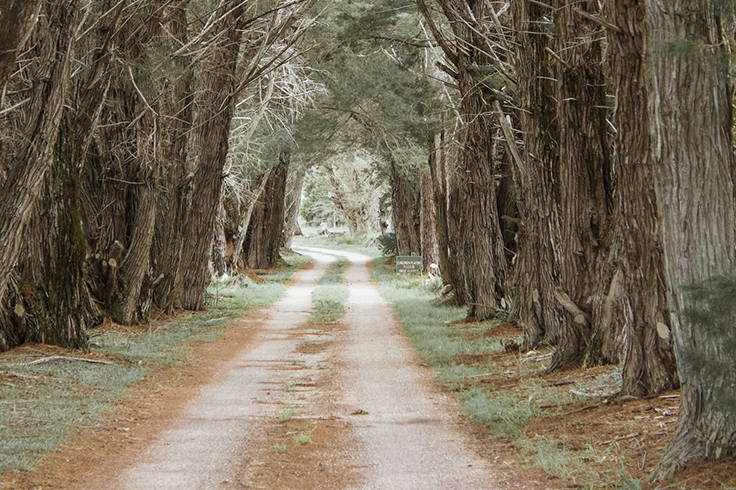 Your next stop is Granite Belt Christmas Farm, renowned for bringing 'Christmas Spirit' all year round. Browse the Mistletoe Store, Feed Santa's animals, or run through fields of real Christmas trees. Indulge in Mrs. Claus's decadent hot chocolate while the smell of pine lingers.
Closing day three drive to Top of the Town Holiday Park. Enjoy the granite rock pool, more friendly country folk, amenities, and knowledgeable tourism staff.
Arriving after 6 pm? as previously noted, most onsite offices close between 5-7 pm. Minis in tow and no place to park the Coaster for the night is not encouraged. Employing a safer than sorry attitude is always recommended. So when in doubt, contact ahead to ensure a site is reserved for you.
Aldi & Woolworths supermarkets are a short drive in the town centre for supplies for day four. However, the biggest burgers on the granite belt are at Cafe77 Stanthorpe. Trust me, this joint does not play with portion size.
Congrats, you've made it to Stanthorpe, and it's only day three of your JUCY campervan road trip.
DAY 4: STANTHORPE TO GIRRAWEEN NATIONAL PARK
Distance: 71 km, 1hr 1min
Your accommodation for the night is strategically positioned next to Stanthorpe Showgrounds, where Market in the Mountains comes to life. Check the market schedule to buy local craft, produce, browse second-hand items, whilst listening to local talent. Missed breaky in the Jucy Coaster? not to worry, options are available in the showground halls.
You'll have all the passengers screaming 'I love you BERRY much" after a visit to Ashbern Strawberry Farm.
Here the family can pick their own fresh strawberries from the patch, savour the sweet juicy berries from the farm to the palate. Ice cream infused with strawberries from the farm awaits inside, or try a smoothie, shake, or coffee; today, your belly is going to get a workout.
Warning! Berry gifts are everywhere. We left with strawberry body wash and a tray of fresh berries for the road.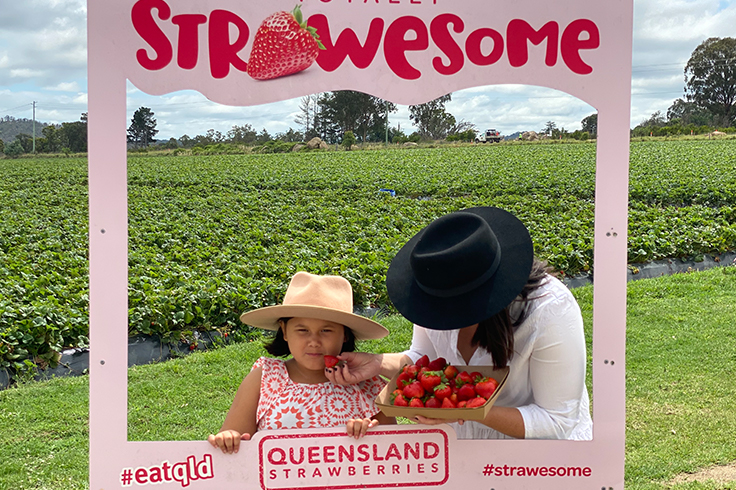 The Granite Belt region is home to award-winning wines within close proximity; take your pick on a handful of vineyards for tastings over the next few days.
Our pick is Ballandean Estate Wines for a Gourmet vineyard picnic, which includes wine tasting in the cellar door, a bottle of wine for the picnic, and an enormous amount of gourmet delicacies prepared by the Barrel room. Set up under the Grape vine-clad gazebo before taking to nature and enjoying the vineyard and scenery. The vineyard closes at 5 pm. Stay all day and discover the science behind winemaking. You won't miss the enormous insta pic-worthy 100-year-old wine barrels if it ain't on the gram its a scam.
Pack leftovers in the Jucy Coaster fridge, stock up on water in Ballandean as you're heading to the Girraween National Park for the night. Before leaving Ballandean, turn off the highway (eastward towards the Ballandean Tavern) on Eukey road, turn immediately right onto Jacobsens Road. Follow Jacobson's Road for 1.7km, where you'll find a man-made Ballandean Pyramid. Standing 17.5 metres in height and containing 7,500 tonnes of local granite.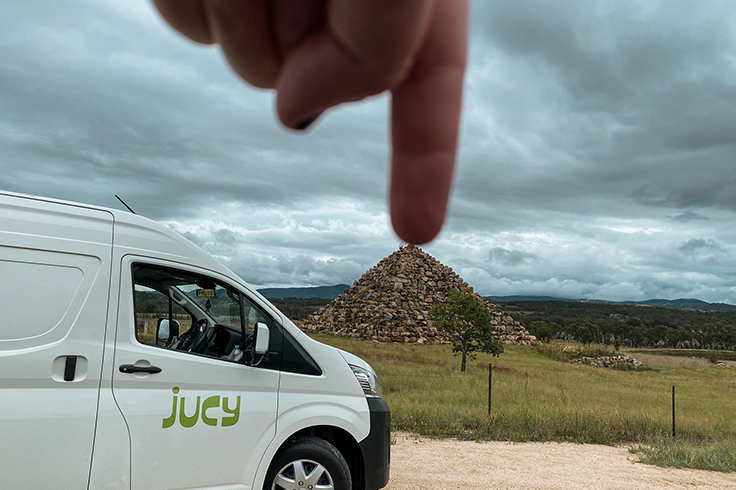 Back on the highway with GPS co-ordinates to Giraween National Park, you're ready to park the Coaster for the night. Girraween Environmental Lodge would offer non-powered campsites for $50 or luxury lodges if you wanted to splurge on accommodation. Phone reception is low in these areas; you charge your devices in the office. There is also an outdoor spa, which makes for a relaxing end to day four and stargazing under the night sky.
Bald rock creek and Castle rock camping areas are also options for the night, call ahead to check availability.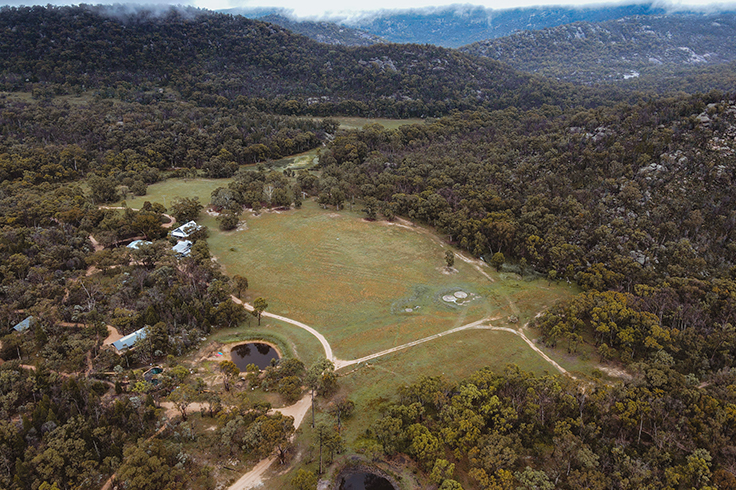 DAY 5: GIRRAWEEN TO KILLARNEY
Distance: 133 km, 1hr 37min
Rise and shine and keep your eyes peeled for resident kangaroos. Another early start as today is about hiking shoes, bathers, and water bottles.. An expert hiker? Why not try the environmental lodge hiking track alternatively jump in the Jucy Coaster? Follow Pyramids Road until you come to the Girraween National Park. A park that replaces rain forest for interesting granite boulders balancing in gravity-defying positions. Familiarise yourself with the Girraween National Park Map or swing by the information centre for one.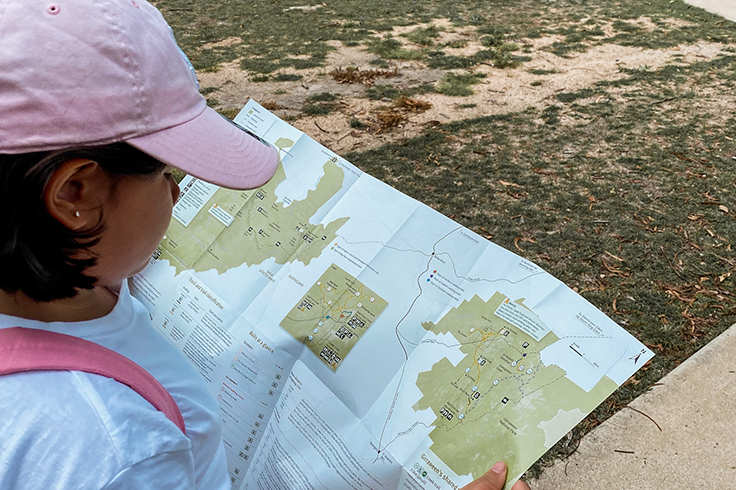 The park offers 30 km of walking tracks, from 1 hour to 5-hour returns. In that time, you'll see the Granite Arch, Pyramid, Junction, and for the older minis, the Balancing Rock, Turtle Rock, the Sphinx, Castle rock, and Mount Norman. The minis will enjoy dodging rock formations, rock pools, wildlife, and interesting fauna. Keep an eye out for the fire ants they are large and extremely painful if bitten.
The Pyramid hike has a steep rock face incline to the summit. Be realistic about your family's abilities and always avoid the hike if it is rainy, the granite boulders are slippery when wet, and no one wants to come off second best to a boulder.
On return, stop at Bald Rock Creek's designated picnic and swimming area. Adhere to the safety signs, so no diving headfirst, remember you're in granite boulder central. Be prepared to be joined by more resident kangaroos at this stop.
Well done team, dust off your hiking shoes and drive the Jucy Coaster back down pyramids road, and celebrate your steps at Heavenly Chocolate. Decadent European chocolate and hot chocolate available exclusively here in the Granite Belt. Take your indulgence, coffee or cold drink outdoors in the garden seating where the minis can interact with the farm animals. Heavenly chocolate will welcome you, Friday to Monday, between 10 am- 4 pm and all public & school holidays.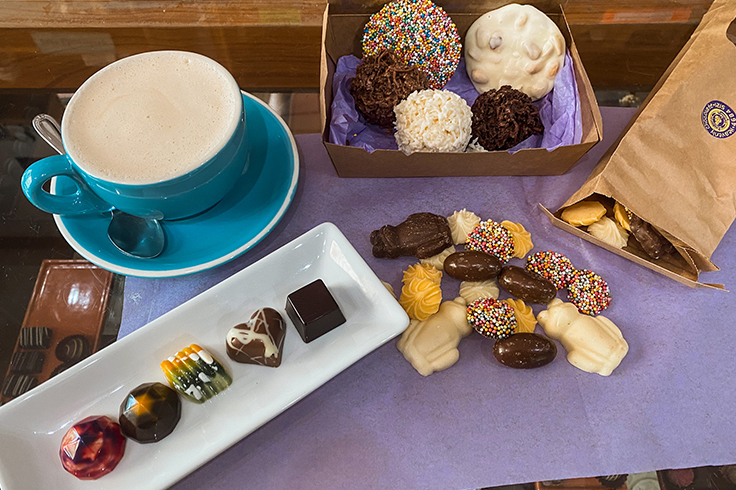 Before we leave the region, it's time for another winery today; we choose the new kid on the Granite block, Balancing Heart Vineyard. Only minutes from the National park and heavenly chocolate, be greeted by an enormous wine bottle as you drive through to the cellar door. The cellar door is open seven days a week from 10 am - 4 pm. You'll have ample time for cellar door tasting and pizza.
Enjoy the colourful renovations in the cellar door, the wine labels, and my favourite wines, Campfire Red, Rock Shiraz & Campfire white.
Make your way through the vineyard, sitting between rows of shiraz and viognier grapes, is a balancing heart rock, which of course gave the vineyard its name. Owners Greg and Lee-Anne say two new cellar doors, a conference venue, and accommodation cabins dotted throughout the vines, scrub, and rocks are in the planning. The picturesque vineyard has potential; what a fulfilling way to end day four.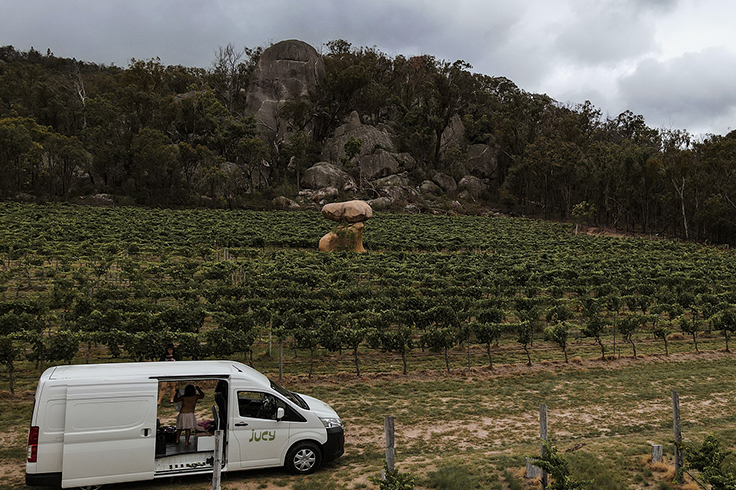 Wine and minis in hand, the JUCY Coaster itinerary is in the latter parts. We hit the road out of the Granite belt region to the Scenic Rim. The minis satisfied, your Coaster takes on the 120km of countryside to Killarney View Cabins and Caravan Park. Award-winning park with unpowered and powered sites starting at $30 per night. Take advantage of the Modern Laundry, separate amenities, open fireplaces, & camp kitchen. Only kilometres away, the final day is dedicated to The Falls Drive edging NSW and QLD borders; get excited, one more day of adventures await.
DAY 6: FALLS CIRCUIT TO BRISBANE
Distance: 172 km, 2hr 32min
We saved the best for last; pack your bathers, sunscreen, and hats; an early start is required. Food Works opens at 8 am for picnic supplies and breaky at the Killarney Hotel.
Killarney's tiny country town will take all but minutes to view in the rear vision; time to hit the start of The Falls Drive.
Browns Falls is the first of a trio of waterfalls. Arrive at the park with a small playground, picnic tables, BBQs, and amenities. A scenic walk on undeveloped track along the creek bed will find you at the base of Browns falls, not before scrambling and rock jumping for 600m. If you have difficulty spotting the markers, the best action is to follow the creek, watch out for stinging nettle and allow at least 20 minutes for the 600m adventure walk.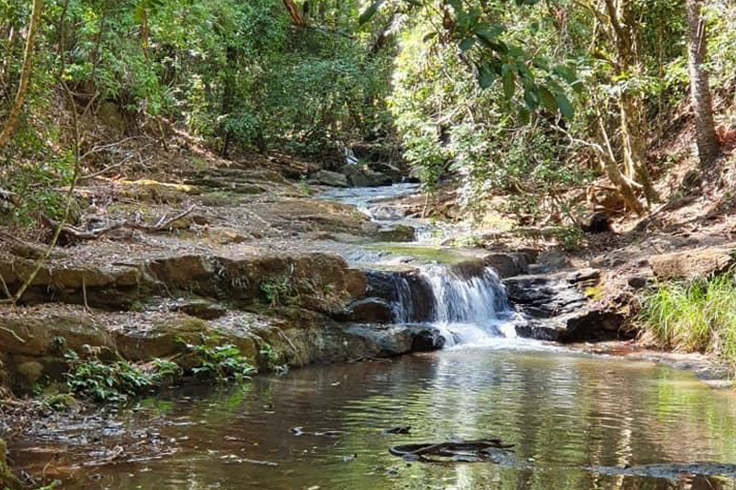 Back to the JUCY Coaster to hydrate, 1km further along Spring Creek Road offering easier access, is Dagg Falls. The viewing platform is close to the road, providing a dramatic backdrop of the 39m Falls.
Drive 3km to Queen Mary Falls circuit park in the Queen Mary Falls picnic area. From here, walk 400m along the track, crossing Spring Creek to the lookout. See if the minis spot rainbows created by the waterfall's midst whilst the creek plunges 40m to the waterfall base. Descend 1.5km along the built-up track to receive Queen Mary's misty spray arriving at the valley's base. Pop on your bathers for a dip or soak your feet in the little rock pools. Allow an hour return trip, giving you time for those family snaps whilst enjoying one of nature's greatest assets.
Return to the picnic area for a bite to eat or head to The Falls Cafe for bird feeding and a drink. Bird food can be purchased from the cafe for $2 per bag. The Rainbow Lorikeets are a friendly bunch. Keep your hands out, and they'll come in numbers.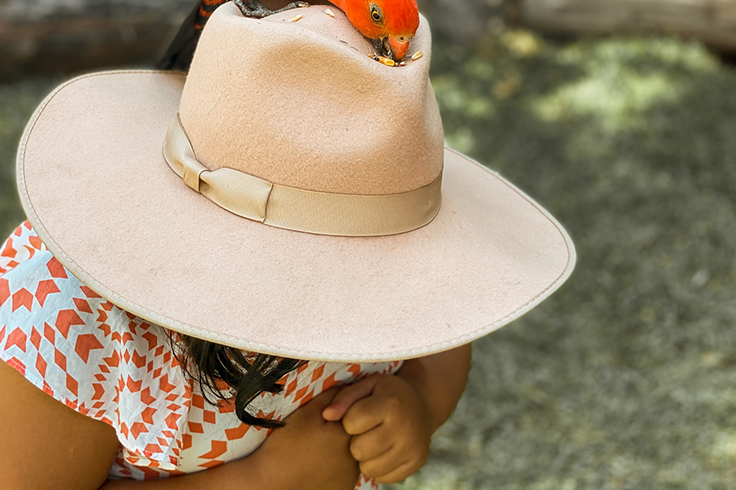 Once frolicking with the local wildlife has concluded you're back in the Jucy Coaster onwards for 8km to Carrs Lookout. Over a picnic or vino, enjoy the astonishing views of the Head Valley to Mt Superbus, the Scenic Rim, and Tamborine Mountain.
The final leg home is a lengthy but scenic one, so prepare the minis; congratulations, you've made it through the Falls circuit.
After Carr's lookout, the road will narrow and wind for 6km, nothing the Jucy Coaster cant handle. Spring Creek Road leads you through a canopy of trees, the sound of bellbirds, fresh mountainous air, private property at The Head, cattle crossing roads, and Condamine creek; keep an eye on the rainfall, as the Condamine creek is prone to flooding, this is a no go in the Jucy Coaster.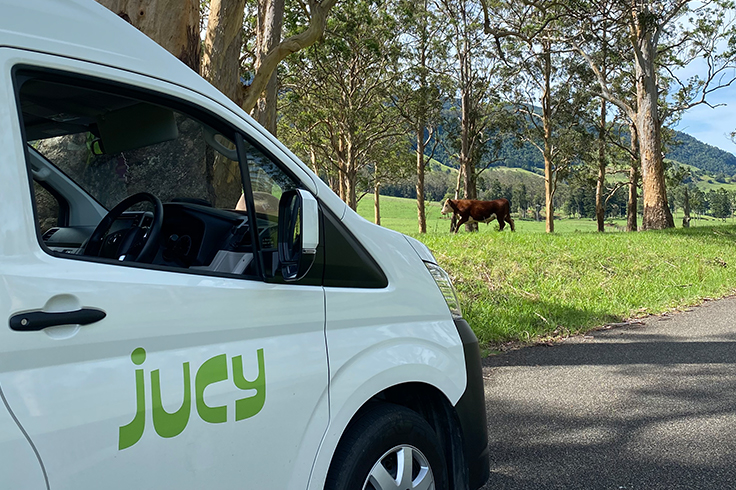 Your final stretch home is filled with scenic surrounds before you know it, Moogerah Peaks will be in view as to familiar Boonah. Stop here for a bite or continue on Jucy Brisbane, dropping off the Coaster by 4 pm. Congrats, you've covered 800km of Queensland's Southern Granite Country and Scenic Rim over six days; spread the itinerary out of seven days or even eight; it's definitely one for the travel book, camels, lakes, sunflowers, quaint towns, granite boulders, vineyards, picnics, balancing rocks, a pyramid, a castle and gigantic apple, waterfalls, strawberries and farm life. You just may have inspired your friends to take a road trip with Jucy World.
BOOK your Brisbane campervan hire with JUCY now!