Find your fit: choosing the best camper
Hiring a campervan for the first time can be confusing. Figuring out which campervans are self-contained, which can fit child seats, and how many people can sleep in each vehicle can involve a lot of research and head scratching.
To make things easier we've put together a quick comparison to show the differences between each JUCY campervan.
COMPARING CAMPERVANS: WHAT'S THE DIFFERENCE BETWEEN OUR JUCY CAMPERS?
Here's a quick overview of some of the main differences between our campers.
Note: All of our campervans come with fully equipped kitchens, including a gas cooker, sink, and fridge.
| | | | | | | |
| --- | --- | --- | --- | --- | --- | --- |
| | Seats | Sleeps | Portable toilet | Child seat | Fuel type | Automatic |
| JUCY Crib | 4 | 2 | ❌ | ❌ | Petrol | ✔️ |
| JUCY Champ | 5 | 4 | ❌ | ✔️ | Petrol | ✔️ |
| JUCY Condo | 5 | 4 | ✔️ | ✔️ | Petrol | ✔️ |
| JUCY Compass | 4 | 4 | ✔️ | ❌ | Petrol | ✔️ |
| JUCY Coaster | 2 | 2 | ✔️ | ❌ | Petrol | ✔️ |
WHY TRAVEL IN A CAMPERVAN?
Part of choosing a vehicle is weighing up the pros and cons of travelling in a campervan. Before you dive into choosing a vehicle, here's a quick run through of the top reasons to hit the road in a camper:
SAVE MONEY ON ACCOMMODATION
This is a biggie. Instead of paying to hire a car, then paying again for a hotel or other place to stay, with a campervan you have your bed and kitchen with you. You can camp for free in many places around Australia, or pay a small site fee to stay at campgrounds. Either way, you'll have a more comfortable experience than sleeping in a tent, but pay significantly less than you would for a room. Australia is an expensive place to travel, so this can be a good way to stick to a budget.
IT'S MORE ADVENTUROUS
You can park up near the beach and wake up closer to the view. In the morning you can just open the door and roll straight from bed to the beach!
IT'S A LITTLE LUXURIOUS
Travelling in a campervan means you can make a hot cup of tea any time you like, or carry cold beverages with you in the fridge in the back. A fully-equipped kitchen means you can whip up gourmet meals. Plus, with space for up to four people to sleep, it's easier to travel in a group.
YOU HAVE COMPLETE FREEDOM
You choose where you want to go, what you want to do, where you want to sleep. There are no schedules or limitations.
YOU WILL HAVE YOUR OWN LITTLE SPACE
You can customise your campervan space with a few pillows or fairy lights to make it your home on wheels. Because your room is travelling with you, you can really settle in, instead of packing and unpacking every few nights. You'll be surprised how attached you get to your little camper!
CHOOSING THE RIGHT CAMPERVAN FOR YOU
How do you decide which campervan to hire? Check out these 'Best Of' nominations for help finding the perfect campervan.
BEST VALUE CAMPERVAN
Price is probably the most important factor in choosing a camper. We know travellers are always keen to get a good deal, which is why we offer the Crib as a value campervan. It's small and efficient, so you'll get more kilometres per litre of petrol out of it than the larger Condo, for example. There are also four seatbelts in the Crib, so if you travel with four people you can split the cost - you'll just need to take a tent as well, as this camper only has space for two people to sleep.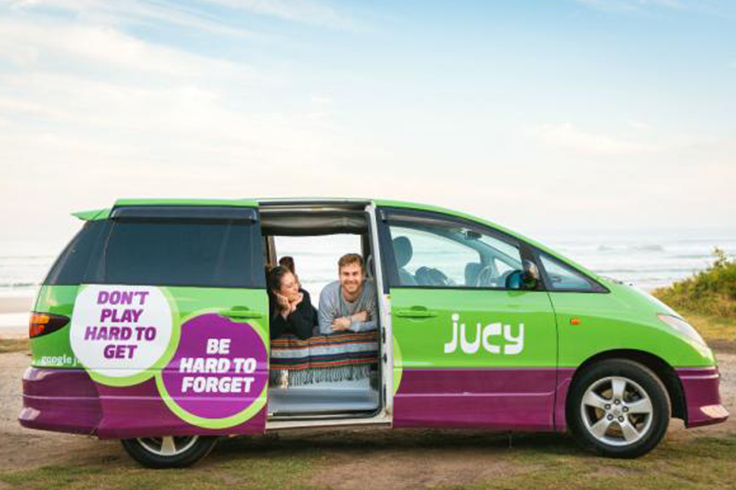 BEST FESTIVAL CAMPERVAN
JUCY four-berth campervans are awesome for festivals. The Condo, Champ, and Compass all sleep four - room for the whole crew! There's plenty of space to pack all your stuff, plus a fully-equipped kitchen where you can cook up awesome meals, and even a fridge to keep your drinks cold. Plus, going to sleep in a comfy double bed is a heck of a lot nicer than just chucking a sleeping bag on the ground!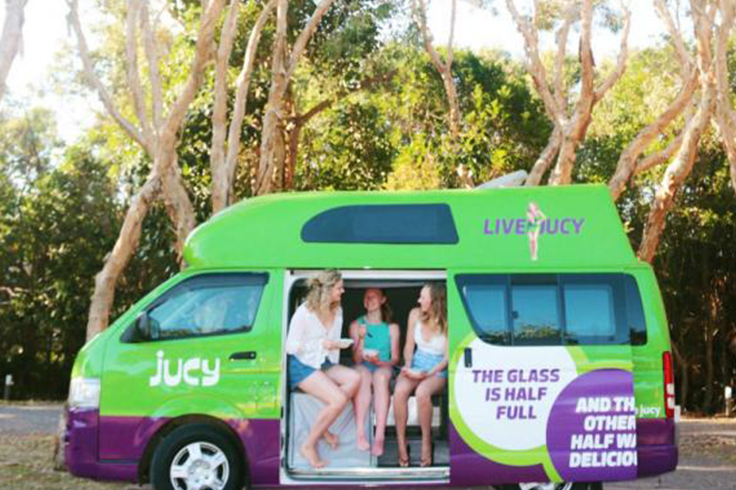 BEST CAMPERVAN FOR FAMILIES
Travelling as a family in a campervan can be a tight fit. For a family of three or four, our four-berth Condo and Compass campervans are great. The Condo will give you the most space and has the largest kitchen, which can come in handy if you're trying to prepare meals for four hungry people. You can also fit up to two baby or booster seats in the back of a Condo, so for babies and younger children this campervan is perfect.
If you have three older kids, the Champ, Compass, and Condo all have five seatbelts. It might be a tight fit, but you would be able to hit the road all together! When it comes to setting up camp though, you'll just need a tent to ensure there's enough space for everyone to sleep, as these campers are only four-berth.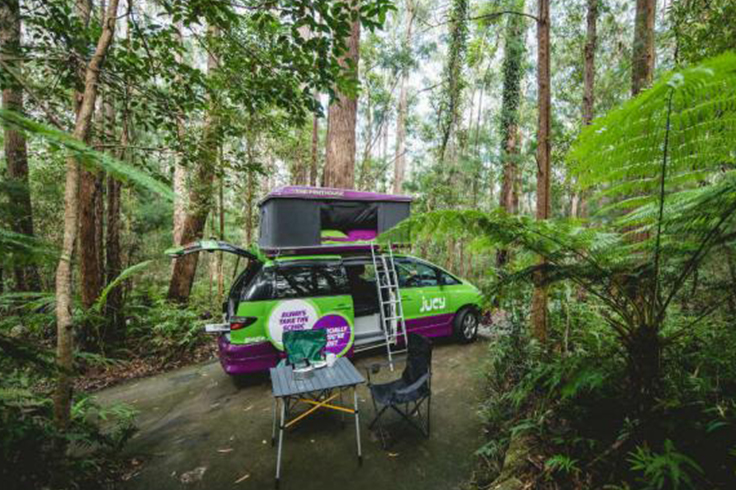 BEST FOR SOLO TRAVELLERS
If you're going it alone, the Crib is a great choice. You'll have a double bed all to yourself! This vehicle is a small campervan so it's easy to manoeuvre and manage for a solo driver. It's also affordable for one person.
No matter which JUCY campervan you choose though, you'll have the peace of mind that comes from 24/7 breakdown assistance - so you'll never be truly alone!
BEST FOR GROUPS
The Champ is the best small campervan. With space for four people to sleep, it's great for a group of friends. If you have a bigger group, the Champ is also nimble enough to go in a small convoy - just be very mindful of other vehicles on the road and leave enough space for people to overtake if you are driving convoy.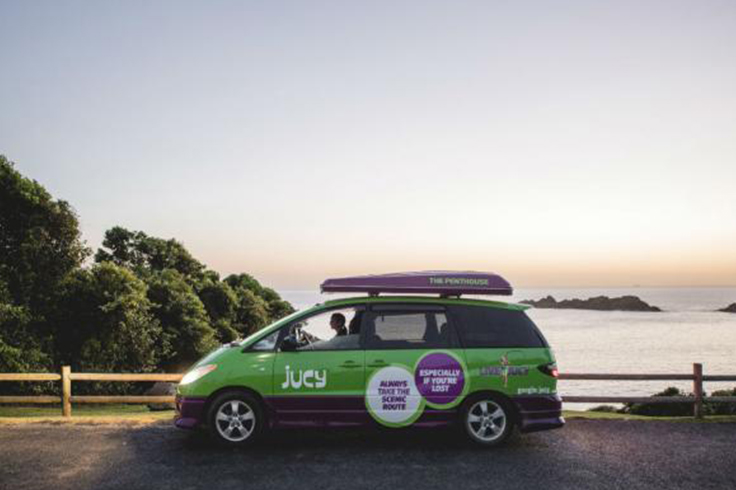 BEST FOR COUPLES
The title of best two-person campervan could go to any of our campers, but for couples we recommend the Condo. It's still a fairly small campervan, but compared to our other models it's spacious and roomy. There's enough space inside to stand up and cook a romantic dinner for two, which you can eat at the table. This campervan also has the largest fridge (80 litres!) which means more space for storing bottles of bubbly, or strawberries and chocolate.
FIND YOUR PERFECT CAMPERVAN AND BOOK AN EPIC ROAD TRIP WITH JUCY!