Gold Coast to Melbourne 6 day road trip itinerary
Author: Rachel Tilly
Longboard world champion, Rachel Tilly shares her epic six day campervan hire road trip from JUCY Gold Coast to Melbourne.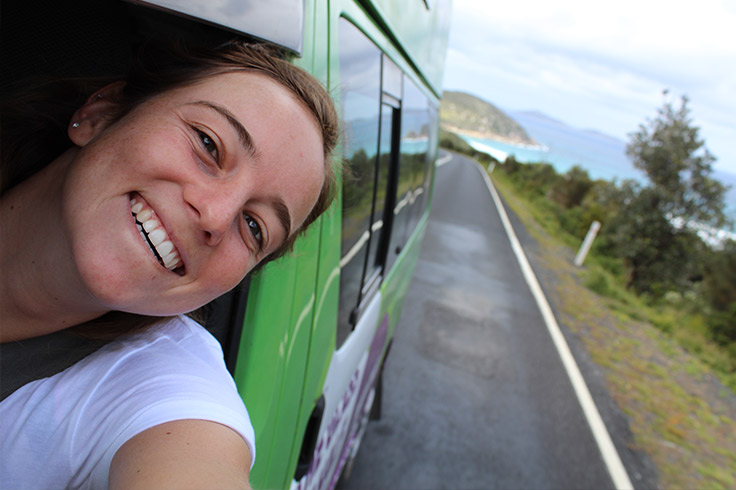 Day 1: Gold Coast to Arrawarra
We picked up our JUCY campervan from the Gold Coast and took an easy 3-hour drive down the Northern NSW coast. Our first stop is Arrawarra, which is a small country town next to the beach and is known to have some pretty special waves, thus why we made it our first stop! We went for a surf early Saturday morning at Arrawarra point and completed the morning with a nice breakfast at the neighboring town, Woolgoolga. Whether you stay the night in this area or not, the new highway makes it a really easy place to stop by, and I highly recommend you add this to your road trip route. Woolgoolga point has a beautiful lookout that's usually relatively uncrowded and a great place to pull up your JUCY campervan rental and make yourself a coffee out of the back. Plus, Woolgoolga also has some great cafes and pubs if you feel like a meal.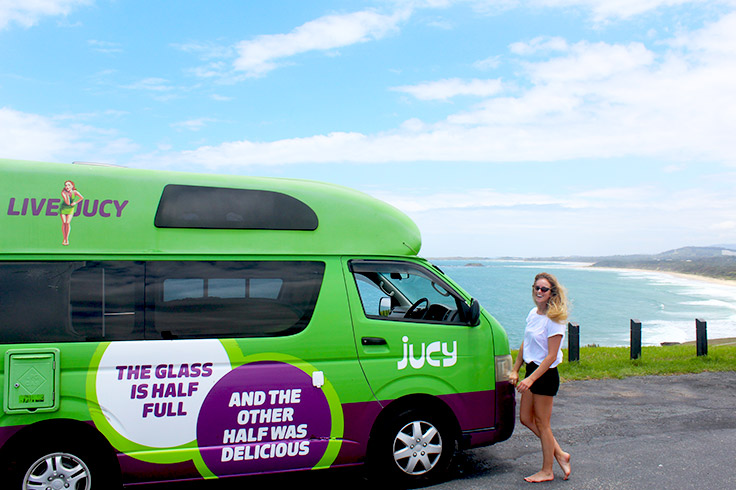 Day 2: Arrawarra to Port Macquarie
After breakky in Woolgoolga, we made our way to Port Macquarie. It's worth noting that Arrawarra is only 30 minutes away from the iconic, Big Banana and every traveller needs to stop by to get a picture and a banana smoothie from there. You'll pass by on your road trip down to Port Macquarie so I recommend the quick stop by.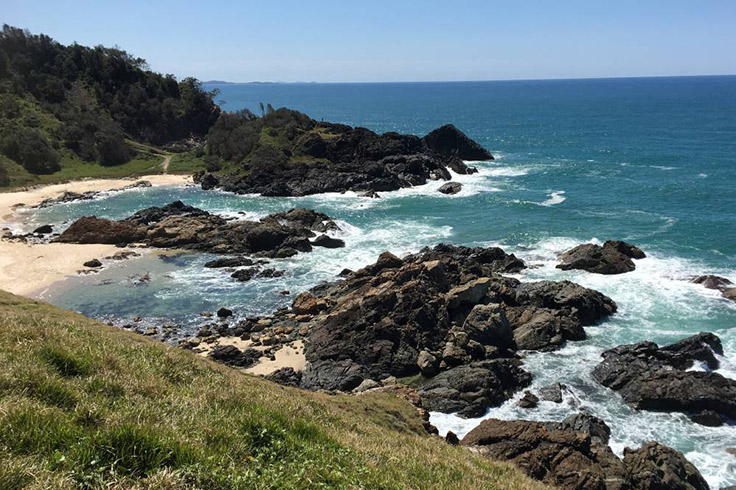 Although Port Macquarie is one of the more built-up towns of the coast, it still had a cute small-town charm to it. We crossed the ferry and stayed near the Hastings River. Again, whether you actually stay the night here, the ferry was fun to cross, only cost $5, and we spent the day at the beach all to ourselves! The drive is only about 3 hours so allow most of the day to drive around the town and I highly recommend watching the sunset over Hastings River.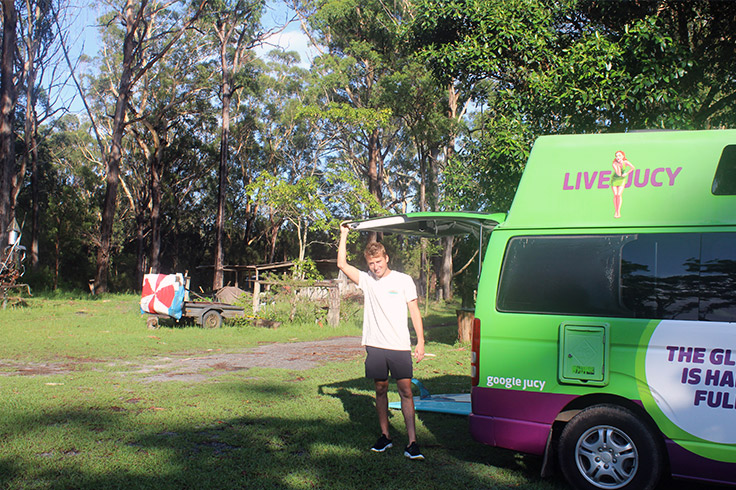 Day 3: Port Macquarie to Wollongong
We wanted to stay more remote on our road trip so we bypassed Sydney city to spend more time on the south coast of New South Wales. However, Sydney is a great place to stop if you have another free night, but I'd recommend it for a different weekend trip. On your way to Wollongong there is a must-see, which is the Sea Cliff bridge that goes out over the ocean and gives you a a beautiful view of the coastline. Once you make it to Wollongong there's a mellow hike that provides some amazing views called Wodi-Wodi walking track. After a hike, an afternoon swim or surf is a great way to round out a long day. I recommend surfing at Sandon Point or Thirroul, which are both good for shortboarding, but Thirroul is more suited to longboards.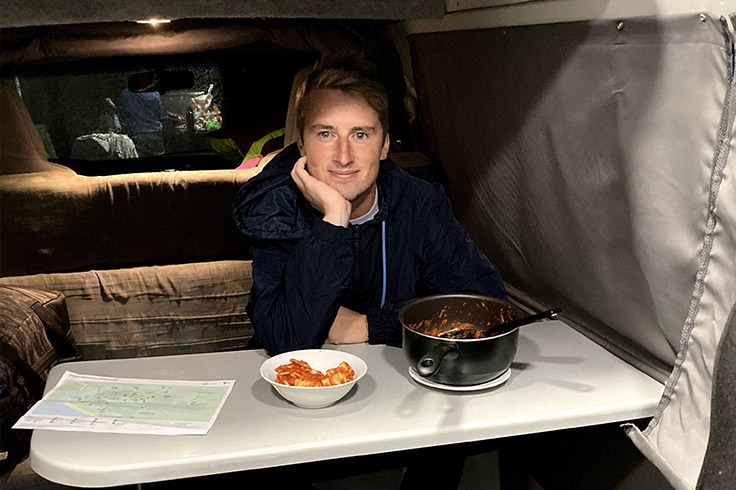 Day 4: Wollongong to Lakes Entrance
Today was a bigger stretch of driving so I'd recommend starting earlier so that you can stop by Bateman's Bay, Jervis Bay, and Merimbula on your way. These spots are absolutely beautiful and worth stopping for at least a quick swim to break up the day or a stop for coffee. Even better, contact the JUCY crew to try and extend your booking to spend more time camping in New South Wales! Otherwise, your road trip will take you across the border from the South Coast of New South Wales and into Victoria. You'll see the topography change so much from big green mountains to the very dry but beautiful countryside, which is a nice change of scenery. The views we saw we were driving were consistently taking my breath away. This is the part that made me really appreciate a road trip and the opportunity to see so much vast coastline.

Before you reach Lakes Entrance, you'll see a brown sign about 45 minutes prior that directs you to the must-see Buchan Caves, which are limestone formations that bring your day a whole other sense of wonder. The caves are only accessible with a guided tour and tickets are only $23 for adults, but I'd recommend booking the day before to secure your spot.
Lakes Entrance is a popular holiday destination and has a few caravan parks to choose from. Depending on the time of the year that you're going, you might need to book ahead to find a spot so keep an eye on that one. The town has such a cute local vibe to it with a boardwalk along the river and bridges and walking paths all around to get out to the ocean beaches. It's a very family-oriented area and was a great place to spend some time. Dinner at the local pub was delicious from our experience but there are quite a few great restaurants around the area.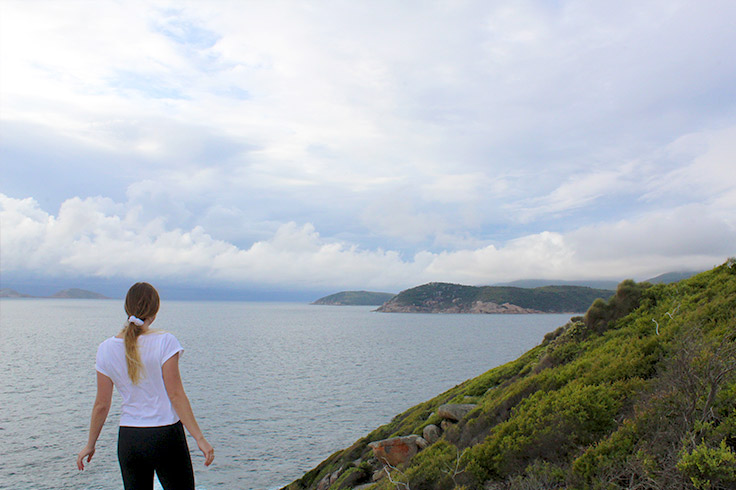 Day 5: Lakes Entrance to Wilsons Promontary
Wilson's Promontary National Park was my favourite destination of the entire trip and I wish we could have spent more nights camping here. We arrived from Lakes Entrance around noon and headed straight to Squeaky Beach. We got a bit unlucky with the weather as a whole with on and off rain the whole time but fortunately it cleared for a few hours when we first arrived. Squeaky beach is one of the first beaches when you get into the heart of Wilson's Prom and is an easy 500-meter walk to one of the most gorgeous and secluded bays. With white sandy beaches, crystal clear water, and is surrounded by big green mountains, I can guarantee you'll love this place. We even got lucky enough to find some of our best waves of the surf road trip right in Squeaky beach.
You can continue to walk from Squeaky Beach and around the point which opens up to another beautiful bay. This is a pretty easy walk and many families were bringing their kids on the walk. After we surfed at squeaky beach, we did a hike out to Little Oberon Bay. On this hike, you'll touch the farthest most southern point of Australia! This too was a pretty easy walk and had a view of the bay pretty much the whole time which was my favourite part about it. One hike I would also suggest that we didn't get to experience was climbing to the top of Mount Bishop. The views can be spectacular from there but unfortunately for us the peak was swallowed by clouds due to the rainy weather.
The caravan park here was great with a little café and general store for any stock up needs or little things you might want to add to dinner. We cooked from our van and enjoyed the night watching the rain from our JUCY campervan, which was a cosy way to wrap up the trip!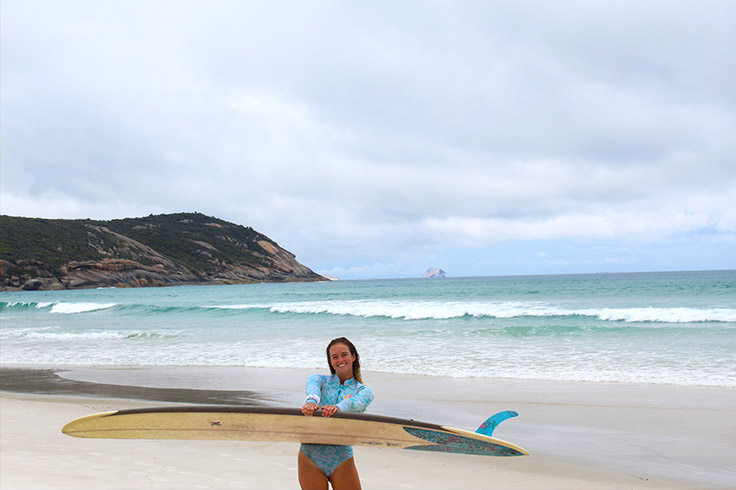 *Warning to those who are not confident swimmers, although we got the beach when it was calm, it is also known to get major riptides when the swell is bigger so please be careful and always use caution with the conditions.
Day 6: Wilsons Prom to JUCY Melbourne Airport
Our final day was an easy 3-hour road trip from Wilsons Promontary to Melbourne. After disconnecting from the busy city life and driving on simple country roads for days, it was a bit of a shock driving back into city traffic. However, our drive was easy and dropping off our campervan rental at JUCY Melbourne airport was even easier. We gave our camper a quick clean out of all our sand and built up rubbish before handing it over and the JUCY crew happily greeted us to take the campervan off our hands.
This stretch of the coast definitely deserves more than six days to road trip and can easily be spread out longer! I hope this gives you some inspiration for your next JUCY campervan road trip! You can even look to do this trip in reverse and travel on a Melbourne to Gold Coast road trip.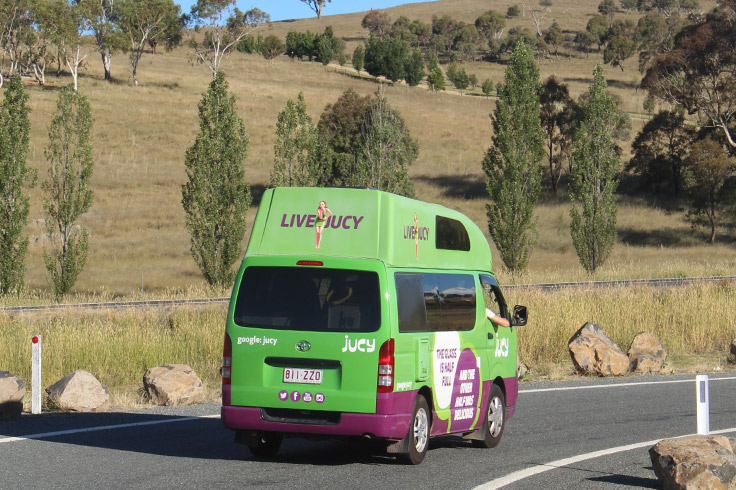 BOOK your campervan road trip with JUCY now!