How to travel around Australia on a budget
AUTHOR: CLARE FISHER | TRAVEL THE WORLD FAMILY
Australia is a giant country, but travellers can circumnavigate the whole island on a budget. Here is our guide to the different kinds of transport in Australia. Follow these savvy tips to help you get around Australia on the cheap.
AIR TRAVEL
This might be the most expensive option, but air travel in Australia allows you to cover multiple destinations and large distances in a short period of time. So if you're short on time or want to tick off destinations in the east and west, flying could be your only option. If you are on a strict budget, you might want to consider visiting fewer places to minimise the number of flights you take.
Again, if you're travelling as a group or family and are covering the cost of more than one ticket, this may not be the most cost-effective option and don't forget about the added cost of finding your way to and from the airport (taxis aren't cheap either!). Plus, while you will get a great birds-eye view during your short flights, it doesn't offer you much if you like to take in the scenery in more detail.
Even though air travel isn't the most budget-friendly option, there are a number of budget airlines that offer surprisingly good prices if you look out for sales or book in advance. Tiger Airways and Jetstar are the two main budget airlines and your best bet for finding cheap fares. Outside of major sales, the other main airlines, Qantas and Virgin, charge a premium and you could pay more than $100 AUD for a one-hour flight.
Money-saving tips:
Book with Tiger Airways and Jetstar - just remember to pack your own snacks!
Sign up to email alerts from these airlines so you'll know when sales or special deals are on.
Book in advance where possible.
BUS TRAVEL
Travelling around Australia by public buses and train is affordable, plus it's environmentally friendly and comfortable. Buses in Australia are comfortable and safe. Roads are well-maintained, and you'll be treated to a scenic tour of the country while you travel. There are popular routes you can choose from, hitting some of the most iconic attractions and sights in Australia.
Public bus is the cheapest way to travel the east coast, and there are many good connections between towns. You can DIY a hop-on, hop-off tour by taking Greyhound buses. Premier is another bus company that covers Australia's east coast. Premier offers bus passes that can work out to be a good deal, for example, Sydney to Cairns for $230 for one month. Greyhound offers several different types of passes, including buying a pass for a certain length of time - for example, you could have unlimited travel for 21 days for $399.
However, there is less freedom when you travel by bus, and it will take you longer than driving due to rest stops. Plus, if you're a group or family, it can also be a little more tricky to round everyone up and get seats together and if you're covering the cost of more than one ticket in your group, the price for this way of travelling can quickly jump up.
There are also limitations to taking buses to get around Australia. As well as working out all your routes, you have to make your own way to every station and be on time. Using public transport to get to some of the more remote locations, can be a little more restrictive, especially if you want to get off the beaten track. Overall, you may feel like you don't have as much freedom as driving your own vehicle.
Money saving tips:
Buy a bus pass.
Book in advance if you can to secure your seat and take advantage of deals.
TRAIN TRAVEL
Australia doesn't have a fast, modern rail network like you would find in Europe. However, if you have the time, taking the train can be a very scenic way to travel around Australia. The most famous rail trip is The Ghan, which runs from Darwin all the way through Australia's Red Centre to Adelaide in the south. The three-day journey is a luxury trip though and by no means budget. Unless you're determined to do this trip, or the coast-to-coast journey from Sydney to Perth, skip travelling Australia by train if you're on a budget.
RENTING YOUR OWN VEHICLE
Who doesn't want to road trip Australia? Roads are safe, well-signposted and make everything accessible. Travelling around Australia in a vehicle is easy, convenient and comfortable. When you drive Australia yourself, you have the freedom to stop wherever and whenever you want. The highways are lined with lookout points and attractions so you can expect to make regular stops.
There are several costs which you need to factor into the cost of hiring a vehicle, though. Petrol costs around $1.50 a litre in Australia. You also need to add on the cost of excess reduction for your vehicle - this is essential to make sure you're covered if an accident happens. Parking is usually free, but you may need to pay if you're stopping in the centre of larger cities.
However, there are many ways having your own transport can save you money, whether you're taking yourself sightseeing or food shopping. Accommodation and food cost more than average in Australia, so you can save yourself some money by hiring a campervan with a fully-equipped kitchen. Having space to sleep and prepare your own meals makes hiring your own vehicle much more cost effective. Keeping a lookout for free campsites and travelling in the off-peak season can make travelling Australia in a campervan, even more affordable.
Money saving tips:
If you can, travel with friends or link up with other travellers. Sharing the cost of petrol and vehicle hire makes a road trip much cheaper - especially when you can fit four people into a 4-berth campervan.
When you shop in some supermarkets, you'll receive fuel vouchers which can save you a few cents off each litre of petrol. That adds up!
Choose a campervan over a car so you can camp for free.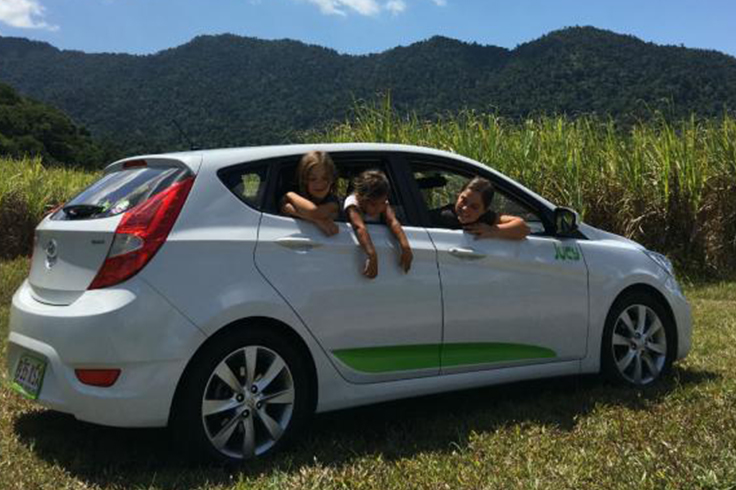 BUYING YOUR OWN VEHICLE
Initially, buying a vehicle might appear to be the cheapest way to travel Australia. You can sell it again when you have finished travelling, for the same or even more than you bought it for. However, this doesn't come without risk.
First of all, you have to search for the vehicle you want to buy, which can take time and you might end up spending a lot of money while you stay in one place trying to sort this out. When you finally buy a vehicle, there is always the risk that something will need repairing. You have the full cost and responsibility of maintenance and repairs, along with other commitments like taxes and insurances. As well as having to come up with a lump sum for payment of the vehicle, if you plan to sell it before you leave the country, you risk not having enough time to sell at the price you want.
It's also worth noting that most second-hand cars available at backpacker prices are older models and not very fuel efficient. Rental cars, on the other hand, tend to be more modern and much better with fuel efficiency, so the total cost of petrol could be less.
Money saving tips
Check hostel message boards to see if any other travellers are looking to make a quick sale.
When you're on the road, take part in ride-sharing initiatives to share the cost of petrol.
OVERALL, THE BEST OPTION FOR CONVENIENCE, FREEDOM, EXPERIENCE AND BUDGET, IS HIRING A VEHICLE. CHECK OUT OUR RANGE OF VEHICLES TODAY.