Brisbane to Cairns Road Trip
Road trip itinerary from Brisbane to Cairns
Driving from Brisbane to Cairns with a campervan rental is a road trip route for champions. It's a journey filled with striking beaches, outstanding mountain scenery, wildlife that wows, and even a secret picnic spot for you.
Our mission is to reveal the best route, the coolest sites, and hidden gems on this 13-day adventure. However, we're not your teacher or your Mum, so adapt to your tastes and timetable. It's a mix-and-match itinerary; add in days when you want to explore longer and chill out or take out stops if you're on a time crunch. The drive can be done in just over 19 hours, but we'd rather take 13 days – we're road trip obsessed, like that. Also, you can either start this campervan road trip from JUCY rentals Gold Coast or pick up your cheap campervan hire from Brisbane. It's like you've just gone to university and had your first true taste of freedom; it's all up to you!
Are you ready to join us on the Australian road trip of a lifetime? Read on!
Day 1: Road trip from
Brisbane to Glass
H
ouse Mountains
172km / 2h 15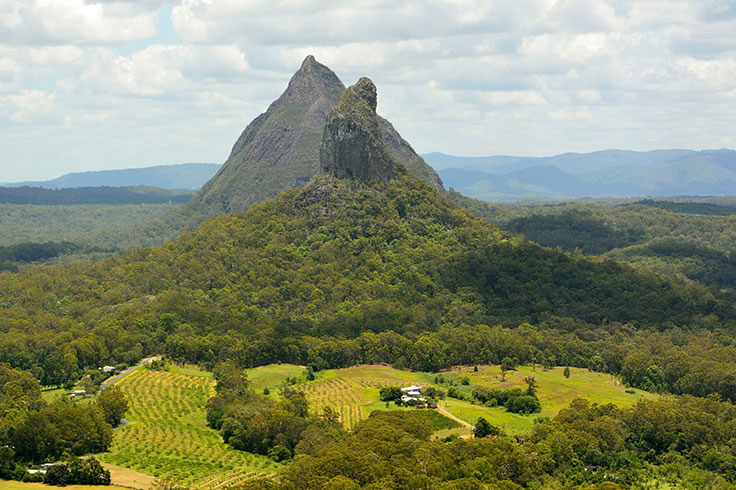 You might assume that the first thing you'll do when you pick up your camper van hire or car rental is to hit the coast to reach your ultimate goal, Cairns. But, nope. We're swinging you inland for a moment with Australia's other famous scenery: the bush.
The Glass House Mountains are in the Sunshine Coast hinterlands and recognised as one of South East Queensland's most iconic skylines. The 11 lofty peaks dominate over open forests, pine plantations, and wide grasslands.
The Glass House Mountains is an important cultural site for the Gubbi Gubbi Aboriginal people. To tap into the spirituality drawn from this land, spend time hiking the Mt Ngungun summit walk. The rewards at the top are 360-degrees of sheer beauty.
Combine a hike with a stop at the late Steve Irwin's Australia Zoo. It's in Beerwah and an educational and entertaining visit for the whole family.
Day 2:
Glass
H
ouse Mountains
to Noosa
Via Eumundi 90km / 1h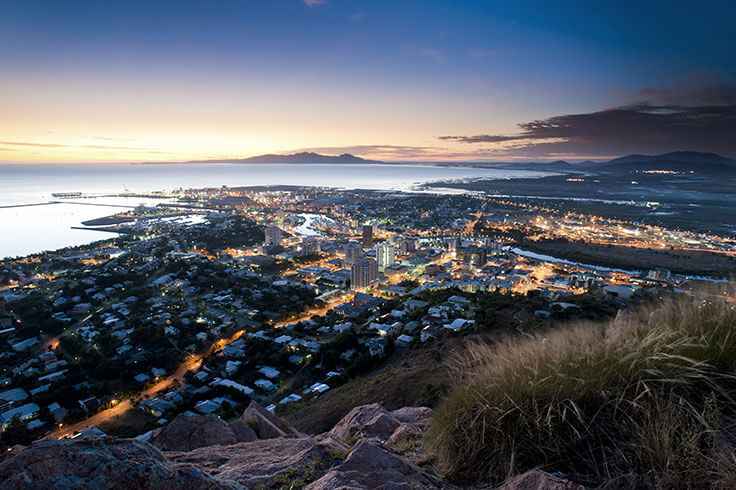 Noosa is a popular stop on the East Coast of Australia, and for good reason! Stunning beaches, a national park right at the shoreline, plus a burgeoning foodie scene. Sounds perfect, right?
If you're travelling on a Wednesday or Saturday morning, stop by the Eumundi Markets en-route to Noosa. It's Australia's largest arts and crafts market.
We love exploring Noosa National Park, especially heading out along the 3-hour Coastal Walk. It passes the Fairy Pools for a well-deserved (and safe dip) and epic Tea Tree Beach. You can even take the bus back to your JUCY wheels. Look up for koalas, and out for migrating whales.
Aside from hiking and feasting on vitamin D as you sun yourself in this gloriously sunny town, there's another kind of feast to be had. FOOD! Head to Hastings Street for meals that make you consider moving to Noosa. Yum.
Day 3:
Noosa
to Hervey Bay
184km / 2h 15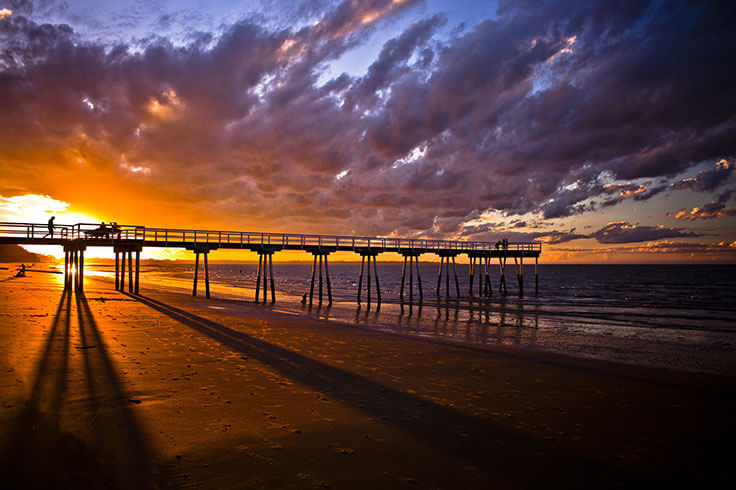 Drive today to the whale watching capital of the world, Hervey Bay. It's not just whales that'll win you over here; it's also the jumping-off point for the incredible Fraser Island.
Hervey Bay's small-town vibes are good for the soul. A spot of sunbathing on the long beaches make you realise that not every brochure image is airbrushed! This is real! While in town, you'll also want to walk the historic Urangan Pier.
If you're travelling July to November, whale watching is a must. Choose from a variety of whale watching operators, or for the most epic encounter, book a whale swimming tour! This is bucket list stuff, right here.

Day 4:
Fraser Island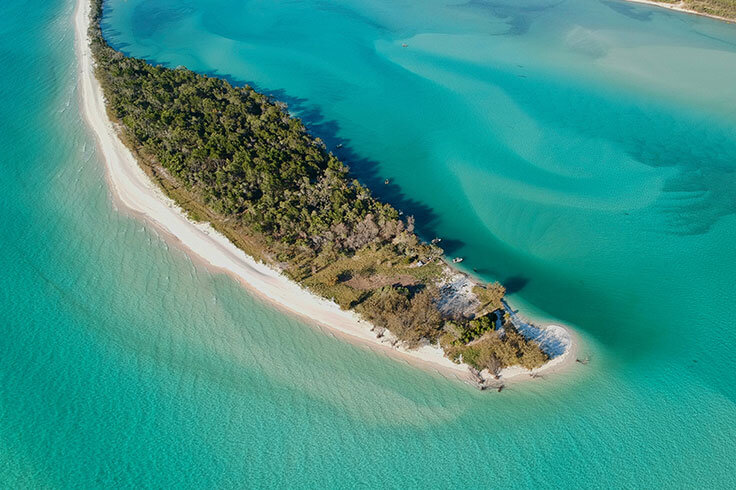 Park up your JUCY wheels in Hervey Bay and take a trip to the UNESCO site of Fraser Island, also known as K'Gari. Fraser Island is a whopping 750,000 years old and is the world's largest sand bar. It offers visitors exquisite white sandy beaches, undulating sand dunes, and unique, abundant flora and fauna.
Once on the island, the activity list is pretty endless. Take an off-roading tour, swim at the Champagne Pools, or seek the wildlife that calls Fraser home. You'll discover swamp wallabies, echidnas, and as many bird species as there are days in a year. The biggest wildlife drawcard here, however, is the pure dingoes that roam the beaches. It's worth noting that these are feral dogs, so keep your distance and don't feed them.
Day 5:
Hervey Bay
to
Bunda
berg
110km / 1h 15
Take only a short ride in your JUCY wheels today as we're sweetening you up in Bundaberg. This historic sugar cane town put Bundaberg on the map, thanks to its rum!
Make time to do a Bundaberg Rum Distillery tour or a visit the museum. If you're a real rum fanatic, the distillery even allows you to blend your own rum!
Other activities in town include relaxing botanical gardens, heritage buildings, or you can island-hop to Lady Musgrove Island. Bundaberg is the southernmost point of the Great Barrier Reef – woop!
If you're travelling November to Match, head to the Mon Repos Regional Park. It's like the cool-kids hangout for nesting turtles and the largest concentration of them on the east coast.
Don't like rum? Skip this day and head straight to Agnes Water.
Day 6:
Bunda
berg to
Agnes Water
289km / 3h 20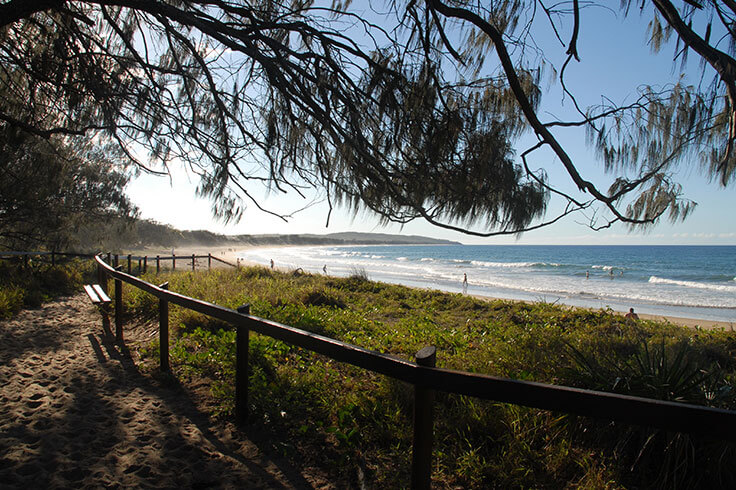 Today's you have a choice: Agnes Water or 1770? We're not suggesting you choose between a gorgeous beach town and time travelling back to the year 1770. The latter is actually the name of a place – the only numerical town name in Australia.
1770 is so-called after Captain Cook's second landing in… yup… 1770! It's also the most accessible place from which to reach the southern tip of the Great Barrier Reef.
Agnes Water and 1770 are only 8km apart, so it's easy to visit both. Phew. You only need to choose where to lay your head. Pick Agnes Water for the surf, pretty beaches, and range of activities, like forest hikes, coastal walks, and surf lessons.
1770 has a sleepier vibe. You can kayak around Round Hill Creek or cruise to your first experience on the Great Barrier Reef! No matter where you sleep, be sure to visit 1770 to watch the sunset over the ocean.
Day 7:
Agnes Water to
Yepp
o
on
268km / 3h 10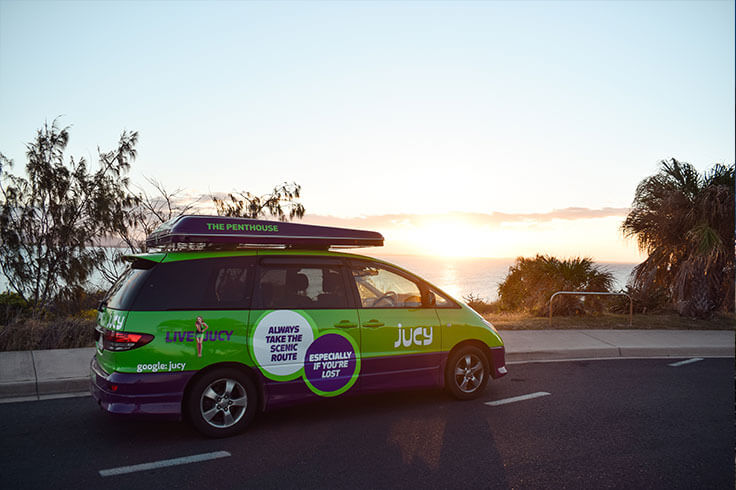 We love little towns that offer a respite on a big journey. The main goal in this next stretch is to reach Airlie Beach, but it's cray-cray to drive eight hours straight (a common drive) when there are more sights to see!
En-route to Yeppoon, stop by the cosmopolitan town of Rockhampton. While you're here, walk the Nurim Circuit boardwalk around Mt Archer. The views are spectacular!
Byfield National Park is under-visited and only 30-minutes north of Yeppoon. Inspiring pinnacle formations create a backdrop against sweeping sand dunes, white-crested waves, and ancient foliage. Depending on your timing, head to Sandy Point and walk the Bowenia Rainforest circuit.
Yeppoon is also the launch point for Great Keppel Island. If you're down to island-hop the 17 stunning beaches, be sure to add a day or two to your itinerary; it's like nature's theme park! Plus, our mates at Emus Beach resort will allow you to park your JUCY vehicle with them and jump on their transfer.
Day 8:
Yepp
o
on
to
Cape Hillsborough
400km / 4h 30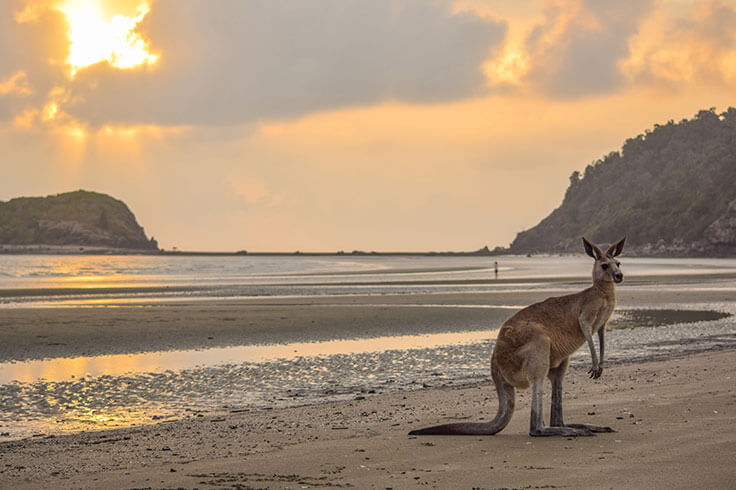 It's the biggest drive on our 13-day itinerary, but you'll find it so worthwhile when you're watching the sunset with the 'roos. Today's mish is to the bucket-list–fulfilling Cape Hillsborough National Park.
While the parks rugged rock formations and dense rainforest are worthy of a stop alone, the star of the show at Cape Hillsborough is the posse of kangaroos and wallabies that reside here.
Start with some yummy treats at the Old Station Tea House. It's a converted railways station that will help wipe the memory of the long drive.
If it's low tide, you can also walk to Wedge Island, while you're in the park. Alternatively, rent a kayak.
These loveable and friendly marsupials are most active at sunrise; it's why we recommend staying in the park. Wake with the 'roos and wallabies surrounding you on Casuarina Beach. Is it us, or do they seem to be posing for that idyllic shot?
Day 9:
Cape Hillsborough
to Airline Beach
126km / 1h 30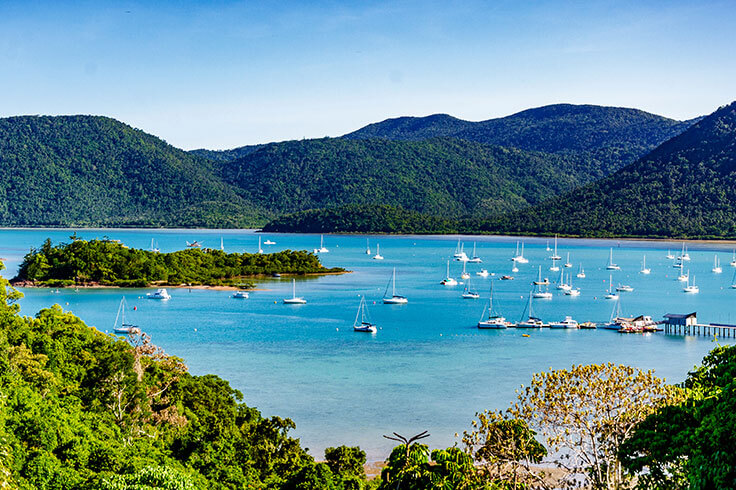 A refreshingly short drive deposits you in one of the region's hotspots. Airlie Beach is the hub to the stunning Whitsundays and a chill hub at that. Before heading to the islands, spend some time exploring Airlie Beach's own gems.
If you like the sound of the town's relaxed vibes, then spend your time alternating between the town's boutique shops and delectable eateries. Maybe just hit the swimwear shops before you indulge in High Tea at My Rainbow Café.
With the focus to the Whitsundays, Conway National Park is often over-looked – and it's only 15-minutes by car. Its coastal location means you get a taste of everything – secluded beaches, mangroves, and tropical rainforest. The Mt Rooper track affords incredible views of the Whitsundays. Add a day to your itinerary if you feel like tackling the 8-hour Conway Circuit trek.
Day 10:
The Whitsundays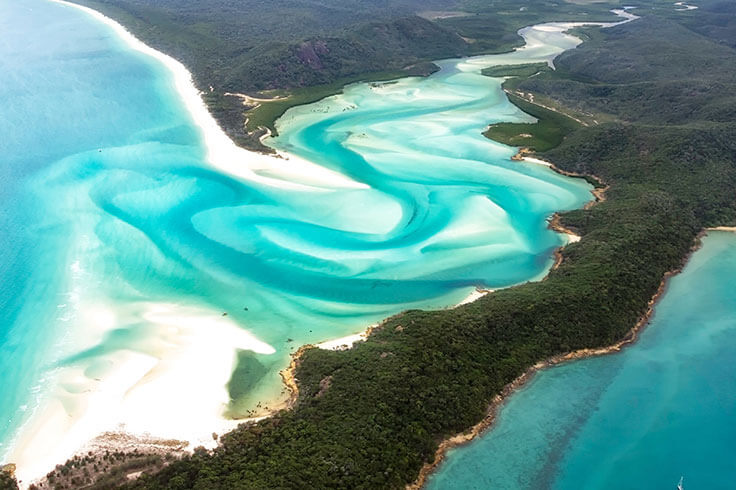 Ah, the Whitsundays. A gasp and a dropped jaw is the most typical reaction to this group of 74 islands. Particularly if you're getting your first glimpse of the postcard-perfect Whitehaven Beach with its glaringly white sand and waters as blue as Bradley Cooper's eyes.
While on the Whitsundays, you'll want to focus most of your efforts in the water – the Great Barrier Reef is out there, after all! Snorkel, book a boat tour, go rafting, fish or scuba dive. There's little chance of being disappointed!
To splurge, take a dreamlike seaplane ride over Heart Reef. Or skydive for the ultimate thrill!
Day 11:
Airlie Beach
to Townsvill
e
229km / 3h 20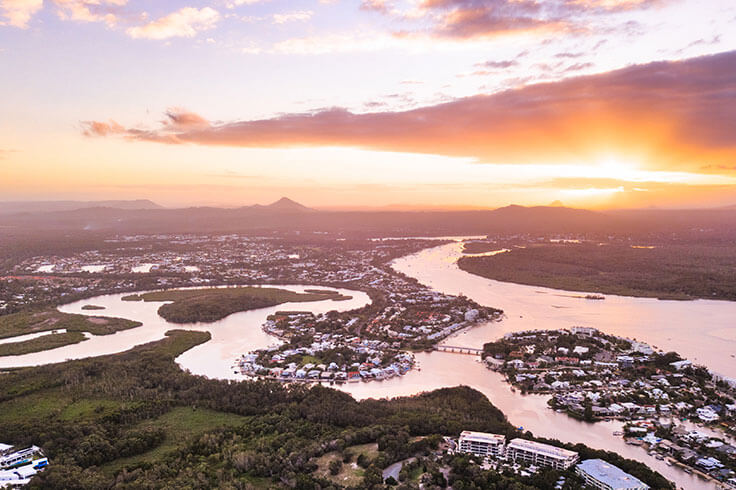 Bring your Whitsundays high with you as you drive north once again to bustling Townsville. It's a handy pit stop between Airline and Mission Beaches.
Unless you're in a hurry for some city vibes or totally beached out, pack your breakfast and enjoy it at the lesser-visited Hydeaway Bay.
Another quick stop is to pick up some fresh mangoes in Bowen. Oh, and selfie at one of those only-in-Australia roadside attractions – the Big Mango!
If time permits, consider a stop at the warm-and-fuzzy-giving Billabong Sanctuary. It's an ethical sanctuary with advanced accreditation in eco-tourism.
Ensure you're in Townsville by sunset to enjoy the orange-pink hues from Castle Hill. There are 15 ways to get to the top; we like the short-but-steep Goat Track.
If no boss is demanding you get back to work, consider adding an extra day to visit Magnetic Island.
Day 12:
Townsville
to Mission Beach
235km / 2h 50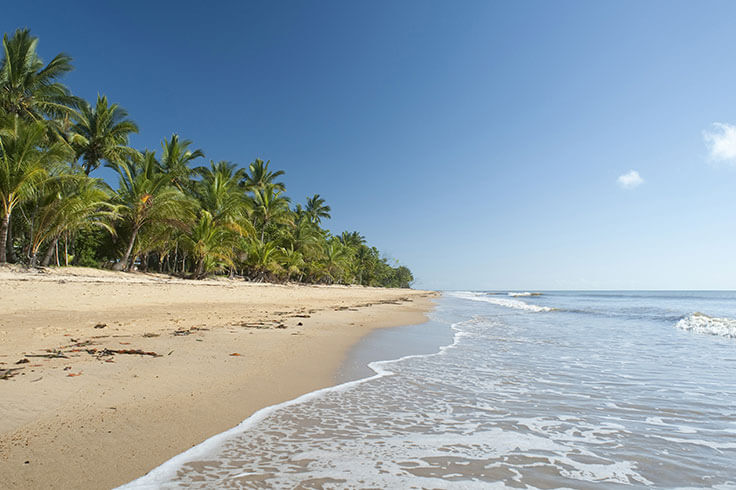 On the road with a new mission – Mission Beach! But first, how about a stop at Australia's largest single drop waterfall? Wallaman Falls is a detour inland, but one we're always keen to make, especially as the falls are located in the UNESCO World Heritage Wet Tropics region! Allow two hours drive to the falls, and a couple more to walk them. Don't forget to pack your swimmers, too!
If you don't want to detour, then stop in Ingham, en-route where you'll find the 110-acre TYTO Wetlands. It's tweet-tastic here, with over 240 bird species. Walk the 4km of boardwalks to see the best in the park.
The final stretch of driving for the day is a 1.5-hour drive to Mission Beach.
Day 13:
Mission Beach
to Cairns
138km / 1h 45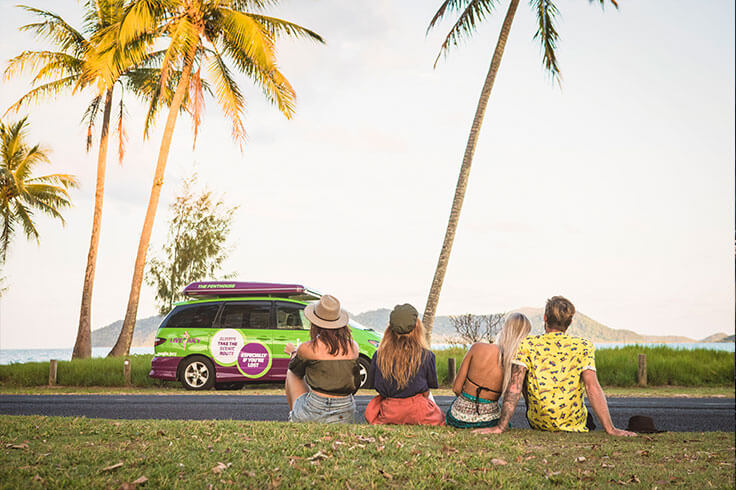 Mission Beach is a four-beaches-in-one region offering one of the best spots to see the prehistoric cassowary birds.
The first glance of the Southern Cassowary makes you certain dinosaurs existed, and also a little intimidated. It's a towering bird, with a hardtop helmet, and blade-like middle toe. And it's not afraid to use any of its protective weapons, so keep back.

Randomly, the cassowaries can be seen wandering Mission Beach. For a more focused effort to spot one, walk the Dreaming Trail, or visit Garner's Beach, Tully-Mission Beach or El Arish Mission Beach.
After you've ticked 'prehistoric giant bird' off your Australian travel wish list, you're ready to make the final drive to Cairns. You conquered one of Australia's most iconic routes – incredible!!
You might think "duh" when you read this, but once in Cairns, you may (will) want to keep hold of your JUCY campervan rental or car hire so you can explore the Atherton Tablelands, Port Douglas, the Daintree Rainforest, and Cape Tribulation. You won't want your campervan hire to end so before you drop back to JUCY Cairns, we've even got this top 5 Cairns day trip blog for ya. Will you ever want to stop Living JUCY? Us neither.
BOOK your Brisbane to Cairns campervan hire with JUCY now!