Things To Do In New South Wales: The World's Best Travel Destination
Is New South Wales the World's Best Travel Destination?
New South Wales is the perfect destination with all the thrills you planned to get overseas available right in our backyard. Don't believe us? We share how an NSW road trip can (kinda) match your international travel plans.
During the last couple of years we may have been planning on dashing off to cultural icons and exotic locales, and perhaps had forgotten the magic of the Australian landscape but where better to find a version of every kind of trip you had planned than in New South Wales. Seriously! It's like the Mary Poppins of destinations, where every type of road trip you can think of is possible.
Don't believe us? Read on!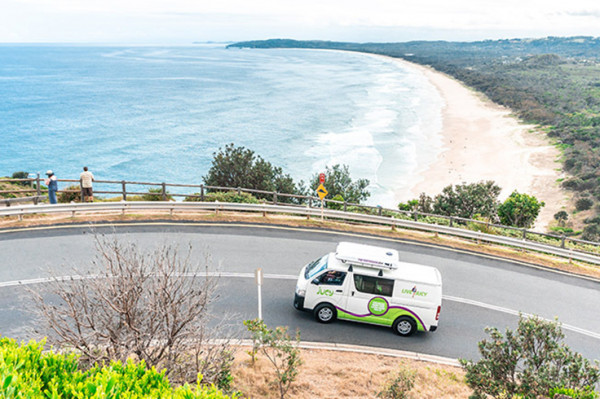 Nature's Theme Park
If you'd usually be shelling out twenty bucks for a Donald Duck-shaped lollypop, or lining up for an hour to ride a 90-second coaster, you could be bummed at missing out on a theme park trip. But wait, instead of the happiest manmade place on earth, we present you with nature's happiest place on earth: New South Wales!
Forget traipsing to California or Florida, or even Toyko, in New South Wales we have more than 870 national parks and reserves! It's unbelievable the way nature provides in NSW! And the thrills last wayyyyy longer than anything you'll find at a theme park.
How about a trip to the iconic Blue Mountains, where you can hike historic walking trails, or mountain bike amid the blue gums. Or camp under the forest canopy, and experience a range of adventure sports that get your heart racing faster than any rollercoaster.
Too tame for ya? Head to the Snowies instead! The Snowy Mountains is a year-round Mecca for natural highs – including the option to climb five of Australia's highest mainland peaks. Dramatic summits, raging ravines, bountiful nature, and not a line in sight! New South Wales is the perfect place to road trip among nature, we say!
Over 3 million visitors can't be wrong! That's how many international visitors have trekked halfway around the world to see the iconic Sydney Opera House and Harbour Bridge. Sure, maybe the Eiffel Tower, Big Ben or the Egyptian Pyramids were on your 2020 travel bucket list, and they will be waiting for you when the world reopens. In the meantime, do not miss the bucket list wonders we have right here in New South Wales.
It's not just the iconic domes of the Sydney Opera House that make a trip to the Emerald City worthwhile. Did you know there are five other NSW UNESCO World Heritage Sites here? Bucket list much! There are the convict heritage sites of Hyde Park Barracks, Government House, and Cockatoo Island. And you may not know that Lord Howe Island has UNESCO World Heritage state (well, you do now), as well?
Impressive state natural heritage sites include the Blue Mountains (obvs), the Gondwana Rainforests in Northern NSW, and the oft-missed Willandra Lakes. In the south-west region, Willandra offers evidence of human existence spanning at least 40,000 years. That's far more impressive than that time we saw the Little Mermaid in Copenhagen (for reals, that thing is tiny).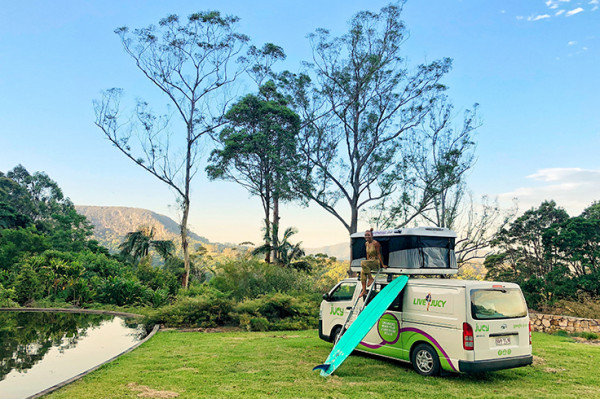 If you like to include a spot of culture during your travels, it's possible close to home. Trade your South African Zulu tour or your hike with the Vietnamese Hmong for grassroots Aboriginal experiences in outback NSW.
Further north, the iconic outback landscape of the Pilliga Forest makes for a great remote campervan road trip. The forest spans more than half a million hectares and has over 2,000 kilometres of trails to explore. Aside from the native bush being special, you'll also spy a range of avian residents (over 230 species). Plus, learn about the Gamilaroi people, including seeing evidence of their stone tools and rock art. Take the guided tour of Sandstone Caves to see the latter. Park your JUCY campervan rental free in the Sculptures in the Scrub campground in Timmallallie National Park.
If you'd prefer your culture to be coastal, head to Coffs Harbour to join the Wajaana Yaam Adventure Tours. On a kayaking or stand-up paddleboarding tour, you'll learn the indigenous language and local Dreaming stories and even taste seasonal bush tucker.

The City Break
Who doesn't love a good city break? A spot of brunch, followed by a shopping spree, take in an iconic monument or two before day spa splurge or a spot of high tea. Heaven!
No need to travel for hours in a cramped cattle class seat to get to London's Ritz Hotel, the Bangkok markets, or the Vegas shopping outlets - you can enjoy a great city break in Sydney!
Even if you've visited before, Sydney is an ever-evolving destination with trendy new boutique stores, delectable eateries, and plenty of treasures to discover. Yes, we mean shopping. Popular shopping hotspots include the CBD's gorgeous 19th-century QVB and more modern Westfields. For a more creative buzz, the Glebe Saturday markets are good fun or grab a bargain at Paddy's Markets.
There aren't too many places in the world where you get to enjoy a city break with a stunning outdoor pool. In Bondi, you get just that, thanks to the landmark Bondi's Icebergs Pool. With its Bondi Beach backdrop, and short stroll to cafes, restaurants, and bars, a trip here makes for a superb day out.
Talking of food, Sydney has a rich and varied palate – meaning there is something for every kind of tastebud (even the fussy ones!). Dine out across the city with many 'hoods offering exotic fare. We're fans of Paddington for the vibes, Leichardt for Italian, or Darling Harbour for the water views. We can't list them all but Time Out has a handy top 50 list to help you choose.
Oh, and if you rent a JUCY car rental for your stay, we're only 15 minutes from the airport and 15 out of the city centre.

Beach Breaks
With Cyprus and Greece feeling like they are a million miles away, you could be feeling kinda glum that your overseas beach break was cancelled. Until you remember you live in the country with some of the best beaches in the world and that summer is coming! In New South Wales you can get as picky as you like about your beaches as there are over 2,000 kilometres of coastline.
Jervis Bay is a beach-lover's dream with the pure white sands at Hyam's Beach and the lesser-visited nearby Murray Beach. You can road trip from our Sydney branch in around three-hours, and there are some great campgrounds there if you're travelling in a JUCY campervan!
If you'd like something a little closer to Home (and Away), then Palm Beach is an hour's road trip north of Sydney. Aside from being a TV icon, Palm Beach also wows with its golden sands across a narrow peninsular – meaning turquoise waters surround most of the peninsular! Strewth mate!
If you're travelling on a longer NSW roadie, head north to Wategos Beach, near Byron Bay. This quieter stretch of sand offers azure waters and just enough swell for swim safety and surfers alike. Once you're finished communing as one on this postcard-perfect beach, you can enjoy the vibrancy and eclectic nature of Byron Bay. Don't miss the sunset at the lighthouse, too.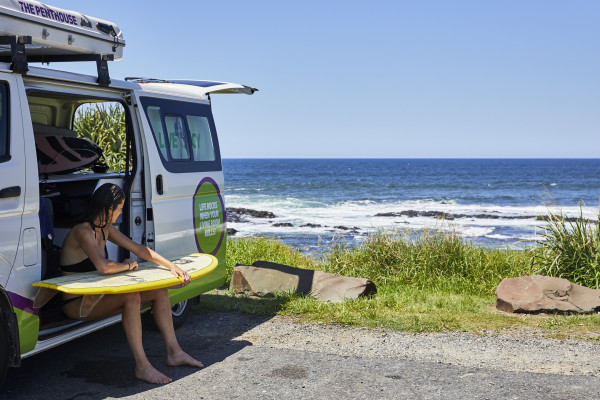 Adventure Thrills
Did your pre-COVID travel plans include some thrills? Like skiing down a demanding black run in the Rockies? Or paragliding over the blue lagoon in Ölüdeniz, Turkey? Or perhaps you were going to leap headfirst off the Nevis Bungy in New Zealand?
Have no fear (or maybe a little) as you can spike your adrenals just as much in New South Wales as any of those places. How? Where? Sign you up?
First up, Wollongong offers the rush of a lifetime. No, it's not because of its rowdy student life, but because it's the place to skydive in the state. You and your tandem instructor will be leaping from a tiny aeroplane at 15,000ft, experiencing a 60-seconds of freefall above Wollongong's gorgeous sandy beaches!
If you'd like to be closer to the sand, not hurtling towards it, head to Port Stephens for sandboarding in the largest coastal dunes in the Southern Hemisphere. The dunes of the 2,500-hectare Worimi Conservations Lands are only a short drive from Port Stephens town centre. Experienced on a guided 4WD tour, you can whizz southwards down dunes of over 30 metres. It's an exhilarating ride!
For a more sophisticated adventure, head to the Hunter Valley and take a sunrise hot air balloon ride over the vineyard, which we recommend booking through the world-leading travel activities and services booking platform, Klook. Next, you have the perfect excuse to hang around after the sunrise and take in a wine tour, no? The iHop Hunter Valley Wine Tours mean you don't need a designated driver, too!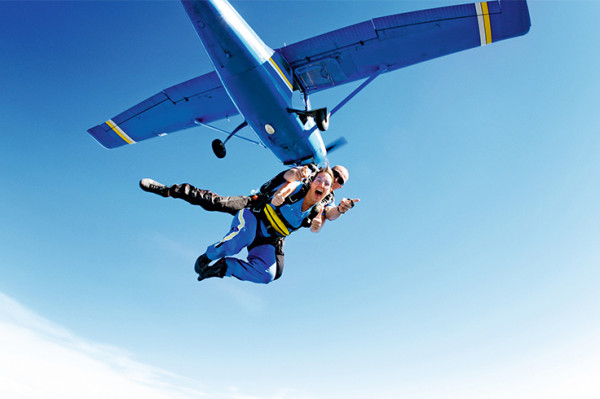 Nochella
Maybe you were booked for the Great Aussie Pilgrimage to Coachella in 2020, or planning a Europe festival roadie mission driving from Glastonbury through France to Spain's legendary Sonar festival. There's nothing like working a sweet event into an overseas road trip itinerary.
Or a local one!
The Great Southern Nights hasn't even stumbled in the last few years, with 2,500 artists playing 1,000 live gigs this November. With shows across New South Wales, it's as easy as picking an artist you love, booking your JUCY rental car or campervan, and going! We're hoping to get to the Presets in Sydney and Missy Higgins in Albany, Country NSW.
If you love Santa like we love green and purple, then don't miss a roadie to the Hunter Valley to visit the Christmas Lights Spectacular. The evening show is mind-boggling as three million lights illuminate the gardens, leaving you with plenty of times to explore the region and all its daytime magic.
Head inland to Country NSW to be amazed by the talent at the Borderville Summer Circus Festival. Cabaret, theatre, and the world's finest circus aim to impress against the backdrop of the Murray River!

Wet & Wellness
Byron is the new Bali anyway, so make a trip north and experience the community vibes that make Australia's most easterly point so unique. Do yoga at BodyMindLife, get Reiki at Byron Medicine Wheel, or even join a surf retreat for the Zen motion of the ocean. And you don't need to spend big to recalibrate your energy and vitality. Hike Byron Bay's Mt Warning for the best, good-for-the-soul sunrise in Australia!
Alternatively, pick the one that you want, ooh, ooh, oooooh at Gaia. Owned by Olivia Newton-John, this gorgeous hinterland retreat is close to Byron Bay, offering a more comprehensive (read: uber-pampered) stay.
Prefer to stay closer to Sydney? Consider a splurge in the Hunter Valley at Elysia Wellness Retreat (formerly Golden Door). Favoured by the run-down and the running wild (aka celebs), your personalised program will have you feeling like new. Or new-ish, anyway.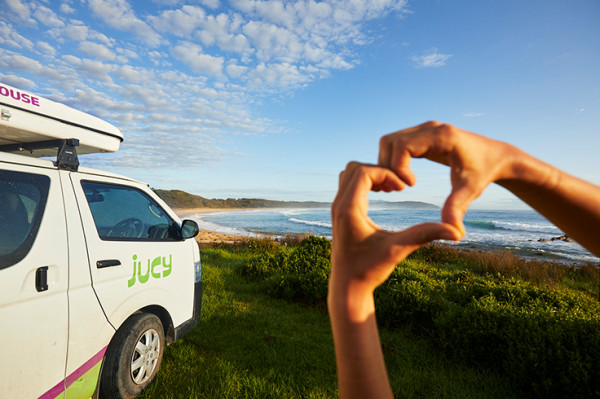 Ready to experience the world class-ness of New South Wales? We've got great campervan and rental car deals to ensure you experience the state in style. Call us on 1800 150 850, or Book Now to sort your JUCY campervan hire. Don't forget to tag us #jucyworld so we can travel vicariously with you!