South East Queensland road trip itinerary
As much as we love our beachside Gold Coast location, we recommend you explore more hot spots for driving in Queensland on your JUCY road trip. There is a ton of activities all across Southeast Queensland! The region is jam-packed with attractions at every turn.
It can be a little overwhelming to plan even a weekend getaway from JUCY Gold Coast because there is so much to see, so we've removed the potential for decision fatigue and created an incredible 7-day itinerary. The distances around the Gold Coast are so close that you can easily mix-and-match if you're looking for a shorter or longer road trip.
We are excited to share our Gold Coast to Brisbane road trip itinerary (because we offer one-way travel – yay), or you can quickly zip back to the Gold Coast at the end. Or continue on to Cairns for the ultimate east coast roadie. #justsaying
If you're road trip ready (we always are), read on for the ultimate Southeast Queensland itinerary!
Day 1:
Gold Coast to
Tamborine National Park
What a time to be alive! With your campervan hire or car rental, you're about to kick off one of Australia's most desirable regions. From our JUCY Gold Coast Airport branch, it's a sweet 10-minute drive to access the feel-good attraction of the Currumbin Wildlife Sanctuary. It's like studying Spanish before going to Spain; the Currumbin Wildlife Sanctuary provides the crash-course on the native animals that await you as you explore Southeast Queensland.
This not-for-profit sanctuary focuses on conservation, education, and wildlife rehabilitation. Over 11,000 animals are cared for annually, and a stop by the sanctuary's animal hospital is by far the most rewarding part of any visit. Make time, too, for the Lost Valley, to learn about flora and fauna of the Gondwana supercontinent that existed 180 million years ago.
No visit to the Gold Coast is complete without digging your toes in the famed sandy beaches. Rather than the bustle of Surfer's Paradise, we vote for Burleigh Heads. It's another short drive to not only a gorgeous Gold Coast beach, but also the Burleigh Head National Park. Here rainforests, eucalypts, mangroves and grasslands cover 27 hectares; all set against an ocean backdrop and golden sands.
Like fish goes with chips, in Burleigh Heads, a hike is nicely paired with some beach time. For an easy walk, the Oceanview Track takes 30 minutes to hike out to the Tallebudgera Headland. Coastal views, volcanic six-sided basalt rocks, and a range of native trees and mangroves line your route. Echo Beach is a great place to stop and soak in your surroundings.
With a glow from the day, head an hour to Tamborine Mountains. There are a ton of accommodation options in this national park region.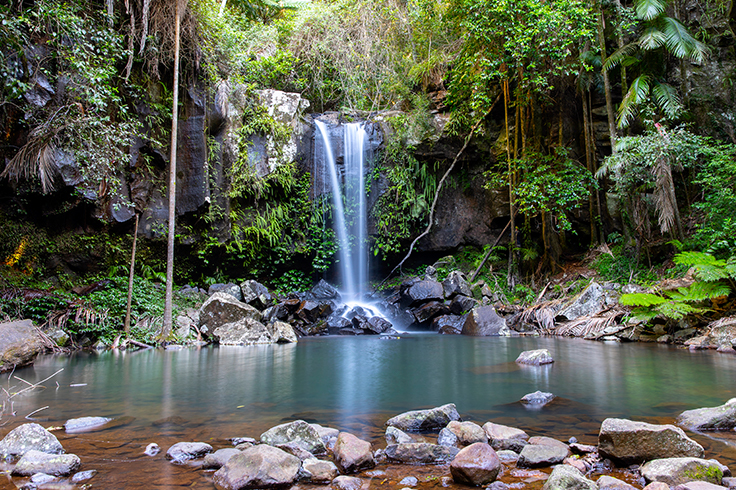 Day 2:
Tamborine National Park
A visit to Tamborine National Park, Queensland's oldest, is a perfect change of pace. One part of this national park, Witches Falls, has been protected since 1908, so it's the oldest part of the oldest park! The Witches Fall Circuit is a moderate walk that takes about an hour and takes in both the falls and an awesome viewing platform for park views.
Bird lovers will be in twitching heaven, it's one of Tamborine's biggest drawcards. While there are over 150 avian species, it's the rare birds that are the ones to swot up on and wait for. Whip birds, bowerbirds, lyrebirds, and lorikeets await.
The extremely rare Richmond Birdwing butterfly also flaps its wings here. Its green and black markings can be easiest spotted from the canopy walkway in the northern part of the park. If it's been raining, the park's giant earthworms may pop out – they can grow to one metre!
We love hiking because of the opportunity to be immersed in nature. What we love more is when we're given bonus rewards for our walking efforts.
In Tamborine village, forget a pub-crawl; we're on a sugar slither! Start with Fudge Heaven, move to Chocolates on Gallery Walk, and finish up (if you dare) at Lemon Lovers for gelato. If your eyes are bigger than your belly, Tea and Niceties serves a high tea fit for royalty. If you're on a gluten-free or dairy-free diet, head to North Tamborine to deep-dive into the sweet and savoury allergy-sensitive delights of Wilderflower and Wanderberries.
Pssst, you don't actually have to forget a pub crawl if you park up for the day. Tamborine also has boutique beers and locally distilled liqueur to tempt. The Tamborine Mountain Distillery has excellent views while you're taste-testing. Fortitude Brewing is a cool spot for a gourmet pizza and craft brew.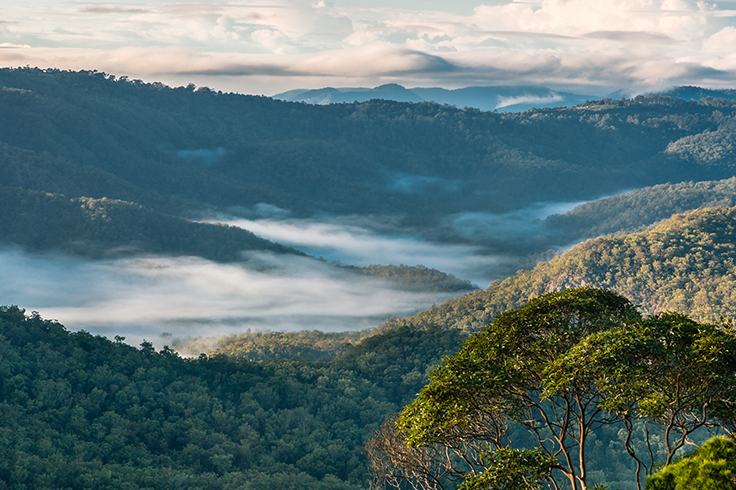 Day 3:
Tamborine National Park to Maleny
This is the longest day of driving on our 7-day itinerary (around four hours total), but so worth it as we're winding through epic mountains scenery en-route to Maleny.
First up, go retro in Ipswich, Queensland's oldest provincial city. Discover historic buildings, the restored colonial Ipswich Art Gallery, and the town's curiously-Australian antiques. The latter is found at the Ipswich Antique Centre, the region's largest retailer. Have a nosey around valuable pottery, jewellery, and movie memorabilia. The Retro Room is our fave here. Grab lunch at the Retro Diner to complete the vintage vibes for this visit.
You're in your awesome JUCY wheels, so what better way to celebrate than with a scenic drive? The route around Mt Glorious is just that, glorious! It's a windy, yet rewarding ride, as every mountain curve and switchback affords a new view of this rainforest haven.
Make Jolly's Lookout your first stop for views over Moreton Bay. You may also want to stop at the cafes at Mt Nebo or Mt Glorious (or both), for a road trip treat. Alternatively, pack a picnic to enjoy at Maiala, where you can also stretch your legs on some fab short walks.
Continue your inland exploration by driving to the expansive waters of Lake Wivenhoe, the largest lake in Southeast Queensland. If it's a warm day, grab your swimwear and go for a lake dip. Alternatively, you can sail, fish, or wander the lake paths.
Remember those awful Magic Tree car air-fresheners? Forget them when you're out this way. If you open the car windows as you drive this route towards Maleny, you can let the magical aroma of real trees fill your car – eucalypts!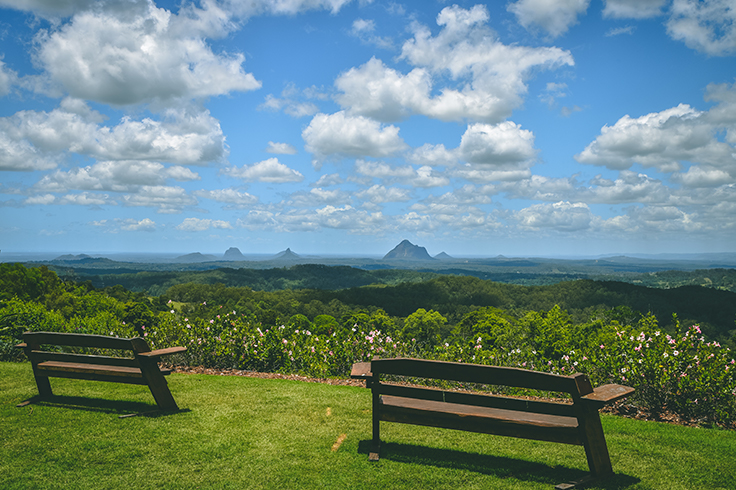 Day 4
: Maleny and
Montville
Awake bright and early in the cool mountain air of Maleny. This charming town adds another dimension to your Southeast Queensland road trip with its village vibes, cute boutique shops, varied eateries, and lush mountain scenery.
Maleny is nestled in the Blackall Range with a climate that has created award-winning dairy goodies. Stop by the Maleny Dairies to watch the cheesemakers on a farm tour, before sampling their creamy fare. If you've a sweet tooth, it would be a crime to skip the gelato at Maleny Food Co. There are plenty of savoury treats, too, here if you need something between your cheese and gelato fix.
While you could easily dine all day in Maleny, we're a fan of working off our road trip treats - to make room for more – tee hee. Drive 20 minutes to the Baroon Pocket Dam car park to hike to Obi Obi Gorge, in the Kondalilla National Park. Take a stroll to the gorge directly, or walk the 7km Baroon Lookout Trail for incredible views of Obi Obi Gorge and dam.
If one mellow mountain town wasn't enough for your day, we're adding another! Nearby Montville is an artist community with a flair for boutiques and eats. It's a town for wandering.
We're not ones to pass up a stop at Fudgyboombahs in Montville. If you're in a JUCY campervan, the fridge is plenty big enough to buy some more 'for the road'. Hint hint.
Return to Maleny content and perhaps on a sugar-high.
Day 5
:
Maleny to
Noosa
Back to the beach today, as you make your way to sunny Noosa, it's often a trip highlight!
En-route, a stop by the spectacular Kondalilla Falls in the Blackall Range is called for. Plummeting 90m to the rainforest canopy below, these falls offer not only incredible views but also the option to swim there. The 60-minute Rock Pools Walk is an easy way to get acquainted with flora and fauna here, with a dip in the pools midway. Alternatively, for a longer trek, the 2.5-hour Kondalilla Falls Circuit is memorable and fun.
However long you spend at the Kondalilla Falls, you'll have plenty of time to make it to Noosa by sunset when you get a chance to see why it's the Sunshine Coast's most popular destination. It's only a 50-minute drive unless it's a Wednesday or Saturday and you want to stop at the famous Eumundi Markets on the way.
The allure of Noosa is easy to recognise once you arrive. Pristine beaches, lush rainforests, plus a lively strip of restaurants, cafes, and bars. It's a no-brainer to stay a day or two here.
The beaches in Noosa can get a little packed, especially on the weekend, but if you walk a little further from the main beach, past the river, you'll find a sheltered sandy spot that is perfect for watching the sunset.
After sundown, head to Hastings Street to sample one of the many eateries that offer world-class cuisine for every palate.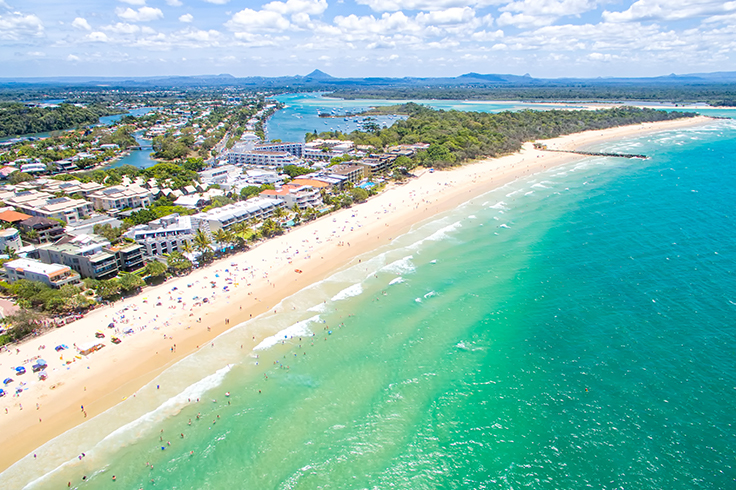 Day 6:
Noosa
You could easily flop and drop on the beach in Noosa all day, or hang around Hastings Street. But, you'd be missing out on one of the highlights here, the 4,000-hectare Noosa National Park!
Jutting out from the coast, Noosa National Park is proof that nature provides for all – the ocean meets the rainforest right there! Plus Australian native bush and wildlife hang there, too.
Explore the Noosa National Park on foot, with 15km of walking trails. We're fans of the Coastal Walk to see pure magic of the park, passing forests, rocky outcrops, and koalas hanging in trees. You can even take a bus back to the start if you're not keen to backtrack the Coastal Walk. Kinda like they thought of everything, huh?
Feel like exploring Noosa's nightlife like a local? Make sure to visit the bars and eateries at Noosa Junction – you'll get some of the best cocktails here and most nights great live music too. Noosa is also the unofficial microbrewery capital of the country and we highly recommend a visit to Land & Sea Brewery, Heads of Noosa Brewing Co. or Boiling Pot Brewery. If you feel like a dance then you can let your hair down at KB's at Nomads Noosa.
While you're in Noosa, why not head to the everglades? Like, what? It's not well known, but the world's other everglades are right here in Noosa, and a whopping 40% of Australia's birdlife hangs out here. Kayaking is a popular way to explore the tropical wetlands of the Noosa Everglades, or you can take a cruise.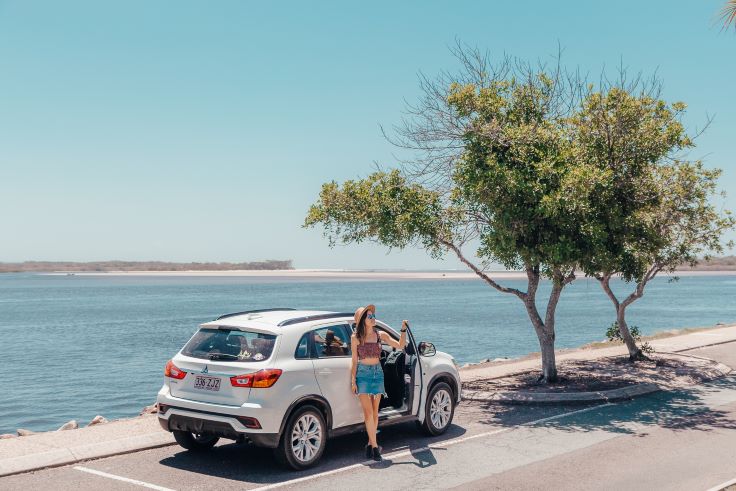 Day 7:
Noosa to
Brisbane
To the state capital and the conclusion of our Southeast Queensland itinerary! You're driving to Brisbane, aka the River City, by way of Mt Coolum, if you're up for a sunrise hike?
Mt Coolum is a 30-minute drive from Noosa, plus 45-minute hike to the summit. You'll need to pack a torch if you're heading up before the sun's up. It's worth the early start for the 360-degree views of the Sunshine Coast! Trust us!

A caffeine hit is perfect after an early start, so continue on to Mooloolaba for a coffee on the beach at Hustle and Flow. From here, it's 1.5-hours from Mooloolaba to our JUCY Brisbane branch where our epic Southeast Queensland itinerary ends.
Are you heading straight home from here? We offer a free airport shuttle during our branch open hours. If you're heading back to our Gold Coast branch for your vehicle drop-off, it's just over an hour (if no traffic).
If you're lucky and have some more time to play on the way, maybe a Gold Coast theme park would be fun? We love the Tower of Terror thrill ride at Dreamworld. Or stop by the Harbour Town Premium Outlets for a shopping splurge. Or both, they're only 15 minutes apart! Haha.
For a more nature-based detour to our Gold Coast branch, why not detour to Stradbroke Island? It's like the Hawaii of Southeast Queensland, and you can take your JUCY wheels over on the ferry.
Whatever you do, wherever you go, we support your road trip mission! Tag us #jucyworld to show us your Southeast Queensland highlights.