Sunny Side Up: Road Trip the Sunshine State from Cairns to Airlie Beach
Our Cairns to Airlie Beach itinerary is just the distraction from any worries with our mind-blowing 10-day Sunshine State roadie with a Cairns campervan hire.
It's easy to imagine there is no global pandemic and great 'mask debate' when you're in Queensland. Thanks to the sunshine, the laid-back vibes, and the bazillion ways you can see something utterly jaw-dropping. That's why we've put together one of our favourite roadies from JUCY Cairns to Airlie Beach.
You could drive this 625km route in one day, but why bypass beauty for the sake of speed? Unless you're making a last-minute dash to stop your exes wedding! As that's unlikely, we suggest instead you take a JUCY car or campervan rental Cairns and follow our more upbeat 10-day road trip itinerary across this legendary region of Queensland from Cairns to Airlie Beach.
DAY 1: Cairns to Barron Gorge
Our Cairns branch is close to the airport and the city. Win-win whether you're flying straight in, or exploring the area in advance. (TBH, we've made an assumption that you've explored North of Cairns already. If you haven't, check out our Daintree blog or this guest roadie post to Cape Tribulation.)
At JUCY, we're all about making life as easy as possible, so we've got a free airport shuttle to our branch, and our crew are on hand to get you sorted for an easy getaway. We love you, but less time with us means more exploring the wonders from Cairns to Airlie Beach
Your first stop: the rainforest town of Kuranda. If you can, coordinate your trip with the Kuranda Original Market and Heritage Markets days. Quaint, colourful shacks offer quirky and creative arts, crafts, and produce. The latter is perfect for stocking up your JUCY campervan fridge.
Spy wildlife at the nearby Birdworld, Koala Gardens, and Australian Butterfly Sanctuary, or take your chances on seeing flora and fauna eu natural at the gorge-ous Barron Gorge National Park.
Rugged, mysterious, and wild, Barron Gorge is everything you want in a... national park. Seriously, Barron Gorge is the ultimate triple threat! With a diverse range of flora and fauna packed into its 28 sqm, Barron Gorge is part of the UNESCO Heritage Wet Tropics.
For a leisurely stroll, head to the Barron Falls Lookout Track. The multi-tiered cascading waterfalls are thrilling, particularly after rainfall. The Glacier Rock Lookout is a more challenging 7km trail – be sure to look out for kangaroos, cassowaries, and possums.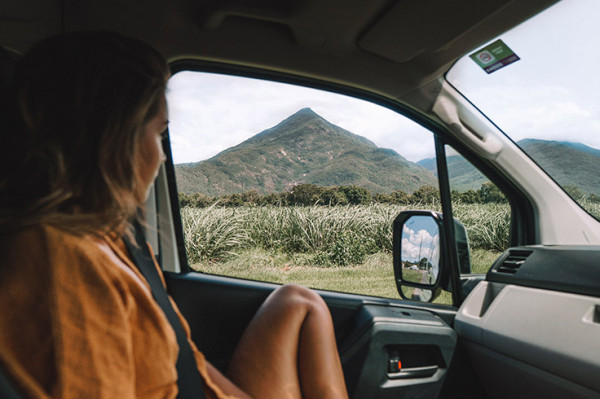 DAY 2: Atherton Tablelands
Assuming you hiked yesterday, consider today your 'reward day'. There's no better place to spoil yourself than in the Atherton Tablelands, where the gastronomy scene rivals any big city or fancy celebrity chef fare. But, if you're up for one more waterfall then be sure to stop at the Josephine waterfalls and crystal-clear water swimming hole.
Stop at Mareeba, where the coffee plantations get you fuelled and ready for the day. Check out Jacques for the history, or Coffee Works for ample selections. If you're up for an early start, a hot air balloon ride in Mareeba sets the tone perfectly.
Adventure-wise, you could spend your day hiking waterfalls or among the Granite Gorge Nature Park where rock wallabies like to hang. Alternatively, head further inland to the 400-million-year-old limestone Chillagoe Caves, best experienced on a ranger-led tour.
If you prefer more decadence, then say yes cheese at the gourmet Gallo Dairyland cheese factory. Rainforest Hearts is also a yum-fest for tropical bushfood and a delectable afternoon tea. There are also wineries dotted around the Tablelands, as well as the Mt Uncle Distillery. All perfect to take away for your campervan mini-fridge!
Conclude the day with a photo stop at the incredible 500-year-old Curtain Fig Tree. It's nearly 50 metres tall!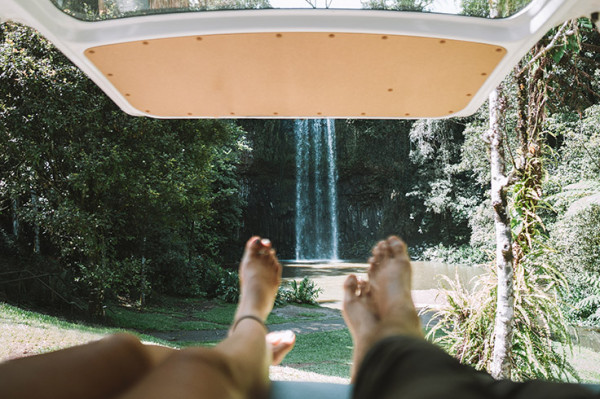 DAY 3: Atherton Tablelands to
Wooroonooran National Park
You can't visit the Atherton Tablelands without seeing a waterfall or seven. The rainforest rewards with well... rain... and falls. Take in the luscious Millaa Millaa Falls; they're picture perfect.

If you like your waterfalls like you like your chocolate bars (one is never enough), then you can continue the Waterfall Circuit. Visit Zillie Falls, Ellinjaa Falls, Pepina Falls, and Mungalli Falls, all found within a 20-kilometre radius.
Next up, Wooroonooran National Park also found within the Wet Tropics World Heritage Area. This sprawling 800-square-kilometre protected park is home to stunning rivers, hiking paths, mountain bike trails, and, of course, waterfalls. Be on the lookout for the Lumholtz tree kangaroo, it's unique to the area.
En-route, consider a stop at the Mamu Tropical Sky Walk for a birdseye view of the area and a ton of information. Within Wooroonooran, you'll also find the iconic Babinda Boulders (Devils' Pools) swimming hole. Freshwater pools surround giant boulders - perfect for a dip after the 1.3-kilometre walk there.
If you've the time (and fitness), consider a half-day hike up Walsh's Pyramid. If you're a hiker, knowing this is the highest free-standing natural pyramid in the world makes it hard to resist the climb. Alternatively, stroll the Johnston River Lookout Walk.
After exploring Wooroonooran, make your way to camp at Etty Bay. It's famous for the wild cassowaries that wander the beach.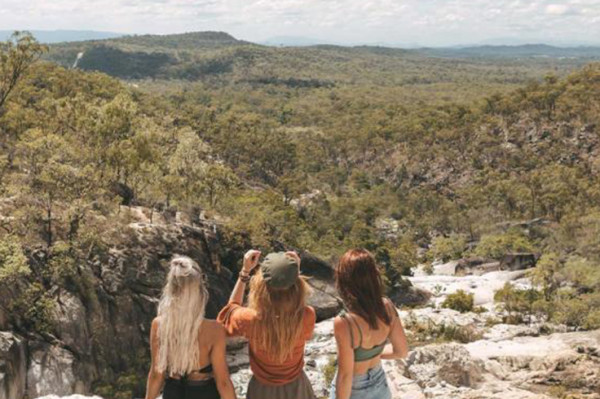 Day 4: Wooroonooran National Park to Mission Beach
Park up your JUCY wheels in Hervey Bay and take a trip to the UNESCO site of Fraser Island, also known as K'Gari. Fraser Island is a whopping 750,000 years old and is the world's largest sand bar. It offers visitors exquisite white sandy beaches, undulating sand dunes, and unique, abundant flora and fauna.
Once on the island, the activity list is pretty endless. Take an off-roading tour, swim at the Champagne Pools, or seek the wildlife that calls Fraser home. You'll discover swamp wallabies, echidnas, and as many bird species as there are days in a year. The biggest wildlife drawcard here, however, is the pure dingoes that roam the beaches. It's worth noting that these are feral dogs, so keep your distance and don't feed them.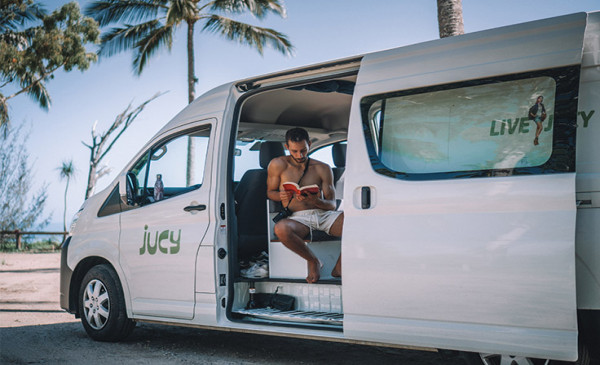 Day 5: Mission Beach to Hinchinbrook Island
A short drive gains you access to Australia's largest national park island - and movie-famous thanks to Nim's Island - Hinchinbrook Island. En-route, stop by the Golden Gumboot statue in Tully.
While you can make a day trip to Hinchinbrook Island, if you're game for an adventure, why not rent a kayak and get out among the coral-fringed islands, mangroves and estuaries?
Hinchinbrook Island offers gorgeous bays, the famous Zoe Falls, and a plethora of wildlife, including dugongs and estuarine crocodiles! The Thorsborne Trail is on Hinchinbrook is one of Australia's premium hikes.
If you choose to skip Hinchinbrook Island, travel via the 26-kilometre Cardwell Forest Drive. Amid pine plantations, there are scenic lookouts to afford views across to the islands and Cardwell town. You'll also discover the Cardwell Spa Pool, with its uniquely-blue freshwater swimming hole.
Head 30-minutes south to Ingham to park your JUCY campervan or car up for the night on this midday point on your Cairns to Airlie Beach adventure.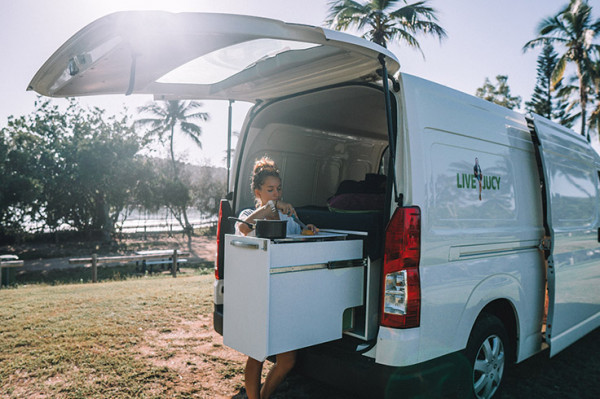 Day 6: Ingham to Townsville
We've got one last one waterfall to tempt you – and it's a doozy: Wallaman Falls. It's the highest single-drop waterfall in Australia (and 10th highest in the world!). The drive to the falls is spectacular, the 45-minute walk to the base of the falls is spectacular, and the falls themselves are... you guessed it... spectacular!
From here, it's a 3-hour drive to Townsville. This oft-overlooked coastal town gives you a base to reach Magnetic Island.
Attractions in Townsville include the eco-tourism Billabong Sanctuary, the Museum of Tropical Queensland, and the Perc Tucker Regional Gallery.
Sunset atop Castle Hill is highly recommended for 360-degree across. Dining at one of the ocean- and Magnetic Island-facing restaurants along the Strand is the perfect conclusion to the day.
Day 7: Magnetic Island
It would be a crime to travel from Cairns to Airlie Beach and skip Magnetic Island. Like not the banged-up-abroad crime, but enough that people would facepalm you for years.
Although eight kilometres off the coast, Magnetic Island is a suburb of Townsville. But this is almost an anti-suburb, thanks to the 23 spectacular palm-fringed bays, and koalas, wallabies, and other wildlife that roam freely, plus the national park bushwalks.
Magnetic Island is accessible with a short 20-minute ferry or barge ride. Once there, land lovers can enjoy the popular Forts walk which acts as an introduction to the wildlife (lookup for koalas), and the island's WWII history.
For water bunnies, the S.S. Yongala wreck is a must-do scuba dive, considered one of the best shipwreck dives in the world. You can also book a kayak tour, rent a jet ski or sail into the sunset. For animal lovers, horse riding across the epic Magnetic Island landscape is the ultimate win.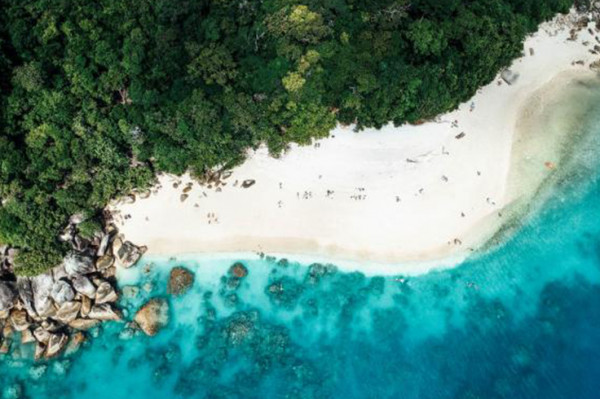 Day 8: Townsville to Airlie Beach
Get excited as you're on the final driving stretch from Cairns to Airlie Beach and the Whitsundays. Woohoo! Whet your Whitsundays appetite at the northernmost point with a pitstop in Bowen. Enjoy a photo at one of the two Big Mangoes, and a refreshing dip in the turquoise waters of Horseshoe Bay.
Airlie Beach is one of the most well-known resort towns in Queensland. It's the gateway to the Whitsundays Islands and Great Barrier Reef, but famed also for its vibrant and bustling vibes. Airlie Beach is like the Grandma that spoils you, offering boat cruises, sailing charters, scuba diving, jet-skiing, snorkelling, wildlife, and 101 ways to get a cracking tan. It's magic!
The fastest way to get your bearings of the majesty of the Whitsundays Islands is on a one-hour scenic flight. Soar over the clearest water in the world, incredible reef formations, and the Heart reef. It's a total pinch-me travel experience! If you'd like to up your thrills, consider a skydive!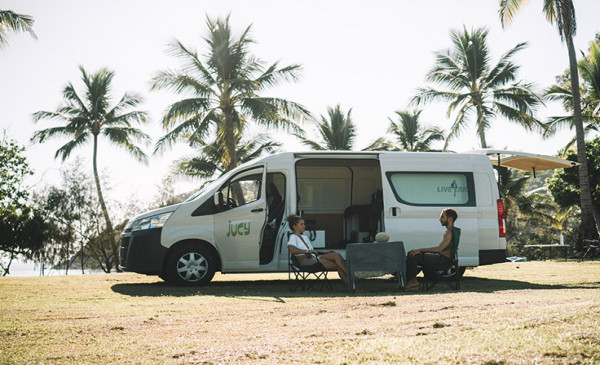 Day 9: The Whitsundays - Hamilton Island
Hamilton Island is the largest of the Whitsunday resorts, meaning it's chock-full of activities.
If you like a sport, chances are you'll find the one you like on Hamilton Island (bob-sledging aside). The glistening turquoise waters have inspired every water sport you can think of. Plus, you can hike the pristine bush or enjoy a quad bike adventure. The primo 18-hole Hamilton Island Golf Club and Yacht Club are also fun.
And no one goes hungry! There are a ton of bars and restaurants to keep you far away from any sport if you so choose. Whatever your pace, be sure to allocate some time to exploring the rainbow-coral Great Barrier Reef, it's an unbeatable experience!
Day trip to Hamilton Island by ferry, speed boat, plane or chopper (yup) or take a tour.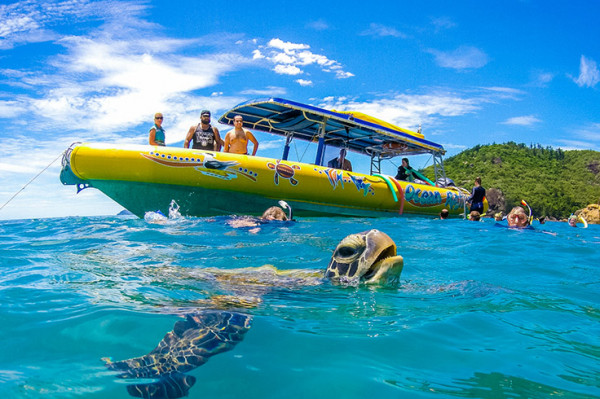 Day 10:
The Whitsundays
- Whitehaven Beach
The bright white sand of Whitehaven Beach contrasted against the crystal-clear waters, earn it the moniker of one of the 'best beaches in the world'. Check it out and tag us #jucyworld if you agree!
With seven kilometres of pristine silica sand, Whitehaven Beach is considered the jewel of the Whitsundays. To reach this gem, either take a day tour or skipper a boat.
Once on Whitehaven, plan to laze on or walk along the not-hot sands (thanks to the silica). Plus, many leisurely swims in these translucent waters. Be sure to pack your sports shoes as you can also hike through the native bush at either end of the island. Don't miss the Hill Inlet Lookout.
There is a heaven, and it's in the Whitsundays!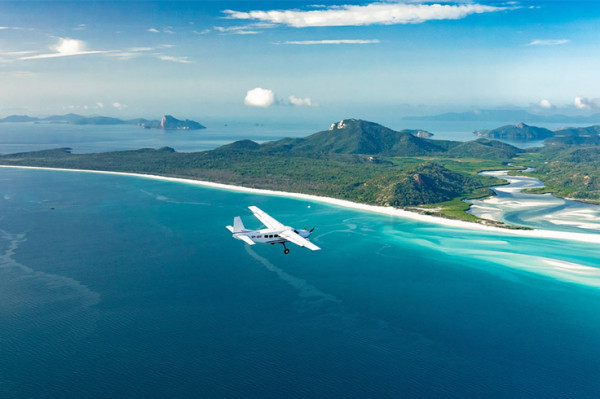 Did we tempt you? If any part of this itinerary has seen you chatting with your plus one, bestie, or fam about a Cairns to Airlie Beach roadie, then book now to see how renting a car rental or campervan with JUCY Cairns is the perfect complement to the scenery of this epic region of Queensland. You won't regret it!