Sydney campervan road trip
Catrina McGrail from 24 Hours Layover shares her campervan road trip from Sydney!
A road trip is one of the best ways to explore New South Wales. There are so many incredible places to see in this state and heading around in a campervan means you can explore lots of destinations that aren't on the typical tourist trail.
Pick up your Sydney campervan hire from JUCY and make your way round in a loop - check out this road trip route for all the details on great locations to visit and some of the best places to stay!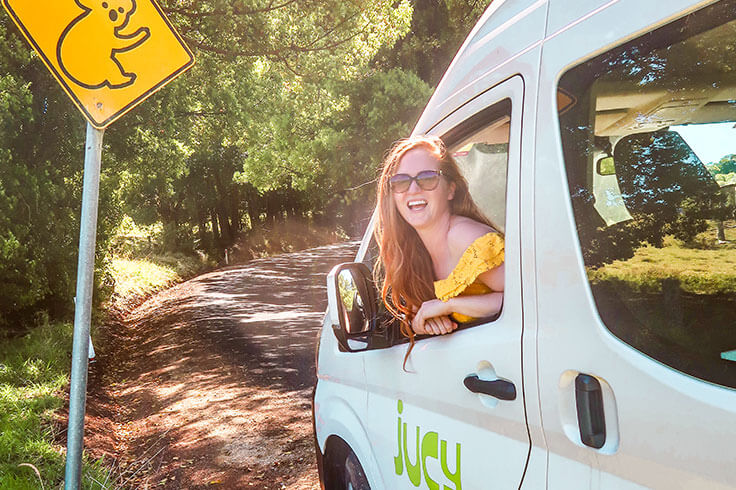 Sydney to Central Coast
Once you pick up your JUCY campervan from the Sydney Airport branch, head one hour north of Sydney to Bouddi National Park. The Bouddi Coastal Walk looks out across the water to Sydney's northernmost beaches and links several really beautiful beaches. It was also nominated by the Australian Geographic as one of the best day hikes in Australia! Enjoy the coastal views throughout the walk and remember to keep your eyes peeled for dolphins - I saw lots of them jumping out of the water very close to me - what a perfect start to the road trip!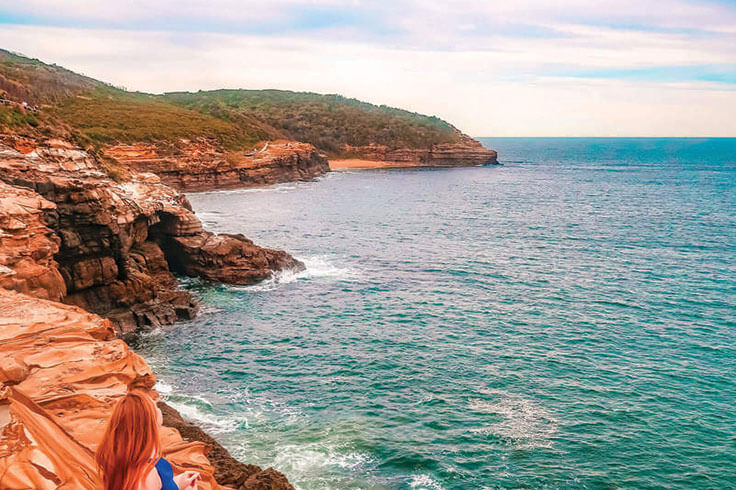 Later on, head to the nearby Central Coast attractions such as MacMasters Beach, walk along the 350 metres Long Jetty at Lake Tuggerah, and feed the pelicans at The Entrance.
Where to stay: Blue Lagoon Beach Resort
Central Coast to Booti Booti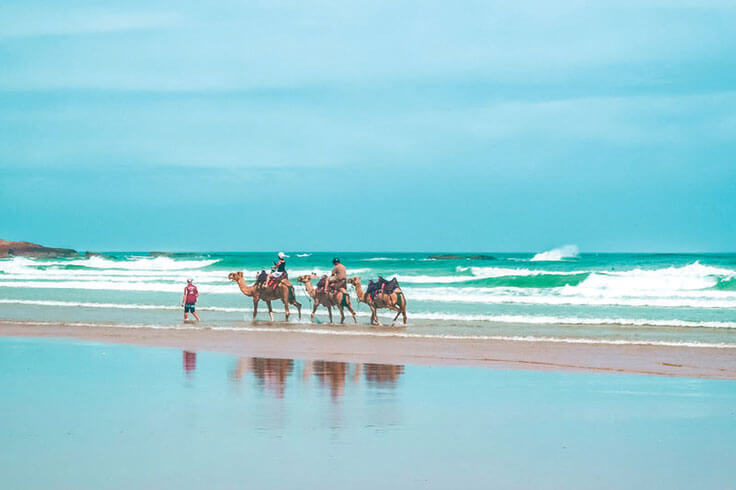 A stop at Caves Beach in Swansea is well worth it to explore the caves before continuing up to The Bogey Hole in Newcastle for a swim in the iconic ocean pool! After this make your way to the Stockton Sand Dunes at Worimi National Park - they are the largest moving sand dunes in the southern hemisphere and overlook the sea. You can even take a camel ride on Birubi Beach here if you wish!
Drive across to Port Stephens and tick off that bucket list item of swimming with dolphins, or climb to the top of Tomaree Head in Shoal Bay in 20 minutes for a spectacular aerial 360-degree view of the surrounding area.
Then drive to the peaceful and secluded Seal Rocks where you can enjoy a bunch of stunning beaches such as Lighthouse Beach, Boat Beach and Number One Beach all within close proximity.
Where to stay: Booti Booti National Park - The Ruins Campground
Booti Booti to Coffs Harbour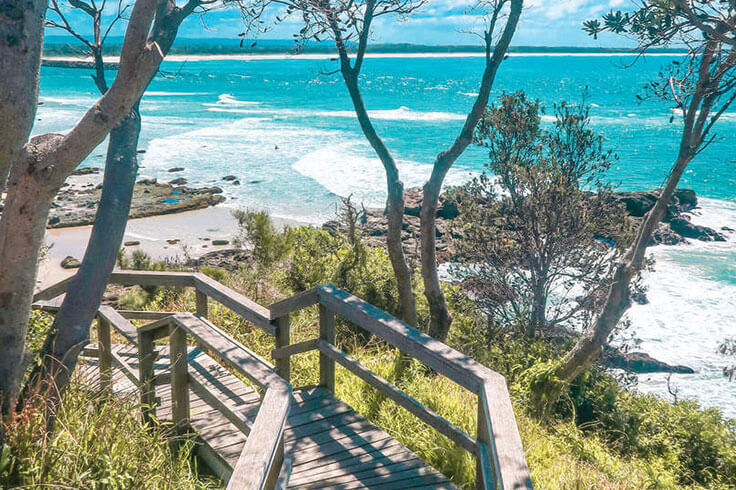 Enjoy a sunrise stroll along Seven Mile Beach before stopping off to enjoy nearby Blueys Beach, Elizabeth Beach and Shelly Beach - all located in Booti Booti National Park. Then drive up to Port Macquarie where you'll definitely feel the holiday vibes! Enjoy the stunning coastal walk here and visit the Port Macquarie Koala Hospital.
Afterwards, head to Dorrigo National Park and enjoy the view from the Skywalk as well as heading down to the epic waterfall Crystal Shower Falls.
Coffs Harbour to Ballina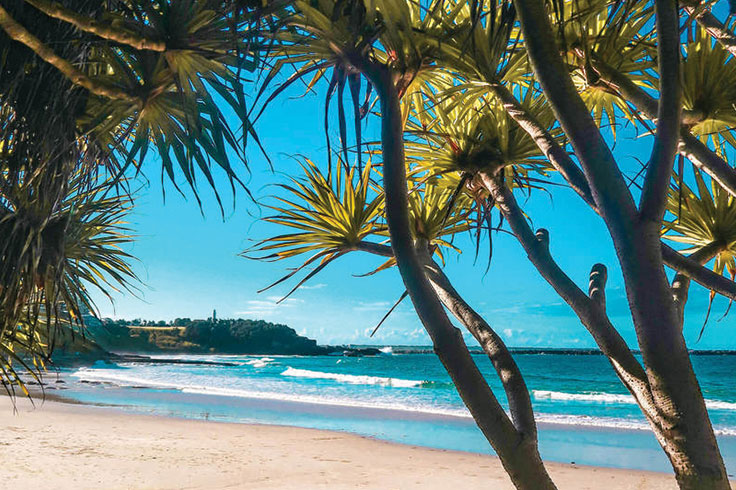 Visit Park Beach in Coffs Harbour and have a morning swim here if you fancy! Then drive up to Yuraygir National Park - the largest coastal park in NSW with 48 sweeping beaches. Stroll along a part of the coastal walk - from Wooli Beach around to Diggers Camp, taking in the beach views that go on for miles. This is another good place to spot pods of dolphins and even humpback whales if you are here during the migratory season.
Next, make your way up to the trendy town of Yamba - dubbed the new 'Byron Bay'. Enjoy the laidback vibes, cafes and beaches here before heading up to Ballina for the evening. You'll pass The Big Prawn on your way into town so make sure you stop by for an obligatory selfie!
Where to stay: Flat Rock Tent Park
Ballina to Byron Bay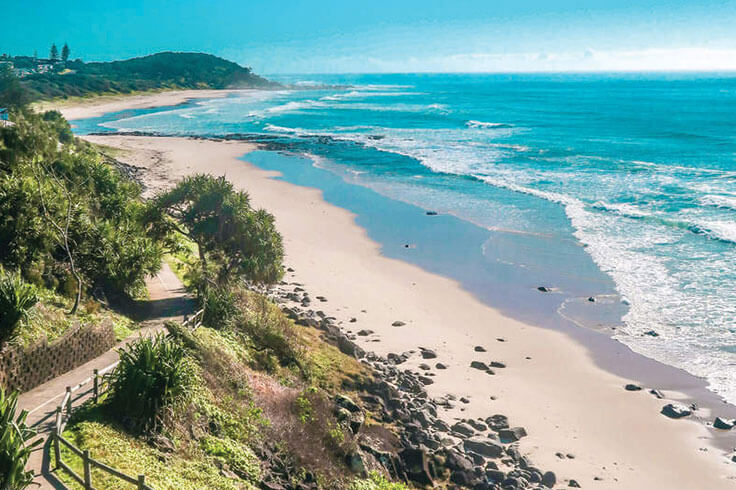 Watch the sunrise over Flat Rock and then head to Ballina Head Lookout for perfect views over Shelly Beach and Lighthouse Beach. These are great surfing beaches if you fancy getting out in the water!
For those who love hiking and swimming underneath waterfalls, a trip to Minyon Falls is a must. Hike down to the waterfall from Minyon Grass and swim at the base of the 100-metre high waterfall before heading on to Nimbin - the hippie capital of Australia. Whilst on the map the distances look very small - there is a lot of driving and twisted narrow roads, so I was certainly glad my JUCY campervan rental was automatic for this!
Where to stay: Holiday Park Reflections Byron Bay
Byron Bay to Glen Innes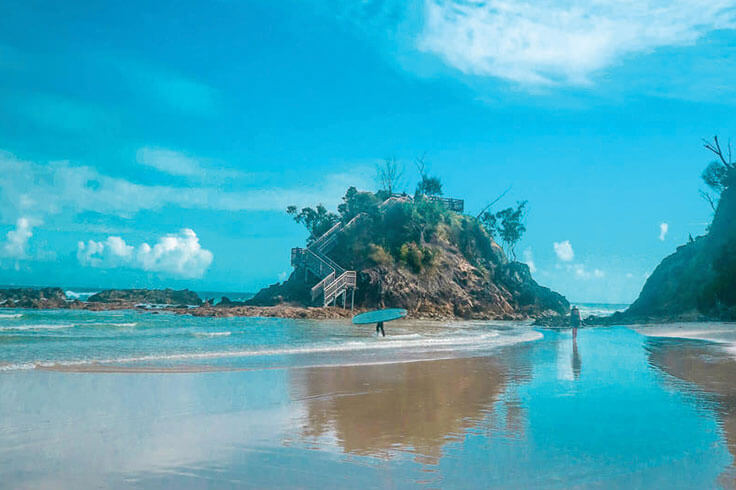 Watch the sunrise at Cape Byron Lighthouse - mainland Australia's most easterly point, then do the coastal walk back into town and enjoy the quintessential Byron Bay atmosphere and trendy cafes. You may even wish to kayak with dolphins or simply relax on the beach here for a bit. If you're travelling with kids, head to nearby Torakina Beach in Brunswick Heads for the perfect beach for little ones as it offers very little swell and is protected from the ocean.
After this, you'll start to head inland and make your way to the highlands and New England. Spend the evening in the charming Celtic town of Glen Innes - full of nice old buildings and plenty of places to enjoy food or a beer.
Where to stay: Fossicker Caravan Park Glen Innes
Glen Innes to Hunter Valley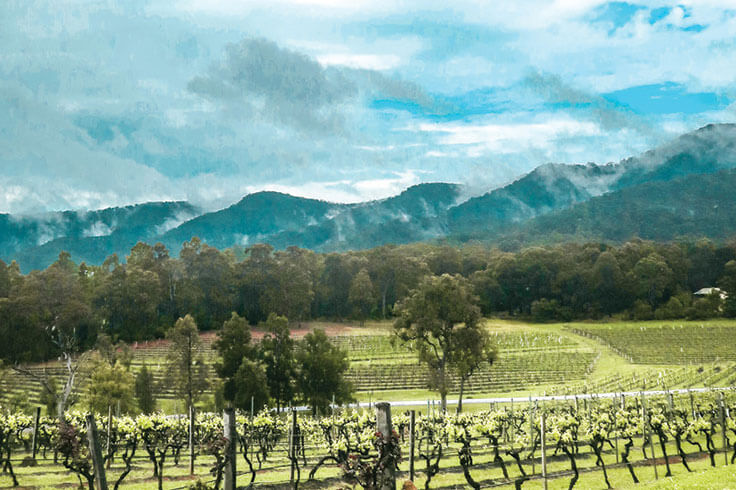 Visit the famous Australian Standing Stones in Glen Innes - a tribute to all the Celtic convicts who helped to build Australia. The Standing Stones were used by Celts in olden days in order to tell the seasons and to know when it was time to sow the crops. You'll also find the 'Excalibur' Sword in the Stone here! Leaving Glen Innes and heading south you'll pass by the 'Celtic Country' sign and Stonehenge. Drive down to Armidale, stopping off on the way at The Red Lion Tavern to experience a true old English pub if you're feeling peckish.
Stretch your legs at Tamworth before arriving in the Hunter Valley - Australia's oldest wine region. The small town of Pokolbin is the best area in the Hunter Valley to visit some beautiful vineyards and Cellar Doors, with Scarborough and Audrey Wilkinson Vineyards being some of the most picturesque here.
Where to stay: Wine Country Tourist Park
Hunter Valley to Kiama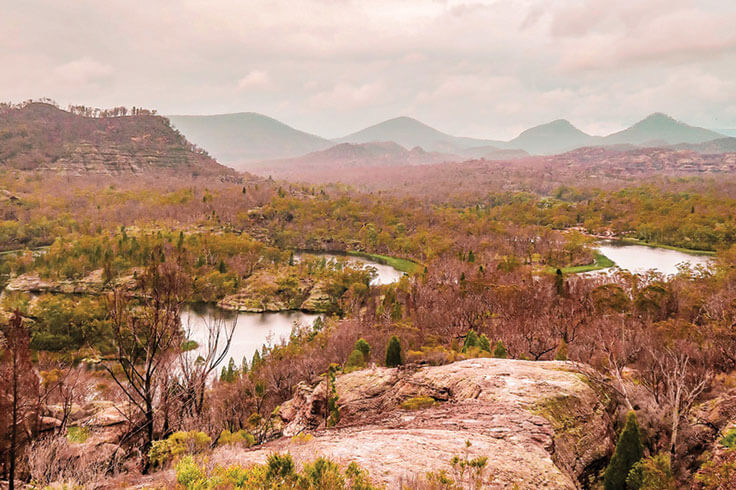 From the Hunter Valley head down to the Blue Mountains to see The Three Sisters, Wentworth Falls, Hanging Rock or take a trip on the Scenic World railway.
The Blue Mountains is one of the most popular day trips from Sydney, so if you have already previously explored here then an alternative place to visit in Wollemi National Park with its impressive canyons, towering cliffs and forests. There are some nice bushwalks you can do - my favourite being the Pagoda Lookout walk by Ganguddy (Dunns Swamp).
Where to stay: Killalea Camping Area Reflections
Kiama to Pretty Beach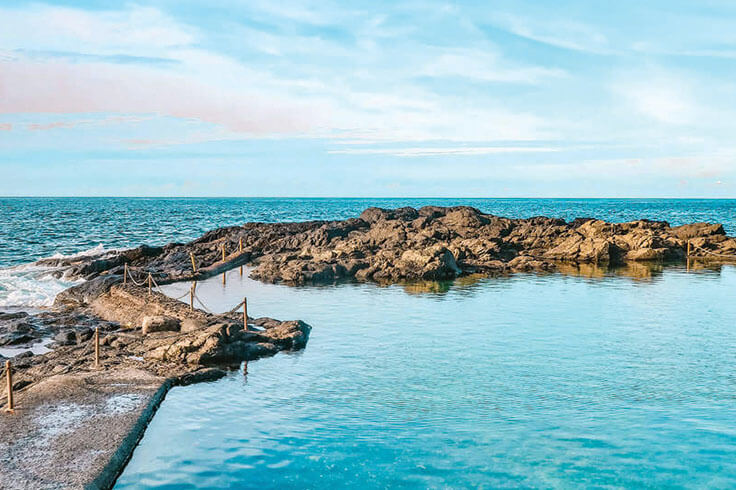 Start the day with a morning walk along the Kiama Coastal walk from Minnamurra down to Cathedral Rocks, Kiama Rockpool and Kiama Blowhole - the largest blowhole in the world!
Then drive down towards the beautiful white sandy beaches in Jervis Bay. Hyams Beach is the most famous (supposedly it has the whitest sand in the world), but also Huskisson Beach, Nelsons Beach and Chinamans Beach are stunning and a lot less crowded. Go on a whale-watching boat trip if it is the season, or do the White Sands Walk from Greenfield Beach to Hyams Beach. Then drive to nearby Murrays Beach in Booderee National Park to experience another completely stunning white sand beach!
Where to stay: Pretty Beach Campground - Murramarang National Park
Pretty Beach to Sydney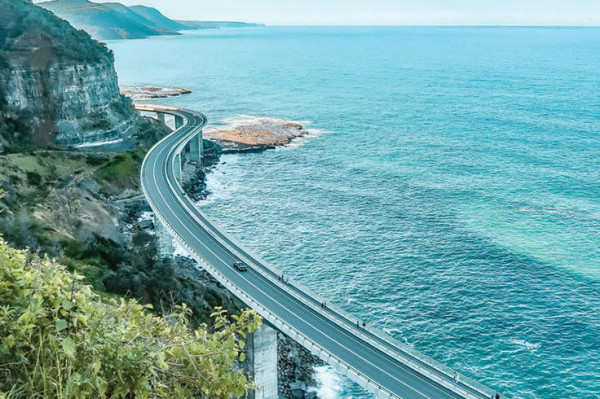 At the popular Pretty Beach campsite you can often spot kangaroos and possums here at sunset and sunrise. Take a walk around Pretty Beach towards Island Beach or Snapper Point Lookout.
Stop off at Cunjurong Beach Reserve and enjoy the stunning views across to Conjola Beach and Green Island. Swim in the calm waters and climb up on the sand dunes for some great photographs.
On your way back up towards Sydney make sure you go via the Sea Cliff Bridge on Lawrence Hargrave Drive - one of the most scenic drives in Australia. The Royal National Park - the second oldest national park in the world is just 30km south of Sydney and there are some beautiful places here to explore before dropping off the best campervan hire in Sydney at JUCY Rentals. If you'd prefer to do this trip with a cheap car rental, JUCY has also got you covered with Sydney car hire too.
All images copyright and courtesy of 24hourslayover.com.
Book your Sydney campervan or car hire with JUCY now!