Valentine's Day Getaways: The Best Romantic Long Weekend Road Trips Near Brisbane
Pack your bags, add new tunes to your road trip playlist and embrace untethered adventures. This Valentine's Day, there's no need to rush to the grocery store to pick up last-minute flowers, and a cheesy card.
Surprise your lover with a long weekend getaway in Queensland. Not sure where to start? We've rounded up the most romantic road trip escapes near Brisbane for couples who love adventure.
Romantic Road Trip Itineraries:
Travel Slow on the Sunshine Coast

Disconnect in the Scenic Rim

Hinterland and Beach Adventures on the Gold Coast
First-time road trippin'? Hit the road in a JUCY campervan complete with all the essentials you'll need for your weekend rendezvous. Contact JUCY to book in or schedule a free shuttle pick up from the airport to JUCY Brisbane.
ROMANTIC ROAD TRIP ITINERARY - SUNSHINE COAST
Brisbane to the Sunshine Coast Hinterland
Start your journey by picking up your campervan rental from JUCY Brisbane Airport and head north to the iconic Glass House Mountains.
For adventure seekers, Mount Ngungun Summit Walk is a 2.8-kilometer trek that offers world-class views of Mount Tibrogargan, Mount Coonowrin, and Mount Beerwah. Bring plenty of water, wear your most comfortable hiking shoes and a wide brim hat. You'll want to get here early, so you're not hiking in the hottest time of the day. If you prefer a sunset hike, visit the Glass House Mountains on your way back to Brisbane.
Plan to spend approximately two hours hiking up and down the mountain.
Feeling hungry? Surprise your lover with an impromptu picnic after the climb. This would be a good time to pull out the campervan table and whip up a tasty snack.
Next stop, make your way to the Sunshine Coast Hinterland. Grab a coffee in Montville, and check out the art galleries and boutique shops. The Chapel is a romantic wedding venue in the heart of the town where many love stories have been told.
After you visit Montville, head to Kondalilla National Park, for an evening swim. Here you'll find a spectacular 90-meter waterfall and rock pools in the forest.

Spend the night in the forest at Conondale National Park.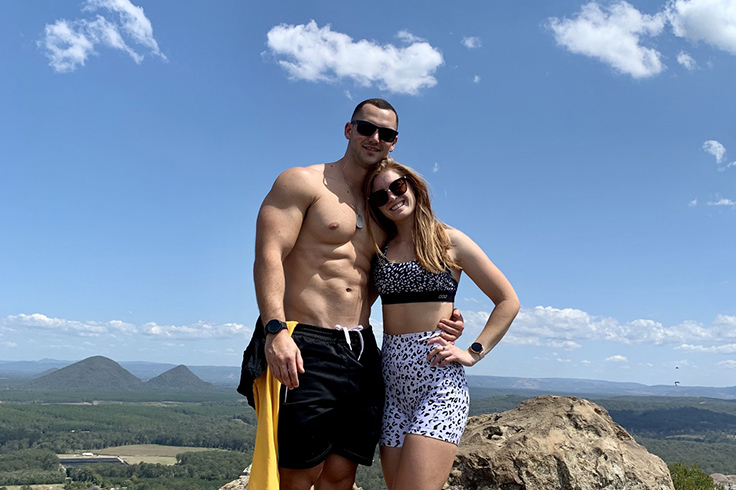 Eat, Play and Stay in Mooloolaba
The natural infinity pool located in the Tully Gorge National Park is one of the highlights of an east coast road trip.
Whether you're the type of couple who likes to wake up at the crack of dawn, or you prefer to ease into the day, there's nothing like enjoying breakfast with a view. Drive to the coast and start your day in Mooloolaba.
Visit the Colombian Coffee Co. for your caffeine fix before your first swim of the day. Spend the morning searching for the perfect rock pool made for two.
Feeling peckish after a long walk on the beach? Clean up and head to Pier 33 for lunch with a stellar view of Mooloolaba River. Toast to love and new adventures.
Heads up, the Espresso Martini packs a punch so make sure you've sorted where you're camping in Mooloolaba or who is the designated campervan driver.
When you're on the coast on your romantic getaway, embrace slow travel. Head back to the beach and venture out to Alex just before sunset. This coastal pathway is perfect for a romantic evening stroll.
For dinner, Rice boi at the Wharf Mooloolaba has a 10hr coconut braised beef curry that's a must-try!
Where to Stay: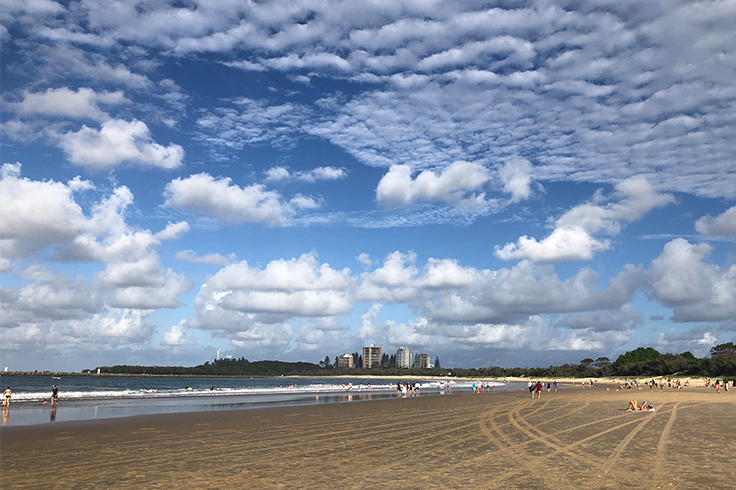 Visit Buderim Falls (Serenity Falls)
Cuddle up under a blanket and watch the sunrise on the sand in Mooloolaba. If you're both feeling up for a stretch after sleeping in the van, take a long walk on the beach or take advantage of the outdoor gym at the Spit. For lunch, stop by The Surf Club Mooloolaba for beachfront bites.
Before you head back to JUCY Campervan Rentals Brisbane, visit Buderim Falls (Serenity Falls). This waterfall hike is located 15 minutes from the coast and well worth a visit. Park on lower Lindsay Road and take advantage of the electric barbeques and picnic tables to whip up some lunch. Follow the trail to the waterfall, and don't forget your swimmers if you're keen for a dip in the water before you make your way back to Brisbane.
Want to explore more of the Sunshine Coast? Here's your guide to a weekend in Noosa

Romantic Road Trip Itinerary - Scenic Rim
Spend Valentine's Day with your lover on a romantic retreat away from the city. If you both love hiking but also enjoy a nice fruity chardonnay, add the Scenic Rim to your list. Here you get the best of both worlds, rugged mountains to climb and majestic views of vineyards and lavender fields.
Disconnect in Nature
The Bush Oasis campsite located just outside of Townsville has a heated pool and spa, making it one of the most luxurious budget places to stay on the east coast of Australia!
From Brisbane, take the hour and thirty-minute drive to Mount Mitchell in the Main Range National Park. Bring plenty of water and wear comfy hiking gear. You'll be surrounded by nature and walking through woodland and rainforest in this 10.2 km round trip hike. Plan to spend approximately three hours here.
For more details on camping in Main Range National Park.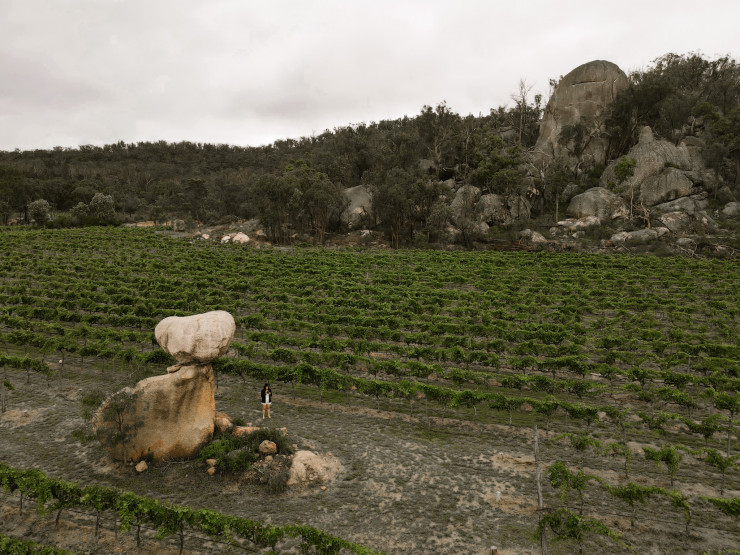 Lavender Fields and Scenic walks
Treat your partner to a romantic day frolicking through Lavender fields at The Kooroomba Vineyard & Lavender Farm. If you choose to spend the first day of your getaway being active, then day two is meant for fine dining and sipping on your favourite red. Experience wine tastings at the cellar door, and visit the lavender shop to buy a souvenir of your unforgettable time spent together.
If you're looking for something to do before dinner, jump in your JUCY campervan rental and drive 20 minutes to Mount French. Take your pick between two short walks. If you have the time, take a stroll on both.
North cliff track is a 15-minute walk that leads to Logan's lookout, which overlooks Fassifern Valley. If you're looking for a slightly longer walk with views of Tamborine, Lamington, and Mount Barney, check out the Mee-bor-rum circuit.
After the walk, head back to cook a romantic meal in your JUCY campervan rental or head to Kooroomba Vineyard & Lavender Farm for a 5-star dining experience. Plan to visit on a Sunday to catch live music on the Terrace from 12 pm - 4 pm.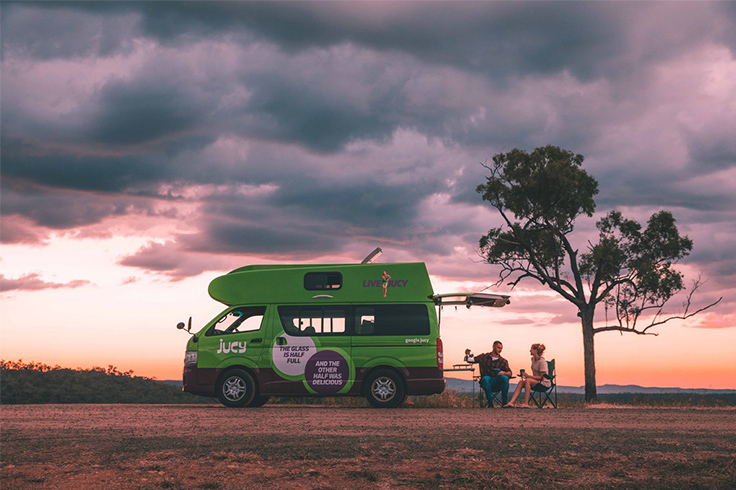 Romantic Road Trip Itinerary - Gold Coast
Whether you're celebrating a special occasion or you're looking for an escape with your partner, there's nothing like a road trip to bring the two of you closer. Visit the Gold Coast, where you can escape to the hinterland, relax at the beach, and surf world-class waves near Brisbane.
Brisbane to Lamington National Park
Wander through lush rainforests and rugged landscapes in Lamington National Park. Snap pictures of wildlife, walk to waterfalls, or go on a search for Glo Worms after sunset. O'Reilly's Rainforest Retreat Campground is perfect for couples looking to get away from it all. If you're looking to strengthen your bond, this place has plenty of secluded spots to watch the sunset. There's also a communal camp kitchen with a view and a fire-pit area.
You could spend your entire lover's weekend here, or hit the coast for some surf and sun.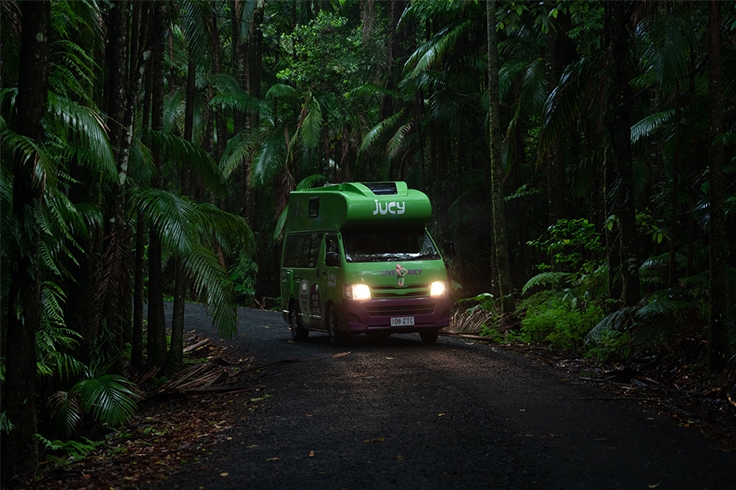 Spend the day in Burleigh Heads
Pack snacks and cold drinks in the esky and swim and surf all day in Burleigh Heads. If you're feeling hungry, you'll find plenty of cafes serving up tasty breakfast and lunch across from the beach. Tallebudgera Creek is a short walk from Burleigh and a must-visit if you're searching for calmer waters.
Where to camp: Burleigh Beach Tourist Park
Where to eat: Commune Cafe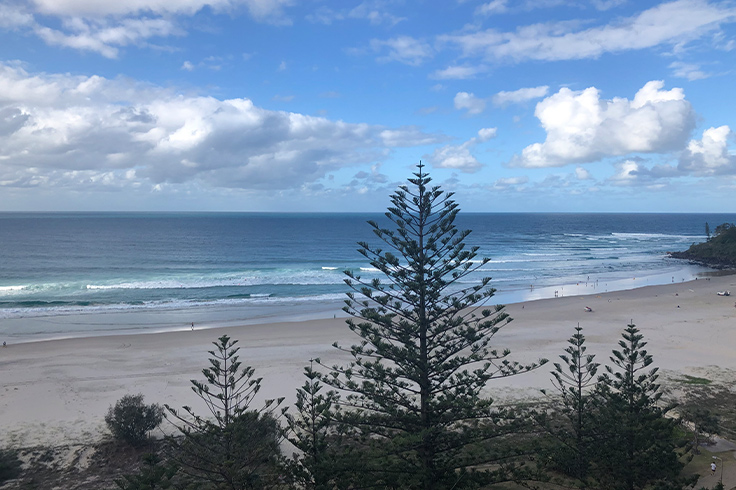 Cruise to Coolangatta
Coolangatta is the perfect destination for couples who want to surf and swim in the ocean. After some saltwater therapy, spend the afternoon hopping from beach to beach, starting at Kirra to Duranbah Beach. Plus, you can drop off or pick up a campervan hire in Coolangatta from JUCY Gold Coast.
Where to camp: Kirra Beach Tourist Park
Where to eat: Cafe DBar
Lookouts: Kirra Hill Lookout, Rainbow Bay Lookout, Point Danger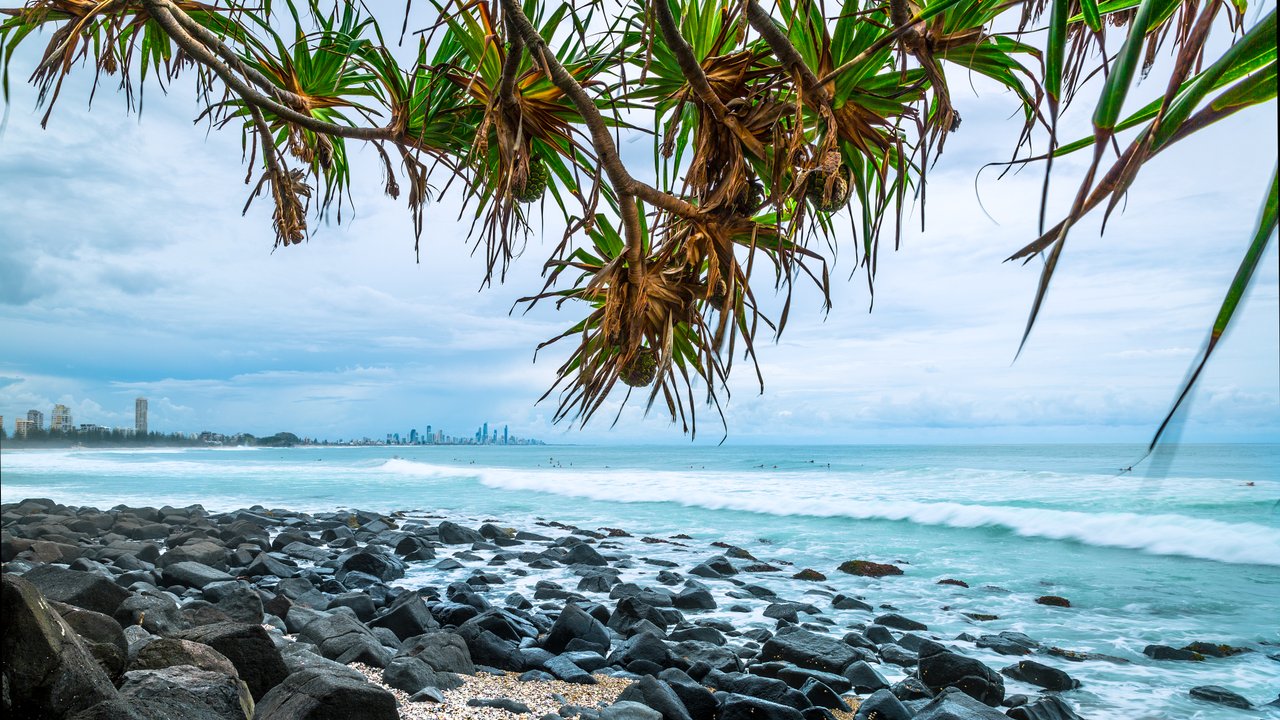 Top tips to surviving a couples road trip
Whether it's your first time in a campervan or you're a seasoned adventurer, here are some tips to help make your couples road trip a success.
Be patient.

If you get lost, that's part of the adventure. While it's nice to have a plan, remember to be flexible.

Appreciate your lover's playlist. You may also want to create a playlist together before your trip.

Take turns driving to give each other a break.

Bring snacks. Nobody likes a hangry travel buddy. Mixed nuts and granola bars are easy snacks that will curb your appetite before your next meal. Don't forget the water.

Create a plan, but make time for spontaneous stops.

Wear loose-fitting clothing and pack light. You don't need to bring your entire wardrobe for a weekend holiday.

Do your research. Check the weather, traffic, and what might be closed.
Wondering what's the best campervan for your couple's getaway? Read this to compare your options and find the best campervan rental for you.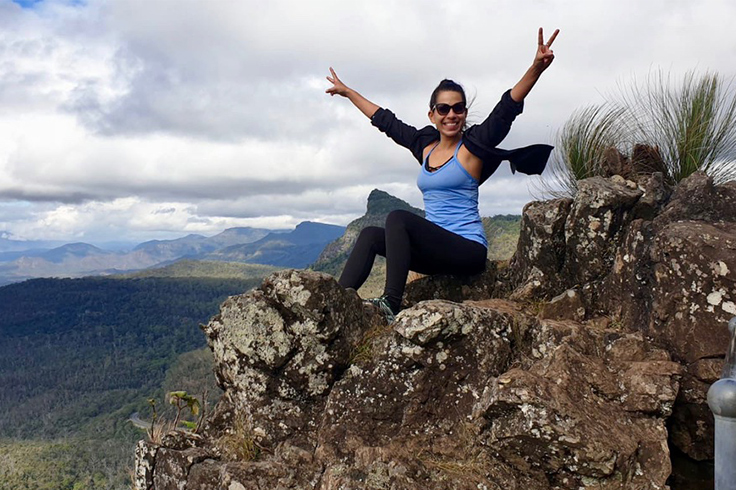 Alejandra Cerball is an award-winning journalist, writer, and editor of alexcerball.com, a Travel + Lifestyle online destination filled with compelling and honest travel tips + resources. On her blog, Alex shares inspiration for your bucket list, travel + adventure itineraries, and style guides to help you pack for your next trip.
Book your romantic road trip with a JUCY campervan HERE!