The top 6 National Parks in New South Wales
New South Wales has over 200 designated national parks. Trying to pick one is like selecting a jellybean from the pick'n'mix container and hoping you get a lemon-flavoured one.
Fortunately, you're JUCY family now (or soon to be), so you can share in our wisdom and travel know-how with our top six (very varied) NSW national parks. Whether you're keen to go coastal, bush, or almost to another planet, we tell you how.
In some kind of zig-zaggy north-to-south order, read on.
A Tip-Top Trip:
Barrington Tops
North of Sydney, you'll discover Barrington Tops, a land so ancient you wouldn't be surprised to see a dinosaur footprint in the soil ahead, (Well, you would be surprised, but it's kinda fitting). 290-million-year-old rocks, rare gemstones, and flora and fauna that's been hanging out for millennia await.
Barrington Tops is part of the Gondwana Rainforests UNESCO World Heritage Site, so designated for its diversity, especially in the bird, reptile, and marsupial arena. In fact, it's considered the terrestrial equivalent to Galapagos Islands (only far easier to visit).
As you explore Barrington Tops, you'll pass through temperate rainforest, sub-alpine woodlands, grasslands, swamp, and more. Your old 10th-grade geography teacher would be geeking out if he was with you, it's that superior in terms of its diversity. The ancient volcanic flows played a part in protecting this unique climate and the diverse animals and birds that call it home.
In the park, the Gloucester Falls walking track is an easy trail (1-1.5 hours) to the twin waterfalls of the Gloucester Falls.
Also, don't miss the Antarctica Beech Forest walking track, it's not too long at 1.5 hours. The Gondwana Rainforests hold most of the world's Antarctica Beech cool temperate forest, and you this Barrington Tops trail allows you to experience it in its full glory.
For a more comprehensive trail, hike the 8km Gloucester Tops circuit through snow gum woodland. You'll also walk the Antarctica Beech trail, and see the twin waterfalls. This is our fave hike here, especially as you can spy grey 'roos and swamp wallabies as a reward for your efforts.
Not into hiking? Barrington Tops has plenty of other activities to amuse, including canoeing, mountain biking, and bird watching. For fishing, you can even hire gear at the petrol stations close to the park.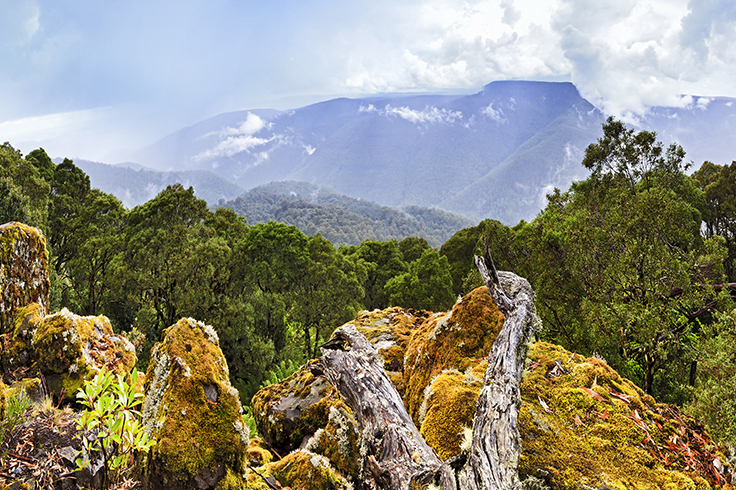 A Starry, starry night:
Warrumbungle National Park
If you're into stargazing, a visit to the Warrumbungles is a must-do. Seriously! It's Australia's first and only International Dark Sky Park, a designation given for protected areas with nights starrier than an Oscar's after-party. If you opt to camp here (do it), you can consider yourself checked in to a million-star resort.
Year-round, pop the Penthouse on our Champ or Compass to stargaze, thanks to the Warrumbungle National Park's zero light pollution. Winter is exceptionally clear; our Condo camper is a great protector from the chillier elements. For a solitary camp, visit Camp Pincham; if you want kangaroos and koalas as your neighbours, pitch or park at Camp Blackman.
As you might expect in a place appreciated for its dark and starry nights, an observatory is close to the Warrumbungless. Visit the Siding Springs Observatory, where you can see Australia's largest optical telescope.
Six hours drive from Sydney the Warrumbungle National Park is not all about its stars. The skyline is spectacular and filled with mountains that shoot from the nearby desert plains.
If you're a walker, pencil a day to hike the Breadknife Grand High Tops walk. It's considered not just New South Wales's best trails, but one of Australia's! It's a 5-6 hour loop that trades your hiking efforts (it's steep at the end) for views of ancient wilderness and iconic rock formations. The Breadknife itself is a sharp, 100m-high, 1m-wide rock formation that penetrates from the mountain floor.
If you're pooped from staying up all night counting shooting stars, the Whitegum Lookout offers an effortless stroll to an epic view of the ranges.
Within the park, keep 'em peeled for emus, goannas, wedge-tailed eagles, and the endangered brush-tailed rock-wallaby.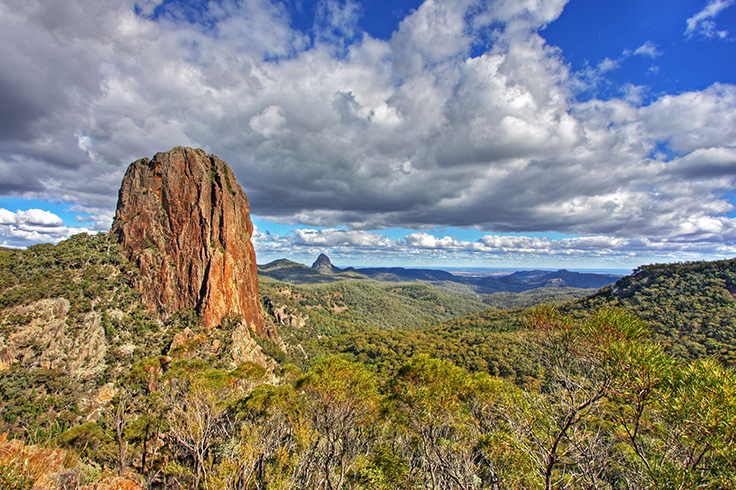 Once in a Blue Moon: The
Blue Mountains
The Blue Mountains is one of New South Wales' most famous regions. Only 65km from Sydney, it's not the rock that's blue in the Blue Mountains, but the blue tones that are emitted from the four kinds of eucalyptus trees that fill the park.
The Greater Blue Mountain region is enormous, covering over one million hectares! By far the shiniest toy in the store, the Three Sisters jut prominently enough to attract around 4 million visitors a year. A visit to Katoomba is usually accompanied by a gondola ride on the Scenic Skyway. In your JUCY vehicle, you have the freedom to seek out more solitary explorations in the Blue Mountains, too.
Across the eight protected regions here, the Jenolan Caves are one of the most diverse offerings. The multi-level cave passages are yours to navigate, or you can take in the ancient geology with a bushwalk outside the caves.
For impressive valley views with the famed sheer cliffs of the Kanangra Walls, take the 2-hour Plateau Walk at Kanangra-Boyd National Park. The eucalypts blue haze seems particularly vibrant here, making this a great alternative if you'd prefer to avoid crowds. Not keen on a big hike? Take the Lookout or Waterfall Walks.
When visiting the Blue Mountains, keep an ear and eye out for the 400 species of animals and 265 birds that call the park home. We're pretty confident that a koala will be checked off your Aussie animal bucket list with all those eucalypts around!
Out of this world:
Mungo National Park
It's a road trip into the unknown when you head to Mungo National Park. If there was a setting that made you want to practice your best Mark Watney impression (from the book and movie The Martian, y' know?), it's this place.
A switch from the beach and bush recommendations, Mungo National Park offers a vastly different landscape. Here, witness dried up lakebeds, undulating sand dunes, dramatic rock formations, and the site of one of the most significant archaeological discoveries of our time.
It's deep, but Mungo National Park is a place to consider evolution, as it's the site of the world's oldest human remains outside of Africa. The Mungo Man and Mungo Lady are an estimated 42,000 years old. Discovered in 1968 and 1974, respectively, these two skeletal remains connect the region to its Aboriginal roots.
To learn of Mungo's Aboriginal history, a guided tour with an Aboriginal ranger is recommended. Visit the rising towers of clay and quartz at the Walls of China. While you can walk the boardwalk here without a guide, the Walls of China are best accompanied by the history of the Paakantji, Mutthi Mutthi, and Ngyiampaa tribal groups. These tribes collaborate to run these fascinating excursions.
Mungo National Park is part of the Willandra Lakes World Heritage Area, considered one of the most important sites for humanity. Yup, tucked into far western New South Wales! Both the Willandra and Mungo Lakes haven't seen water for about 18,000+ years, so yeah, it's pretty dry! We'll go ahead and add two plus two to inform you that the aridity of summer is not the best season to visit.
You'll also find western red kangaroos, emus, and some impressive birds of prey in the Mungo National Park.
Camp overnight to ensure you're up for the incredible dawn light at the Red Top Lookout. It's out of this world!
If you are touring with a bike, the 10km Zanci Pastoral Loop is a fab sunrise or sunset ride. For hikers, walk the dunes of Foreshore Walk.
As this is outback NSW, be a good scout and come prepared. You're not getting a flat white once in the park, nor water, petrol, food, or mobile phone coverage. This Outback NSW safety guide may also be of use.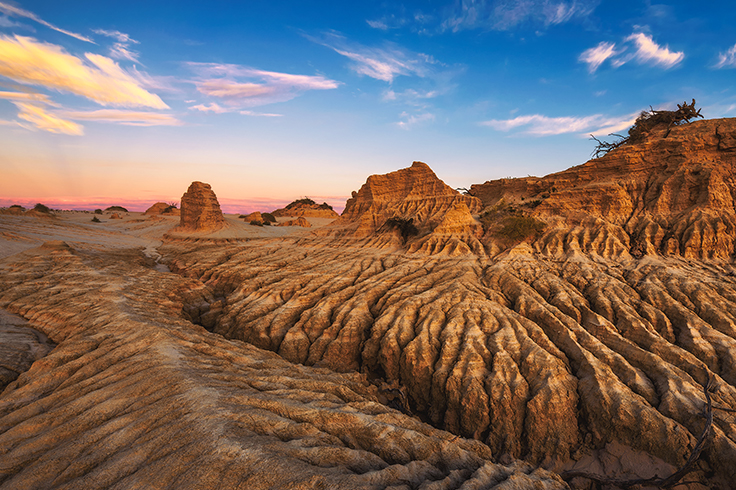 Peak performance
:
Kosciuszko
National Park
Along the New South Wales/Victoria border, you'll find the UNESCO Biosphere Reserve of Kosciuszko National Park. It's a destination for those with an adventurous spirit!
You can pretty much divvy your adventure sports into two seasons in Kosciuszko, or two climates. In summer, hike, bike, kayak, raft, cave, fish, and so much more. If you're visiting in spring, the alpine wildflowers are sensational.
In winter, it's snow bunny heaven with Thredbo, Perisher, Charlotte Pass, and Selwyn Snowfields open for snow-business. Whether it's for skiing, boarding, bobsledding, snow tubing or whatever by day, just know an off-the-charts après ski scene accompanies it by night.
For all seasons, the Yarrangobilly thermal pools offer a muscle-relaxing 27c year-round hot pools as a reward for your adventurous spirit in the mountains. Thee caves nearby as a bonus, too.
The national park's namesake is the not-so-towering 2,228km peak of Mt Kosciuszko. A metal walkway means that even moderately fit hikers can claim to summit Australia's highest mountain. Cool, huh?
The best way to experience the epic scenery of this national park is to drive the Kosciuszko Alpine Way. Your JUCY wheels give the ultimate freedom to stop as many times as you want for the kind of incredible alpine scenes that the folks back home hope you're faking with a green screen.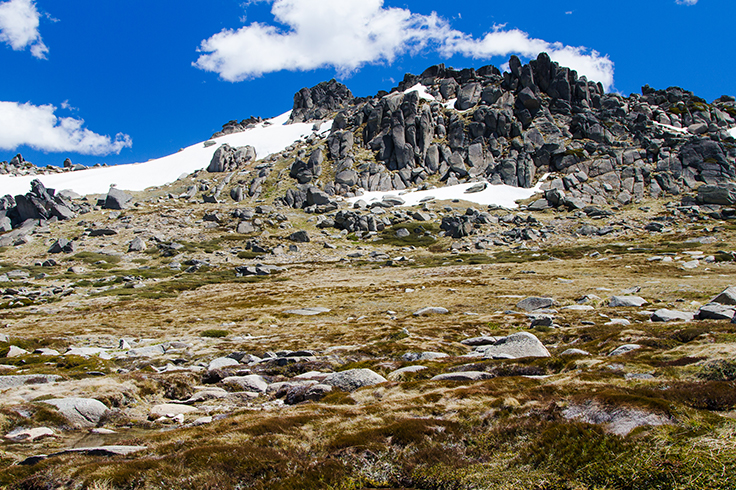 Your wildest dreams
: Eurobodalla National Park
For a relatively unexplored national park in New South Wales, a trip to Eurobodalla is perfect with both coastal forest and wetlands to experience. If you're a twitcher, bring your binoculars, as the estuary birdlife is magnificent.
The Eurobodalla Coast stretches from Batemans Bay to Tilba, an almost 90km route. Almost smack in the middle of this coastal range is the Eurobodalla National Park.
One of the key attractions in the park is the Bingie Dreaming Track. This significant Aboriginal trail connects the land with the Brinja-Yuin people over a 13.5km path. Choose to walk the trail solo, or take a guided tour. If you do the latter, you'll learn the stories of the land, as well as lessons on bushtucker and bush medicine.
The Bingie Dreaming Track takes you through forests, heathlands, gum trees, and lakeside where you'll be able to spot kangaroos and wallabies. During the winter months, look for migrating whales.
Instead of doing a one-eighty, how about a ten-eighty? The 1080 beach is a long stretch of golden sand, fringed by the forests of the park. Although you can park at 1080, you can also walk a forest path to get to the beach, far more rewarding. Once on the beach, the lashing waves attract local surfers, as well as the occasional. Pack a picnic and your swimsuit to spend some hang-time here.
A keen fisher-person? Pack your gear as Brou Lake has it all. It's right by Brou Beach, so you can split your time between the two waterways. You can even camp here for free if you don't mind basic facilities.
It is worth camping in the park as a lot of the native fauna here springs to life after dark, plus the stargazing is pretty sweet. You may even see the endangered nocturnal long-nose potoroo if you're patient and quiet enough.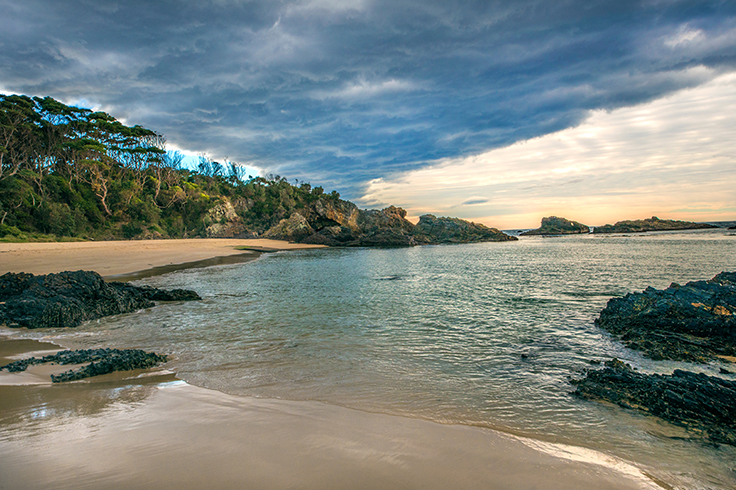 We'd love to know which NSW national park has inspired you. Tag us #jucyworld so we can see your roadie pics!