Tropical North Queensland Campervan Road Trip
Australian Mum, Evie from @MUMPACKTRAVEL takes her daughter out on a JUCY campervan road trip from Cairns. Evie explores Tropical North Queensland and shares her JUCY experience discovering the best of the region.
Five of the best North Queensland adventures to take in your JUCY campervan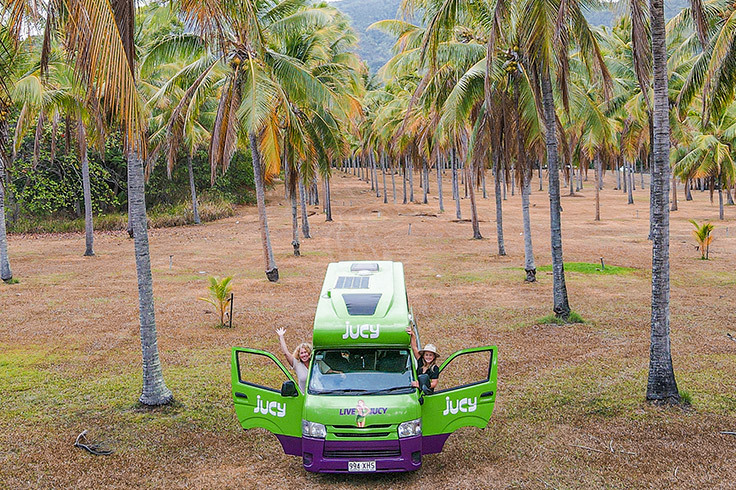 A magical week exploring Tropical North Queensland in our JUCY Condo was the best way to escape a year filled with uncertainty for my daughter and I. Climbing waterfalls, snorkeling in crystal clear water, hiking through the rainforest and lazing in hot springs became our every-day and we blissed out on sunshine and river swims. There is so much to explore up here that even a month is not enough, but if you have as little as a few days you can still get your fill of adventure.
After flying into Cairns airport, we jumped onto the JUCY shuttle and were in our Condo and on the road within an hour, and after a stop at the shops to stock up the fridge, we made a beeline north. Cape Tribulation was in our sights and from there we planned to cruise our way down through the Atherton Tablelands into waterfall country and loop back to Cairns.
The JUCY Condo is so easy to drive, and it's really spacious for a small van. We loved the portable stove and cooked out the back of Connie Condo most nights, wine and tongs in hand, stars sparkling and insects buzzing while sausages sizzled. JUCY supplies everything you need – like cooking utensils, chairs, table, and bedding - making it so easy to have your best holiday ever.
A taste of the wild at Cape Tribulation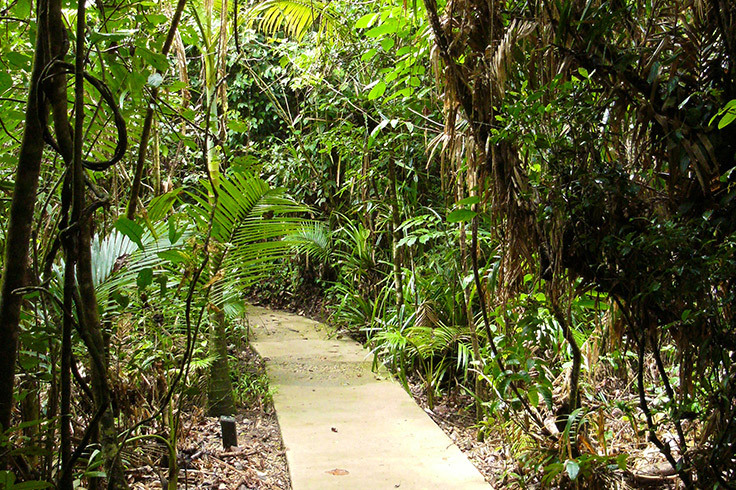 Crossing the ferry across the Daintree River in our JUCY campervan was like setting off into another world – where the rainforest meets the reef, Jurassic cassowaries roam, the rainforest is thick and abundant and crocodiles laze on riverbanks with watchful eyes. Cape Trib has a unique beauty all of its own, it's lush and wild and bursting with adventure.
We pulled up at the Safari Lodge and set up camp in a bushy patch, surrounded by trees and with views of the mountains behind us. We swam in waterholes, jumped from rope swings, took a day trip to the Mackay and Ondine Reef, walked the boardwalks, rode horses along the beach and learnt about the ancient rainforest.
Waterfall heaven in Mareeba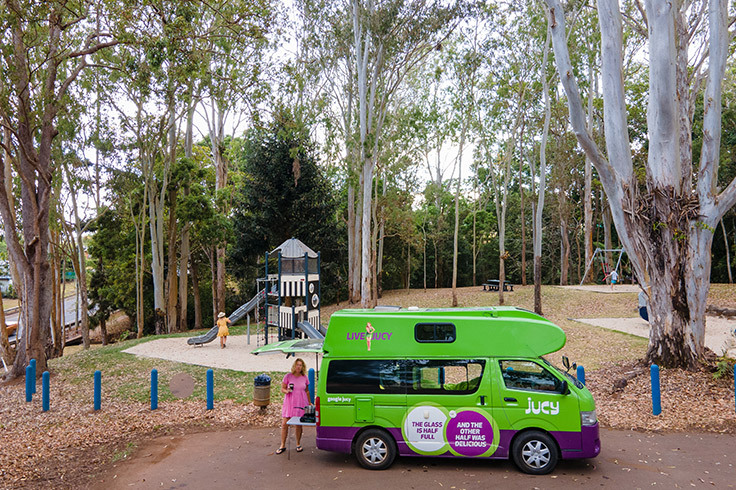 After three days at Cape Trib, we set off south to Mareeba, stopping at Mossman for a mosey through the markets and then heading up into Mossman Gorge for a swim and a wander. Mossman Gorge is a beautiful part of the Wet Tropics World Heritage Area, operated by the traditional custodians of this land, the Kuku-Yalanji people.
Mareeba has a number of caravan parks and free camps, and we had an early night here so we would be ready to explore waterfalls in the morning before the heat of the day. Emerald Falls and Davies Falls are two standouts in the area with stunning natural horizon rock pools that gaze out over the bush, tropical swimming holes and sandy riverbanks.
Emmie loved the go-cart track here in Mareeba, and if the timing's right you can catch a movie at Mareeba Drive-In, where you're welcome to stay the night after the movie. Mareeba also has a famous fruit winery and coffee plantations, and the Granite Gorge nature park.
Atherton Tablelands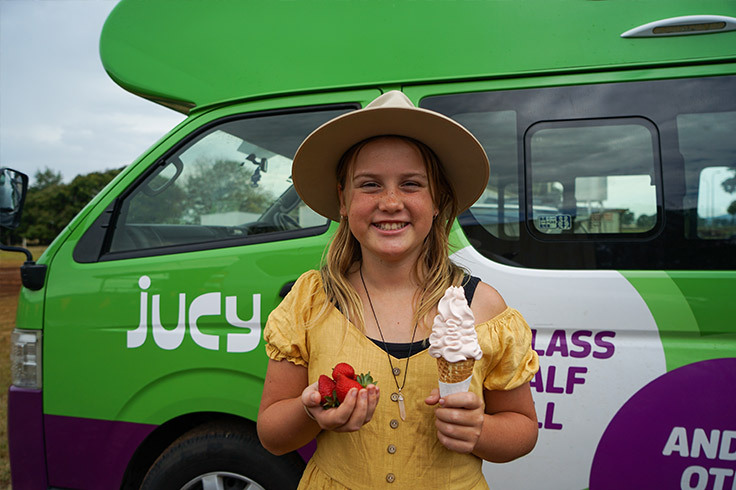 The Atherton Tablelands is packed full of amazing things to do – from the Bat Hospital and Crystal Caves in town to short drives to Eacham Lake, the rugged Halls Falls, tea plantations, rolling green hills, dairy farms offering high tea and cheese platters, and fresh strawberries (pick your own if you like) and homemade icecream at Shaylee Strawberries. Search for elusive platypus at Yungaburra and laze the days away by waterholes. You can explore this area for days.
Millaa Millaa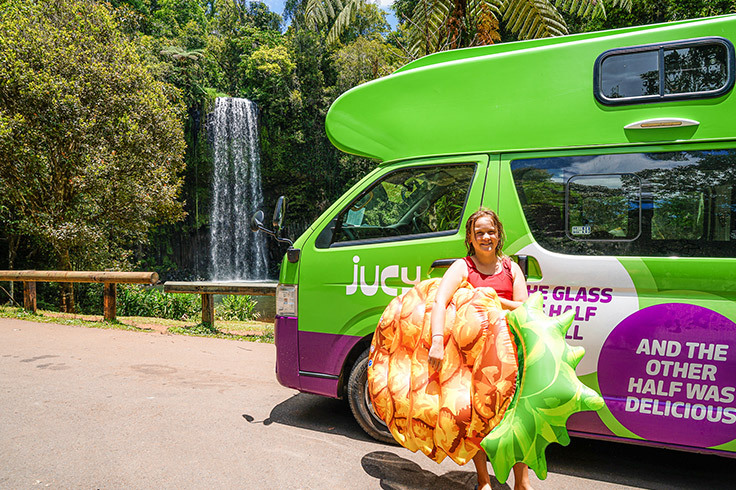 The little caravan park at Millaa Millaa is like stepping back to a time where everyone was laid back and easygoing. It's a good reflection of the town too, where little cafes offer homemade treats and coffee in the main street, and where civic-minded locals banded together to create a beautiful riverside nature walk. You'll pass through beautiful rolling green hills spotted with dairy cattle to get here, and can link up to the Waterfall Circuit and have a swim at the famous Millaa Millaa Falls, stare in awe at the Curtain Fig tree and explore Zillie and Ellinjaa Falls as you loop around. We also loved Malenda – there's a lovely little falls and swimming hole here, and second-hand shops that sell paperback books and fresh eggs.
Soak at Innot Hot Springs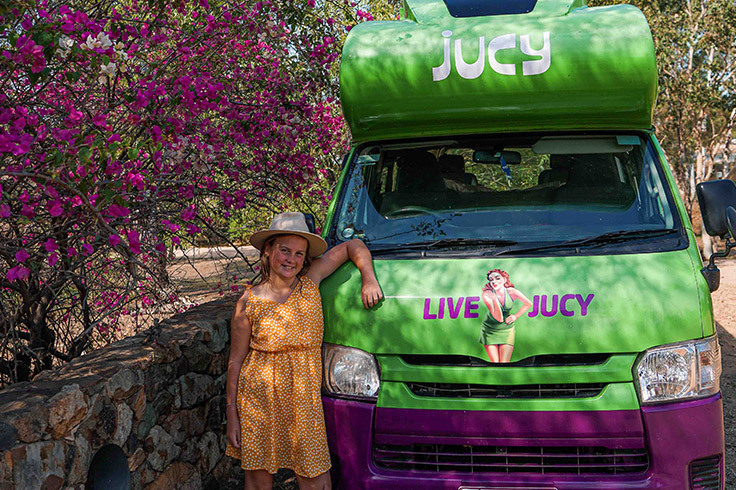 About 90 minutes from Atherton is Innot Hot Springs, a little river that can get up to 40 degrees as boiling water spurts up after meeting firey layers deep underground. You can just wander down to the river and find your spot – wear shoes as some parts of the sand are very hot – or you can park up in the caravan park and enjoy the hot spring pools of varying temperatures in the grounds. There's a pub here with live music on Fridays, and it's a beautiful spot to relax and soak – even in hot weather.
From here we made our way back to Cairns, stopping off at Behana Falls and Walsh's Pyramid on the way. There's no doubt we will be back.
Thanks to JUCY and our Connie Condo for an incredible trip we will never forget.


BOOK your JUCY Cairns campervan hire now!