Stay close, explore more with our 10-day East Victoria campervan road trip
Celebrate the sweet taste of freedom by getting off-the-beaten-track with our epic 10-day East Victoria campervan road trip itinerary. It's the wild-but-totes-safe re-introduction to your travelling mojo!


Freedom has never tasted sweeter and after months of being cooped up, what better way to celebrate than on an East Victoria campervan rental road trip. Get the wind in your hair as you wind along the coast to Gippsland, then inland to the highland's alpine wonders.
Whether you're looking for a safe sojourn from Melbourne, Victoria, or out of state (yay for borders reopening), we offer two pick-up options. At our Melbourne Airport branch, we have a JUCY campervan hire option for every traveller – six models, in fact! If you're looking for one of our smaller, 2-berth vans, you can also pick up from our Melbourne City branch, in the heart of St Kilda. If you're flying in, you're going to love our free airport shuttle, too.
Not into camping? Add accommodation to the itinerary below, and select one of five JUCY car rental options – ranging from economic, SUV, to our group-ready 8-seater minivan. Too easy!

Day 1: Melbourne to the Mornington Peninsula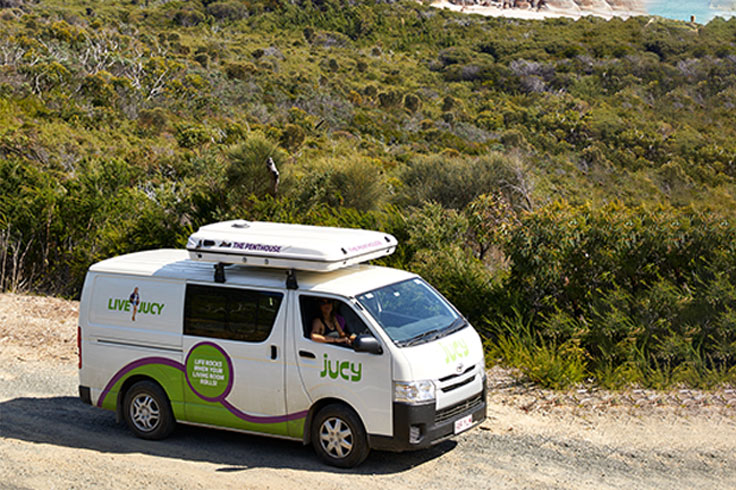 After a speedy pick-up of your JUCY wheels (we offer zero contact now) you'll be on your East Victoria campervan roadie where ALL THE THINGS are waiting. Woo hoo!
While fairy penguins and squeaky beaches may be the carrot dangling at the start of your road trip, hold your horses (or penguins?) because there are plenttttyyyy of incredible attractions to be found in the Mornington Peninsula first. And you can get there in under two hours, too!
Headfirst to Sorrento Beach. Here, rock pools and ledges provide a big-kid kind of adventure. Walk the 3km Coppins Walking Track, chill on the broad sandy beach, or savour a savoury at the All Smiles oceanside café.
Next up, soak up the wellness vibes at the Peninsula Hot Springs. These geothermal pools are not only soothing to the shoulders -thanks to all the natural minerals - they are soothing to the soul. Visit the cave pool, bathhouse, sauna, and take the reflexology walk.
Another attraction at the tip of the Mornington Peninsula is the picturesque 1859 Cape Schanck Lighthouse.
Round out your day with a nocturnal visit to the Moonlit Sanctuary Wildlife Conservation Park. This 25-acre bushland park is home to 70 Australian critters. Their legendary night tours get you up-close-and-personal with their day-time snoozing natives.
Park your JUCY campervan at the Balnarring Beach Foreshore Reserve; it's close to the Moonlit Sanctuary.


Day 2: Mornington Peninsula to Phillip Island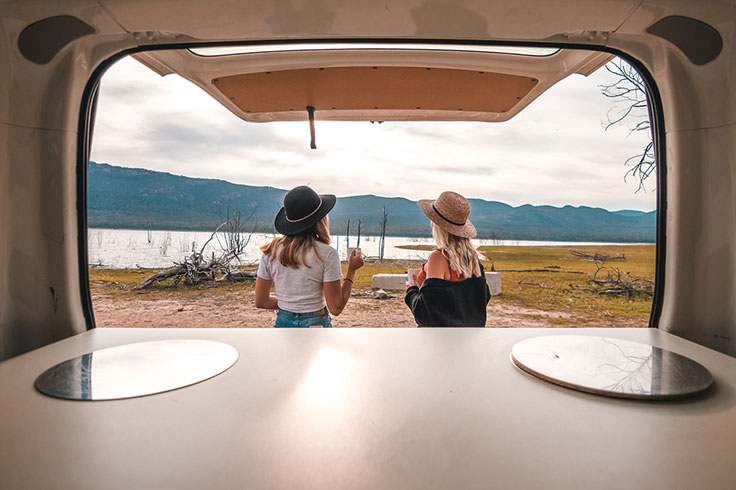 Spend the day exploring the most famous wildlife-spotting place in Victoria. The penguin colony of Phillip Island is a cruisy 90 minutes from the Mornington Peninsula. The handy San Remo bridge means you and your new best mate – your JUCY campervan – need not be parted, sidestepping the tear-jerker moments that other love stories have had to endure.
The comical waddling of the pygmy penguins occurs nightly at sunset, leaving you with plenty of time to explore the island. You must pre-book the self-guided or ranger-led little penguin parade with Phillip Island Nature Park.
While the colony of the world's smallest penguins may be the main attraction on Phillip Island, it's not the only one. During the day, there are a plethora of wildlife experiences available, including the fab Koala Conservation Centre and twitch-tastic Rhyll Inlet, where migratory wading birds breed and feed.
As with any island, getting out on the water is as fun as being land-based, so why not cruise to Seal Rocks? Can you guess what you see there (Australia has never been one for cryptic place names, eh?). Alternatively, spot some of the 25,000 seals that call Phillip Island home at Nobbies boardwalk.


Day 3: Phillip Island to Wilsons Promontory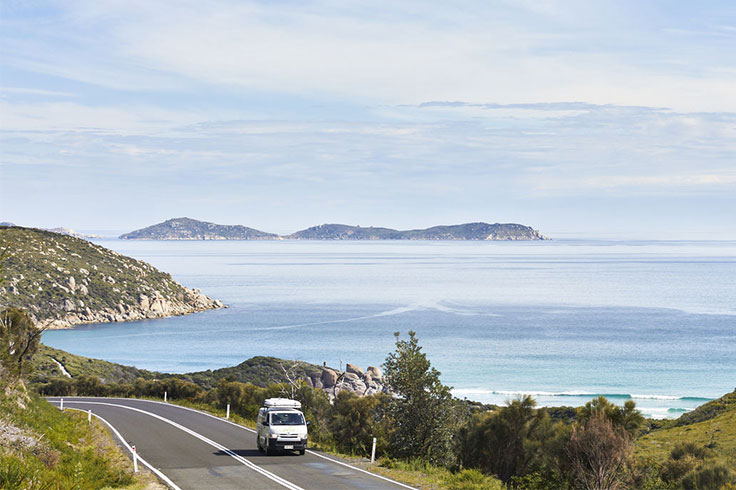 Head further east today on a 2-hour drive to Wilsons Promontory, AKA the Prom. This is mainland Australia's southernmost point, located in South Gippsland, and it's chock-full with nature-based adventure and wow-worthy vistas. You'll discover pristine beaches, temperate rainforests, and the most southerly mangroves in the world. It's like one big sanctuary for a wide range of native Australian flora and fauna.
Squeaky Beach is another one of those so-obvious-it's-great place names because the spectacular quartz sand squeaks underfoot as you explore. Or race to the azure ocean waters! You can also access Victoria's largest marine national park from Norman Beach. It's considered a close rival to the Great Barrier Reef! For reals!
Take a world-first with Wilsons Promontory Cruises on their pioneering custom-built amphibious boat. It includes a stop by the eerie, half-submerged Skull Rock.
Park up for two nights at the Tidal River Campground, where your chances of seeing a 'roo with your view are high.


Day 4: Wilson's Promontory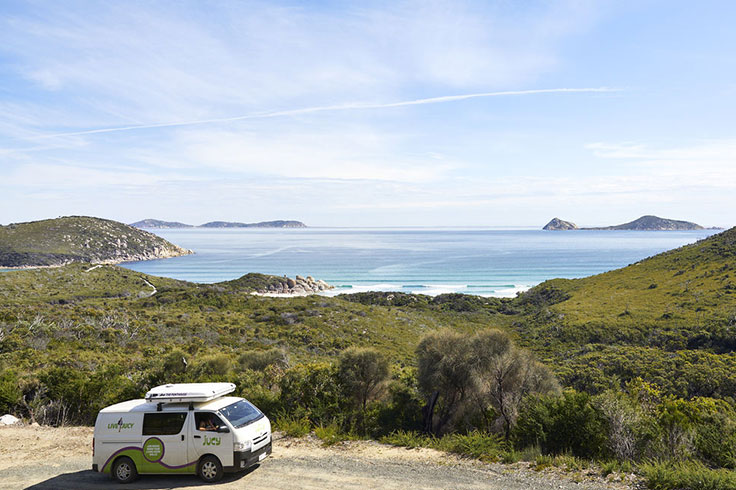 Spend another day at the Prom, this time on foot across the labyrinth of the park's hiking trails. We love the 3-hour hike taking in Norman Beach, Tidal Overlook, Squeaky Beach, Picnic Bay and Whisky Bay (for the rock formations).
Mount Oberon is also a popular 2-hour moderate hike, thanks to the sweeping views across Wilsons Promontory, to the offshore islands, and beyond. It's magical to see the diversity of the park's landscape in its entirety.
For the best wildlife spotting trails, consider the easy Lilly Pilly Gully Circuit, where emus, wombats, kangaroos, and wallabies hang amid the native bush and eucalypt trees. The Woodland Walk is a quiet trail to spot Australia's favourite critters, too.
If you'd like to go all Lawrence of Arabia on your Victoria campervan roadie, visit Big Drift. The extensive dunes captivate with childlike magic where genies and flying carpets seem possible. It's best experienced at sunrise, sunset, or after rain.
Short on time? For long weekends and mini-breaks, cut your East Victoria campervan road trip short here as it's only a 3-hour drive back to Melbourne from Wilsons Prom.


Day 5: Wilsons Prom to Lakes Entrance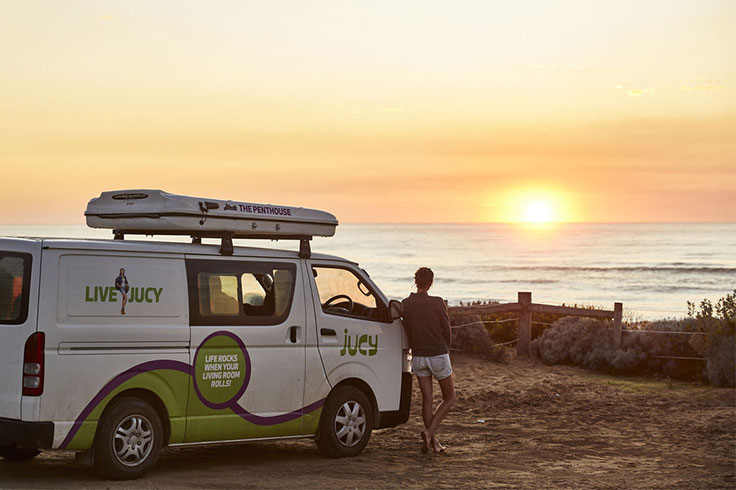 After breakfast in your JUCY campervan kitchen, it's time to discover more of Gippsland. First up, spend some time on Gippsland's stunning Ninety Mile Beach. Towering dunes and coastal bush frame extensive stretch of sand. Stretch your legs, swim, walk, or watch for whales, dolphins, and pelicans; t's all served with a side of summer-holiday-vibes. Stop at Woodside Beach, Golden Beach or drive directly to Lakes Entrance.
Lakes Entrance is the go-to destination in Gippsland, thanks to Ninety Mile Beach and the extensive waterways at Gippsland Lakes – made up of Lake Wellington, Lake Victoria, and Lake King. Choose your water-based adventures, from activities like kayaking, paddle boarding, fishing, surfing, and sailing.
For yummy eats, visit Seasalt Sourdough for picnic-perfect artisanal bread. For a delectable treat, the Nicholson River Winery's Barrel Room melds cheese and wine perfectly. True gourmands should add a day (and sober driver) to your itinerary to take in the East Gippsland Drink Trail.
We love Paradise Beach Campground, though there are free campground options, too.


Day 6: Lakes Entrance to Buchan Caves Reserve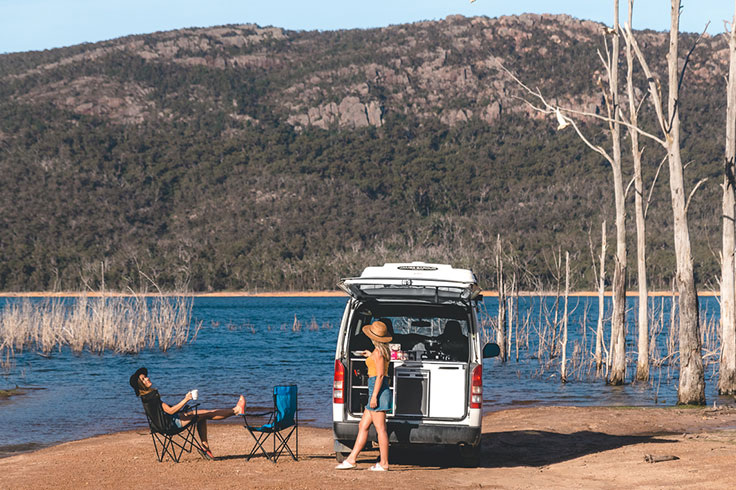 Did you know that in the 1920s the Victorian koala population was ravaged by disease? Can you imagine visiting the native hotspots of the region without casting your eyes high for snoozing koalas? Us neither, that's why we love visiting Raymond Island to pay homage to their efforts at rehabilitating our fave cuddly-yet-can-be-vicious marsupials.
This small isle is a haven for not only koalas, but echidnas, possums, kangaroos, wombats, reptiles, and birdlife, too. The 1.4km koala trail is an easy-breezy way to spot all three. The koala sanctuary is a haven within a haven as across Raymond Island, the Australian wildlife can roam freely.
Take a free ferry ride from Paynesville and then explore on foot or hire a bike to explore this 770-hectare island. Alternatively, you can drive across for $13-20.
Next up, head an hour north to the Buchan Caves Reserve. Take a guided tour amid the stalactites, stalagmites, and rock pools. The caves are incredible, but the 'star' attraction here (groan) is camping under the starry night sky. Expect a spectacular show (clouds permitting), while kangaroos, wallabies, wombats, and 60 species of birds reside around you.


Day 7: Buchan Caves to Falls Creek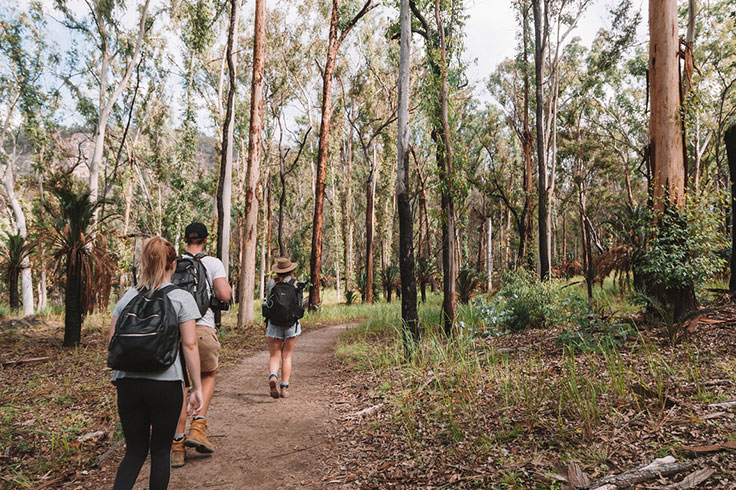 Drive 3.5 hours north to Victoria's high country at Falls Creek to switch things up on your East Victoria campervan road trip. This alpine region serves as a reminder of how much diversity the country's second-smallest state has. From dunes to lakes to mountains!
For summer in Falls Creek, hike, run, spa, or take in the region's legendary mountain bike trails. The Wallaces Heritage Trail is a step back in time, revealing the history of the high plains across a 6-kilometre walk. Lyrebirds, currawongs, crimson rosellas, and gang-gang cockatoos fill the air with birdsong while peregrine falcons, kestrels, and wedge-tailed eagles swoop overhead.
Be sure to check the times for sunset; a high-country sunset is not to be missed. Attunga is a great sunset spot.
There are a few camping options, including the Pretty Valley Camping Area.


Day 8: Falls Creek to Beechworth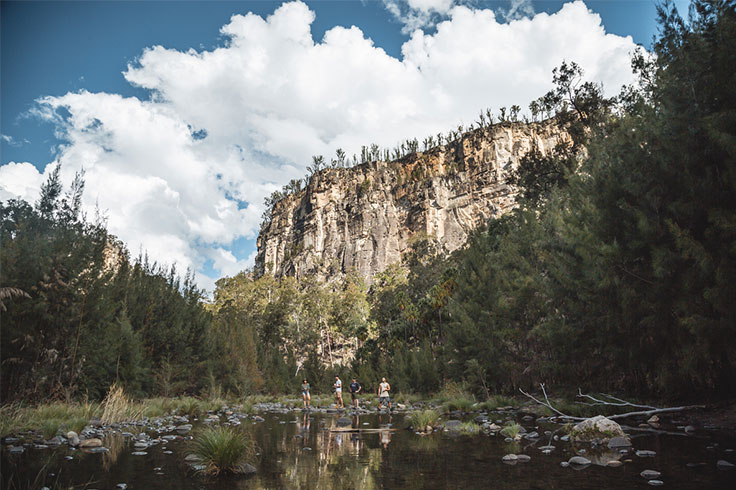 Start the day with a hike in Mount Buffalo National Park, one of Australia's oldest protected parks. Over 550 species of native plants - including some found nowhere else on earth - live amid the woodlands, alpine bush, and snowgrass plains.
For a short-but-steep 1-hour hike consider the Cathedral, leading you to the rocky outcrop of boulders and incredible plateau views. Alternatively, take the Gorge Trail to the giant tors of the Gorge, plus Crystal Brook Falls.
From nature's history to human history, drive close to two hours to Beechworth, famed for the shenanigans of Ned Kelly, part-folk hero, part-villain. Discover the history of Australia's most notorious bushranger on an overnight stay in this captivating gold rush town. Visit the courthouse where Ned Kelly and his gang were tried, and walk the historic precinct. Bring your visit to life on the Burke Museum's Ned Kelly tour.
Beechwell Lake Sambell Caravan Park is a great place to rest for the night.


Day 9: Beechworth to Echuca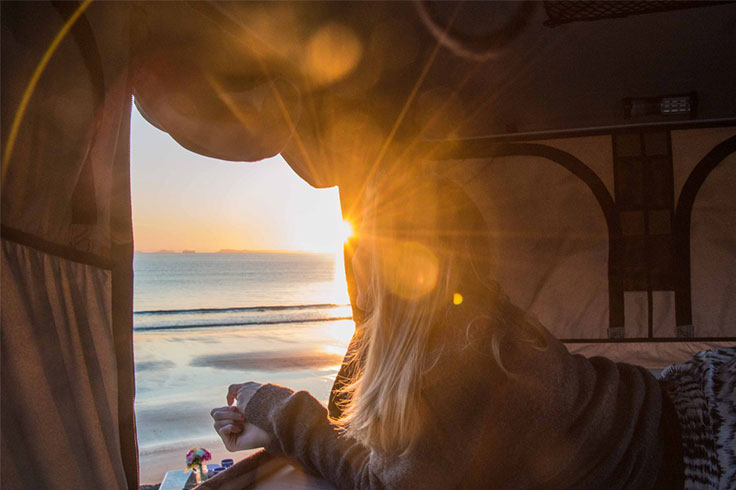 To the Murray River! The last stop on this epic East Victoria campervan road trip is to Australia's paddle steamer capital. This whole town is a ye olde blast from the past, thanks to Echuca's position on the Murray River. Not just that, you kinda get two towns for the price of one, as on the other side of the river is Moama, in NSW.
In the 1870s, the Port of Echuca was Australia's largest inland port and a hive of activity. Today, it's a mellow-paced destination offering VIC heritage and the largest paddle-steamer fleet in the country. A paddleboat trip on the river is a must, and it's best experienced on the Wharf to Winery lunch cruise to Morrison's winery. And no sober driver needed so you can all get sloshed if you fancy it!
You can also gain enough facts for an episode of Drunk History from the Port of Echuca Discovery Centre. Alternatively, head to the Murray Valley National Park to see the wetlands and part of the largest continuous red gum forest in the world!
Shopping local has never been so important, so surely an extra scoop (or two) would go a long way to support the Port Ice Creamery, no? And maybe an extra bag of hand-crafted chocolates from Echuca Chocolate Company? Only doing our bit, right?
We recommend Discovery Parks Echuca for your last JUCY campervan snooze.


Day 10: Echuca to Melbourne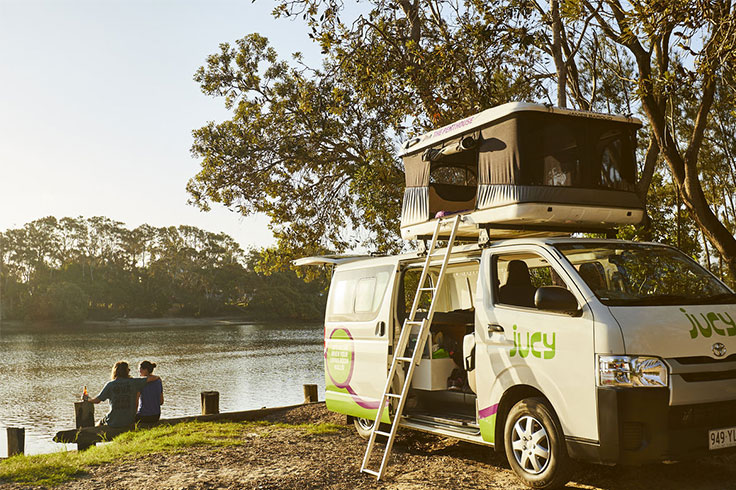 Squeeze in one last activity before hitting the road by letting your inner child play on the inflatable slides and jumping pillows at the Aqua Island water park.
The last leg today – sob - is to drive your campervan hire back to JUCY Melbourne Airport or Melbourne City branches, a straight journey of 2.5 or 3 hours, respectively. Don't worry, the crew will be waiting to hear your travel tales, and with a box of tissues if you're feeling a little teary that your 10-day JUCY Victoria campervan road trip has come to a close. But remember, we're not going anywhere, so this is just hasta la vista, baby; we'll see you next time!


Can you taste the freedom you'd experience on this Victoria campervan road trip? Sweet – us too! Book your JUCY campervan hire and get back out there today!

Call us on 1800 150 850 or BOOK NOW.