Your guide to free camping in Australia
Your

comprehensive

guide to free camping in Australia
Free camping: much like a chicken is far happier when it's free to roam, so too are many travellers. That's why 50% of our fleet are self-contained campervans! Free camping gives you – unsurprisingly - freedom, plus it helps you save a ton on accommodation costs, too. More time for whale watching tours, absurdly-crazy adventure activities, and freakshakes, if you ask us.
But what does free camping mean in Australia? We give you the skinny - read on.
I've heard about
'
free camping
'
– what is it
?

It's not a free tent giveaway. Or a nude summer camp. Free camping is the opportunity to camp in a designated campground without cost, or to park up in a space that is not an official campground or holiday park. Sounds great, right? Why pay to camp ever again?
It's not as straightforward as just deciding to boycott paid camping spots forever. There are pros and cons to free camping (also called freedom camping or wild camping). These relate to costs, convenience, legalities, and, to some degree, common sense. Good job we have a ton of the latter and can help you make sense of free camping!
Can I camp anywhere?
First up, this is a big one. And it's a fat nope on camping everywhere! There are rules, peeps. Unfortunately, those rules are not uniform across all Australian states, but by following our guide, you'll get a broad low-down, at least.
Many councils prohibit camping in and around towns and cities, unless in designated grounds or holiday parks. There are several popular destinations where this is enforced strictly. As a rule, if you see a sign, move on. The fines are heftier than a 1980s mobile, so it's not worth risking it.
Other free camping sites exist to help a weary traveller and get tired drivers off the road (and out of danger). These are not to be used as a free holiday spot, so heed the time frame that you can camp there too. Most rest stops are overnight only. Again, read the signs.
Okaaay, but what if I want to know where I'm going?
How can I find free camping spots?
Instead of rummaging through Google and searching the free camping rules on each destination manually, try the Wikicamps app. This is a useful tool as it covers a huge database of campgrounds, caravan parks, and free camping spots.
With Wikicamps, there is a free trial period, but then you'll need to pay a one-time fee to access all their content. It's about the same price as an almond-milk latte in a Sydney café and worth it, as the benefits and downloadable maps pay for themselves almost immediately.
The apps useful filters help you to quickly find free camping sites. The reviews from real travellers are advantageous, particularly for solo camper safety.
An alternative to getting an app is to check out the Australian state's national parks websites as they often have free camping spaces listed. Like this NSW site, or this VIC page.
Does my vehicle have to be self-contained
to free camp
?
While we find free camping is a lot easier in one of our self-contained campervans, it's not essential. Our Coaster, Compass or Condo give you self-reliance on the road, i.e. you don't need to find a toilet every time you need to poop (nb; you'll need to request a cassette toilet is added to your Condo booking). A blessing, you'll soon discover.
If you're planning on free camping while touring Australia in our JUCY Crib or Champ, you're going to want to ensure you're parked close to a toilet block. Not all free camping sites have this available, however, so do your homework before driving to any location.
Can I free camp in my JUCY rental car and bring a tent?
You sure can! Free camping is not restricted to self-contained campervans, as it is in New Zealand, though you're going to need to be sure to find the free camping spots with toilet facilities.
Our fave option, especially if you're heading to outback Australia, is to buy a swag instead of a tent as it has a mattress built-in. We love this traditional bush camping item, chiefly for stargazing and quick set-up.
Also, if you're not renting a JUCY camper (with handy kitchen), you're best to bring a gas stove with you. Far better than alighting the bush around you by building an open fire to cook your sausages. Fire hazards are real in Australia, man.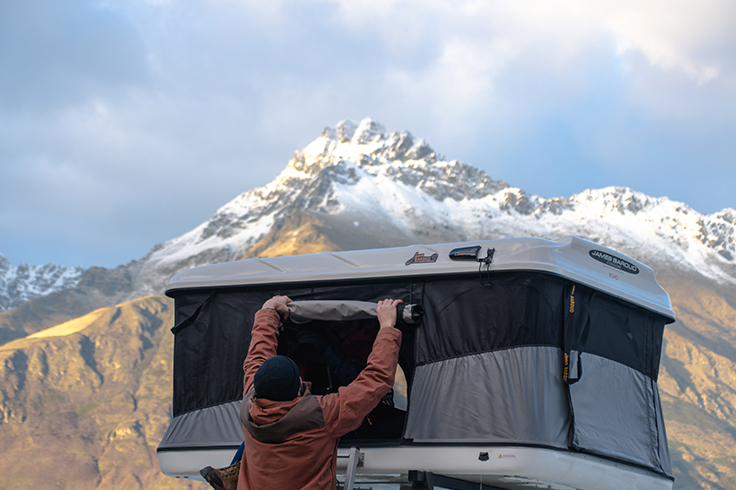 Can I free camp without a vehicle?
We're not just saying this because we're in the business of renting stylish wheels, but it'd be a mighty challenge to free camp without a campervan or car. Buses are great in major cities to get from A-to-B, but free camping is not a straight-shooting option, and very rarely are the places along a bus route. We do offer our no-frills El Cheapo Sleeper camper, however, if you're tight on budget.
Do I need to bring anything extra with me if I'm free camping?
Let's assume you're in a campervan here because if you're in a car you're going to need a ton of items that our campers already come equipped with. Like mattresses and cooking equipment, and somewhere to sit and eat your delicious campground meals. And thongs (aka flip flops) to wear to those toilet blocks. If you're in a self-contained camper, you can just roll up, set up your bed, cook a feast and then spend your night chatting while you watch for shooting stars. A lot of cool Aussie free camping spots are rural and therefore fantastic spots to watch the night sky. Yay. Plus, the fridge in the camper means you can stock up at supermarkets instead of expensive roadside grocery stores closer to your camping spot.
The one thing you'll need to check, no matter how you're free camping is how much water you have on you. It's a precious commodity, especially if you're venturing into the bush, so ensure you have ample litres with you. Some free camping water sources can run dry, so be a good scout and come prepared.
Do free camping areas have facilities, like toilets and showers?
The answer to this is varied. Some places, like rest areas, have nothing to offer but the piece of dirt to park on. Oh, and the confidence that no official will wake you up to issue a fine.
State parks and some small-town free camping areas may charge a nominal fee, or ask for donations. These can have some facilities as an enticer, and the money is used towards the upkeep of the grounds and (usually) long drop toilets. If you're lucky, a shower will be onsite, too, though it's the minority to find one.
Should I exclusively free camp when
travelling in Australia?
We love free camping, but we also love the facilities of campgrounds and holiday parks. While we are raving in this post about free camping, it is worth noting that some paid campgrounds only charge $5 a night and have plenty of facilities on hand. It doesn't hurt to shop around.
A mix of both paid and free camping works for us, and you'll figure out your own needs and wants on this, too.
So, i
s free camping really free?
As mentioned, some smart towns and rural communities have set up free camping to bring business to their region. Some charge a fee for maintenance, but others are relying on you to be a model tourist and buy your groceries, a meal, your gas, or even just a flat white while you're staying there. Even some country pubs may offer free camping like this; we think it's a fair trade to stopover and buy a yummy traditional Aussie pub grub in exchange!
You'll also find donation boxes at some grounds. Unless you're flat-broke, consider leaving at least a few dollars as the money is used for the upkeep of the space, and ensures it stays open for future nomadic visitors.
In our age of social media, give back by sharing the love. Find the best hashtag or tag and use the community or business tags to help gain exposure for that place. Don't forget to tag us #jucyworld - we'd love to do our bit to share and support, along with you.
I want to do this right, how can I be a model free camping citizen
?
This is one of those 'for the future camper' moments, where your actions camping today, ensure that travellers can free camp in the future.
One of the top priorities is to pack in and pack out. This means you're going to keep your rubbish with you until you find a bin to deposit of it responsibly. Even if that means you have to wait a day or two.
There is, unfortunately, a recognised and growing problem in Australia with rubbish left at free camping sites, so much so that some places are imposing fees where none existed before. The free camping opportunities are slowly disappearing due to inconsiderate campers. No matter the personal inconvenience, the 'leave no trace' principle should be repeated like a mantra throughout your travels.
Another solid rule (probs for life as much as free camping): don't poop on the ground. It may seem obvious, but if you can't camp near a toilet and you need to go, dig a hole of about 30cm and bury it. Just your waste – your toilet paper needs to go in the rubbish that you take with you. Nothing to dig with? Then poop in a bag and carry it out. We mean it; never leave your waste uncovered.
Considering the health of Australia's waterways and the life that flows through them, please also avoid camping right next to any. You'll need to be far enough back from lakes, streams, rivers, etc. so that none of your waste can reach it. If you have grey water tanks to empty, do this far from the water source and into the soil. All food bits must be removed and carried out and disposed of with the rest of your rubbish.
Also, if you are close to a river or lake and decide to use it to bathe, forgo soaps and shampoos. It can be a major pollutant and disrupt the delicate ecosystem there.
What
about other
free
camp
ers?
You're about to find out another amazing thing about choosing to travel in a JUCY camper – it's a friend magnet! Our stylish vehicles and custom-built interiors seem to draw a crowd. We can't tell you how many free campground drinks we've been offered, and yummy camper-cooked meals, thanks to people who struck up a conversation about our JUCY wheels first. We heard about a romance that sparked over two travellers who bonded over their JUCYs at a campground! Awww.
On a more serious note, though, you'll want to be respectful to your neighbours as you free camp. It's recommended to arrive at a reasonable hour and keeping the noise to a minimum, especially after 9pm and before too-early-o'clock.
Unless you're crammed into a popular free camping spot in summer, you'll want to leave a reasonable space between you and any other vehicles or tents, too.
What about wild neighbours?
No, not the guys with the mullets in the old banger camper, but Australian wildlife. With hundreds of free camping sites across Australia, we're obvs not going to be able to promise that you'll have wildlife turn up in your free camping 'hood, but in many places, your chances are high.
As exciting as it is to have Australian wildlife around your campsite, you'll want to be even more respectful than the humans that show up. This means staying a safe distance away and not feeding any wildlife whatsoever. Nope, not even to entice that cute wallaby to come closer for a selfie. Keeping your food tidied away is a good rule of thumb, as it's not just the cute wildlife that likes to pilfer it!
Is free camping safe?
Thinking about the famous Australian wildlife, safety can be raised as a concern. While you're probably imagining a deadly snake is the threat here, it's actually going to be your driving times that matter most.
It's highly recommended to be parked up before dusk; preferably an hour before if you can. This is when Australia's famous animals spring to life, and the risk of an accident increases dramatically. The same is said with driving before dawn.
In terms of animals creeping in, if you keep your food locked away, you'll be sweet.
Fire safety is a safety consideration in the warmer months. It's smart to do a quick Google on any current fire hazards in the regions you'll be driving through.
In terms of your personal safety at a free camping site, common sense prevails. If you feel iffy vibes when you pull up, pay attention and leave if you don't feel safe. Particularly if you are travelling solo, your spidey-senses are all-important. It also pays to camp closer to others (within reason) and to ensure you have phone coverage at the site as a back-up. If you're using the Wikicamp app, use their handy filters (including cell coverage) and reviews to guide you on where to camp safely.
Do truck rest stops count as free camping sites?
Yep, though you'll be expected to spend only one night there (you're unlikely to want to spend longer, anyway). Truck and rest stops are great to ensure you're not going over your driving limit (about 300km a day is recommended), but they are usually very basic. Often without toilets and water, these are more of a last-resort option than desirable place to hang.
I saw a no camping sign
;
do I need to worry about that?

If you see a sign that says no camping or no staying overnight, then honour it. Not only because no one likes a squatter, but also because you could get a hefty fine. Which kinda defeats the purpose of seeking out a free space to sleep, right?
Be considerate of why that sign may be there, too. Many are erected because the site is sacred Aboriginal land, because the wildlife needs protecting, or because there is a risk of wildfires. So, yes, please do worry about that no camping sign and continue driving to a legal free camping spot. There are plenty of them!
Do I have to pay the national park fees if I'm free camping?
If you're looking to snooze the night away in a national park free camping zone, you're going to need to pay the park fee. But, you'd be paying that anyway to visit the park, so it's not a fee to sleep, but more to enter.
Can I off-road to reach a free camping place?
All of our vehicles are 2WD, meaning it's a no-go on off-roading. The only exception to this is "reasonable use of access roads to recognised commercial campgrounds." This is an excerpt from our T&Cs, so note the 'commercial'.
Are there any disadvantages to free camping?
While you may be camping close to an iconic Australian beach, river, or reserve, free camping does sometimes have its trade-offs.
Even though we've broken it down as much as possible, it can still be a little tricky to understand the rules for free camping, given that they vary by state. Paying attention to signs is imperative. As too is chatting with your fellow road-trippers. With the upsurge in free camping activity, and with it, the unfortunate abuse of this fantastic system, new rules can be imposed quickly, particularly in tourist hotspot areas.
As previously raised, the facilities – or lack thereof – can also be a hindrance, particularly if you're not in one of our self-contained campervans.
With these minor negatives aside, however, the trade-offs can be excellent. As freedom camping sites are first-come, first-served, you get to travel truly free, without needing to plan or pre-book your travel in advance. Plus the incredible people you meet, the sights you see, the stars you gaze at, and the moments of pure beauty you see. Oh, and of course, the money you save! Enjoy!
Still have free camping questions? Reach out to us on social media or call our friendly crew on 1800 150 850 to assist.