JUCY Adelaide Car Hire
The beauty of Adelaide and South Australia is best seen from behind the wheel of a JUCY car rental. White sandy beaches, coastal hideaways, country towns, and wildlife-filled national parks await.
Whether you're riding with your fam or your buddies, JUCY car hire Adelaide offers a range of hire cars to suit your size, budget, and travel needs.
And the JUCY bonus? Not only do we have cheap car hire Adelaide but we also offer you a free shuttle ride from Adelaide Airport to our local car rental branch during business hours. Read further down the page to find out all the deets for picking up your JUCY car rental!
Contact JUCY Car Rentals Adelaide
| | |
| --- | --- |
| Address: | 25-27 Kinkaid Avenue, North Plympton, SA 5037 |
| Reservations: | 1800 150 850 |
| Hours: | 08:00am - 05:00pm Monday to Friday |
| | 09:00am - 04:00pm Saturday |
Please note our JUCY Adelaide branch is closed on Sundays, Christmas Day, Boxing Day, and New Years Day.
JUCY car hire Adelaide
Picking up a JUCY car rental for your Adelaide, South Australia, or cross-country adventures offers the ultimate freedom. Why let someone else decide if you are going to pull over at a cool roadside attraction, take a detour off-the-beaten-track, or follow a lead on a native animal sighting? When you have a car rental Adelaide, every choice is your own.
Choose your JUCY car rental by size, cost, space, or style. Consider the Italian sass of our Small Hatch or the legroom of our Sedan. Our 8 Seater is road-trip-sing-a-long heaven for group outings or family vacays.
With JUCY, you don't just get a cheap car rental Adelaide. Nope, we offer our customers a free shuttle bus from Adelaide Airport, along with unlimited mileage on your car hire, complimentary travel advice, and the peace of mind of 24/7 roadside assistance.
JUCY Adelaide Airport shuttle

Picking up your JUCY rental

Dropping off your JUCY rental
JUCY Adelaide Airport shuttle
If you're landing at Adelaide Airport during our JUCY rental branch hours, we're ready, willing, and able to pick you up in our dedicated airport shuttle.
Here's the intel on grabbing a ride with us:
Once you've cleared customs and have all your belongings, give us a quick call on our freephone number: 1800 150 850. Select option 1, for an Adelaide Airport pick up. Head outside and cross the plaza, past the Subway. Walk beyond the taxi rank and to the left of the pedestrian crossing. Here, you'll see a red mailbox. Please wait in this area until our green and purple shuttle bus arrives. The last airport shuttle collection time is 4.30pm weekdays, and 3.30pm on Saturdays for car pick-ups.
If you're travelling to us from the city centre, you'll need to make your own arrangements. We can recommend bus #168 from downtown Adelaide if you're looking for the cheapest way to reach us. It takes around 20 minutes. If you'd prefer the fastest route to reach your rental car, an Uber is about $20. It should only take 15 minutes, but leave a buffer for traffic.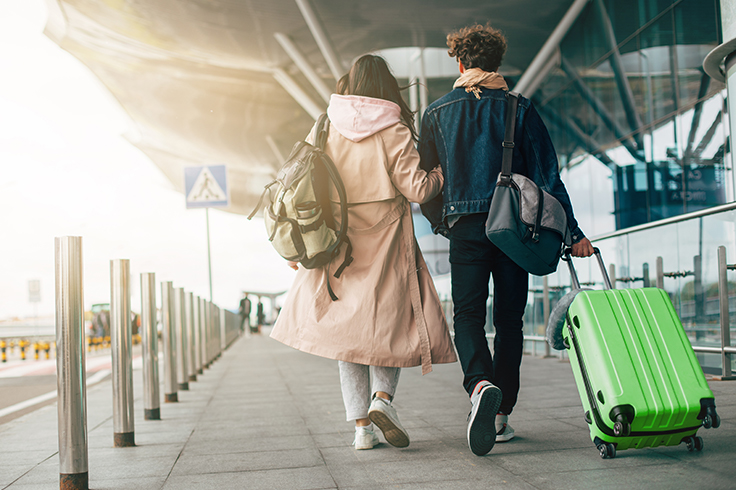 Picking up your JUCY rental
During our Adelaide branch open hours, we'll get you sorted and on the road with your JUCY car rental in no time. Here's how:
Check out our shuttle tab to the left on how to lock in your space on our free shuttle service from Adelaide Airport.
On arrival, our friendly JUCY crew will take you through your paperwork, a check of the car, and any additional information that's useful for your journey.
Please note, the latest we can accommodate your car rental check-in is 30 minutes before our closing time.
After-Hours pick-up is unavailable until further notice.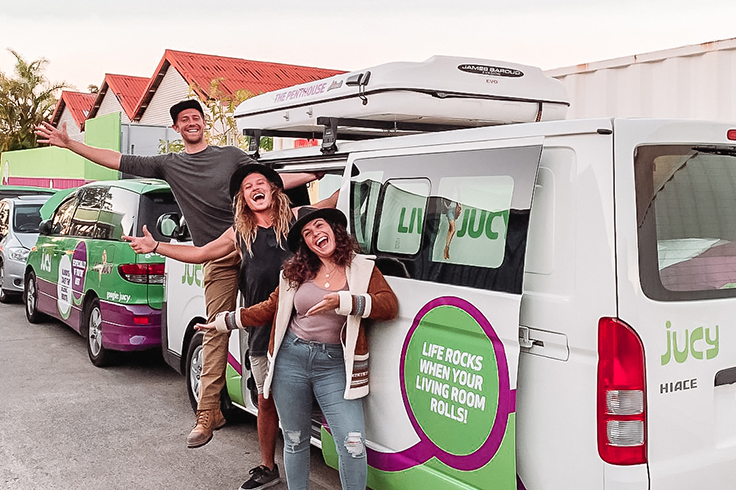 Dropping off your JUCY rental
Bummer! Your adventure is over, and you need to return your JUCY car rental Adelaide. Don't worry; we'll welcome you back anytime!
Here's how you drop off your hire car:
Drive to our green and purple building at 25-27 Kinkaid Avenue, North Plympton, Adelaide. It's pretty hard to miss us!
Check before you drive in that your fuel is back to full. If you've forgotten, it's a short detour to the nearest petrol station at X Convenience Netley, 294 Marion Road, Netley.
A super important step is next – have you cleared the car rental of all your belongings? Like, all of them? We've been known to find Kindles, passports, lone socks, and even a laptop when we clean the car for its next adventure. Don't leave your cool stuff behind! Can we also request that you take any rubbish out at the same time?
Next, find one of our friendly JUCY crewmembers and hand in your key.
If you're heading to the airport (and it's before 4.30pm on weekdays or 3.30pm on Saturdays), we can offer you a free ride. It's super easy, too, simply jump on the next one. We recommend leaving an extra 45 minutes before you need to be at the airport.
Dropping off after hours?
Follow the steps above, including fueling up, and removing all non-JUCY items.
Please, double-check all the windows are closed and lock the car. Pop your keys in the Key Return Box on the right-hand side of our branch.
Make your own way to the airport or back to the city. It's around $15 in an Uber to the terminal, or bus J8 will get you there (though you'll need to walk five minutes, too). For downtown Adelaide, expect $20 in an Uber or take bus 167 or 168 for a cheap ride.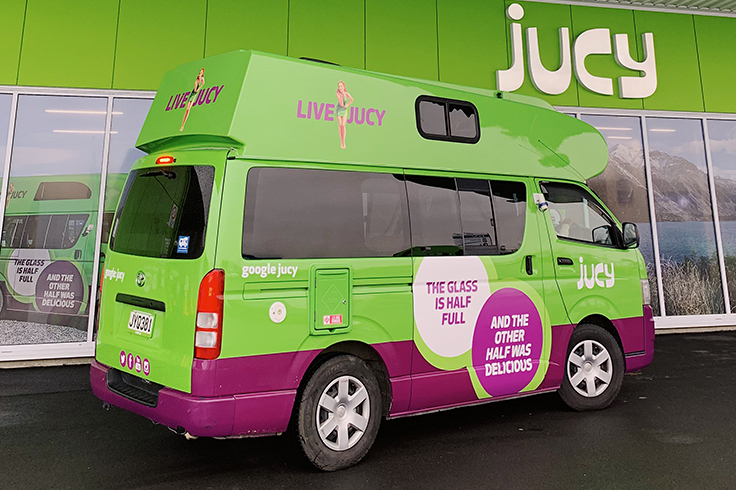 Your JUCY car rental Adelaide options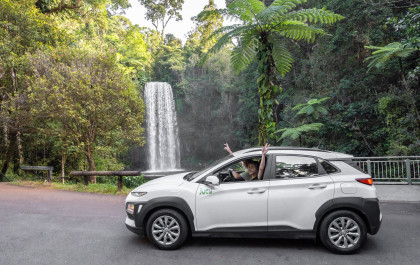 The perfect sporty, stylish Compact SUV car hire to explore Australia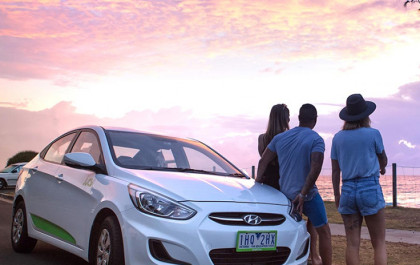 For long legs and space lovers, our Sedan is comfy and roomy. Great for long road trips!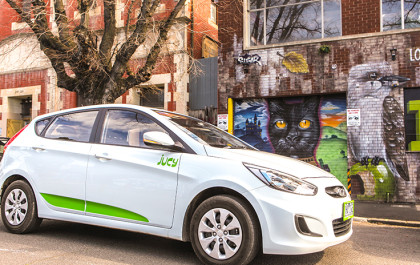 Our popular Mid Hatch is a safe and spacious ride. Rent your great value hire car today.
Take the ultimate roadie around Adelaide, South Australia, and more!
For years, Adelaide was an understated destination, skipped or bypassed for it's better-known neighbours. But, word has caught on about the region's natural wonders, quirky attractions, and abundant wildlife. There's no better time to hire a car rental and explore the region than Adelaide.
Locals call Adelaide the 20-minute city as almost everything is reached quickly from downtown. With the tram and bus, public transport is decent for inner-city visits but, an Adelaide car hire is required to see the majority of the region's key attractions.
As Australia's third-largest island, an adventure by car rental to Kangaroo Island affords the freedom to see it all. Or explore the Adelaide Hills' quaint boutiques, coffee shops, and art galleries at your leisure.
South Australia's wildlife is legendary, with opportunities to see native animals across the state. Whether it's whales and sea lions on the coast, or kangaroos and koalas in the outback, it's not uncommon to spy Aussie animals daily on a road trip here. Pretty epic reason to hit the road, if you ask us!
The diverse scenery is also a win in our books. From the dramatic red gorges of the Flinders Ranges to the inland pink salt lakes. The coastline of South Australia is so pristine and long that there's little reason to share your little pocket of sand or even be near another beachgoer.
Visiting Adelaide and South Australia is pleasant year-round. While the peak of summer (when our JUCY car rentals book up far in advance), can throw up a few days worthy of a news headline, the coastal communities remain pleasant. The mild temperatures in winter make South Australia a desirable state to explore, particularly if you're interested in an outback roadie.
If you're ready to book your South Australian adventure with a JUCY car rental Adelaide, give us a call on 1800 150 850 or book online now.