JUCY Car Rentals Gold Coast Airport
Large or compact, JUCY Gold Coast car rentals provide you with maximum freedom to explore and road trip Queensland. Famed for its stunning coastline, hinterland adventures, and fun-filled attractions, the Gold Coast is a true slice of paradise!
Our JUCY Gold Coast branch is conveniently located close to the airport and Bilinga beach. JUCY car rental Gold Coast provides cheap and convenient car hire to get onto the East Coast quickly, so you've got more time to explore the best of the region. If you've picked up a JUCY Brisbane car rental but want to see more of the South East Queensland beaches, JUCY car hire Tugun airport has got you covered for drop off.
Australia car rental is what JUCY has been doing on the Gold Coast for four years and our crew is always looking out to give you the best car rental deals. If you're looking for a budget car rental Gold Coast, JUCY has got you covered with two cheap car hire options and a more luxurious SUV option. Plus, we are your one-stop-shop if you're looking for a car rental for 18-year-olds and over in the Gold Coast. When you book JUCY car hire Gold Coast, you can be sure to be greeted by our friendly crew who are keen to share the best local tips on things to do and see.
Did you know that during business hours you can catch a free shuttle bus from the airport to JUCY Gold Coast? Read further down the page to find out all the deets for picking up your JUCY car rental!
Contact JUCY Car Rental Gold Coast Airport
| | |
| --- | --- |
| Address: | 71 - 77 Boyd Street, Tugun, QLD 4224 |
| Reservations: | 1800 150 850 |
| Hours: | 08:00am - 05:00pm Monday to Friday |
| | 09:00am - 04:00pm Saturday |
| | 09:00am - 02:00pm Sunday |
JUCY Rentals Gold Coast are closed on Christmas Day, Boxing Day, and New Year's Day.
JUCY car hire Gold Coast Airport
People don't only love our JUCY car rentals Gold Coast branch because it's minutes from the airport. It's also that we're just a block from Coolangatta beach! It's a little teaser for your GC adventures to come.
Get a warm JUCY welcome when you collect your Gold Coast car hire. Our crew is as travel-mad as you are and not only works efficiently to get you on the road, but also has a ton of travel advice to share before you depart.
While you leave us physically, we're still coming along for the ride figuratively. It's non-creepy, we promise! How? We offer support with 24/7 roadside assistance and free travel advice, too! Plus, we don't hold you back by counting kilometres. No matter what JUCY car rental Gold Coast that you take, you receive unlimited mileage! For free!
Book your JUCY car rental Australia online or call us on 1800 150 850.
JUCY Gold Coast airport shuttle

Picking up your JUCY car rental

Dropping off your JUCY car rental
JUCY Gold Coast airport shuttle
We're so excited to meet you that we offer a free airport shuttle so we can start getting to know you early! It may only be a few minutes from the Gold Coast Airport – but we'll take it. We love hearing about your road trip plans.
To book your shuttle, follow these steps:
From Airport:

Once you have cleared customs and collected your luggage, give us a call. Dial

1800 150 850

, then option 1, then 3. Exit the terminal, go left to the end of the terminal, and wait at the shuttle collection area

. The last shuttle is 30 minutes before the branch shuts.
To Airport: Once you have dropped off your JUCY wheels to our Gold Coast Branch you can jump on our free JUCY shuttle bus to the airport. Please return your vehicle at least 45 minutes before you need to be at the airport.



If you are making your way from downtown Gold Coast or Byron Bay, the SkyBus offers the cheapest options to the airport. From there, call us for our free shuttle (as above). Alternatively, an Uber or cab will get you there for around $40-50 from the GC, or approximately $100 from Byron.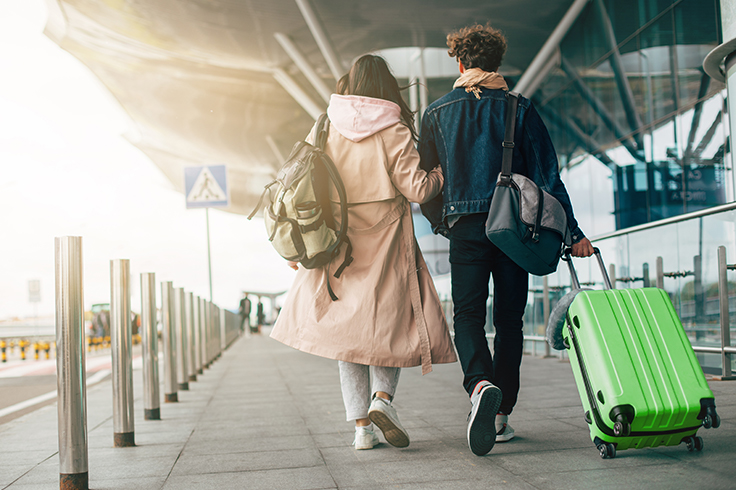 Picking up your JUCY car rental
On a scale of 1 to I'm-leaping-in-the-air, how excited are you about your upcoming Gold Coast travels? We feel the same way about welcoming you!

Here's the low-down on your Gold Coast branch car pick-up:
Coming to us from the airport? Take advantage of our free shuttle bus

.

See the tab to the left for all the deets.

Experience a warm welcome, some

essential

paperwork (check-in online to save time), and a quick

check of your new friend (aka your

car). If you have any questions about driving in Australia, where to go, or our crew's fave things to do, now's your chance to get some inspiration!

Make sure you reach the branch at least 30 minutes before closing time; these are our latest car check-in times.
After-Hours pick-up is unavailable until further notice.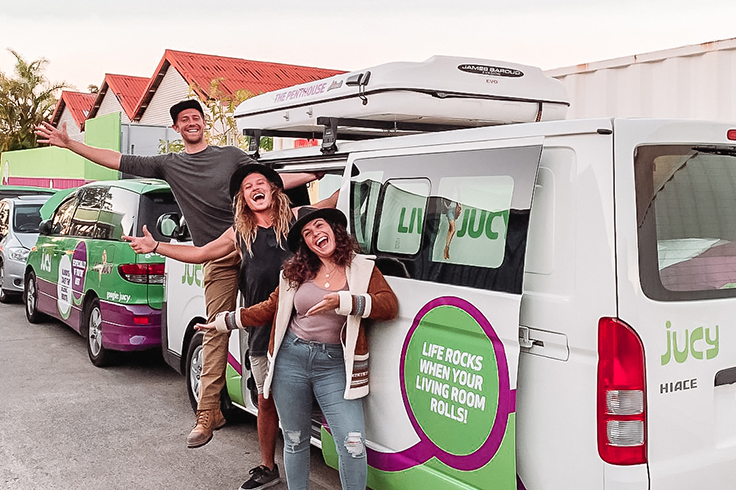 Dropping off your JUCY car rental
You think we'd be used to saying goodbye, but it makes us teary just thinking about your JUCY adventure coming to an end.
If you really must leave us, then follow the steps below to return your vehicle.
Head to our branch at 71 - 77 Boyd Stree, Tugun.

On the way, fuel up before you reach us. The closest petrol station is Shell Service Station, corner Gold Coast Hwy & Toolona St & Maud St, Tugun QLD 4224

.

Grab your belongings. Not just the obvious ones, like your suitcase or backpack, but also the Kindle you possibly dropped

down the

back of the

seat (it happens)

. Oh, and

that one-off arty souvenir

, or the thong under the driver's seat (no, no, not that kind of thong

-

t

he Aussie-named flip flop kind

!

). If you can collect any rubbish at the same time and pop it in the bins at the branch, we'd be super grateful.

Hand your keys over and say your goodbyes.

You are now ready to hop on the next free shuttle to the airport. Until next time!
Are you returning out of our branch open hours? Read on:
Drive to us at 71 - 77 Boyd Street in Tugun

,

and remember to fill up your petrol tank on the way.

Park your wheels on the driveway to one side of the closed gate.

C

lear out your belongings and any rubbish

, ensure the windows are closed

and lock the car.

Drop the keys

in the after-hours key

return box located on the fence near the gate.

You're all set to continue to y

our next destination now. If you're flying out of the Gold Coast, an Uber ride will be about $10-$15

to the airport

; to downtown GC, expect to pay $40-50.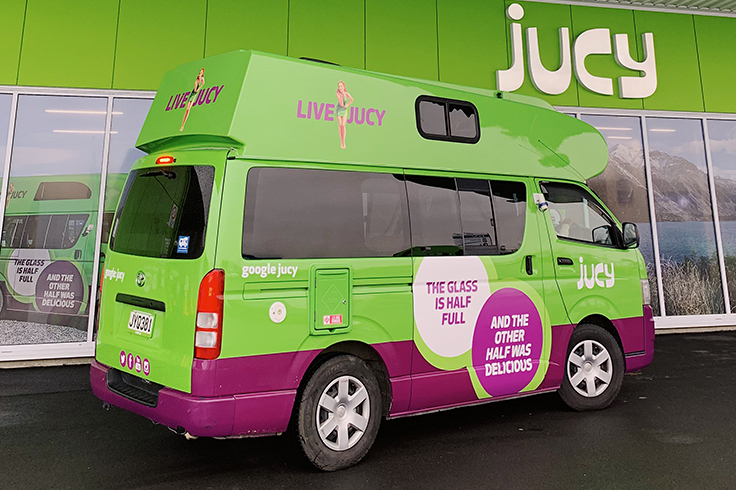 Choose your JUCY Car Rental Gold Coast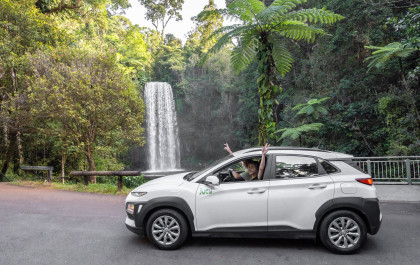 The perfect sporty, stylish Compact SUV car hire to explore Australia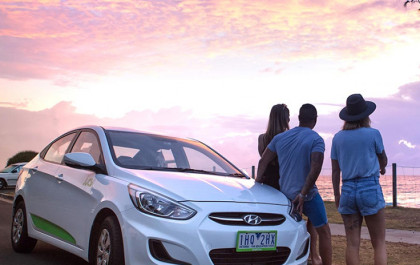 For long legs and space lovers, our Sedan is comfy and roomy. Great for long road trips!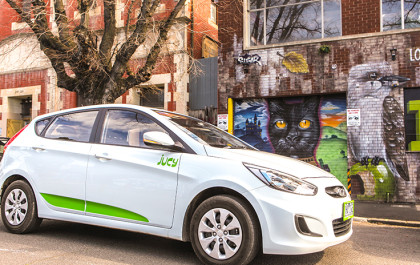 Our popular Mid Hatch is a safe and spacious ride. Rent your great value hire car today.
Explore the best of the Gold Coast in a JUCY car rental
Wowee. You're about to visit one of Australia's most fun destinations. Whether you're 9 years old or 99, the Gold Coast region has something for everyone.
Once you've picked up your JUCY car rental Gold Coast, head out to surf in the consistent waves at Burleigh Heads. Hike the Springbrook National Park. Dangle upside down on the Doomsday Destroyer at Movieworld. Or go crazy and do all three in one day.
If you prefer a mellower trip, the local wildlife is sublime. Go sub-tropical bird watching in Lamington National Park, ride a horse in the Gold Coast hinterland, or head to Springbrook National Park at sunset to watch the glowworms turn on their lights. A JUCY fave is the not-for-profit Currumbin Wildlife Sanctuary Hospital. It's one of the world's busiest wildlife hospitals, with more than 8,000 patients annually. Plus, you can get $10 off when you book through JUCY Bonus Experiences and show your JUCY car rental keys on arrival.
Accessing these sights – and the hundreds of other attractions - is best done in a JUCY Gold Coast rental car. With four car categories for you to choose from, you can find a Gold Coast car hire to meet your needs. If you're looking for a budget car rental Gold Coast airport then you've come to the right place. Choose our compact Small Hatch, go for a size upgrade with our Mid Hatch or Sedan, or take your team or mates away in our 8 Seater. Every JUCY car rental comes with unlimited mileage, 24/7 roadside assistance, and free travel advice. Plus, we rent to adults 18+ and permit one-way trips if you don't want to backtrack.
While the sun shines in the Gold Coast a whopping 300 days a year, the best time to visit is May to October as it's not too hot to handle. Though, lock it in early as we can sell out. Book your car hire Australia online or call us on 1800 150 850.