Cairns to Cape Tribulation: 3 day road trip itinerary
AUTHOR: KELLY BAILDON
The Great Barrier Reef Drive from Cairns up to Cape Tribulation is one of the best road trips on the east coast of Australia. The road unfurls along the lush coastline, with rainforest on one side and the Coral Sea on the other. Between pristine beaches, the world's oldest tropical rainforest, and an abundance of animal life both on land and in water, there's plenty to keep you occupied on this trip.
Kelly (@blokewithabackpack on Instagram) went on a JUCY road trip from Cairns to Cape Tribulation. Here are his recommendations on where to stop and what to do during three days on the Great Barrier Reef Drive.
DAY 1: CAIRNS - CAPE TRIBULATION
Start your road trip from JUCY car rentals Cairns to Cape Tribulation slow and make your first stop Fairy Falls, a secret waterfall location just outside of Cairns. The secluded waterfall is right next to the popular Crystal Cascades. The easiest way to get there is to put 'Fairy Falls' into your mapping device. It's about a 25-minute drive in a JUCY car from Cairns.
To get to the waterfall, look towards the top of the car park. You will see a path located between a small clearing in the trees. Once you find the path, follow it until you reach a set of boulders in the creek. Climb over approximately 20-30 metres of these rocks and you will be greeted with the stunning Fairy Falls. Because this is a small hike (15 minutes) you will probably have the place to yourselves!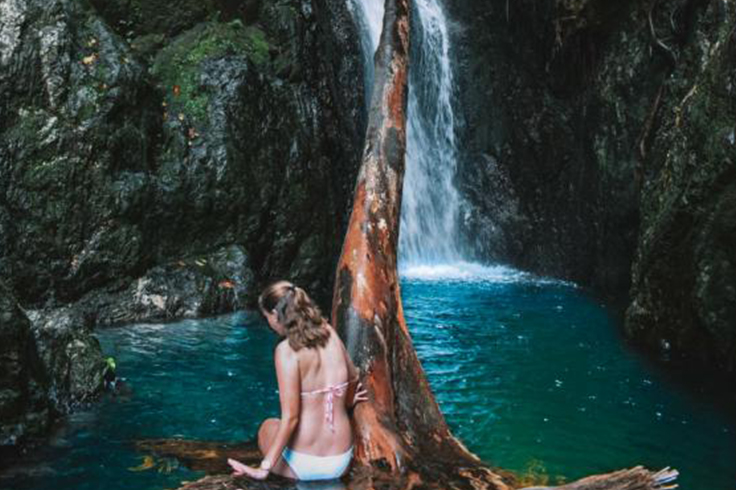 From Fairy Falls make your way to the Mossman Gorge. Surrounding the gorge is an area of lush rainforest, crystal clear swimming holes, and even a suspension bridge! This a must-visit spot if you are into walking, swimming, and photography. To visit the Mossman Gorge you take a bus from the visitor centre to the gorge itself. There are a range of walking tracks from five to 45 minutes, so you can easily spend 1-2 hours exploring. If you don't have time for Mossman on your first day, you can also stop here on your way back to Cairns.
Your last stop of the day will be Cape Tribulation. Base yourself in Cape Tribulation as it is close to renowned rainforest walks in one of world's magical natural wonders, the Daintree Rainforest, as well as beautiful beaches. It is about one hour and 45 minutes from Mossman Gorge to Cape Trib, including the ferry across the Daintree River.
Set up your van, table, and chairs at Noah's Beach Campground, a beachfront site.
DAY 2: CAPE TRIBULATION
Spend the morning of your second day checking out some of Cape Tribulation's finest beaches. You can't swim at these beaches, unless you want to be a crocodile's lunch, but they offer some fantastic views and scenery. Myall Beach is a highlight, with crystal-clear water and an endless stretch of white sand. There is also a short walk which takes you to a fantastic lookout point over the water.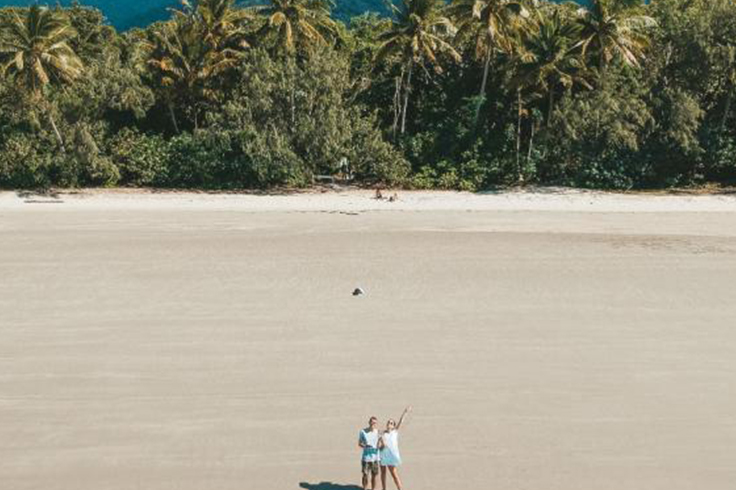 From the beach you can go straight to the rainforest via the area's most captivating boardwalks. The natural, untouched environment is some of the most beautiful rainforest you will ever see. To get the best dose of the rainforest, check out the Dubuji Boardwalk and the Maardja Botanical Walk.
To finish the day off and reward yourselves for all the walking you've done, enjoy an ice-cream at the Daintree Ice Cream Company. This ice-cream shop grows their own fruit in their orchard (which you are free to stroll around in) and then uses these fruits to design their flavours. They offer a cup featuring 4 unique flavours that change daily based on seasonability and flavour matching.
Stay overnight in Noah's Beach Campground.
DAY 3: CAPE TRIBULATION - CAIRNS
One the drive from Cape Tribulation to Cairns you can make pitstops at Port Douglas and Palm Cove.
The coastal town of Port Douglas is a great place to enjoy blue water and chill vibes. There are plenty of restaurants to grab a bite on along the main strip, as well as several spots right on the water to chill out. Walk up to Flagstaff Hill for a great lookout over the incredible Four Mile Beach. It's not hard to see where the name comes from, as the beach stretches as far as the eye can see.
If you're looking for that next Instagram upload, head about 15 minutes south of Port Douglas to a location called Thala Beach Nature Reserve. Here you will find an abundance of vibrant green palm trees that make for an awesome background.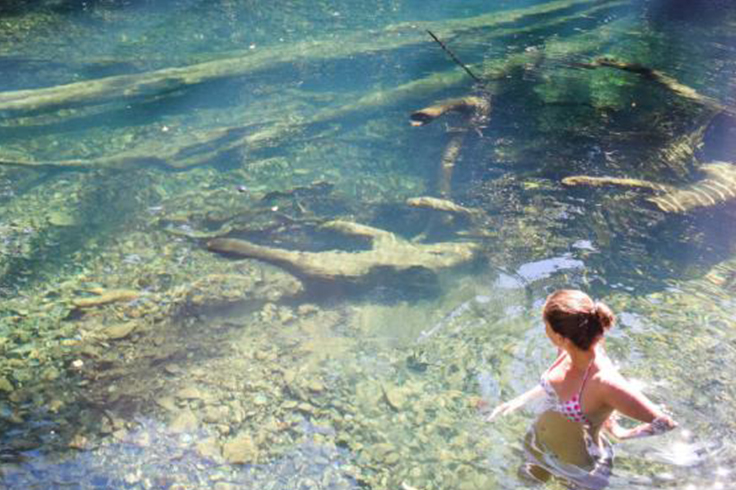 Further south, Palm Cove has a roped off beach swimming area if you'd like to have an afternoon dip to break up the road trip from Cape Tribulation to Cairns, plus a beautiful jetty to stroll along. If you have more time, Yorkeys Knob, Trinity Beach, and Clifton Beach are worth checking out.
After getting in some beach time make your way back to Cairns to wrap up your Cairns to Cape Tribulation road trip!
THE GREAT BARRIER REEF DRIVE IS BEST EXPERIENCED IN A JUCY - CHECK OUT OUR RANGE OF VEHICLES TODAY AND BOOK YOUR

JUCY CAIRNS CAR HIRE.