The 5 best day trips from Brisbane
You've booked your cheap Brisbane car rental or JUCY campervan hire but where to go? Using the city as a base, we reveal the best day trips to road trip to. You'll be amazed at the diversity that surrounds Brisbane, Queensland's hippest city.
Get Naturally Wet & Wild: Noosa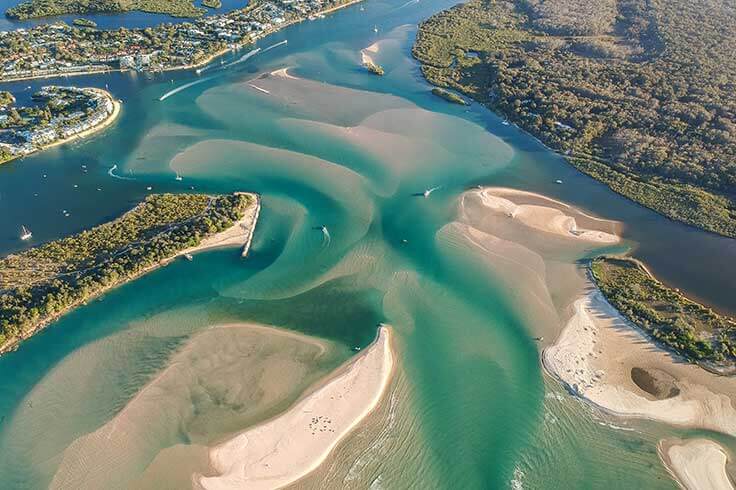 An easy 90 minutes drive north of JUCY's Brisbane branch, Noosa is a popular destination on the Sunshine Coast. It's one of those epic destinations that have it all – sparkling beaches, pristine nature, delectable eats, and seemingly never-ending sunshine. No wonder it's first on our list.
While Noosa is famed as a beach and surf spot, it offers so much more. Like the 4,000-hectare Noosa National Park, a natural playground abundant with native Australian flora and fauna. Get the best of both worlds as the rainforest meets the sea!
There are 15km of walking tracks within Noosa National Park, but the Coastal Walk is probably the most rewarding. This 3-hour trail follows the shoreline to Sunshine Beach, and you can bus back if you don't want to backtrack.
Usually, when you hike, you need to pay attention to your feet. On this track, however, you'll find looking up rewarding too, as koalas are regularly spotted gripping the eucalypts. Also, from June to October, whales are often migrating past Noosa. Pack a picnic and indulge at Tea Tree Beach. Pack your togs (that's Aussie speak for swimwear) for a swim at the Insta-fabulous natural tidal Fairy Pools.
If you're skipping the hike to spend the day at the beach, detour past Noosa's main beach and the river. Here, you'll find a sheltered sandy-stretch with far fewer peeps sunbathing.
Round off your Noosa day trip with a quick stroll to the town's fabulous eateries along Hastings Street. Enjoy a low-key feed in a café or go for something more sophisticated like Bistro C. If you're not ready to eat, Hastings Street also has some beautiful boutiques to splurge at.
If shopping is your jam, and you're travelling on a Wednesday or Saturday, make time on your drive to Noosa to detour to the Eumundi Markets. It's Australia's largest arts and craft market, and a popular place for souvenirs, jewellery or artwork. If you're travelling in a JUCY camper, fill your fridge with the fresh produce here, it beats anything you can buy at Coles.
If you're not into gorgeous beaches or lush rainforest hikes, an incredible and yet often overlooked attractions is the Noosa Everglades. It's only one of two everglades in the world and home to 40% of Australia's birdlife! Unlike the Florida Everglades, however, Noosa has no alligators or crocodiles lurking, ensuring a leisurely time exploring. Kayaking is our fave activity here.
Put a spring in your step naturally: Springbrook National Park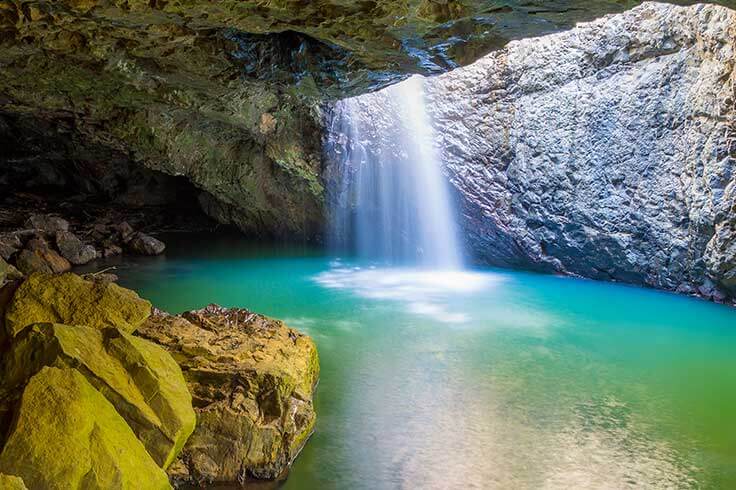 Our second awesome day trip out of Brisbane is to Springbrook National Park, 111km south. Part of the UNESCO World Heritage Gondwana Rainforest, Springbrook is a natural wonderland filled with ancient plants and wildlife that have called this region home for millennia.
While a hike to most national parks is an opportunity to clear the head, enjoy nature, and a change of pace, at Springbrook it's more than that. Here, you get to set foot among species that have been around for millions of years. Pretty cool, huh?
The entire Gondwana Rainforest region was formerly the Australian East Coast Temperate and Subtropical Rainforest Park. It changed to Gondwana Rainforests in 1986, not because the old name was a mouthful (which is was), but as a nod to the fact that the rainforest here existed before the Gondwana super-continent split into Australasia, Africa, and India. Today, some of the species from Gondwana live in this park. Springbrook is a particularly special part of the wider park region, in particular, because the beech trees are a whopping 3,000 years old!
Within the park, you'll find cascading waterfalls, craggy peaks, and rugged canyons. Start your explorations with a 30-minute walk to Canyon Lookout. Here you'll see the Rainbow Falls, Goomoolahra Falls, and across to New South Wales and Stradbroke Island. A slightly steeper hike to Best of All Lookout is worth it, if for nothing more than the awesome name! It takes you through to that ancient Antarctica beech forest. It's wild! The view here faces Mt Warning.
Bring a torch for your Springbrook National Park trip as come dusk, the glowworms come out to play at the picturesque Natural Arch, a rock bridge caused by water erosion.
If you're up to tack on an additional trek, make time in your schedule to visit the Purling Brook Falls, one of the region's most spectacular waterfalls. Plan for around two hours to hike this occasionally steep 4km trail.
Pick up a picnic before you set off from Brisbane; there are so many stunning spots to take pause and reflect on the beauty of your surroundings. It's a magical day out.
Stradbroke Island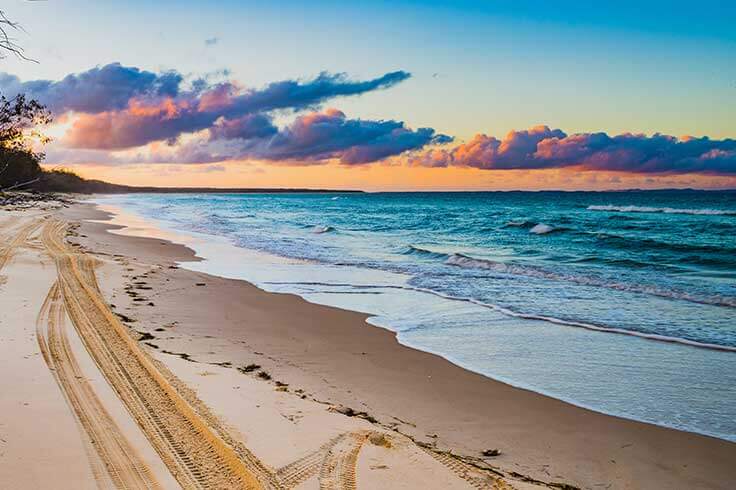 If you want to take an island paradise escape akin to a trip to Hawaii, you'd think you'd have to cancel your JUCY rental and book a flight. Nope! Stradbroke Island is not only easily accessible from Brisbane, but you can also get there in less than two hours! Incredible!
Spectacular beaches are kinda Stradbroke Island's thing. As you might expect from Australia's (and the world's) second largest sand island. Similar to New Zealand, Straddie (aka Stradbroke Island) is actually two islands, North and South, with most visitors exploring the North. Ferry your JUCY wheels across the Moreton Bay (it's only a 25-min trip) to start your Straddie explorations.
Once on the island, start the day with some island vibes with a trip to the beach. If you'd like to up the wow factor, head to the southern part of Main Beach where kangaroos and wallabies are known to hang ten and chill. The dreamy long sandy beach makes an idyllic backdrop for that perfect 'roo shot. Don't forget to look up throughout the day, too; koalas also call Stradbroke Island home.
Originally called Minjerribah, the Quandamooka people have appreciated this natural wonderland for over 25,000 years. The Quandamooka are the people of sand and water and work as guardians to protect both. To learn more about their connection, visit Salt Water Murris', an Aboriginal art gallery. Here, the collective memories of the people are displayed through art and performances. For a more interactive experience, book a walk on the historical and beautiful Goompi Trail. Your Aboriginal guide offers a deep-dive into life on the Minjerribah for the Quandamooka people.
A walk on Stradbroke is a must with the North Gorge Headland trail a popular (and short) option. Only 1.2km, the walk affords jaw-dropping coastline views and an amazing vantage point for the larger marine life that can be spotted from afar. In winter (June to October), that includes migrating whales; the rest of the year keep 'em peeled for dolphins and sea turtles.
Get into the water for more marine activities. Surfers occasional have dolphins join them, and scuba divers enjoy underwater action with manta rays, leopard sharks, and sea turtles.
For food on Stradbroke, a picnic is a popular option, but we love to drive to Island Fruit Barn Café for lunch. Round out this perfect island day with an indulgent fish and chips dinner before hopping on the last ferry back to Brisbane.
Quirky Towns
For some cooler mountain air and a change of pace from the beach, day trip to Montville and Maleny. These two charming destinations offer a scenic getaway filled with lush mountain views, village vibes, and perhaps a treat or two of the culinary kind.
Maleny is an hour's drive from our convenient JUCY branch and is a delightful dairy town with an alternative (some may say hippie) edge. Nestled in the Blackall Range, a fruitful visit to Maleny takes in its epic scenery, outdoor pursuits, and… cheese!!
Yes, cheese! The region's hinterland climate has proven beneficial for dairy farming – in an award-winning way! Start your day at the Maleny Dairies and opt for a farm tour, watch the cheesemakers, then taste test! Someone needs to check it's 'safe', right?
Sample more Maleny tastebud treats at the Brouhaha Brewery. Perhaps a natural progression in a town with alternative/hipster vibes, this topnotch spot offers a local brew – Maleny Lager – small-yet-delectable plates at lunch.
To work off Maleny's local delicacies, a hike is in order. Depart the quirky community of Maleny and travel 20 minutes to the Baroon Pocket Dam car park. You're here to visit the Obi Obi Gorge, the centrepiece of Kondalilla National Park. For a short walk, park at the dam and head to the gorge directly. For a longer trail (perhaps relative to how much cheese you've eaten), the 7km Baroon Lookout Trail affords outstanding views of Obi Obi Gorge and dam.
After your hike, a 10-minute scenic drive through the Blackall Range will deposit you in Montville. Similarly cool, climate-wise, and equally as charming, this is an art haven that was founded in 1887. If you love exploring lovely boutique shops with one-of-a-kind items, then Montville is going to scratch that itch. An afternoon treat at Fudgyboombahs is worth it for the name alone, never mind the addictive homemade fudge!
Montville is close to the spectacular 90m Kondalilla Falls that plummet into the rainforest canopy. Depending on how your two-town explorations have panned out (and your 'taste testing'), a second hike may be in order. The Kondalilla Falls Circuit is a 2.5-hour trail; if time is short, the 60-minute Rock Pools Walk is a great teaser of the park. For either walk, make time to enjoy a refreshing dip in the pools. It's a great final memory to make of this epic day out in the Blackall Range.
Wildlife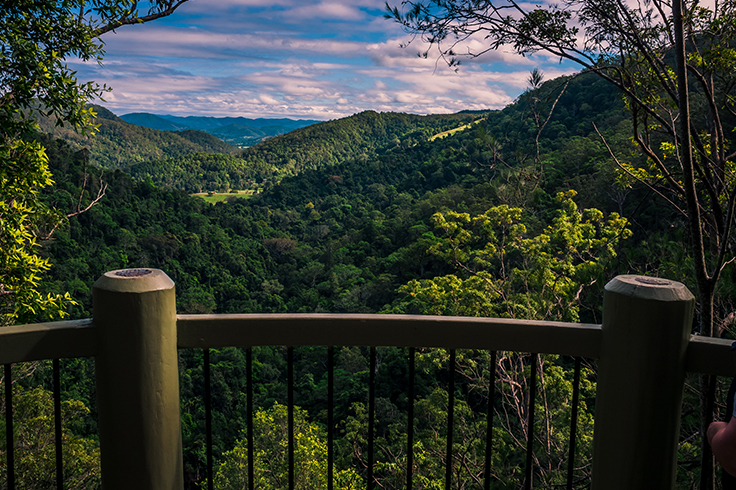 Wildlife watching can take a little luck and a lot of patience. We know you're lucky (you found us), but if time is a short or you've planned a jam-packed Brisbane vacation, then a visit to the Currumbin Wildlife Sanctuary is the equivalent of being handed this week's lottery numbers. Only instead of 3, 19, 46 and 49, you're finding a match against kangaroos, koalas, echidnas, and Tasmania devils. Better than that time you won $19 on your lotto ticket, no?
Just over an hour from Brisbane, this not-for-profit sanctuary is found across 1.5 hectares of the Currumbin Valley rainforest. With a focus on conservation and education, a trip to the Currumbin Wildlife Sanctuary gives you a bout of warm-and-fuzzies. Not just because of the vast variety of mammals, birds, and reptiles seen here, but because your entry fee goes to such an important cause.
It's worth visiting the park early as it can get busy. Allow 3-4 hours to gain the most of your time at the sanctuary. Particularly if you feel like you'd like to add some adventure to your day. For an additional fee, you can zipline or walk the 80 trees that form the TreeTop Challenge.
Another remarkable opportunity within the park is to appreciate Australia's distinct flora and fauna in the Lost Valley. Like travelling back in time - wayyyyyyyy back - the Lost Valley is a portal to the ancient super-continent of Gondwana, 180 million years ago.
The Currumbin Wildlife Sanctuary, as the name suggests, offers a safe haven for a staggering 11,000 animals a year. Whether sick, injured, abandoned, or orphaned, care is provided to treat, rehabilitate, then return (where possible) to their natural habitat. This is significant work, as its one of the world's busiest animal hospitals, so include time in your schedule to visit the hospital within the park and acknowledge the hard work that is undertaken here.
After your time at the Currumbin Wildlife Sanctuary, drive to the pint-sized (by Australian standards) Burleigh Head National Park. Covering 27 hectares, you'll find rainforest, eucalypt forests, mangroves, and grasslands as the backdrop to the park's rocky coast and golden sands.
For an easy hike, the Oceanview Track walks the Tallebudgera Headland, where you'll see the expansive views of the coast and fascinating hexagonal basalt rocks.
Finally, an Instagrammers dream, stop by Cock Rock where you can perch atop a six-sided basalt column that jut outwards. Let's just say, you'll see that the name is an obvious one. You'll also get a prime view of surfers tackling the legendary Burleigh Head surf break. It's relaxing to spend some time absorbing the scenery here, particularly if you happen to spot dolphins and whales passing.
If these amazing Brisbane day trips are now on your agenda, don't forget to tag us #jucyworld so we can be with you in spirit!