Top 5 reasons to hire from JUCY in Australia
There are plenty of good reasons to hire from JUCY! Here are our top five.
1. A TOTAL OF 91% OF PEOPLE WOULD RECOMMEND JUCY AFTER HIRING WITH US
Feedback from people who have hired our vehicles is hugely important for us - it helps us understand what we need to change, and what we're doing right!
We're very proud that 91% of people who have had a JUCY experience would recommend us to their friends and family.
When asked "How likely are you to recommend JUCY to your friends and family?", with 1 being 'Not at all likely' and 10 'Extremely likely', 74% of people gave us an awesome 9 or 10 out of 10. A further 17% of people gave us a 7 or 8 out of 10.*
That's pretty amazing! Here are a few of the wonderful comments people have left us recently:
"The vehicle and customer service were excellent, and the price was very competitive. It was a great experience!"
"Rating 10 - JUCY has been amazing. We had a Hyundai hatchback for 13 days. The car performed exceptionally well, was clean and comfortable to drive, not to mention super fuel efficient. Drop off was so easy, done in 5 minutes. First time user, will definitely use again. Highly recommend."
"Fantastic customer experience and service from pick up to return. Could not be any better."
"We loved the freedom it gave us to just pull up and stargaze out the sunroof all night, waking up to the sounds of waves crashing on the beach. And then cooking up bacon and eggs out the back..."
*These results are from our Net Promoter Score (NPS) survey and are current as of May 2019.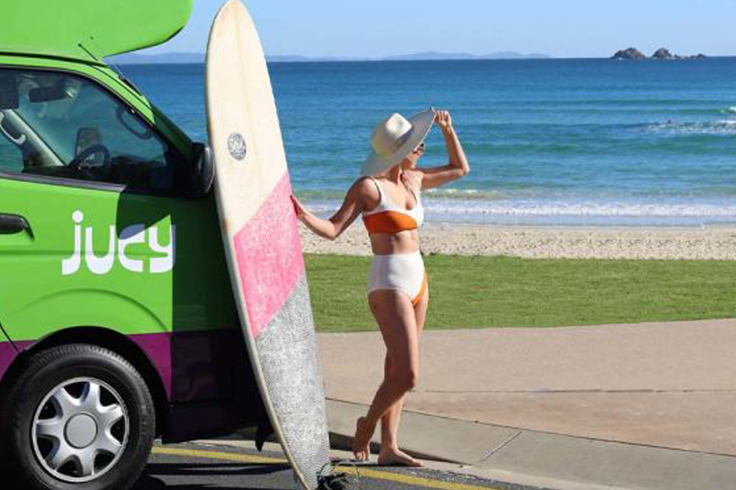 2. WE HIRE TO 18+
If you have an Australian Green P Plate (P2) Licence or higher then you can rent a vehicle from JUCY. It doesn't matter if you're young, or young at heart, JUCY gives you the green light to get out there and have the adventure of a lifetime!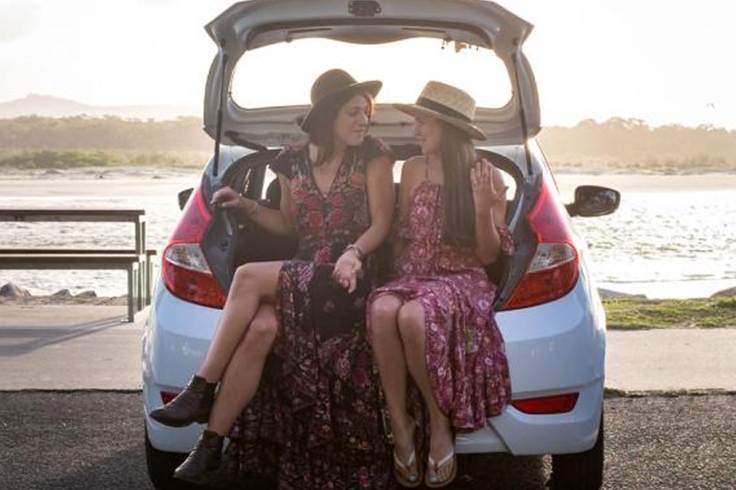 3. WE GIVE YOU UNLIMITED KILOMETRES
Australia is a BIG country with lots of cool places to explore. Lucky for you, JUCY hires by day as opposed to distance so if you want to circumnavigate the country in record speed then you can (as long as you keep to the speed limit)! Our top spots to visit are:
4. OUR CUSTOM-MADE CAMPERS WON THE GOLDEN BACKPACK 'BEST CAMPERVAN 2016' AWARD
With epic customer service, affordable prices and a great range of vehicles, it's hardly surprising we took out the top spot for the 'Best Campervan' company at the 2016 Golden Backpack awards – not to toot our own horn or anything.
All our campervans are unique to JUCY as we design and fit them out ourselves at this awesome warehouse called JUCY By Design, or as we like to call it - JBD. This means we control all of the finer details and make sure our campervans come with everything you need for an awesome road trip.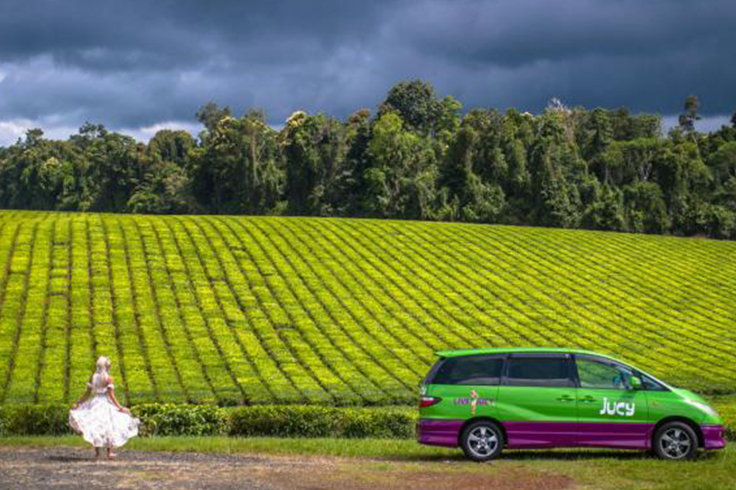 5. THERE ARE SEVEN BRANCHES TO PICK UP FROM / DROP OFF TO
With branches in Cairns, Brisbane, Melbourne, Sydney, and Adelaide, JUCY has got you covered. You can pick up from one location and return to another (just note that a one-way fee will apply) Our favourite inter-branch roadies are:
Adelaide to Melbourne via The Great Ocean Road – 1000km, 5 days
Melbourne to Sydney via The Princes Highway – 1400km, 6 days
Brisbane to Sydney via The Pacific Highway 1000km, 4 days
Cairns to Brisbane via The Bruce Highway 1700km, 7 days
Gold Coast to Brisbane via the Gold Coast Highway 150km, 1 day
THE MAIN REASON TO HIRE A JUCY - YOU'LL HAVE AN AWESOME TIME TRAVELLING AUSTRALIA IN A GREEN AND PURPLE VEHICLE!