Ultimate accommodation guide for the Great Ocean Road
AUTHOR: Chelsea Hawkins
The Great Ocean Road is one of Australia's most iconic road trips. The coastline in this part of the world is like something out of a fairytale. From dramatic ocean cliffs, to jaw dropping limestone formations and beautiful beaches, it's an experience that should be on everyone's bucket list.
Planning your own Great Ocean Road adventure? Then you're in luck because we've compiled the ultimate accommodation guide to the Great Ocean Road! Campgrounds, hotels, holiday parks - no matter how you plan on tackling the trip, we've got the best places to stay, in the towns you NEED to stop in!
STOP #1: TORQUAY/ANGLESEA
If you are starting your adventure from Melbourne then the first place you'll want to check out is the seaside town of Torquay, also known as the surf capital of Australia. The town is best known for it's iconic surf beaches, Bells Beach (You may have heard of it from a little movie called Point Break), and Jan Juc Beach. It's also home to the Australian National Surfing Museum. If that doesn't tickle your fancy, it's also only a short 10 minute drive to the Great Ocean Road Chocolaterie and Ice Creamery!
BEST VALUE CAMPGROUND: TORQUAY FORESHORE CARAVAN PARK & BIG 4 ANGLESEA
Both campgrounds offer many of the same facilities. BBQs, playground, Bathrooms, Showers, Kitchen, etc. If you plan on catching a few waves and soaking in the surf culture, Torquay Foreshore Caravan Park is your best option. If you are just having a look around, Big 4 Anglesea puts you in prime position for all the major attractions
BEST HOTEL: THE BIG 4 ANGLESEA
The Big 4 Anglesea also has some of the best hotel accommodation in Torquay. Not only do they offer cosy cabins but you also have the option of staying in their cool, luxurious glamping tents!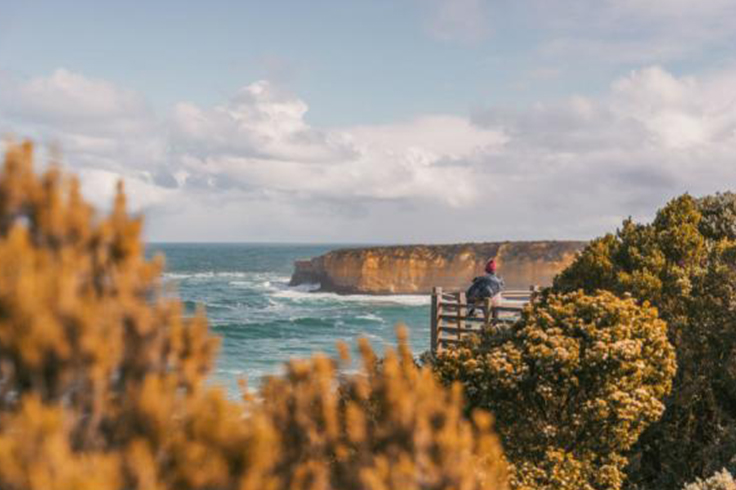 STOP #2: AIREYS INLET
This gorgeous coastal town may be small but it's jam packed with exciting things to see and do. A few of the must see attractions are: Split Point Lighthouse, Castle Rock, Loutit Bay Lookout, and Eagle Rock Lookout.
BEST VALUE CAMPGROUND: AIREYS INLET HOLIDAY PARK
Aireys Inlet Holiday Park is pretty much the only option when it comes to places to park your camper in Aireys. There was a free campground about 15 kilometres inland called Hammond Road Campground, that we checked out but Aireys Inlet Holiday Park is a much more comfortable option. One great thing about this holiday park is that you have the option of picking a site with a private bathroom and shower. This is very convenient on chilly winter nights!
BEST HOTEL: LIGHTKEEPERS INN MOTEL
Offers a good variety of well equipped rooms and it's only a 12 minute walk to the Split Point Lighthouse and Castle Rock!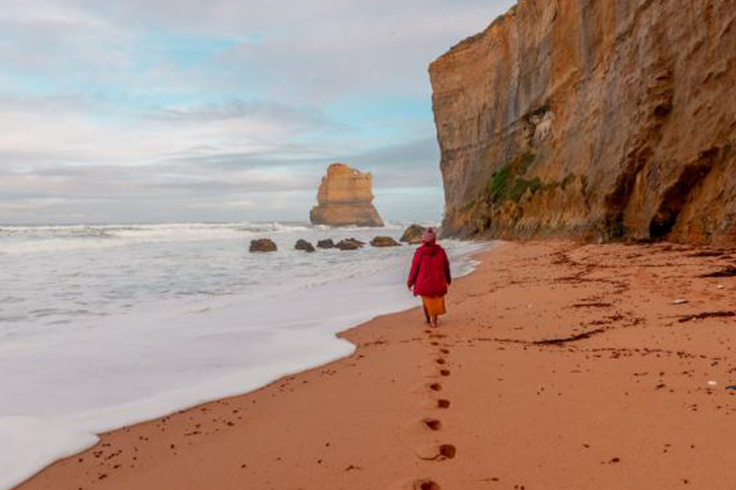 STOP #3: LORNE
Memorial Arch, Erskine Falls, Sheoak Falls, Phantom Falls, Lorne Pier, and the Swing Bridge cafe are a few must sees if you find yourself in the laid back town of Lorne. It's also home to one of the BEST fish and chipperries - The Salty Dog.
BEST VALUE CAMPGROUND: LORNE FORESHORE CARAVAN PARK
Prime location, great facilities, and within walking distance to Erskine River and pristine beaches - all of this and more for a super affordable price!
Bonus campground: If you're counting your coins, Sharp Camping Area is a free campground about 12 minutes drive from the center of Lorne. It's a nice spot in the middle of the bush and you're sure to see a kangaroo or two during your stay!
BEST HOTEL: CHATBY LANE LORNE
Clean, spacious, and affordable rooms. Why not treat yourself to a soak in a spa bath after a long day of sightseeing?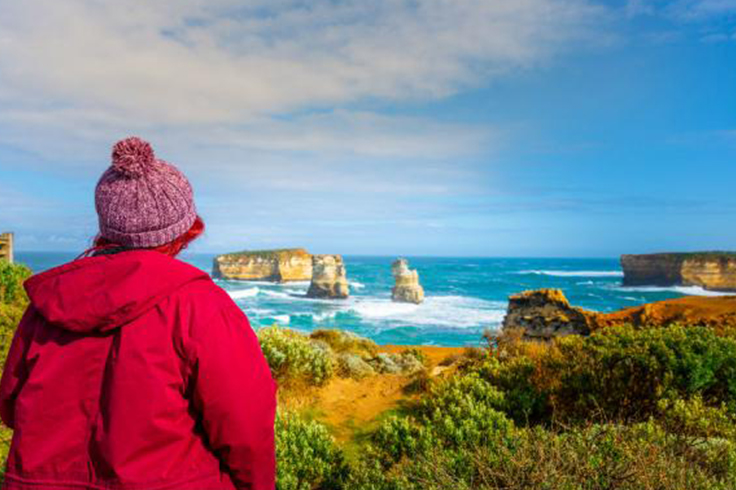 STOP #4: APOLLO BAY
Apollo Bay home to the famous Apollo Bay Bakery which is home to the famous (and extremely tasty) Scallop Pie. You'll also find The Redwoods, Great Ocean Walk, Marriner's Lookout, and Hopetoun Falls near here.
BEST VALUE CAMPGROUND: MARENGO HOLIDAY PARK
What kind of Great Ocean Road experience would this be if you didn't stay on the beach. Apart from being the only beachfront park in Apollo Bay, Marengo also has nice facilities and is an overall well kept campground with excellent views!
BEST HOTEL: MARENGO HOLIDAY PARK
Three words: Ocean. View. Cabins.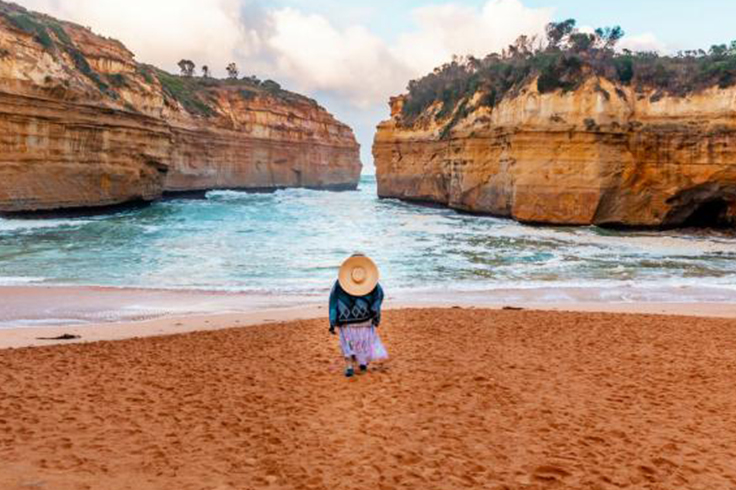 STOP #5: PORT CAMPBELL
Port Campbell has so many amazing attractions right on it's doorstep you'll want to spend a few days here.The Twelve Apostles, London Bridge, Loch Ard Gorge, Thunder Caves, Gibsons Steps are just a few of the iconic Great Ocean Road attractions located only minutes away from Port Campbell.
BEST VALUE CAMPGROUND: PORT CAMPBELL NRMA HOLIDAY PARK
This is one of the best campgrounds on the Great Ocean Road! Here are a few of the perks:
VERY clean amenities, with plenty of showers and toilets
Only a short stroll to the beach and seaside village
You can purchase cheap snacks, toiletries, fishing equipment and more from reception
Quiet and well kept sites
BEST HOTEL: LOCH ARD MOTOR INN
Here you'll get free WiFi and parking, only a two minute stroll from the beach. The rooms are spacious and all come with a private balcony- what more do you need?
Planning on making a few more stops? We recommend downloading the CamperMate app. It's an awesome resource for finding campgrounds, hotels, dump stations, and petrol stations in your area.
AND WITH THAT, YOU'RE READY TO HIT THE GREAT OCEAN ROAD! ALL YOU NEED TO DO NOW IS BOOK A JUCY CAMPERVAN.