When is the best time of year to visit Australia
AUTHOR: NICOLE CANNING
With breathtaking coastal views, rust-red outback wilderness, lush tropical forests, and verdant vineyards, the best time to visit Australia, is soon!
There's never a bad time to road trip around Australia, but with so much to explore, it's good to know what the weather is like and where you might want to go in each season. Australia's vast size means weather and climate vary widely in different locations, with Queensland enjoying warm weather all year round, while New South Wales and South Australia experiencing cooler winters. This means there is always somewhere to road trip off to, no matter what time of year!
To help you plan your next road trip adventure, we're giving you a rundown of Australia's seasons, plus the best places to visit, and what you can expect on your road trip at that time of year.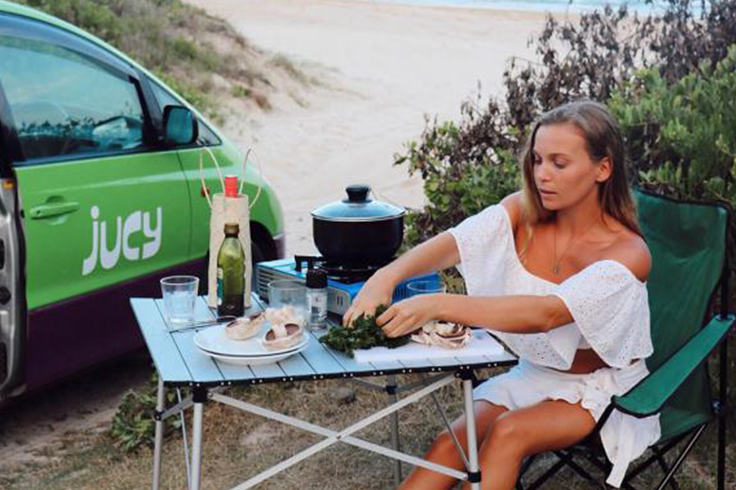 SUMMER: DECEMBER TO FEBRUARY
Fancy ringing in the New Year on the beach? Get yourself over to Australia for their hottest season!
WEATHER
While the temperature in central Australia, in particular, Uluru and Alice Springs, can reach over 40°C in summer, you may want to stick closer to the coast in the southern states for the summer months. The hottest months are January and February when temperatures in Melbourne, Sydney and Adelaide range from 25-28°C. Brisbane and north Queensland are sweltering at this time of year, with temperatures regularly exceeding 30°C. This is also the wettest time of year in Queensland, and flooding can be common in February.
BEST SUMMER DESTINATIONS
If you're a water baby who loves to surf, snorkel or just hang by the beach, the eastern coast of Queensland or New South Wales could be the best place for you. With an average water temperature of 21°C and endless beaches and coastal towns to visit, a road trip during this time of year is ideal.
Blend city with surf in Sydney where you can take advantage of all the great summer events like the city's very own celebration, Sydney Festival, or Mardi Gras and Chinese New Year. Of course, no one wants to miss out on the New Year Celebrations by the Harbour Bridge. The best surf in the city can be found at iconic Bondi Beach, Tamarama, Maroubra, Manly and further north along the Northern Beaches.
Sydney also makes for a great starting point for your summer road trip - you can head north taking in towns and cities like Newcastle, Port Macquarie, Coffs Harbour, Byron Bay, Gold Coast, and Brisbane.
If you're looking for cooler climates in Summer, check out Melbourne. The city's famous for having "four seasons in one day", and locals will warn you to carry a jacket right up to January!
Plus, early in the New Year, Melbourne is host to the Australian Open - so tennis fans will want to be close by to get in on the action! Summer's also an excellent time to road trip the Great Ocean Road - with longer days and higher chances of clear blue skies, the 12 Apostles will look great from sunrise to sunset!
SUMMER TRAVEL TIPS
As you travel north, you can expect the humidity to rise along with the temperature - so make sure your camper or car is always stocked with plenty of water and you're reapplying sunscreen!
Summer is also stinger jellyfish season in Queensland. Combined that with VERY hot weather and it's not the best time to visit - try going to the beaches up north in winter instead.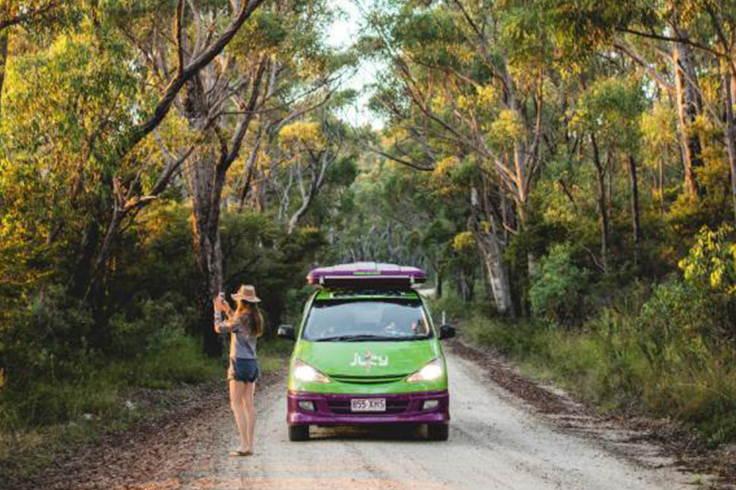 AUTUMN: MARCH TO MAY
One of the best things about travelling Australia in autumn is that you can expect a much quieter and cheaper experience than summer! With kids back to school and most holiday-makers going back home, you'll find cheaper nightly prices for campsites, less crowded beaches, and generally a much slower-paced and relaxed atmosphere around.
WEATHER
Autumn brings shorter days, the end of Daylight Savings and cooler temperatures. Brisbane is still a toasty 24°C around this time of year, which makes it more comfortable to explore the northern regions than in peak summer. Adelaide and Sydney hover around 22°C, while Melbourne cools down to as low as 16°C. Autumn also sees some of the highest average rainfall in Melbourne and Sydney.
AUTUMN DESTINATIONS
It's a great time to explore some of the South Australian Outback. With cooler evenings, but bright and sunny daytime temperatures, you can easily hike and explore the Flinders Ranges and surrounds.
If you love comedy, you may want to head towards Adelaide - the annual Fringe Festival is a well-loved event that draws in crowds each year, but with around 1,200 creative events hosted in the city, you're bound to find some great shows to attend, and some at really cheap prices, or completely free.
Autumn is also one of the best times to visit Australia's wine regions. From The Barossa and Clare Valley outside of Adelaide, the Yarra Valley in Victoria, and the Hunter Valley just two and a half hours drive outside of Sydney, you won't find it difficult to fall in love with Australian wines! Just rent a bike or book a wine tour to take you to some of the local cellar doors of the region where you can learn more and taste test some of the best wines Australia has to offer.
AUTUMN TRAVEL TIPS
Early autumn is the best time to visit Australia if you want to avoid the worst of the summer crowds but still soak up long, sunny days (Daylight Savings usually ends in late March or early April).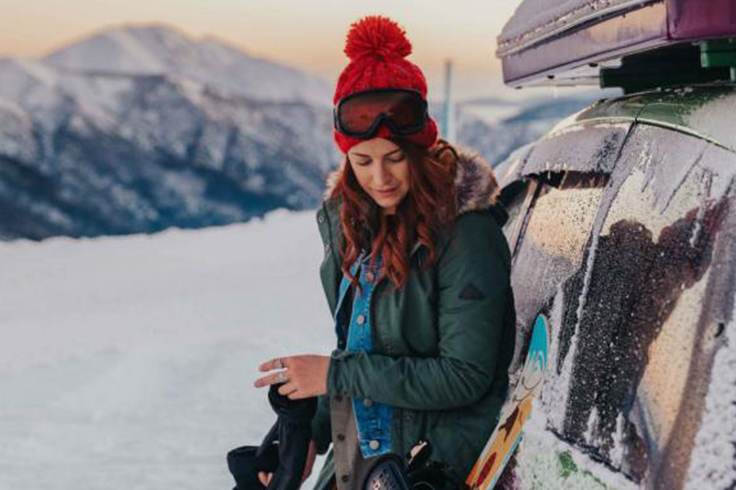 WINTER: JUNE TO AUGUST
Winter in Australia brings a good dusting to the Snowy Mountains, and cool dry days to the far north. It's a great time to get involved in winter sports or migrate up to Queensland to enjoy the tropical regions when they are jellyfish- and monsoon-free.
WEATHER
June to August is northern Queensland's dry season. Over winter, the weather is warm and sunny (without being unbearably hot) and rainfall is at its lowest. Further south, Melbourne can be chilly and grey over winter, with temperatures dropping to as low as 6°C. That might not sound cold if you're used to European winters, but it's considered freezing for Aussies! If you're averse to cold, wet weather, steer clear of Melbourne. Sydney fares a little better, with temperatures only dropping to between 10-17°C.
Outside of the mountainous regions in NSW, snowfall is rare.
WINTER TRAVEL DESTINATIONS
Did you know that you can ski and snowboard in Australia? If you want to catch some good snow while visiting Australia in winter, head straight to The Snowy Mountains!
As the name suggests, the snow-capped mountain range spans from Canberra to the south across Monaro Park and are best viewed in a self-drive car or camper tour! While it won't be quite the same as some of the world-class ski slopes in neighbouring New Zealand, if you get the call from the mountains in winter, head straight to "the Snowies"!
Winter is also packed full of festivals - from Sydney's festival of lights, Vivid, to Byron Bay's famous Splendour on the Grass music festival, you'll have plenty of events to choose from.
And with the cooler climate, it's the perfect time to visit Australia's Red Centre - Uluru and Alice Springs enjoy sun-filled days around 18-22°C, but with nighttime lows of 1-2°C, make sure you rug up well if you're camping!
WINTER TRAVEL TIPS
Winter is the best time to visit the Great Barrier Reef and Cape Tribulation. Tropical North Queensland is divided into dry and wet seasons, so avoid the soggy, sweaty months and go between June and August.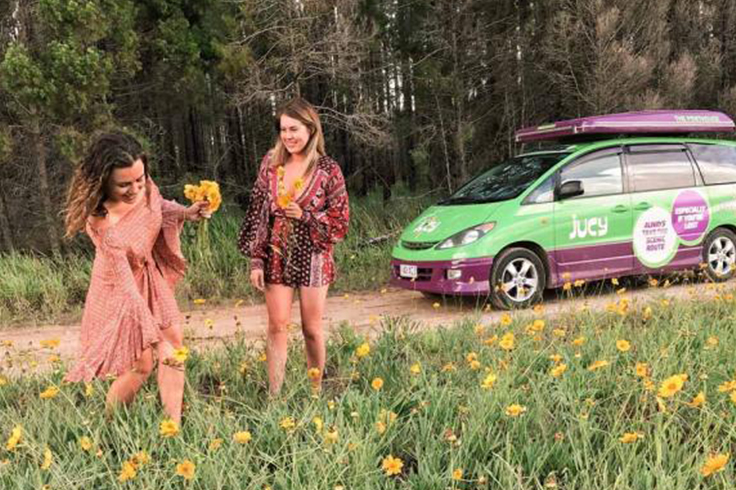 SPRING: SEPTEMBER TO NOVEMBER
Another great shoulder season to explore Australia in, spring is great if you want to enjoy the great, wild outdoors!
SPRING WEATHER
Spring weather in Australia is pleasant and mild. In Sydney and Melbourne temperatures climb and sit comfortably around the 20-22°C mark on sunny days. Minimum temperatures can dip to 13°C though. Queensland is its usual hot self, at roughly 18-25°C. This is also the beginning of the wet season up north, so you can expect some heavy spring rains.
If you're heading into the desert regions of Australia in spring, the days will be warm and sunny but the nights can still drop to less than 10°C, so make sure you pack enough warm clothes for the evenings.
SPRING TRAVEL DESTINATIONS
Without having to worry about scorching temperatures or the bustling crowds of the summer, you might want to head to some of Australia's best national parks and mountain ranges.
The Blue Mountains in NSW is great all year round, but in spring you can really enjoy the vast forests coming to life again after winter. Similarly, Victoria's Grampian region is perfect if you want to do longer overnight hikes or explore some of the amazing waterfalls in the national park.
Springtime is also the best time to spot some whales off the coast of Queensland! As humpback whales make their way up the coast as part of their migration patterns, they come in close to North Stradbroke Island and Moreton Island off the coast of Brisbane. Just remember to pack some binoculars and enjoy a road trip break from one of the lookouts on land!
SPRING TRAVEL TIPS
Spring is the time of year with the fewest public holidays. That's not great news if you're working in Australia, but if you're planning longer-term travel it can be a good thing - public holidays are usually the busiest and most expensive times to travel. No publicly recognised holidays means you won't have to worry about planning too far in advance in spring!
Hopefully, we'll have helped you decide when the best time to visit Australia is for you - there's something for every traveller during every season. Regardless of when you're planning your next road trip, you'll find tonnes of great activities, events and places to visit around Australia's vast landscape.
NOW IS THE PERFECT TIME TO GO TO AUSTRALIA! BOOK YOUR JUCY ROAD TRIP NOW