Extend Your Summer With 10% Off Star RV!
Summer keeps on rolling with Star RV! Our bigger motorhome mates, Star RV are letting the good times roll with 10% off Star RV Australian road trips.
Star RV is for those who are looking for something a little more. We heard you when you told us of your growing families and bigger friend networks (and that some of you wanted to splurge). You will enjoy the feel of freedom with Star RV's comfortable vehicles, with space for the whole family. Well, hurrah, Star RV's offering perfectly complements JUCY vehicles.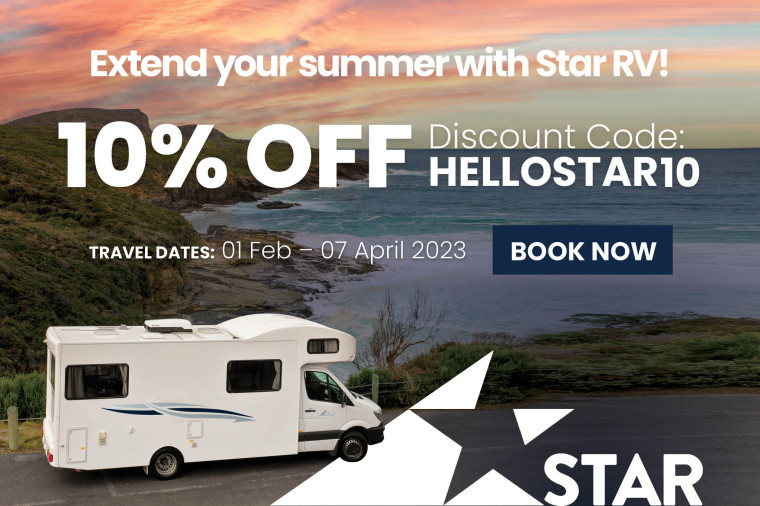 Promo Details
The Deal: 10% Off all Star RV Motorhomes
Vehicles: Polaris 6
Booking Dates: 24th January 2023 - 28th February 2023
Travel Dates: 1st February 2023 - 7th April 2023
Locations: Perth, Hobart, Cairns, Brisbane, Sydney, Melbourne Airport, Adelaide
Yes, you can supersize your happy right away, especially as we're offering you 10% for Australian bookings made from now until the end of February.
Pick up and drop off at our Perth, Hobart, Cairns, Brisbane, Sydney, and Melbourne Airport branches, allowing you access to the best of Australia's sights, attractions, and once-in-a-lifetime experiences. Book between now and 28 February 2023 for travel 1 February to 7 April 2023.
BOOKING CONDITIONS
This promo code HELLOSTAR10 must be used at the time of a new booking and can't be applied retrospectively. It only applies to bookings made directly with Star RV and is subject to availability. Bookings are to be made directly with Star RV or on the JUCY website. This discount does not apply to excess reduction products or any extras. Offer cannot be used in conjunction with any other Star RV offer. Booking and travel must be within the dates specified. Standard Star RV Terms and conditions apply.
Thanking your lucky stars for this epic news and ready to make a booking? BOOK NOW or call +64 9600 08 05 to talk to Star RV Staff.