About JUCY
If there's one thing that JUCY does well, it's road trips. We're the go-to experience-driven campervan and car rental brand for adventurous people everywhere. At JUCY, we are on mission to help you find your happy!
OUR HISTORY
Our purpose at JUCY has always been and always will be about your journey: giving you the green light to (re)discover happiness. We're all about enabling experience seekers (that's you!) to have the adventure of a lifetime while weaving in our core values of passion, pride, family, and fun. That's why you'll find us green and bold (why fit in when you were born to stand out?) and why we're so committed to your total road trip experience beyond simply renting you a vehicle.
Today the JUCY Business is headed up by CEO Dan Alpe. Dan along with his brother Tim started the business back in 2001 with 35 cars, a whiteboard, and a desire to give you the green light to have the time of your life. Oh, and a little rental-industry know-how from motorhome tourism industry legend Chris Alpe (Dad), and travel agency owner, Bob Alpe (Grandad).
OUR VEHICLES
JUCY's 35 vehicles soon became 150, custom-built campervans accompanied cars, positioning JUCY to shake up the rental vehicle industry. Our Cabana was the first green and purple campervan in New Zealand, a move that got JUCY noticed on the streets. Our bold and recognisable branding soon fostered a community of like-minded travellers who naturally gravitate to each other at campgrounds and out on the roads across New Zealand and Australia.
Our love of a spontaneous right turn (i.e., our passion for innovation) is how JUCY launched in the US and Canada, along Milford Sound cruise boats and opened award-winning accommodation. Today, we have over 3,000 JUCY vehicles and 10 JUCY locations across Australasia. Plus, our ever-present and fearless leader, Dan continues to show our 150+ crew and customers how to live JUCY. We have welcomed travellers from over 150 countries, and we cannot wait to welcome road trip lovin' adventurers from countless more.
OUR AWARDS
Over the years, we're stoked to have been recognised for our distinctive JUCY experience and our connection to our customers. We've won a ton of awards, including our faves like the Golden Backpacker Awards (x8!) and the people's-choice '20 and '21 NZ Reader Digest Quality Service Awards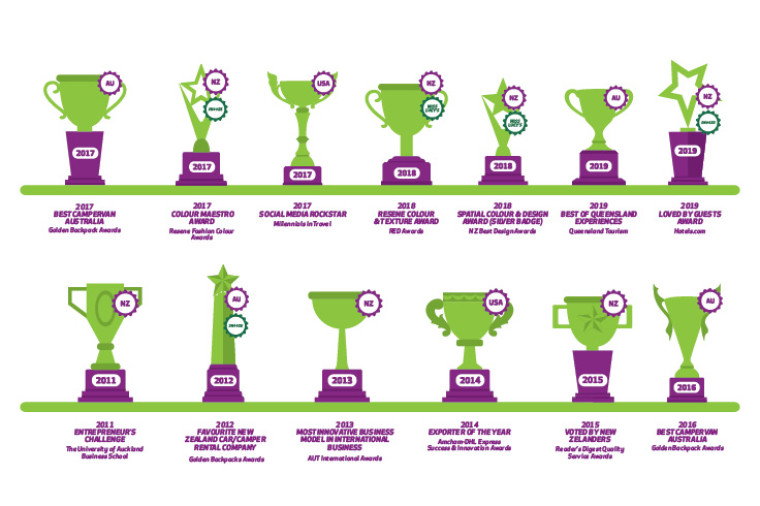 JUCY GIVES
At JUCY, we're passionate about responsible tourism, too. We've been contributing to carbon reduction programs for years, and we frequently support local communities and charities along the way via our JUCY Gives NZ and AU initiatives. As we forge purposeful travel initiatives on the road ahead, we're single-minded about keeping a positive legacy. Our goal is to lower our impact and preserve the environments we operate in, as well as build more sustainable vehicles and we're hot on the research trail for lower-emitting vehicles to add to our fleet.
#JUCYMOMENTS
Head to New Zealand and Australia's most far-flung corners with your loved ones, besties, or solo knowing that we'll be the first to help you out. Whether that's with our thoughtful jam-packed itineraries, inspirational #JUCYMOMENTS, or great activity deals will depend on what you need for that trip of a lifetime, big or small.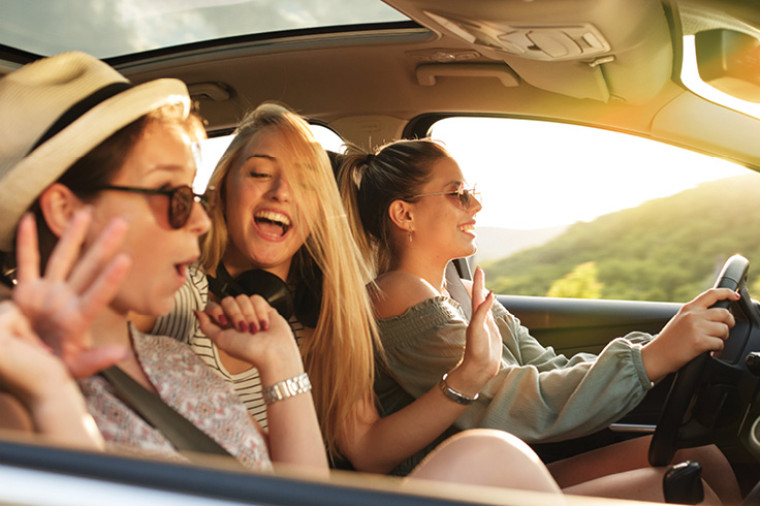 Are you looking to find your happy? Your JUCY adventure starts here. Click the BOOK NOW button above, connect with us on our socials, or give us a buzz on 0800 399 736 (NZ) 1800 150 850 (AU) or +64 9 3744360 (international).
We can't wait until you road trip with us!