About JUCY
At JUCY, we stand for being adventurous, enthusiastic, playful, big-hearted and social. With our products and services, we aim to give travellers the green light to have the time of their lives!
OUR HISTORY
JUCY started in 2001 in Auckland, New Zealand with a fleet of just 35 rental cars. Today we operate 1000's of cars and campervans across Australia and New Zealand.
Following a decade of huge growth, the business is now part of the Polar Capital Group, presenting all sorts of interesting opportunities to support future growth. The business is still run by Dan Alpe, one of the original founders.
OUR BRAND
Our bright and fun brand is a household name in Australasia – and we're on a mission to paint the rest of the world green and purple!
Social media connects us to a community of travellers. We currently have more than 93,000 Facebook fans, over 25,000 Instagram and over 11 million YouTube views.
OUR VEHICLES
We're best known for our range of innovative green and purple campervans. We design and build them ourselves in our own manufacturing division in Auckland called JUCY BY Design. This way, we can control quality and function right from the outset.
Any good JUCY road trip starts with any one of our great cars or campers. But, we don't just give people vehicles, we give our customers the power to hit the road and the freedom to explore anywhere!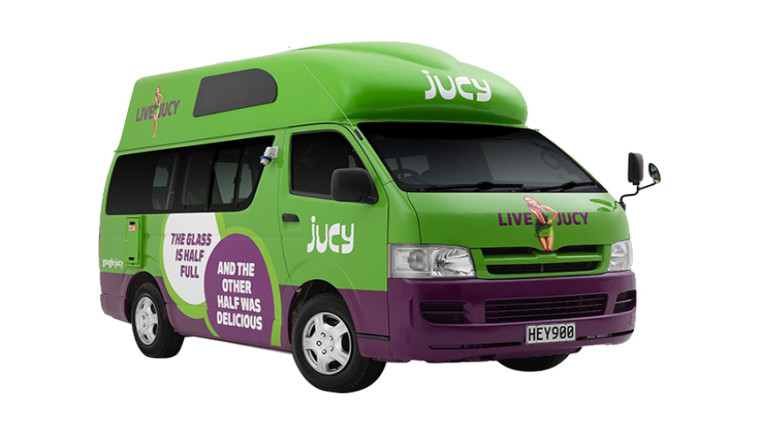 OUR CUSTOMERS
We're the brand of choice for adventurous travellers. Whether you're young, or just young at heart, you'll love living JUCY.
When you choose JUCY, you'll receive a safe and reliable vehicle, exceptional and friendly customer service, special deals on activities and loads of other epic perks to ensure your journey is awesome, from start to finish!
OUR STAFF
JUCY has over 400 awesome crew members, focused on delivering the ultimate customer experience. JUCY staff are well-travelled, passionate, friendly and knowledgeable. Everyone lives and breathes our values everyday – Fun, Family, Passion, Pride.