Excess reduction
The Excess Reduction Cover options vary by vehicle category. For each category, we have a range of options for maximum flexibility. The amount of excess in the event of an accident varies according to the daily rate you choose, so you get to pick how much coverage you want.
Like any cover, however, there are exclusions. To find out more about these exclusions, see section six of our terms and conditions.
Our excess reduction options recently changed, so the options and inclusions available to you will depend on when you book, and when you travel. To see which option applies to you, look at booking and travel dates, as well as the type of vehicle.
CAMPERVAN EXCESS REDUCTION OPTIONS:

CHASER & CONDO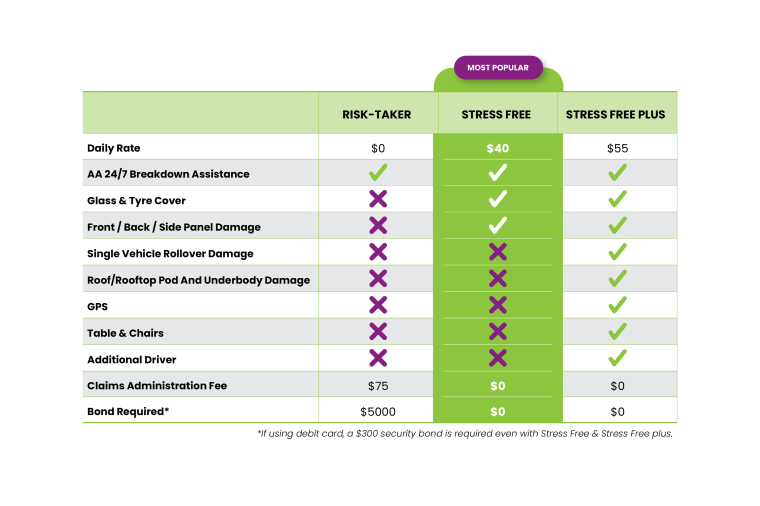 CRIB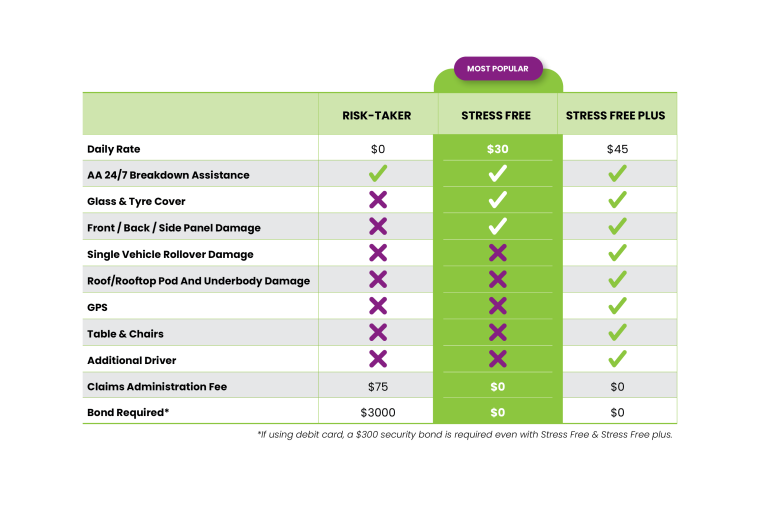 CAR EXCESS REDUCTION OPTIONS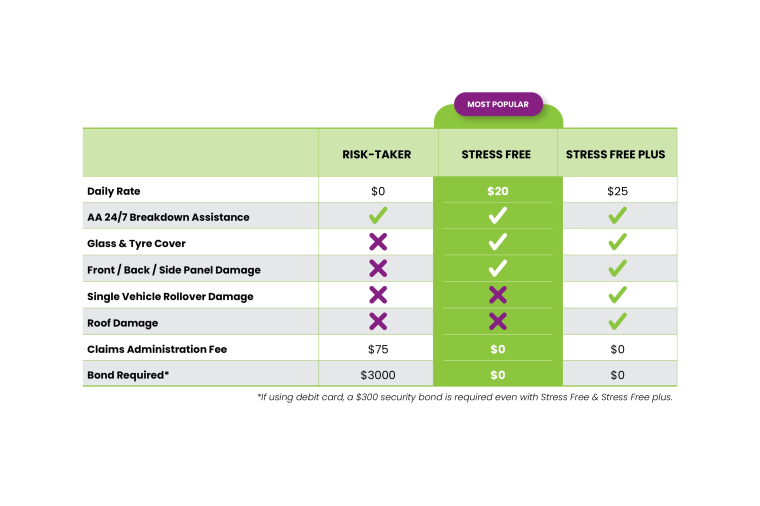 *If using a debit card, a $300 security bond is required even with Stress Free & Stress Free plus. Please see Section 5 of Terms & Conditions for more info.
A FEW THINGS TO NOTE
For hires of 51 days and over, a maximum of 50 days excess reduction premium will be charged.
It is your responsibility to collect accurate third party details in the event of an accident, regardless of what excess reduction cover you have taken, and regardless also of fault.
If Stress Free Plus excess reduction is not taken, and roof/rooftop pod damage or single vehicle rollover incident occurs, a charge of up to $5,000 will apply to cover damage to the JUCY vehicle and any third party vehicle and/or property.
If Risk Taker excess reduction is chosen:

A bond to cover the excess will be authorised for security on the hirer's credit card, even if you have alternative insurance with another provider.
All or part of this bond will be claimed by JUCY in the event of an accident and will be retained until the value of the damage is determined. Any balance between the bond and the damage cost will be returned as soon as is practical.
Any costs to repair damage caused by a third party may not be recoverable as insurance is not compulsory in New Zealand.

If you are on Stress Free or Stress Free plus and don't have a credit card and are providing a debit card at the time of pickup, JUCY will hold a $300 security bond to cover any infringements and/or charges that may occur whilst on hire e.g. Tolls, speeding fines, cleaning fees, camping fines etc.

JUCY's excess reduction options are null and void if any of the Rental Agreement terms and conditions are breached, in which case you will be liable for the full cost of damage. For more information please see JUCY T&Cs.

Please know that the bond we have authorized will automatically be released (if you haven't broken any JUCY T&Cs) e

ither 7 days after you've picked up or 48 hours after you've dropped off– whichever is the earliest. You could notice it takes between 7 - 30 business days to show back up, which is all depending on your bank/card provider. Please note that once it's back safely in your bank it won't appear as a refund on your statement because it was only held as an authorisation.