Get inspired in your JUCY campervan
Wild mountain scenery that draws your breath. Quaint and quirky country towns with locals that wave as you pass. Dolphins and whales frolic off the coast as you set up your camper for the night. The Milky Way as bright as you've ever seen, accompanied by a late-night snack from your campervan kitchen. All this is not only possible in a JUCY campervan, but the norm. Check out our Instagram, and you'll see for yourself. Even better? Book your New Zealand campervan and tag us #jucyworld so we can see how you're Living JUCY in your camper.
We're legit crazy about road trips. It started nearly 20 years ago, so we'll call it a healthy obsession to make roadies our 'thing'. We're passionate about sharing our travel know-how, too. That's why you'll find this page filled with destination inspiration, campervan experiences, and itineraries to follow (or adapt). We even have some sweet campervan recipes for those magical Milky Way moments. Enjoy!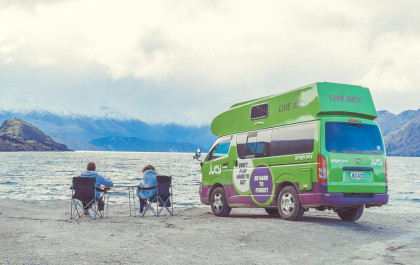 Good food complements a great road trip, so read our handy guide to the 7 famous New Zealand foods (and drinks) to try on your Kiwi travels! When you road trip New…
Explore New Zealand your way in our custom-built campervans