5 Night Rejuvenating South Island Wellness Road Trip
Ready to take some time out and let your soul breathe on a blissful road trip?
We've got the perfect 5-night itinerary taking you to the most wellness worthy locations in the South Island of New Zealand. Sunset spots, nature walks, hot pools, yoga studios, crystal shops, wilderness and fresh mountain air are all here for you to explore. Just be sure to pack your togs, there are lots of hot pool soaking options here!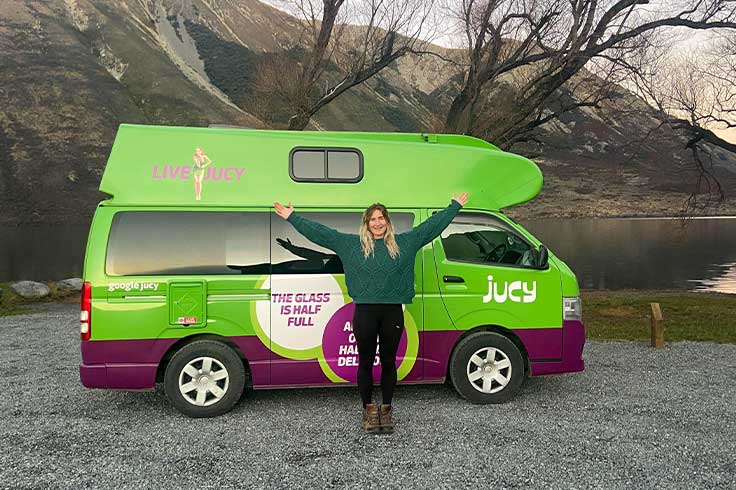 Day 1: Christchurch - Hokitika
Any good campervan hire requires multiple stops at noteworthy locations and this trip is no different! Once you've got your JUCY companion from our Christchurch airport depot there is a stunning 3-hour 15-minute journey through Arthurs Pass and over to the rainforest filled West Coast ahead.
The first place you might like to pop out of the van along the way is Lake Pearson. A perfect photo spot set below towering mountains. On a good day, you can see the mountains reflected in the calm water. Also, if you like bird gazing this is the place to do it. As well as camping if you feel like it!
Not far up the road, you will find the Castle Hill rocks. It's quite an obvious stop on your left-hand side just past the village. Maori appreciated the place had a special magic and as you walk around we think you will agree. The limestone rocks have been around for centuries and are incredible to look at. Take photos, wander, go bouldering (if that's your thing), immerse yourself in the surroundings. This trip is all about taking you away from the hustle and bustle of your busy life!
It's also about soaking up the sights and letting your soul breathe. There is no better place to do this than stopping at Arthurs Pass where vast mountains, steep gorges and old beech forest greet you. Waterfall chasing is the name of the game here. A beautiful option is the 131m Devils Punchbowl waterfall just a 1-hour return walk from the village.
Rejuvenated and refreshed pop back to your JUCY campervan rental and enjoy the drive over to Hokitika. Depending on the time you set off it's likely you will arrive here late afternoon. A stroll along the beach to catch the sunset, a snap with the driftwood Hokitika sign, wine and pizza at Fat Pipis on the shorefront finishes off your day!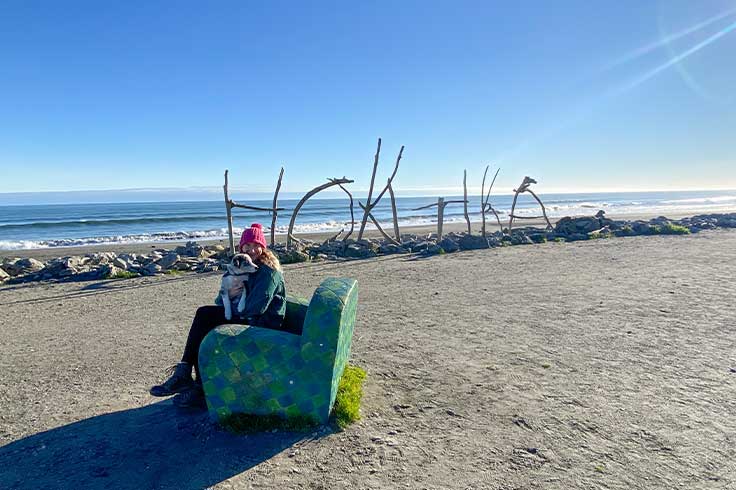 You're on the West Coast so you want to wake up to the sound of the waves crashing on the shore, right? There are a few different options to park up for the night. Check out Seaview Lodge & Campground for a retro and laid back spot. You can even watch the sunset from your camper, bliss!
Day 2: Hokitika - Franz Josef
If you've woken up on a Saturday morning you're in luck. The Revell Street indoor market is a perfect place to begin your day and grab some fresh produce and knick-knacks to accompany you on your 1-hour 45-minute journey. If not, no worries, there are cafe options around the town centre or a supermarket to get your supplies.
If you're into crystals and woo-woo type of things, pop into Crystal Envision to grab yourself a wee gem or quirky plant pot hanger. Perhaps you even found some Pounamu while wandering on the beach. You might like to head into Bonz'N' Stonz Carving Studio to make some jewellery.
Now, for an extreme dose of serenity. The 'must do' Hokitika Gorge. It's located 33kms from the town but absolutely worth the drive out. The water is as blue as you see in photos as long as you go when there hasn't been significant rainfall. If you're feeling like a picnic on your way back to town take a little trip to the peaceful glacier-fed Lake Kaniere.
Nothing is better to ground you in the present moment than walking barefoot with the sand between your toes. Next on your trip is a picturesque drive down to Okarito. One of the most remarkable sunset spots. Okarito is a small seaside batch type settlement. It is bordered by the ocean, an estuary and sea cliffs 15 km north of Franz Josef township. On the beach, there is a seesaw made out of wood as well as a swing to bring out your inner child.
Hello, hot tub! Finish your day by staying at the tranquil Rainforest Retreat in Franz Josef (dog friendly too - Yes, JUCY does have dog-friendly campervans!). Time and stress will slip away while you enjoy the surroundings. Don't worry about cooking tonight, dine in at Monsoon, their onsite restaurant and bar.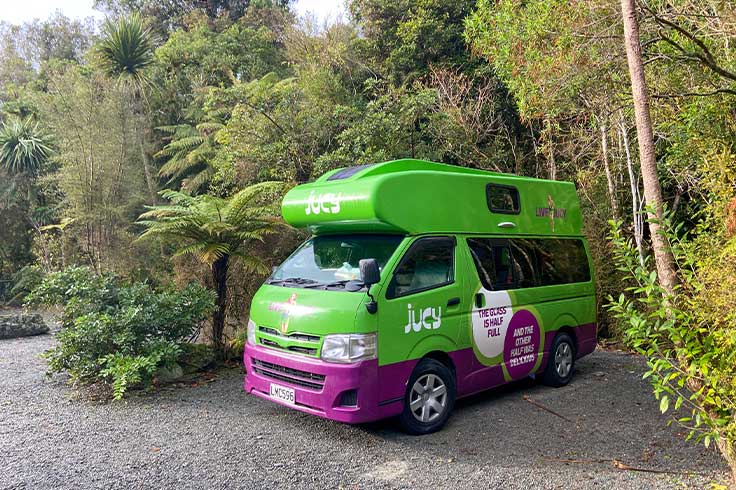 Day 3: Franz Josef- Wanaka
There are quite a few options for you today on your 3 and a half-hour drive. But nothing makes you feel more warm and fuzzy inside than seeing cute animals. And at the West Coast Wildlife Centre, you get to do just that. Meet the rarest kiwi in New Zealand, the Rowi. Also, if you're keen to splash some cash grab a flight onto the Franz or Fox glacier for an experience of a lifetime. If you brought any problems along with you on your trip they will be wished away with a flight onto the glacier.
If you didn't opt for a glacier flight then the first stop as you leave the Franz Josef township is the glacier walk. There are literally breathtaking views at every turn. But it's also a great place to again realise how small your problems really are. The retreat of the glacier is dramatic and it's hard to imagine that it used to extend to where you stand.
Next up is the beautiful Lake Matheson to enjoy nature's beauty. Lake Matheson is well known for the reflection of Mount Cook on a good day. But apart from that, there is a tiered wooden platform on the walk dedicated to reflecting and pondering. There are thoughtful quotes along the platform to get you thinking. . It's the perfect spot to let your mind go and immerse yourself in one of the most scenic settings in the country.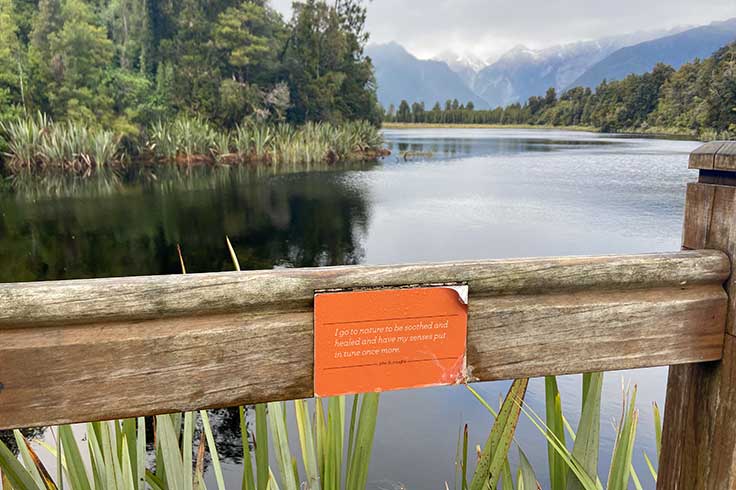 Be sure to grab some lunch and a coffee at the onsite cafe. Or, if you've packed a picnic lunch, a nice spot with calm water bordered by mountains is Lake Paringa. It's on the way to Haast Pass (you can also camp here).
The Haast Pass is a breathtaking journey next to cascading waterfalls and dense rainforest. Some stops to take along the way include:
There is a viewing platform for an awesome photo. Ready to relax? When you arrive in Wanaka a budget-friendly spot to stay is Albert Town Campground. There is a serene walk you can take in the morning up Deans Bank that overlooks the turquoise Clutha river. It's also a nice and spacious campground, and you can even camp underneath the trees next to the river. But, before you park up for the night, pop into Freshlink Wanaka or the Mediterranean Market to get some nutritious supplies for tonight's dinner in the van. Or, if you're not into cooking, no worries. Try Big Fig for a slow-cooked meal served up fast!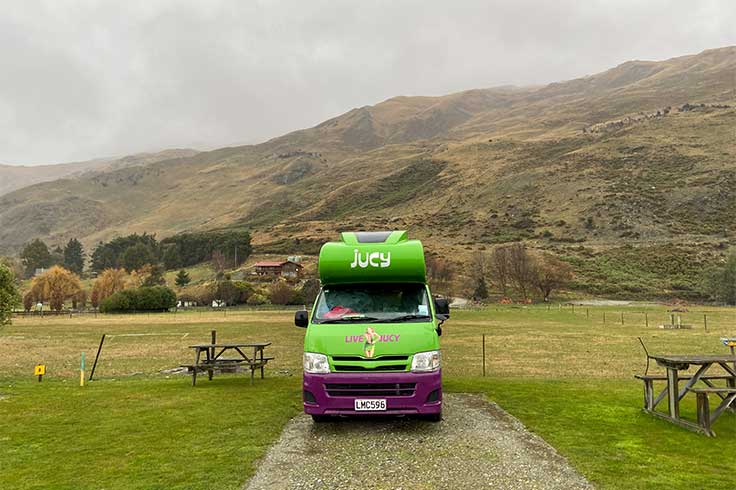 Alternatively, if you're keen for a hot shower and some amenities, stay at Mt Aspiring Holiday Park for a stunning spot underneath the mountains with all the facilities you need.


Day 4: Wanaka- Queenstown
This is the shortest trip of your journey, just over 1 hour via the Crown Range. But first, it's time to get to know Wanaka. If you weren't in the town already, wander along the waterfront after you pick up a healthy and nutritious breakfast from Dripping Bowl. If you've ever wanted to try a mushroom coffee, now is your chance.
If you feel like flexing those muscles try a yoga class at Hot Yoga Fusion. Hot Yoga is awesome for detoxification and of course great for focusing the mind. They have a variety of options and you can rent a mat if you don't have one with you. Check out their schedule and hopefully, you find a class that lines up with your trip, no bookings required!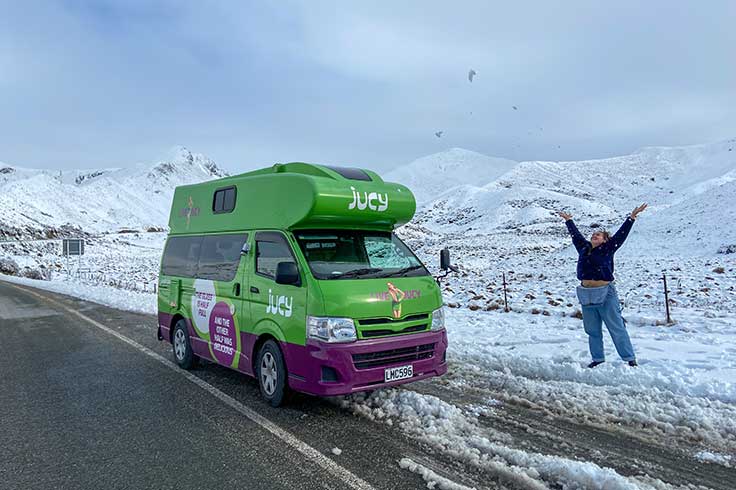 Next on the list is a trip to the Wanaka Lavender Farm for a frolic around the fields (if they are in bloom). Nothing is more relaxing than smelling lavender right? They also have a cafe featuring lavender ice cream! Or grab yourself a cup of herbal tea and a wee treat from the gift shop.
When you're ready make your way to Queenstown via one of the most impressive drives in the country. The Crown Range has incredible vistas of tussock valley and the surrounding mountains. (Take care if driving in winter). Although a beverage may be contrary to your wellness travel you may like to stop at the famous Cardrona Hotel for a mulled wine (in winter) or bevvie.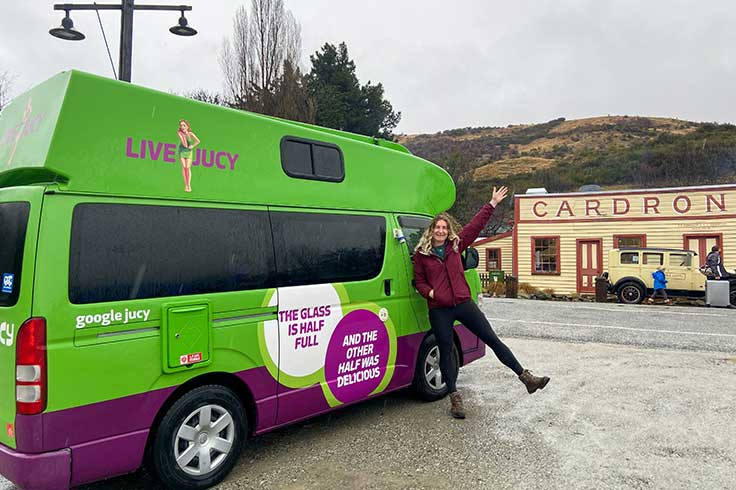 When in Queenstown, you deserve to treat yourself to a spa experience - Onsen Hot Pools is a luxury option but they must be booked in advance. If you can't get in then there are plenty of other options for you. Try the spa at Nugget Point for a Roman spa experience or a manuka honey facial at Body Sanctum.
If nature walks are your thing either before or after your spa treatment head down for a short walk to Bob's Cove. It really is a tranquil setting out of the hustle and bustle of Queenstown through thick native forest that takes you to a different angle of Lake Wakatipu. The water here is astonishingly clear and blue. Wander to the Jetty as the water is more of a deep blue on that side. Bonus! It's dog friendly if you are travelling with your doggo!
You have a few options to camp tonight depending on your desires. But to get off the grid 12 Mile Delta is an awesome place to camp and you can take an evening stroll around the regenerating forest and Lake Wakatipu. You can cook in your van tonight if you please after getting some fresh produce from Raeward Fresh or, take your pick of one of the many eateries in town! A few ideas to get you started including a gourmet giant burger from Ferg Burger, an authentic Mexican taco from Taco Medic or Atlas Beer Cafe for a tapa and a beer.


Day 5: Queenstown - Lake Pukaki
Wake up slowly amongst the beautiful shores of Lake Wakatipu and take a stroll with your morning coffee if you didn't yesterday. If you brought your yoga mat, why not take a spot of morning yoga on the shore. Once you're done head into Bespoke Kitchen in Queenstown for a healthy and nutritious bite to start the day.
Then head on your scenic drive to tonight's free camping spot at Lake Pukaki via Mount Cook- Just make sure to grab supplies for tonight's dinner from one of the supermarket options mentioned yesterday. Your drive today is 2 hours to Lake Pukaki and another 1 hour 30 minutes in and out of Mount Cook. Along the way, it's almost compulsory to stop at the Omarama Hot Tubs for a private and relaxing soak! You deserve it! Either before or after your visit to the Clay Cliffs which are unique silt pinnacles formed over a million years ago by the flow of ancient glaciers.

Then you are ready to take the drive to Mount Cook. Depending on the time you get here will depend on what you can do. But most likely a stop at New Zealand Alpine Lavender along the way (when they are in bloom) for ice cream and a gift if you didn't do that in Wanaka. When you arrive in the alpine village, take a short walk if you please. One of the most iconic is the Hooker Valley. To make you really feel alive, dip your toes in the glacier water at Lake
Hooker!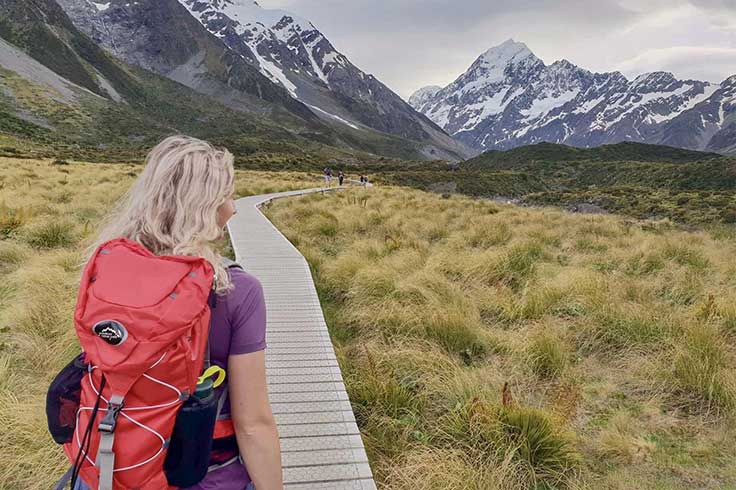 Lake Pukaki Reserve awaits where you will set up for the night and cook in the van. Some easy healthy options you might like to make could be a peanut stir fry, veggie burger or mushroom pasta topped off with a cheeky red wine (because wine not!).


Day 6: Lake Pukaki- Christchurch
It's your last day in your campervan rental! Start your 3 and a half-hour drive today with a cooked breakfast in the van overlooking the turquoise blue waters of Lake Pukaki. (Bagels with avo and cream cheese are always good!) Then head for a soak in the famous Tekapo Springs Hot Pools. The pools are designed and shaped after the nearby lakes Ohau, Pukaki and Tekapo.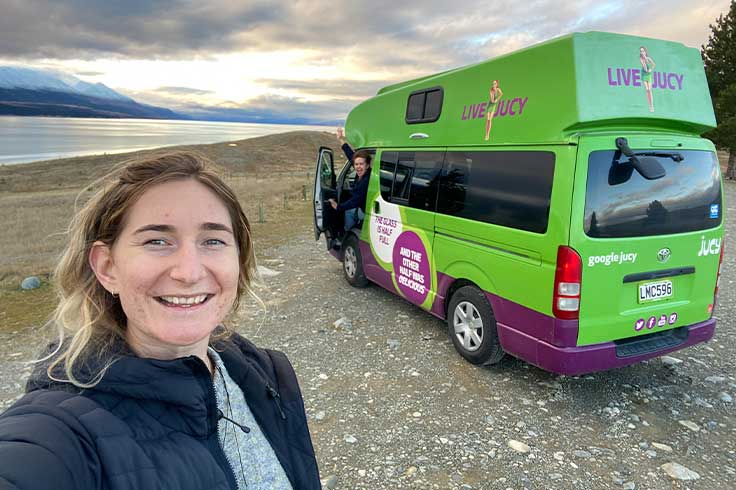 Temperatures range from 36.5 to 38.5 degrees Celsius so you are sure to find something that suits you. Not only are the pools luxurious but so are the views of Lake Tekapo, pine forest and surrounding mountain ranges. The ultimate wellness experience.
Whether you opted for a van brekkie or not, I bet you're keen for a bite to eat and nothing beats a damn good burger from Our Dog Friday. Or, save yourself for a giant Fairlie Bakehouse pie. Your roadie is almost coming to an end as you pass through the quiet town of Geraldine. Treat yourself to some delicious chutney and a coffee from Barkers Foodstore & Eatery and make your way down the inland scenic route to Christchurch, a blissful picturesque drive to end your wellness roadie.
It's time to part ways and return your JUCY companion back to our depot in Christchurch. But we are sure your wellness levels have been boosted and the mindful vibes from your campervan rental trip will last a long time once you're home!

Has reading this got you pumped for some wellness add-ons to a JUCY road trip? Sweet as, sounds like a South Island wellness road trip is just what the naturopath ordered. Our JUCY crew are ready to get your destress mission underway.
Give us a call on 0800 399 736 to get your trip booked in or book NOW! Breathe in yes, breathe out stress.