Auckland Wellness Road Trips
5 Wellness Road Trip Days Out from Auckland
Planning a North Island roadie and want to weave some self-care in your trip? We share the best Auckland wellness road trip add-ons.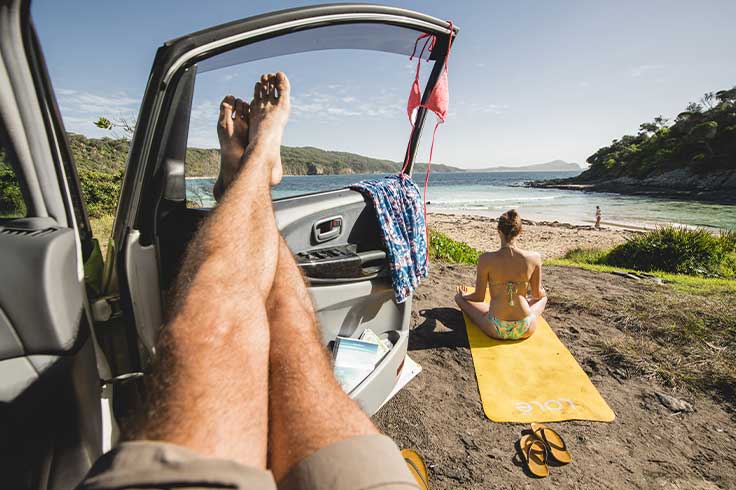 Road trips have an uncanny ability to loosen tense shoulders and soothe overloaded souls. Especially when you road trip New Zealand: the entire country's scenery is as good looking as the cast of Thor.
We know from 20 years of organising fun road trips that Aotearoa's scenery and outdoor activities are wellness escapades in themselves. But what happens when you create an itinerary that upgrades your wellbeing opportunities alongside New Zealand's world-class destinations?
A Zen-like mind, an unfrazzled persona, a body as un-tense and gooey as the middle of a Freddo Caramello, that's what. And who wouldn't want some of that? And no crazy retreat centre price tag!
As we know that mindfulness matters (and that sharing is caring), we've decided to reveal our 'research findings' (any excuse for a road trip, eh boss?) and our top five Auckland wellness road trips.
Ommmm we go.
Waiheke Island

You don't need to go far out of Auckland to get a wellness fix. Just a car ferry ride across the Hauraki Gulf, and you're on Auckland equivalent to Oahu: chill-as Waiheke Island.
Start the day with a visit to the Waiheke Ostend Markets. Here a mish-mash of stalls gives you a chance to grab some delectable treats (locally grown olives FTW) for your JUCY campervan fridge.
On an island as scenic as this one, a walk or hike is ideal for taking in the sights and island vibes. We're fans of an on-foot exploration of Whakanewha Regional Park on the southern side of Waiheke Island. Verdant coastal forests and cascading streams provide that wilderness selfie backdrop that looks so exotic you could pretend you'd boarded an international flight this year. Allow 2.5 hours for the Nikau or Park Walk Tracks; for a low-key stroll, Park Walk or Pā Loop Track take around 30-minutes.
Terra and Tide run wellness-focused eco-walks if you'd like to gain a local's perspective of Waiheke Island and all it has to offer.
For a post-walk reward, consider booking a massage for your ultimate relaxing pleasure. Every knot that leaves your body during the Waihehe Massage takes with it one of your cares in the world.
Could we consider wine an Auckland wellness road trip staple? Asking for a friend. What we do know is that it's a fruit, so it's in that 5-a-day thingy. And we also know "everything in moderation". This is why we're adamant that a winery tour or an indulgent vineyard lunch is as 'wellness' as Connect Studio's detoxifying infrared sauna. There are 30 Waiheke wineries btw, so you could be there a long while to check them all out.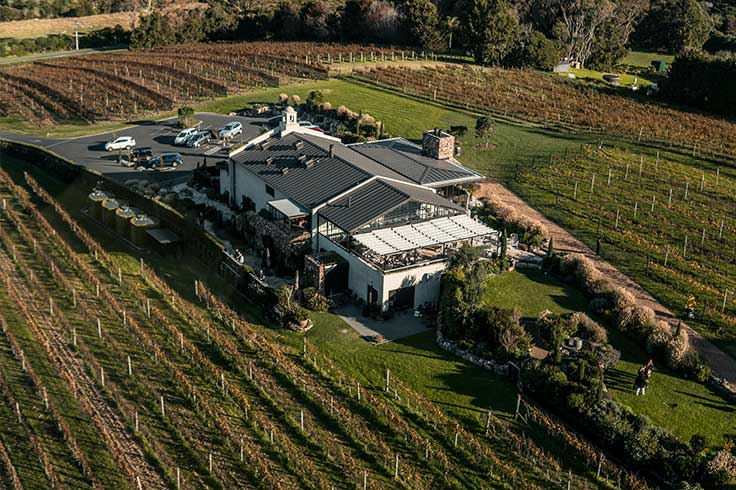 As we recommend you camp at Poukaraka Flats, close to Whakanewha Regional Park, we also suggest boutique Destiny Wines. You can walk there from your JUCY camp. Alternatively, consider a winery tour, so no one needs to be the designated sober driver.
Waiheke Island recently applied for its Dark Sky accreditation. All thanks to their expansive night sky and lack of light pollution on the island. Just because the application's still pending doesn't mean you can't enjoy a million-star night view right now. And the great thing? Stargazing from your JUCY camper means hot choccie and toasted marshmallows accompany the shooting stars you spot
rotorua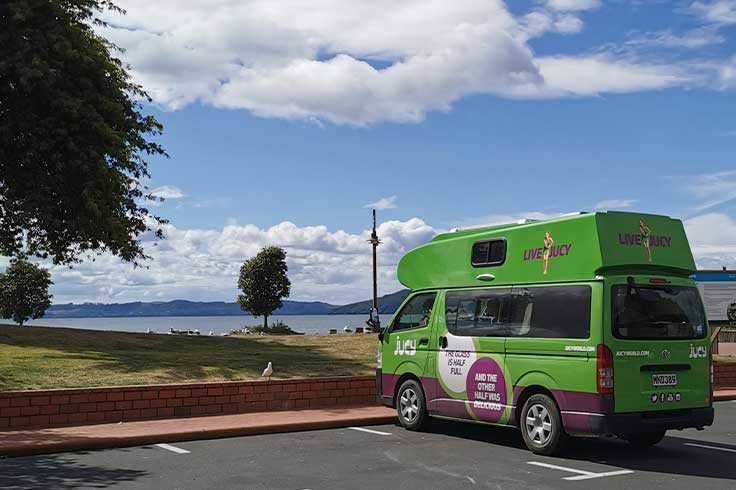 If there was one place to go all-in on an Auckland wellness road trip, it's Rotorua. You could easily spend three days doing wellness-inspired activities here and practically float back to our Auckland Airport branch.
Take a little pre-Rotorua detour to the how-did-I-not-know-this-was-here crystal waters at the Blue Springs. Postcard-perfect, take a walk along the Te Waihou Walkway to get the best views (and humble-brag snaps). It's 45 minutes from Blue Springs to Rotorua.
Once in Rotorua, you'll be spoilt for wellness-related choices. Of course, you'll want to enjoy the mineral-rich mud and geothermal waters at the Polynesian Spa. However, if you'd prefer something more low key, the Secret Spot offers cedar hot tubs in the Waipa Valley.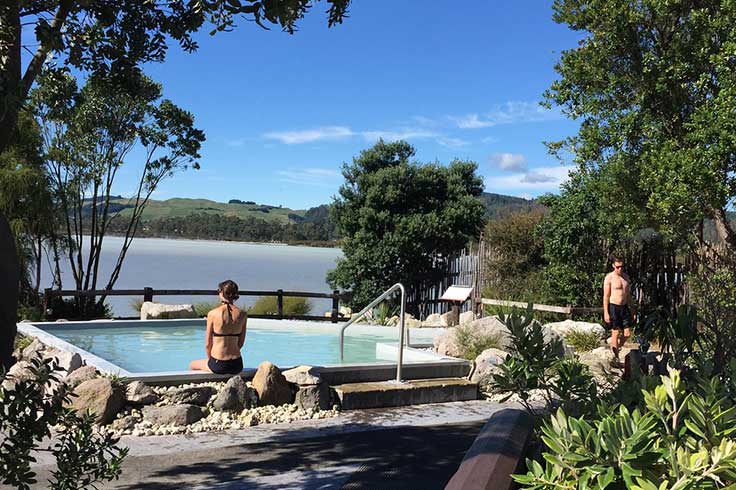 For traditional Māori treatments, consider a mirimiri or romiromi therapy. The former focuses on the tissue, blood, muscle, and bone; the latter stimulates the body's internal systems. Both are fabulous for releasing energetic blockages, leaving you lighter, brighter and about as tense as a sheet in the wind.
You've spent the day lighting yourself up from the inside out. Tonight, flip it and let the forest illuminate you. The Redwoods Nightlights allow you to take a magical, fantasy-like night walk through the treetops of the Whakarewarewa Forest. Just wow.
Don't dim your lights for sleeping in your comfy JUCY camper yet (camp at All Seasons). Instead, head up Mount Ngongotaha. It's considered Rotorua's best spot for stargazing.

Gisborne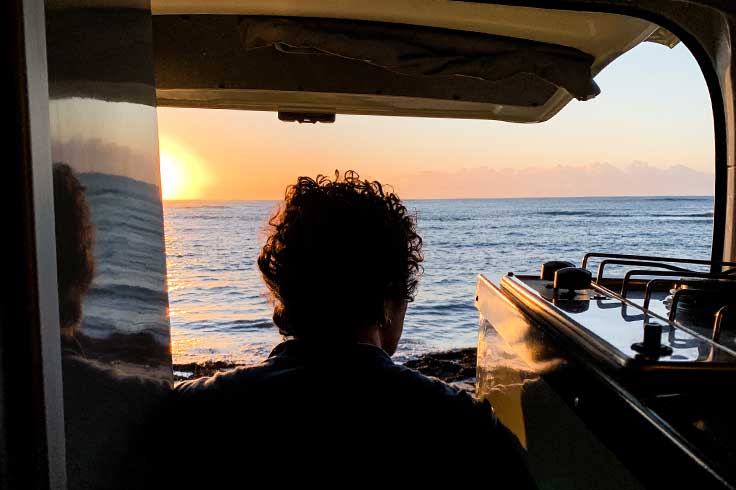 Did you know that the infrared light of sunrise and sunset is the best for your overall health? It's true! That's why we recommend you head to Gisborne on your Auckland wellness road trip and rise before sunrise and make your way up Mount Hikurangi to see not just the new day dawning for you but also New Zealand. Tairāwhiti is the most eastern point on mainland Aotearoa, and Maunga Hikurangi a sacred mountain to the Ngāti Porou. To experience it at its best, consider the enriching Te Uranga sunrise jeep tour with Maunga Hikurangi, led by Ngāti Porou guides. You can also hike up Mount Hikurangi, with an overnight at the DOC hut.
Didn't wake up in time for the nourishing rays of sunrise? No worries! Head to Rest Wellness Centre for an Infrared sauna or even an ultra-relaxing floatation session.
Equally rejuvenating is a yoga session on the beach. We adore camping at the totes woke AF Tatapouri Bay campground for so many reasons, one of which is their early morning weekend yoga classes with the bay as your backdrop. Tatapouri Bay is so much more than a campground – it's a community. And if you know anything about wellness, it's that connection is as much as part of self-care as disconnection. They also have rad glamping options for JUCY rental car peeps and are dog friendly (as are we).
After working up your sunrise appetite, head to Gizzy's Farmer's Market (held Saturday mornings). While you may think a good roadie meal involves Whittaker's and L&P, on your Auckland wellness road trip, it's recommended to fill your JUCY campervan fridge with fresh local organic produce. Ahem..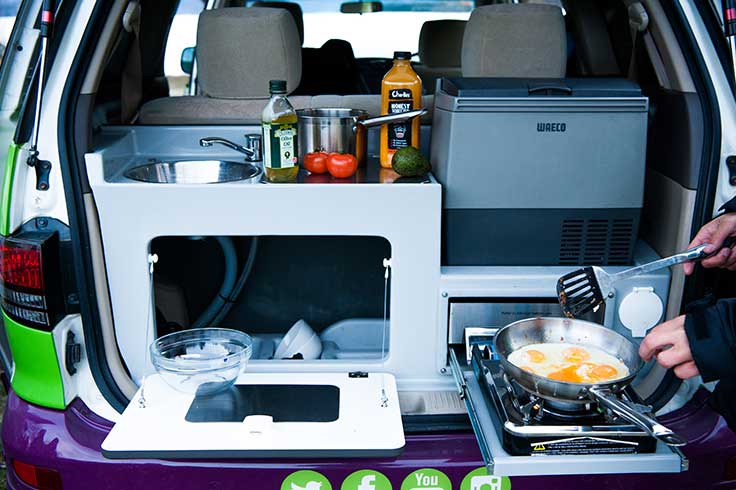 Nature is good for the soul, and with the Eastwood Hill Arboretum, 30-minutes out of Gisborne, you get submerged in it. Across the 135-hectare site, you can encounter over 25,000 exotic and native trees, flowers, shrubs and more.
If you'd prefer to explore a less curated collection of flora, walk the Makorori Headland Walk or Okitu Bush Scenic Reserve. The latter is filled with native birds. Between the two walks (allow an hour-ish), you are rewarded with expansive views across Mahia Peninsula and Wainui Beach, respectively.
It would be remiss to talk Gisborne and wellness without mentioning the mind-and-soul nourishing opportunities from being out in the ocean. Gisborne has one of NZ's most consistent surf scenes, with rad opportunities for newbies (Waikanae Beach) to pros (The Island). This Tourism New Zealand surf guide reveals more.
Bust a move and head out to a restaurant or crash at 'home' (that's your JUCY camper) and watch movies for the night? At Dome Cinema you can do both! This Gisborne institution offers delectable meals from the comfort of their homely cinema.
Lake Taupō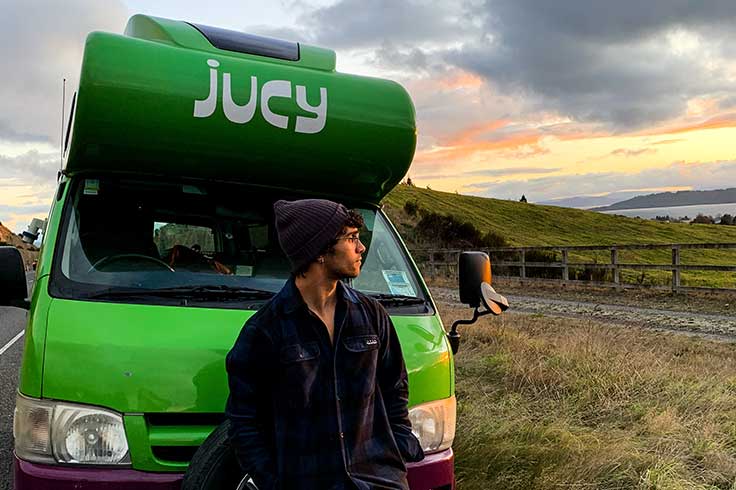 While some may call it woo-woo, as avid explorers of New Zealand, we have noticed that camping near water, soothes us into a calmness usually associated with Buddhist monks. That's why we flat-out had to include the gentle lake-lapping powers of Lake Taupō on this Auckland wellness road trip blog.
Getting out on the lake is our go-to first excursion. Swimming Lake Taupō is, of course, an option, but we like to ramp up the fun. Kayaking Lake Taupō is especially magical when you combine the beauty of the lake with the culturally significant Māori rock carvings at Mine Bay.
Fishing is another great water-based Taupō activity, with trout the big deal here. While there are a few companies to choose from, Fish Taupō is one of the most affordable.
Of course, it's not all about the lake. You can also enjoy the local healing waters. Taupō DeBretts Hot Springs have thermal mineral hot pools to soak weary limbs and enrich the skin. You can also camp at DeBretts, though if you're in one of our self-contained JUCY campers, Whaikapo is a free-camping at the lakeside DOC campground.
If you'd prefer a more adult-friendly soak (no slides and playground), Wairakei Terraces allow you to bathe at the bottom of their silica-rich terraces. These therapeutic waters have been highly regarded by local Māori for years.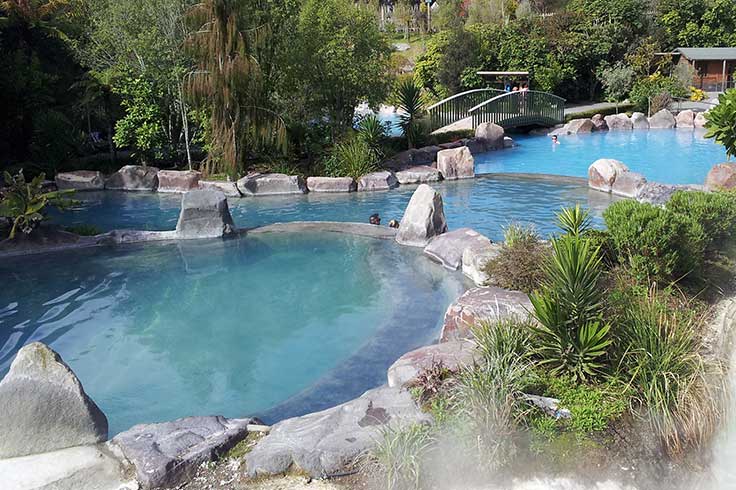 Depending on your perspective, throwing yourself out of a tiny plane at 18,000ft is either totally anti-wellness or the kind of pushing-your-boundaries experiences that encourages self-growth. Either way, Taupō is one of #NZmustdo best skydiving locations and over 10,000 jumpers can't be wrong!
Departing Taupō, stop by the geothermal wonder of Orakei Korako. Also known as the Hidden Valley, this is one of only two geothermal caves globally and has the most geysers in NZ!
Bay of Islands and Cape Reinga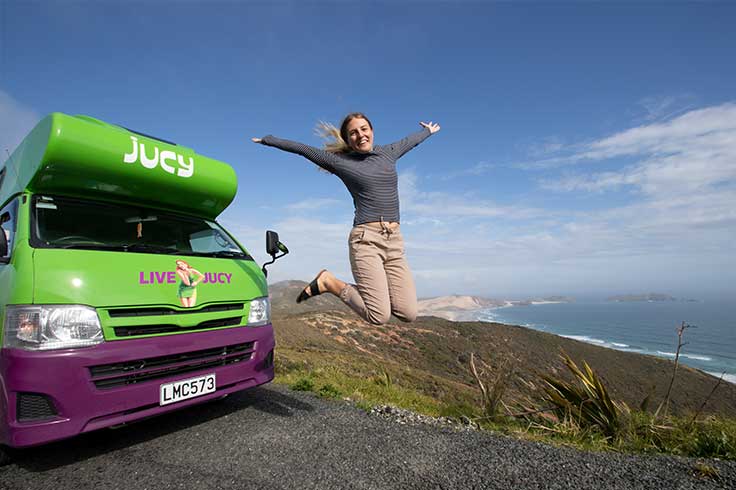 You can bring wellness into your life in many forms, from the spa-tastic to the nature-is-a-healer vibes. With fun at JUCY's core, we have zero doubts that letting your inner kid play can be as rebalancing for your stress levels as any deep tissue massage or superfood supplements. That's why we recommend heading to Northland for some big kid playtime (side note: also good for actual children).
First up on your Auckland wellness road trip is sandboarding in Cape Reinga! Located in the stunning Te Paki Recreation Reserve, these ever-shifting giant dunes are a blast to coast. With a grin as wide as your board, try not to taste too much sand as you speed down the dunes. Obvs check out the Cape Reinga lighthouse while you're up here.
If you've time, drive an hour to Ninety Mile Beach to frolic in the waves. While you can rent a surf or boogie board, nothing takes us back to a Kiwi summer childhood than bodyboarding with all that we've got. There's not much in the way of decent food this way, so why not cook a feast from your camper kitchen to make the other visitors jelly? Grab the ingredients for this healthy eggs Fiorentina from roadside stalls en-route.
One of the most joyous species known to humans is, of course, the dolphin! Their curiosity, playful nature, and love of frolicking in waves somehow reminds us that life is for living. Take a fun-filled dolphin-watching cruise in the Bay of Islands to get close with these loveable wild mammals. If you're feeling lucky, skip the cruise for a parasailing adventure and hope the dolphins come to you!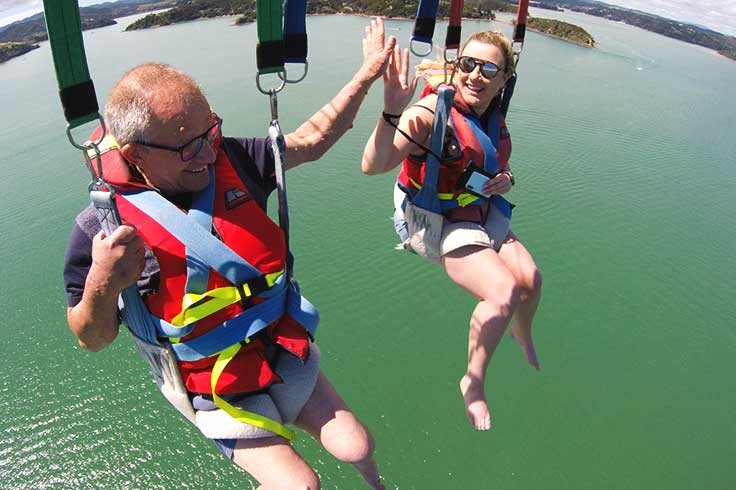 Another throwback to a Kiwi summer is a good supper of fish and chips. In the Bay of Islands, Mangonui Fish and Chips offers fresh catches as dine-in or takeout. It's the latter option - the bum-on-the-sand, looking-out-to-sea – that gets our vote every time. If you're passing through Keri Keri, pick up Makana Chocolates for dessert! Yum.
A 30-minute walk up Flagstaff Hill for sunset is an awesome way to round out this childlike wonder day of play. The 360-degree views at the top are awe-inspiring. Head from here to camp at the Paihia Top 10.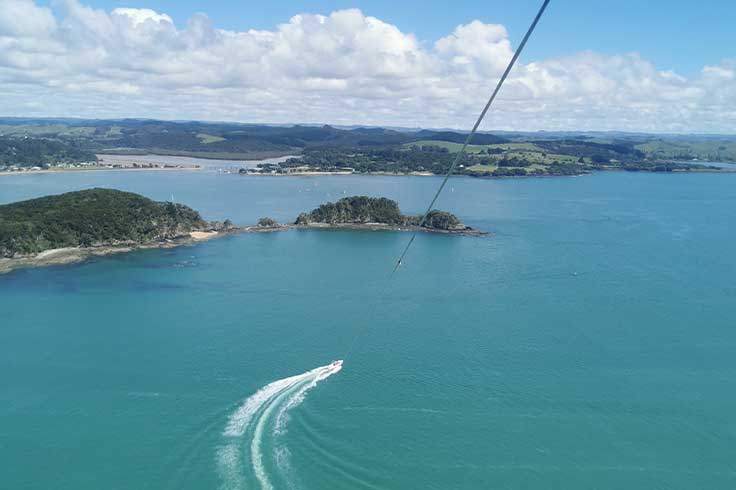 Has reading this got you pumped for some wellness add-ons to a JUCY road trip? Sweet as, sounds like an Auckland wellness road trip is just what the naturopath ordered. Our JUCY crew are ready to get your destress mission underway.


Give us a call on 0800 399 736 to get your trip booked in, or use our booking tool to book now! Breathe in yes, breathe out stress.