How much does it cost to travel New Zealand in a campervan
An epic campervan adventure doesn't have to cost an arm or a leg. Travelling in a campervan around New Zealand is for those who love hitting the open road, cranking awesome tunes, and getting lost now and then. This is an experience guaranteed to leave you with unforgettable memories, but no credit card debt.
For an accurate breakdown of the cost of travelling New Zealand by campervan, we decided to employ the help of an expert. Lucy Frank, also known as A Traveller's Footsteps, recently got back from a 14-day road trip around the north island of New Zealand and has documented her journey to help all JUCY lovers to prepare their New Zealand road trip budget.
Here is Lucy's complete 14-day New Zealand road trip budget break down.
Cost of campervan hire in New Zealand
When you are looking at the cost of travelling New Zealand by campervan, remember the campervan hire expense essentially covers your accommodation.
Thanks to JUCY, cheap campervan hire in New Zealand is a reality. When selecting a JUCY campervan to travel with in New Zealand, you have three year-round options: The JUCY Cabana, JUCY Condo, and JUCY Chaser.
From the cheapest to most expensive, here's a look at which campervan best suits you:
The JUCY Crib comes complete with a double bed, kitchen, and dual battery system. It is the smallest campervan option, which means hire costs less and so does petrol. The JUCY Crib sleeps two people, making it the ideal campervan for couples or friends on a short road trip.
The downside to the Crib is that it is not self-contained, which means you will be more limited with campsites as many free campsites in New Zealand are restricted to self-contained vehicles.
The cost of 14-day campervan hire in New Zealand in a JUCY Crib is as little as $500 in winter.
If you are doing a longer road trip, with more people, or simply looking for more comfort, go for the JUCY Condo.The Condo has a custom-built interior, featuring everything from a gas cooker, to a fridge and kitchen sink. The Condo is fully self-contained and seats and sleeps four people, making it the perfect van for a road trip with friends.
The cost of 14-day campervan hire in New Zealand in a JUCY Condo starts from roughly $650 in off-peak season.
If you like to camp in style, the JUCY Chaser is the choice for you. The JUCY Chaser comes equipped with two double beds, a kitchen and its very own shower and toilet, making it fully self-contained. The Chaser comfortably seats 3. This is the largest and most expensive option, but when you consider that the campervan hire includes your accommodation, it's still a great deal!

The cost of 14-day campervan hire in New Zealand in a Jucy Chaser is around $800 in the off-peak season.
Our overall cost of campervan hire in New Zealand
We hired the JUCY Condo (highly recommended) and paid $638NZD for 14 days campervan hire in New Zealand.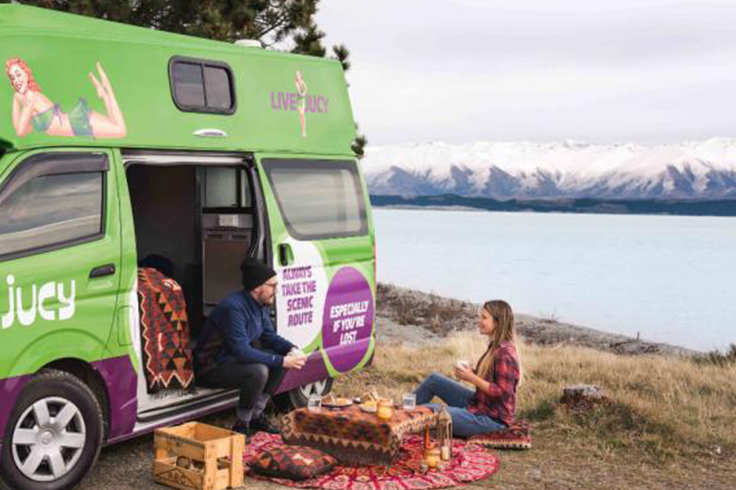 Do-follow We Dream of Travel to see more from this photographer.
Cost of campsites and accommodation for a New Zealand road trip
New Zealand is incredible in terms of camp site options, there are so many to choose from. What's even better is that so many of them are FREE!
If you are planning to travel New Zealand in a campervan, the first thing you should do is download the Rankers App. It's an absolute lifesaver and pinpoints campsites, visitor centres, dump stations, hiking trails, supermarkets, petrol stations, and more!
You can even search for campsites using filters such as free campsites, self-contained campsites, non-self-contained campsites, and holiday parks. For each campsite you can then get information and read reviews. Download the maps for offline use, so if you do get stuck without WiFi, you can still search for your next campsite.
For budget travellers, you could easily get by without spending a dollar on campsites in New Zealand. In fact, on our 14-day road trip around New Zealand, we didn't spend any money on campsites.
We did stop in at a hostel occasionally and spend $5 on a shower. We also stopped in at a cheap Airbnb for three nights to do washing and refresh. If you plan to do the same, expect to pay between $50 - $100 NZD for a night in a budget Airbnb.
Our overall campsite and accommodation fees
Campsites: $0
Showers: $5 per shower X 6 = $30 in showers over two weeks on the road
Airbnb: $150 - We spent 3 nights in a $50 per night Airbnb
Total campsite and accommodation cost - $180NZD
Top tips for saving on campsites
Always plan ahead to find free campsites.
Use Ranker's App to find campsites.
Get a self-contained van so you have more campsite options.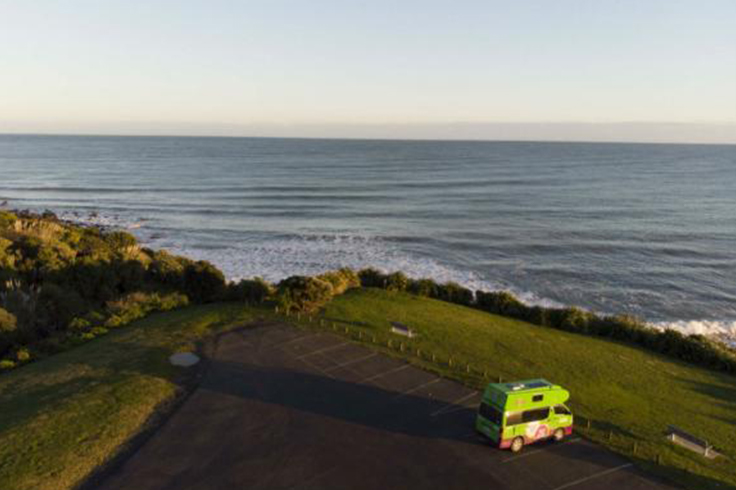 Cost of petrol on a New Zealand road trip
The cost of petrol when travelling by campervan in New Zealand depends on a number of factors: the car you choose and the route you take. Obviously the more you drive the more you will spend on petrol.
Petrol in New Zealand isn't cheap. As of August 2018, Unleaded Petrol cost between $2 - $2.40 per litre. To fill our JUCY Condo, we spent between $90-$110 each time, and most often filled the van every second day. The amount of petrol you need will depend on how far you drive. As a guide for creating your New Zealand road trip budget, expect a tank to last you 400 kilometres and cost $100 on average.
Our overall cost of petrol
In 14 days, we spent just under $700NZD on petrol.
Top tips for saving on petrol
Pay attention to the cost of petrol. Fill up at the $2 per litre station instead of the $2.30 per litre station across the road, it makes a big difference.
Minimise driving time. Spend a day or two in each place you go to. Yes, you are on a road trip, but this doesn't mean you have to drive the whole time. If you find a place you love, spend two nights.
Travel at a constant speed and don't exceed speed limits.
Try to drive smoothly and avoid accelerating or braking quickly.
Don't leave your vehicle sitting on idle for too long.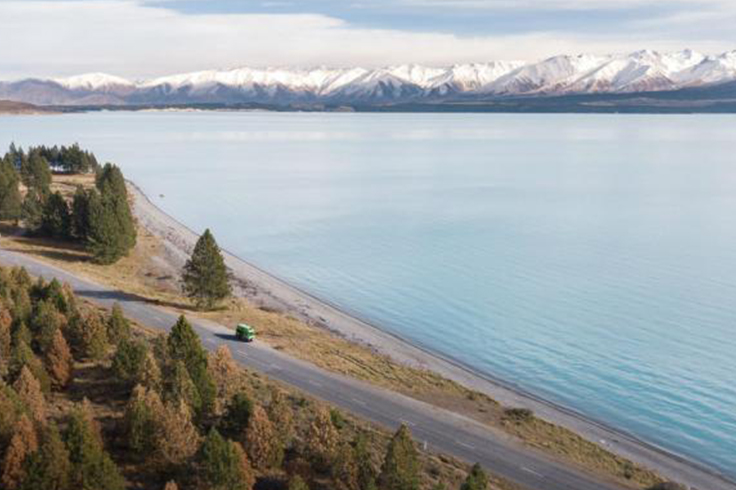 Cost of food on a New Zealand road trip
No matter what JUCY campervan you road trip New Zealand in, you will have a kitchen with you. This means you can save heaps of money on your New Zealand road trip budget.
Some major supermarkets in New Zealand include Countdown and Pak N Save. Make a supermarket one of your first pit stops. Stock up on necessities like fruits, salads, bread, wraps, snacks, butter, salt and pepper. Don't forget the tea and coffee so you can enjoy a morning cuppa in your van before you hit the road. Eating on the road doesn't have to be complicated, and it also doesn't have to be unhealthy either. Keep it simple and make yourself a salad wrap or get your MasterChef on and cook up a delicious pasta. Our road trip menu was made up of salad wraps and sandwiches, grilled cheese and tomato sandwiches, five-minute pasta, stir fried veggies and fresh fruit. And every now and then we stopped for some good old fish and chips, a New Zealand road trip essential if you ask me!
If you plan well, you could make your personal food budget in New Zealand $15 per day. If you are going to eat out, you will need to increase this.
Overall cost of food on our New Zealand road trip
For 14 days in New Zealand, we spent $420 on food and alcohol for two people. This is equivalent to a $15 per day food budget per person.
$15 X 2 people = $30
$30 X 14 days = $420
During our 2 week road trip, we cooked most of our meals in the van, only eating out twice the entire road trip!
Top tips for saving on food
Be prepared and always have plenty of food with you - this way you won't have to spend money on emergency snacks!
Buy yourself some salt, pepper, sauces, and butter on your first shop to keep things exciting.
Cook from your van. Not only will you save, it's a lot of fun.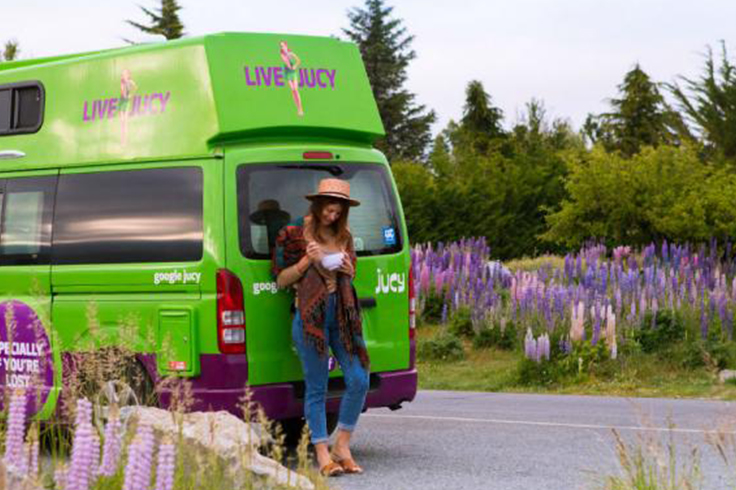 Cost of activities on a New Zealand road trip
New Zealand is famous for natural beauty. Hiking, visiting national parks, chasing waterfalls, and enjoying beautiful beaches are some of the best things to do and don't cost a thing. When setting your budget for activities, the choice is yours. You can stick to free activities or decide to go for the bigger ticket adventures.
Adrenaline junkies will probably end up spending the most, as activities such as bungy jumping, sky diving, white water rafting, skiing or snow boarding, and jet boating are among the more expensive options.
Our activity budget
We didn't spend a cent on activities on our New Zealand Road Trip. Instead we visited waterfalls, did short hikes and enjoyed the beautiful beaches.
Top tips for saving on activities
Choose day hikes over multi-day treks - you don't have to pay to enter New Zealand's national parks, but you do have to pay for campgrounds or huts you use along the trails. On popular hikes such as the Milford Sound Track, one night in a hut can cost as much as $70.
Seek out natural geothermal spots. You don't have to pay to enter Rotorua's thermal villages - there are plenty of secret spots where you can swim in hot springs in creeks and lakes. You just have to find them!
Do a little research on cultural activities on near you. In bigger cities you can find events such as music in parks, light shows, and movie screenings for free.
Visit New Zealand's awesome free museums. You might want to visit the Otago Museum in Dunedin and it's a gem.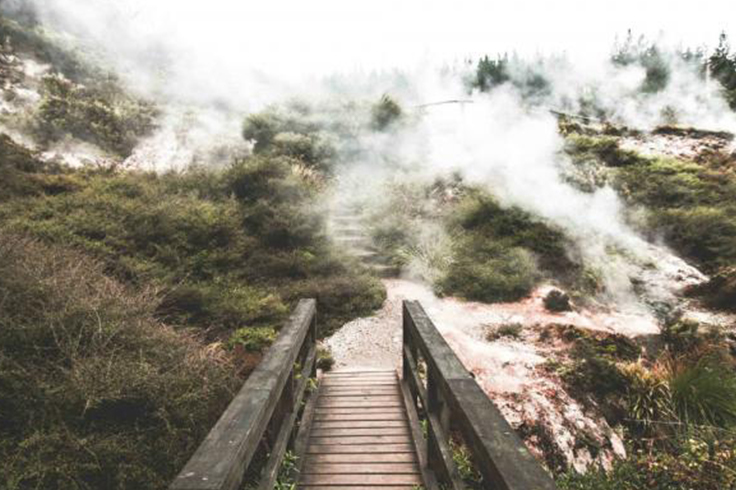 Overall cost of travelling New Zealand in a campervan
So how much did we spend in 14 days Travelling by campervan in New Zealand?
Cost of Campervan in New Zealand - $638NZD for 14 days in a Jucy Condo
Campsites and accommodation - $180NZD
Petrol - $700NZD
Food and alcohol - $420NZD
This Road trip in New Zealand cost us a total of $1,338 NZD for 2 people. That's $669 per person.
Not bad when you consider what you see and experience during two weeks on the road. To reduce that cost even more, remember that you can fit four people into the JUCY Condo. That means you can split the cost of car hire and petrol into four instead of two.
New Zealand road trip itinerary: Do you want to know the route we travelled?
So now we have answered the question of how much it is to travel New Zealand in a campervan, it's time to plan the fun stuff - the road trip itinerary. Top recommendations for a 14-day itinerary for road tripping the North Island of New Zealand include Cape Reinga, Bay of Islands, Raglan, Mount Taranaki, Tongariro National Park, Taupo, Rotorua, Bay of Plenty, Napier, and Mount Maunganui.
Start planning your road trip budget and itinerary now by getting a quote on a JUCY camper!