Is Queenstown the World's Best Travel Destination? We Think So!
When life gives you lemons, you order a lemon drop cocktail and sip it lakeside in Queenstown, a destination to match every kind of overseas trip.
We believe that a trip around and out of Queenstown – Adventure Capital of the World - is where you can experience the most compact region of Kiwi wow-ness – world wow-ness, in fact! Here, every turn, attraction and expanse of nature's finest scenery could win a travel prize and be a National Geographic cover.
And sure, yeah, you may not be screaming your lungs out on a Mickey Mouse ride or lounging poolside at a tropical resort. But we're here to prove that Queenstown and her surrounds can match that holiday you had planned. Read on to recreate your dream overseas vacation, with a local Queenstown and Milford Sound roadie.
Nature's Disney: Queenstown & Surrounds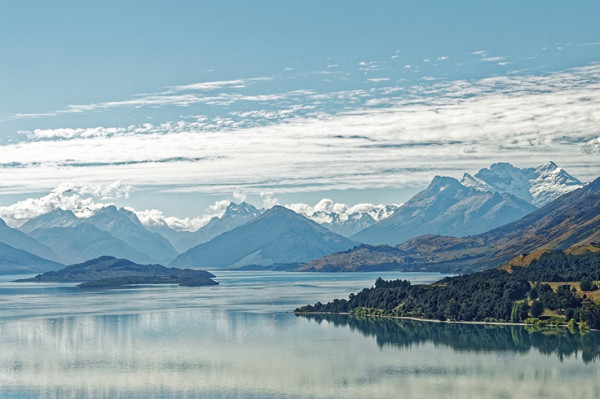 If you'd usually be shelling out $20 for a Mickey Mouse-shaped sandwich and lining up for an hour to spend 90-seconds on the IncrediCoaster, we present Nature's Disney instead: Queenstown.
We reckon the thrills of the Adventure Capital of the World are far thrill-ier (is that a word?) than any ride at Disney. There are the obvious adventure tourism activities like bungy jumping, jet boating, scenic flights, and the ski fields. But you're also in for a solid dose of happiness on an amble around Lake Wakatipu or watching sunset from Bob's Peak. Or even experiencing the creative culinary feasts that put Queenstown on the foodie map (and no, we don't mean Ferg Burger).
On a typical day at a theme park, you'll walk around 20,000 steps searching for rides. In Queenstown, you can see far more awe-inspiring sights within the same step range on an abundance of epic hiking trails. Our fave tracks are the easy Frankton Arm Walkway and the butt-building Queenstown Hill loop track. Or make a day of it on the Tiki Trail to Bob's Peak to Ben Lomond tramp.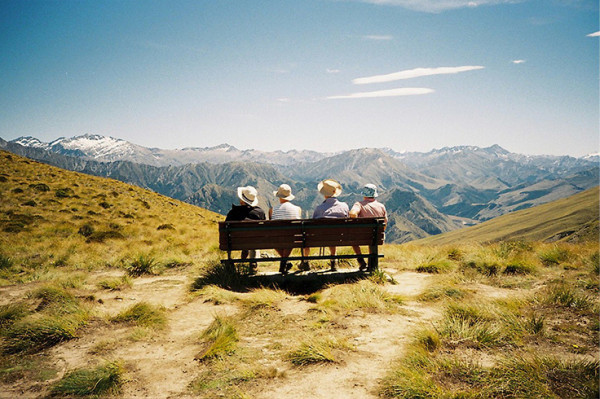 Have you ever been on that motorbike theme park ride that you cling to as you circuit a faux track? Queenstown goes one up on that, offering 30 bike trails that may cause some white knuckles as you speed down the mountainous terrain that the region is famous for.
Not convinced Queenstown is better than a theme park? There's the teacup ride (high tea at Wakatipu Grill), the carousel (actual horse riding), and the log flume (white water rafting on the Shotover River). Tell us the real deal isn't better!
And as a bonus, we love Queenstown's thrills so much that we recently schmoozed some marketing peeps to get JUCY campervan and rental car customers some sweet deals. Our buddy's at AJ Hackett were particularly generous with discounts off their bungy jumps and Zipride. We've also scored deals off scenic flights, canyoning, and even heli-skiing! Check out the full range of JUCY specials here and enter 'Otago'.
Cruising the High Seas/the Wonders of the World: Milford Sound
Cruise lovers rejoice, you can still get some action with a beautiful trip around Milford Sound. While the fabulous 2-hour excursion may not quite equate to that 14-day Caribbean exploration you had planned, it's an excellent opportunity to keep your sea legs in check. Plus, you can see New Zealand's most photographed mountain!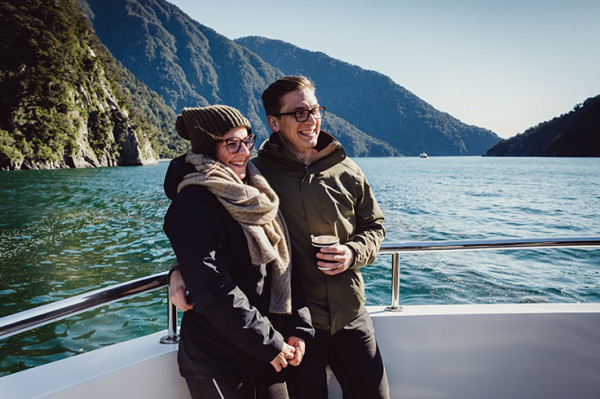 Milford doesn't just tick the cruising box either, it's a twofer destination as Milford Sound was lauded as the 8th Wonder of the World by Rudyard Kipling. The staggering rock formations jut from the water, with rainforest flora clinging for purchase. The iconic 1692m Mitre Peak offers a picture-perfect snap every time, much like an in-demand supermodel. And that is one of the beauts of a cruise around the Milford Sound, it's breathtaking and ethereal in any weather the Kiwi climate can chuck at it. We've got hundreds of pics to prove it!
Located within the World Heritage Area of the Fiordland National Park, our Milford Sound cruise takes you to an intimate level with the Lady Bowen and Stirling waterfalls. (Read: bring a rain jacket as the spray might just get you). Our cruise commentary is not at all stuffy – in fact, it's just like us – informative, fun, and maybe a little bit cheeky.
Our experienced skippers are always on high alert for wildlife spotting, including the fur seals and bottlenose dolphins that reside permanently in the Sound. They've also been known to point out the rare dusky dolphins, and even a humpback whale. Plus, if you're visiting between August and November, the world's rarest penguin, the Fiordland Crested Penguin stops by for their breeding season. Add to this a plethora of avian and marine life critters, and it becomes clear why the fiords have UNESCO status.
The journey to Milford is as magical as the experience on the water on the Pure Milford catamarans. Our spacious catamarans have three levels, offering plenty of room to spread out safely. Once onboard, there's yummy food and beverages available for purchase too.
Flop & Drop: Hot Springs
Up first, swap the toastie waters of a tropical sea somewhere for the region's mineral-rich hot pool waters! In Queenstown, you'll find the Onsen Hot Pools: highly-desirable cedar-lined pools that overlook the Shotover Canyon. While this is a splurge, it's a worthwhile one.
An alternative is to plan your day with a hot springs detour. Hop in your JUCY hire car and drive 90 minutes to the epic alpine views and away-from-it-all vibes of the Hot Tubs Omarama. Fresh mountain waters are piped into your woodfired private tubs, offering the most 'at one with nature' experience we can think of. It's perfect if you've weary limbs to soak after some regional hiking, biking, or skiing fun. **
What else happens on a flop and drop break - aside from a healthy dose of sunburn and arguments with your kids at bedtime? Cocktails, that's what! Don't worry, Queenstown luurrrves to have merry visitors!
We can save the modesty for another time, we simply have to start with our own joint; Miss Lucy's Bar and Pizzeria. Found on the 4th-floor of our custom-built JUCY Snooze accommodation, Miss Lucy's offers views of Lake Wakatipu and the Remarkables mountains from the patio. Plus there are woodfired pizzas to soak up our fave cocktails, or sample the latest creations from the team.
If you'd like to bar hop from Miss Lucy's, shout outs go to The World Bar for their cocktails served in teapots. We may have used pics of these to fool the olds into thinking we're having a 'quiet weekend in Queenstown'. For the ultimate in cool (geddit?) the Minus 5º Ice Bar offers ice architecture to accompany their extensive cocktail menu.
For wine-lovers, The Winery means you can forgo picking a sober driver as it's only a 4-minute walk from JUCY Snooze. Alternatively, do pick one and head out of town to Amisfield Winery and the award-winning Peregrine Wines to sample the region's famed Pinot Noir.
** Side note for the truly dedicated, adventurous (and definitely not a flop-and-drop) soak: tramp seven hours on the Copeland Track to Welcome Flat. You'll need to book an overnight stay at the DOC hut, but the pools are nearby with some wild-about-it views. In spring, you can even watch avalanches crashing down the distant mountains from the thermal waters.
The Ski Sojourn: Cardrona & Treble Cone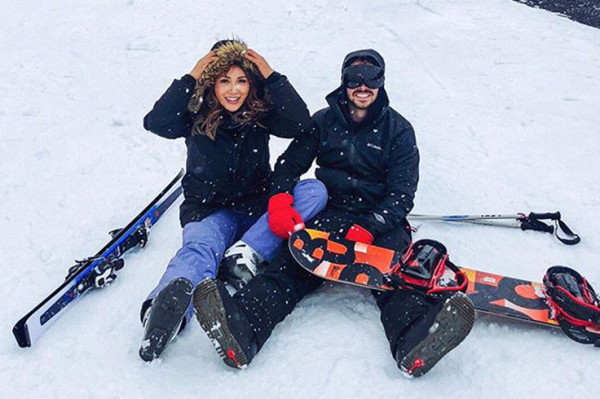 If you're a keen skier or boarder, the chances are that you have been one of the few people out there not getting your travel plans cancelled. You may love a trip to the Rockies, Whistler or Japan annually, but you know that skiing in the Southern Alps is equally as good, too. And the flight time sure is shorter!
Queenstown is home to four of New Zealand's best ski fields, which combined, offer slopes for every ability (and set of knees). Coronet Peak is one of the easiest ski fields to hit in the country, as it's only 20 minutes from downtown Queenstown and our JUCY Snooze accommodation. Cardrona offers world-class terrain, and The Remarkables are open for weekends snow adventures.
For the advanced skier/boarder, don't miss out on a trip to Treble Cone over the Crown Ranges. Only 90 minutes from Queenstown, Treble Cone is well-liked for it's challenging runs. Plus, time spent Wanaka way is never a bad idea. Check out the Lake Wanaka après ski guide for what's on this winter.
Any good bluebird day is complemented with a good après ski night, and Queenstown does not disappoint. It leads, in fact! Après ski doesn't always have to mean wild parties (though Queenstown has those, too). It's possible to unwind from the slopes at a fireside eatery, cosy wine bar, or bustling pub. Plus Queenstown has restaurants to suit every budget and tastebud, including our awesome patio pizza experience at Miss Lucy's (hint, hint). We're fans of a rowdy pub one night, sophisticated Pinot Noir wine night the next, and hitting up a buzzing nightclub the following. Balance, right?
Queenstown Activities
If you're more into après ski party time than actually sports – Queenstown turns up the colourful vibes with a range of events across the week: parties, parades, entertainment and, of course, fun activities on the mountain. There's even an onesie day! Tickets are limited so just say hell yes and book yours ASAP!
There's also a ton of live music scheduled. Check out up-to-date event listings.
Got more time to explore or looking for more inspo? Check out our best Queenstown day trips blog, including Lord of the Rings self-drive options.
Maybe you think we're overdoing this concept of Queenstown being nature's version of the 'happiest place on earth'. We challenge you to book a JUCY car, campervan, JUCY cruise, or stay at JUCY Snooze and see for yourself!
Tag your #JUCYmoments as your epic Otago adventures unfold. We promise not to reply 'told you so'!