Road Trip to The Best Beaches from Auckland
Straight outta Auckland: The best beaches from Auckland for the weekend road trip your soul needs!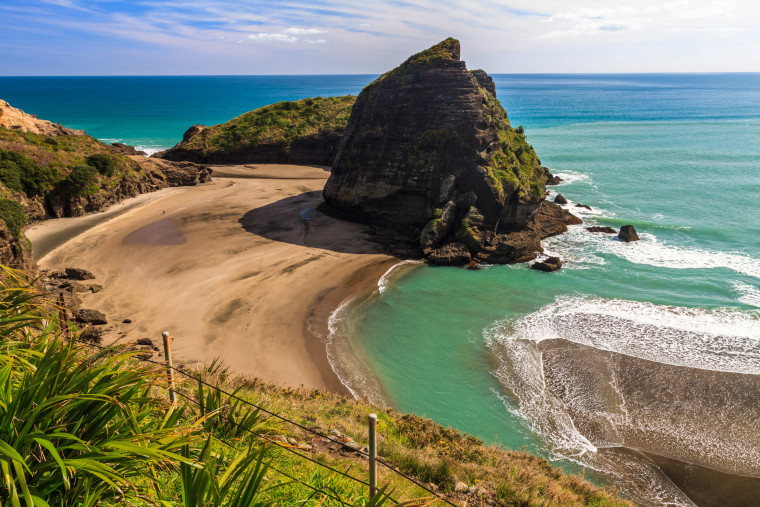 Bring back your travel mojo with a beach getaway. Forget 2021's stresses; instead, take your JUCY campervan rental to the best beaches from Auckland.
Have you been feeling a bit like James Franco in that movie where a boulder trapped his arm, and he had to hack it off to escape? Only, instead of 127 hours in Arizona, it was 105 days in your house in your lockdown bubble.
Consider JUCY the Swiss Army knife to your stuck arm. We've got the key to your solution (spoiler alert: it's a campervan rental), and it does not involve cutting off ANY body parts. In fact, quite the opposite. You can get all your limbs involved in climbing hills, hugging trees, swimming in oceans, and digging digits deep into the sand.
So yeah, stay at home (again) and watch a rerun of 127 Hours, or come away with us on a mini-vacay to explore the North Island and the best beaches.
What a choice!
Kai Iwi Lakes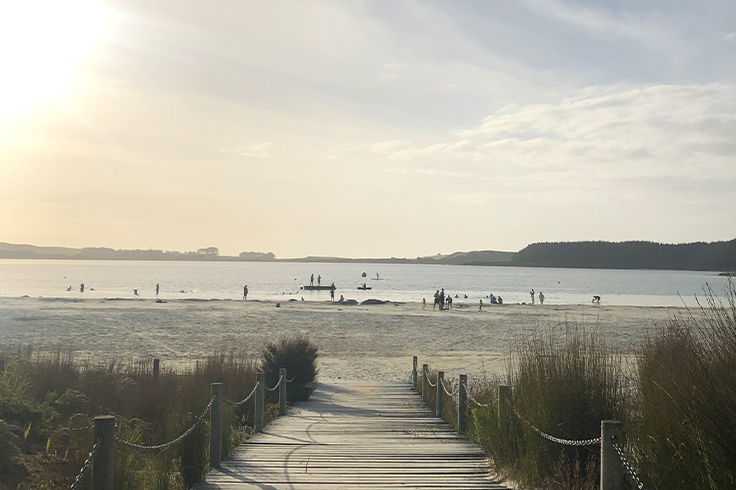 Drive your JUCY wheels three hours north to Kai Iwi Lakes for a long weekend, where the pace is as mellow as the sloth enclosure at the zoo. North of the kumara capital of NZ (Dargaville), the Kai Iwi Lakes are three pretty spesh white sand, freshwater dune lakes. It's defo one of the best beaches nearby! - more unusual, at least.
The lakes formed more than 1.8. million years ago. They are idyllic for chill-as trips where kayaking, swimming, and fishing a rainbow trout or two is as amped up as it gets.
Omamari Beach and the Tasman Sea are only 2.5 kilometres away if you prefer a little more sass with your water-based activities. And by sass, we mean a total dunking by the wild west coast waves. Ripiro Beach, the real 'longest drivable beach in NZ', is a 40-minute drive south. Just no driving on the sand in your JUCY, please.
The walks around here are magical btw. Of course, strolling around each of the Kai Iwi Lakes – Taharoa, Waikare, and Kai Iwi - is a vibe in itself, but there's also the nearby Waipoua Forest. It's home to Tane Mahuta, New Zealand's largest kauri tree. Our pick? Book a twilight tour with Footprints Waipoua to witness the forest fauna springing to life as dusk falls.
Camp: Kauri Coast Top10 Holiday Park, it's nestled among two hectares of native bush.
Bay of Islands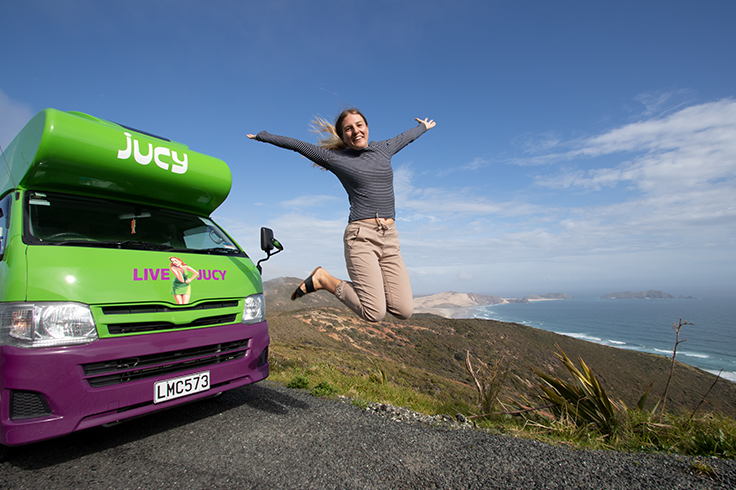 Everyone knows that the Bay of Islands is the Kiwi equivalent of an exotic Pacific Island. Only with fush and chups. But seriously, if you can't get overseas (le sigh), then heading north out of the big city is going to tick more than a few items off the holiday checklist.
Like subtropical weather – check! Like glistening turquoise water – check! Like exotic wildlife – check! Like golden sand beaches far nicer than anything in the city (soz Aucklanders, you know it's true!) - check!
The Bay of Islands certainly ranks as some of the best beaches, with plenty to rejuvenate on. The most well-known would be Paihia, where you can swim, sunbathe, picnic, rent a kayak or head out on a day tour (with dolphins, squee).
Drive your JUCY campervan rental to Oke Bay for a more off-the-beaten-track beach day out. The vibes are postcard-perfect! Head out at low tide if you'd love a refreshing swim, and keep your eyes peeled for the friendly dolphin pods that frequent the bay.
If you're on a romantic getaway, the sunset here is rom-com-worthy perfect. If you're heading further north to Cape Reinga, the lush native rainforest-fringed Tapotupotu Bay is the get-away-from-it-all beach to reclaim your inner peace.
Camp: the Russell Top10 Holiday Park, or if you'd like to retire away from it all, head further north to the gorgeous Aroha Island.
The Coromandel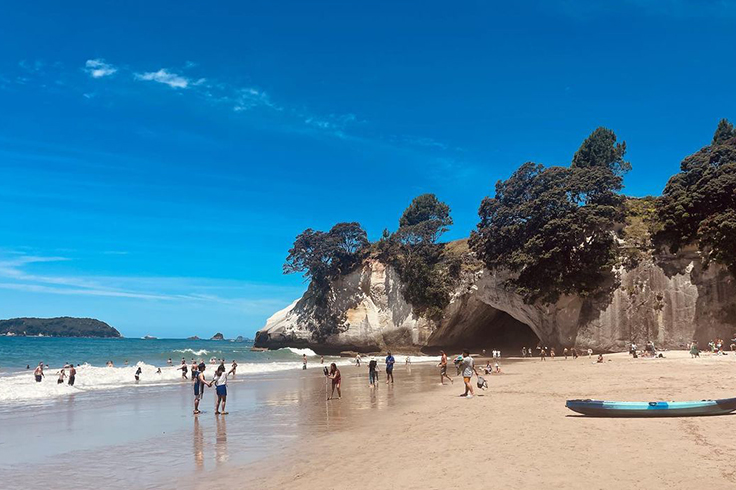 Mentioning the best beaches from Auckland and not talking about the Coromandel is the equivalent of making an egg and Nutella sandwich! It's just wrong!
With 400km of idyllic coastline and hundreds of secluded spots to flop, drop, adventure or explore from everything here is fab. And also, a little overwhelming! Luckily, we've got the lay of the Coromandel land and can share our faves.
One of our top picks is Hahei Beach, where the pink-tinged sand makes you feel like you're in the Bahamas, not NZ. This sheltered beach means every activity is effortless – even paddleboarding for beginners! Be sure to check out Te Pare historic reserve, an ancient Māori pa site.
For a day-tripping extravaganza, New Chum Beach is the adventure you didn't know you needed. Accessible only by boat or bush trek, this is an unspoiled paradise. Like you almost expect to find Wilson on the beach "Wiilllssssooooon!". Golden sands to squish your toes into, native bush to reconnect to nature, and turquoise water to wash away lockdowns, travel uncertainty, and any 5-letter words that begins with C and ends with D. It's not to be missed.
If you've never been, digging your own spa pool at Hot Water Beach is a must, too. Bring a spade or rent one there as you take part in the most Coromandel activity in all of... well... the Coromandel. You'll need to check the low tide levels before you go, as you can only dig your personal thermal hot pool then.
Camp: Step onto the beach from your campervan rental spot at the Hahei Beach Resort.
Bay of Plenty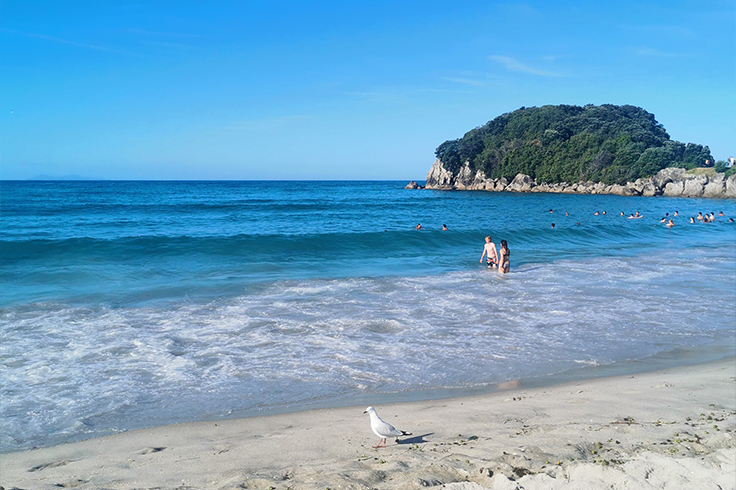 The Bay of Plenty's best-known beaches are, of course, at Mount Maunganui, and there's good reason why the Mount ranks in our best beaches poll. With four beaches to choose from, relaxing in New Zealand's 'surf city' is practically automatic.
Mount Main Beach is close to everything; Pilot Bay is family friendly,: Moturiki Island offers a blowhole for added thrills. For a little more seclusion, hop on a boat to peaceful Matakana Island. For some balance from all the flopping and dropping, walk to the summit of Mauao for 360-degree Bay of Plenty views.
Do you like a slice of history with your sand and surf? Great, then head to Maketu Beach, 30 km east of Mount Manganui. This is believed to be where Māori first stepped out of their canoes and came ashore, some 800 years ago. Aside from being historically momentous, it's also an activity hub, with options for windsurfing kayaking, fishing, and bird watching. There's also a neat walkway for a heritage-fuelled stroll.
Time your Mount roadie just right, and you'll land yourself at the epic Water Bourne Beach Festival. Held 4-6th of March 2022, this is a sustainable beach event to raise awareness about the need to protect New Zealand's wildlife and ocean. As proud sponsors, we're sending the boss to represent JUCY in Paddle Ninja Games (Dan just doesn't know it yet). We're also amped for SUB FOCUS playing at the Soper Reserve on the 4th of March.
Camp: The Mount Maunganui Beachside Holiday Park is right at Main Beach, keeping you amongst it all.
Tawhitokino Beach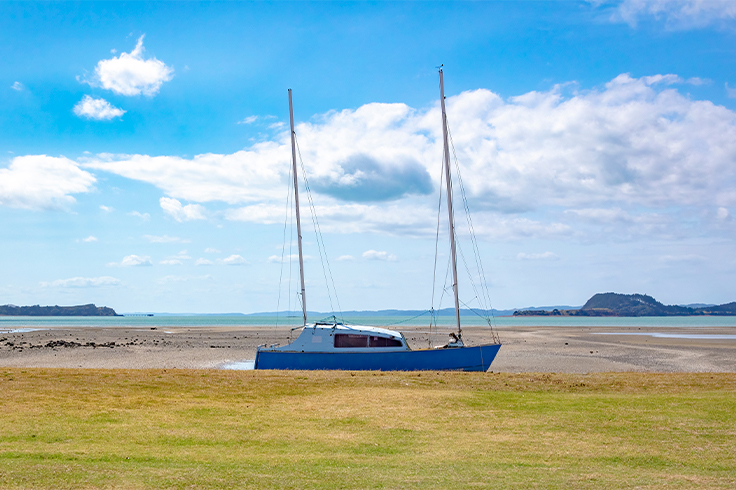 While you don't have to travel far to reach Tawhitokino Beach, it's still worthy of a long weekend getaway. After collecting your JUCY wheels from our Auckland branch (don't forget to take advantage of our complimentary airport shuttle), head southeast an hour.
This hidden gem is located in a small regional park at the end of Kawakawa Bay in Clevedon. Why's it such a secret? Perhaps because you can only reach the beach on foot during low tide or boat?!
Once there, the expansive yellow-sand beach and calm waters provide your entertainment for your stay; the towering Pōhutukawa trees provide the shade. You can also walk the cliffs or take the one-hour low tide walk to Waiti Bay.
Camp: If you're renting a JUCY hire car, then walk or get a boat to take your gear over to the campground at the end of Tawhitokino beach. If you want more comfort, park your JUCY campervan rental at the nearby Top10 Orere Point Holiday Park.
Lake Taupō

A great weekend by the water doesn't have to be by the ocean, as anyone who's ever been to Lake Taupō can attest. New Zealand's (in fact, Australasia's) largest lake, it takes around 4-5 hours to walk its circumference.
Known as 'the lake that looks like the beach', there are some great places to chill out in around Lake Taupō and that's why it's included in our best beaches from Auckland list. Top beaches here include the small tree-lined beach at Te Moenga Bay, Kinloch Beach, and Waitetoko Beach.
Taupō is not short of water-based activities. Kayaking or paddleboarding on the lake is popular, as too is fishing, of course. For a cultural bent to your Taupō stay, visit the Mine Bay Māori Rock Carvings. Soaring 14 metres out of the water, these contemporary carvings are only accessible by boat tour or kayak. We're always fans of jet boating thrills, too.
Lakeview dining is also a thing in Taupō, with Edgewater and Waterside restaurants our picks. Plus, you can't go wrong with a lake view Fush and Chups meal from our buddies at BurgerFuel.
Camp: There are four spots to freedom camp from in our fully self-contained Condo or Chaser campervans. Alternatively, we love MiCamp Taupō.
Want to take a roadie and then WIN it back?
We're a generous lot at JUCY; that's why we are running an ongoing promotion for you to win a 100% refund on your campervan trip with us. Roadie to one of these best beaches listed here, or road trip anywhere. Every tag gets you in the draw!
It's easy to enter, too. As you're travelling on your epic JUCY Kiwi Adventure, upload your photos and videos. Then tag us @jucyworld and use #JUCYmoments, plus your location. That's it! And you can enter as many times as you like with this same formula.
Don't have socials? You can also upload a video here! Our team back at HQ has the fun task of checking all entries every month, awarding a 100% refund to one lucky traveller!
Woohoo!
Check out all the deets here.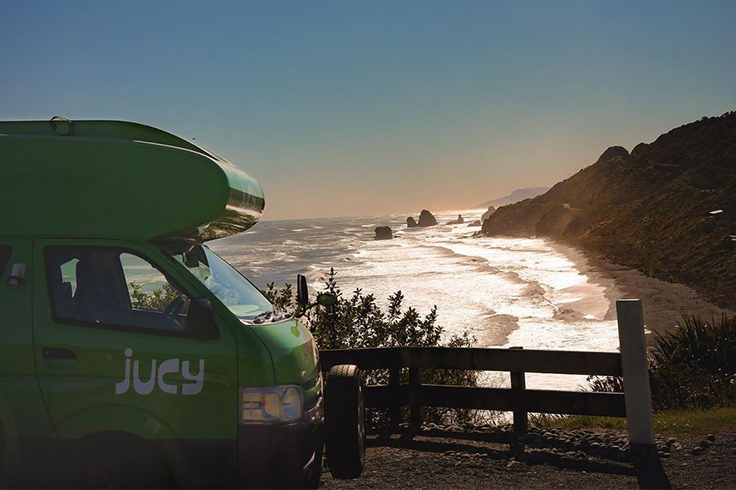 Ready for your best beaches from Auckland getaway!
Give us a call on 0800 399 736 to get your trip booked in or book NOW!