Three Epic South Island Surf Road Trip Itineraries From Christchurch
We've carved up our 3 fave South Island surf road trip itineraries, so all you need to do is pick one, pack your wet suit, and go!

Surfers the world over have New Zealand in their sights for the kind of trip where you don't just catch some quality waves around its coastline, you also catch the thrills of the scenery as you're doing so. On any South Island surf road trip, most of the time you'll also be on an uncrowded beach where you get to learn or excel at your own pace!
One in 27 Kiwis surf, thanks (surely?) to our 16,000 kilometres of epic coastline. During those beachside bach summers, we've paid homage to the waves in all the best ways.
Surfing - whakahekeheke – has long been a part of our Māori heritage, too. As a nation, we know what to do with a break, a barrel, and a bomb, and we ain't afraid to do it!
So, while the Benny's from afar are locked out, we get to continue our love affair, plunging back in, again and again. And what better way than on a South Island surf road trip (or three)? Thanks to the diverse South Island landscapes - both east and west – you can experience great surf against a backdrop of mountains, rainforests, or rivers.
Pack your wetsuit (because brrr), pick one of our Christchurch-based trips below, and book your camper wheels for the ultimate South Island surf roadie. We offer three styles of campers from our Christchurch branch, from 2-. 3- and 4-berth custom-fit models. Pick our Cabana if you're looking for an affordable ride with your shortboard, or book our self-contained Condo or Chaser for your longboard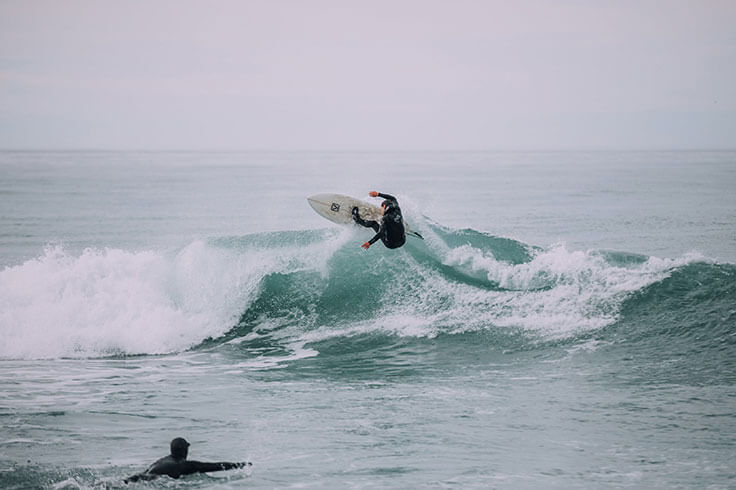 Kaikōura Kegs: North Canterbury & Kaikōura
Day 1: Christchurch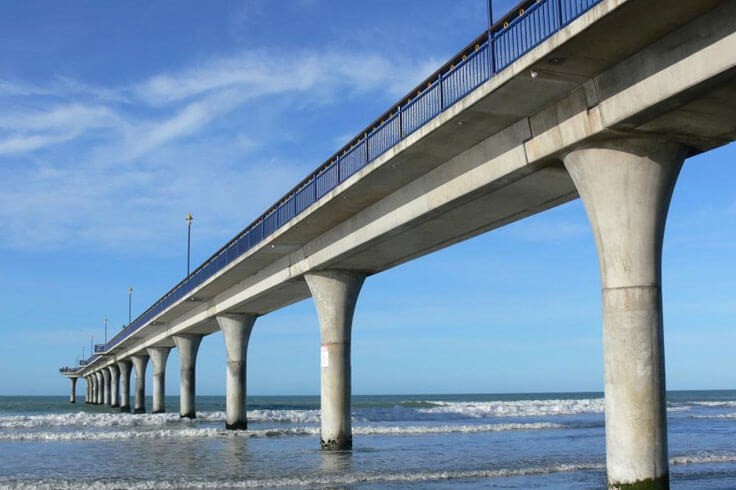 Only 20 minutes from our Christchurch Airport branch, you can be pulling on your wetsuit and ripping up the breaks of New Brighton. Consider it your South Island surf road trip warm-up.
Canterbury has a solid southern swell that wraps around the bottom of the South Island. That can mean most of the time you will encounter gentle conditions perfect for beginners or finding your sea legs but it can occasionally offer hair-raising conditions.
New Brighton is popular due to the long, broad sand, tide, and wave movements creating variety and opportunities for some solid short waves. After the frigid Canterbury surf slip into the New Brighton salt-water hot pools at Te Hune Taimoana. It's a rad way to warm up between surfing stints!
For some epic barrelling conditions, Taylor's Mistake is never a mistake. Powerful 1-4m waves break on all tides with both right- and left-handers on offer. It can get crowded so check on the local rules, and watch for swimmers in the summer time.
Nearby Sumner Beach is also a great alternative because you don't just get one surf spot to choose from, but two: the main beach or the estuary mouth.
Spend your first night in JUCY comfort at the South Brighton Motor Camp or at the DOC Awaroa/Godley Head Campsite.


Gore Bay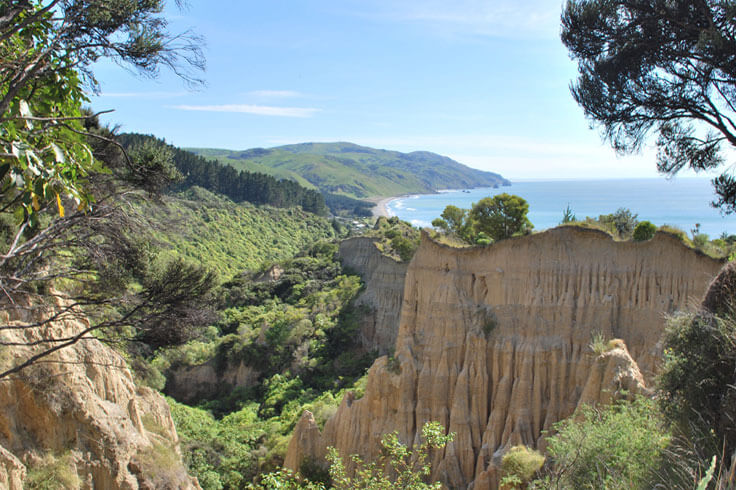 Start the day using your JUCY camper kitchen to the max (breakfast burritos, anyone?) before heading 30-minutes north to Waikuku Beach. This is just like the famed Hawaiian Waikiki, only... not. For one thing, the lack of crowds gives Waikuku a far mellower vibe. Surfing at Waikuku is suitable for beginners upwards. The beach break is both right and left, and the sandy bottom makes wipe-outs more palatable.
Towel off and drive another hour north to reach the isolated Gore Bay. The consistent break at Gore Bay means you can hop in at all tides.
The backdrop to this 14-person beach town is the Cathedrals. See the Cathedrals unusual Badlands erosion on the Tweedies Gully Walk. Be sure to pack your JUCY camper fridge with all the supplies you'll need for your Gore Bay overnighter. The nearest supermarket or shop is a while away, and forget it if you need surf supplies.
Camp at the beachside Gore Bay Campgrounds.


Kaikōura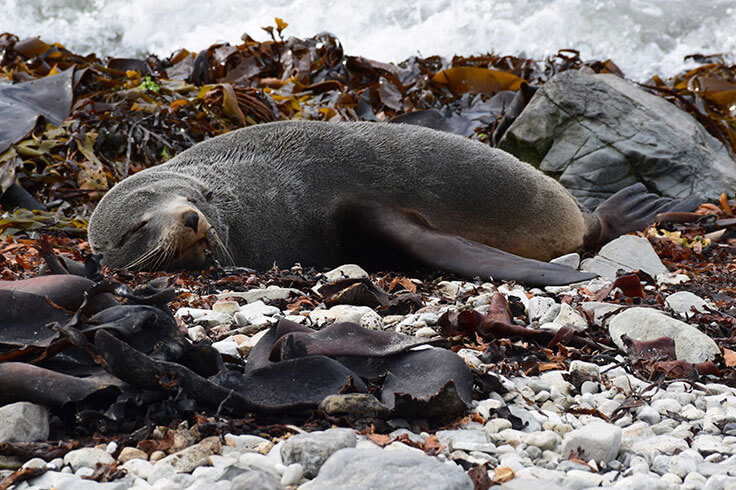 While Kaikōura may be on the map for its marine mammals – whales, dolphins, and seals - you can make yourself the starring mammal of Kaikōura by surfing their best breaks.
The rocky reef point break of Kahutara is a good intermediate to the advanced surf spot, offering a fast and powerful ride, with a right reef break. Skip this one if you're a complete noob, the rocky reef will make short work of you; head to Ocean Fun Reefs beach break, instead.
If you love a big swell and long rides, Mangamaunu – also known the Malibu of New Zealand - may be more your jam. Considered one of the best breaks in the area, waves can reach two-plus metres here. This also means the rips can be pretty gnarly, too.
If the surf sucks during your Kaikōura stay (say what???) take a whale-watching excursion or spy seals and dolphins on a kayak tour. Alternatively, hike the Kaikōura Peninsula Walkway. The snow-capped mountain backdrop adds a sense of drama to whatever you do with your day.
Park your JUCY camper at the Kaikōura Top 10 Holiday Park.


Kaikōura to Christchurch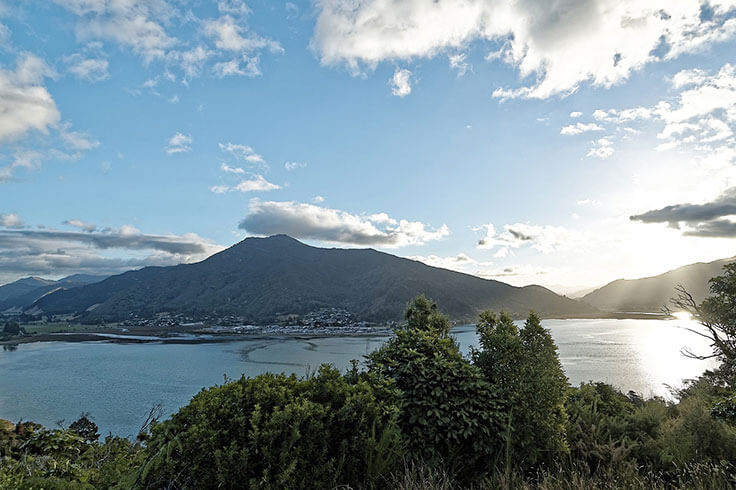 Choose your level this morning: for surfing newbies, consider Okiwi Bay (AKA Sandy Bay). This sheltered low-tide sandy beach is a great spot to build your confidence. For intermediate and expert wave-lovers, the Meatworks is a boulder beach with both left and right peaks.
Drive two hours to return to our JUCY Christchurch branch. When you pass Amberley, be sure to make a pie stop (gluten-free available, too) at Bunco's. You won't regret it.

Otago overheads: Dunedin and the catlins
Day 1: Christchurch to Dunedin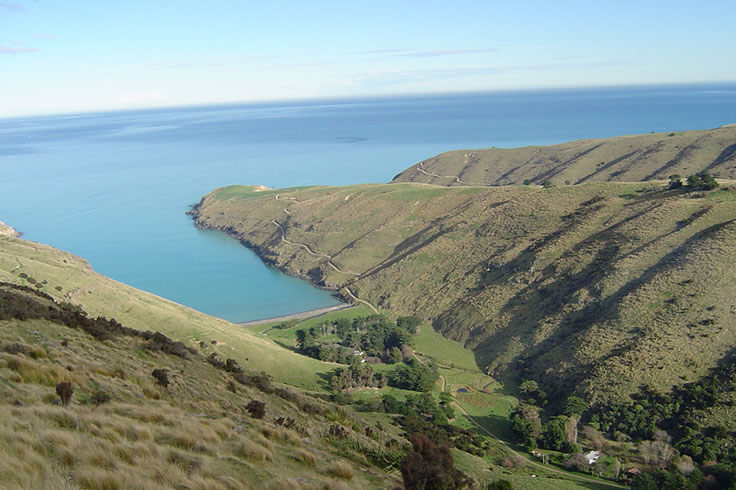 It's not just the great academic opportunities at Dunedin that make it one of the country's favourite student spots, the city also entices with convenient urban surf beaches.
After picking up your JUCY wheels in Christchurch, head towards the "Edinburgh of the South". As you're unlikely to turn down an opportunity to break up a South Island surf road trip with a wave or two, beginners consider stopping at Te Oka Bay near Akaroa; experts wait for Timaru, two hours along.
Te Oka Bay is a gorgeous sandy beach at the end of a narrow bay, creating fun waves for all levels. In Timaru, Jack's Point is an advanced surf spot with a right-hand point break and considered one of the South Island's best.
Continue to Dunedin and set up camp at the Dunedin Holiday Park, adjacent to the St Kilda surf. St Kilda is so close to the action; locals even catch a wave or two in their lunch break. Suitable for beginner's and pros alike.


Day 2: Dunedin to Catlins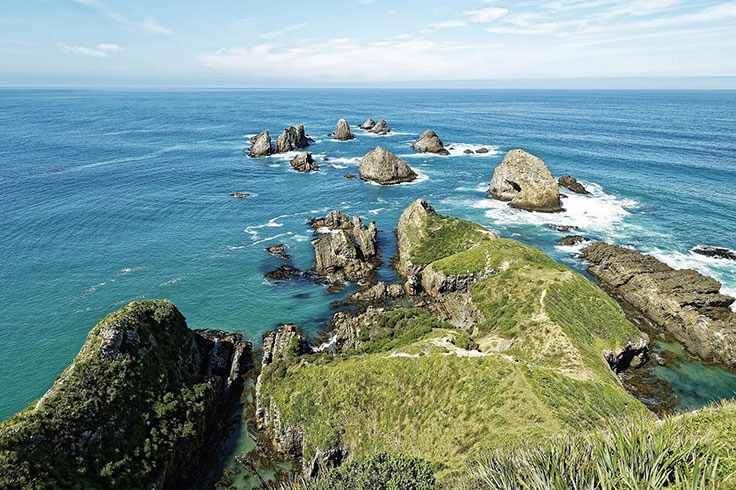 Rise and shine for a roadie to the Catlins Coast. This remote regional conservation park joins Otago and Southland, offering a chance for wild, unpredictable, and uncrowded surfing opportunities.
Drive your JUCY wheels about an hour and a half south, into the Catlins, to PK (Purakaunui) Bay. Suitable for all abilities and in all tide levels, catch a ride on one of the cleanest rides around set against the backdrop of the towering cliffs. You may even have a friendly dolphin or seal watching on.
Set up base here at the affordable Purakaunui Bay Campsite. For land activities, take a hike to Purakaunui Falls, head to Jacks Blowhole, or out to Nugget Point.
Stargazing can be phenomenal, so don't head to your comfy JUCY camper bed too early!


Day 3: Catlins to Dunedin (Detour to Colac Bay)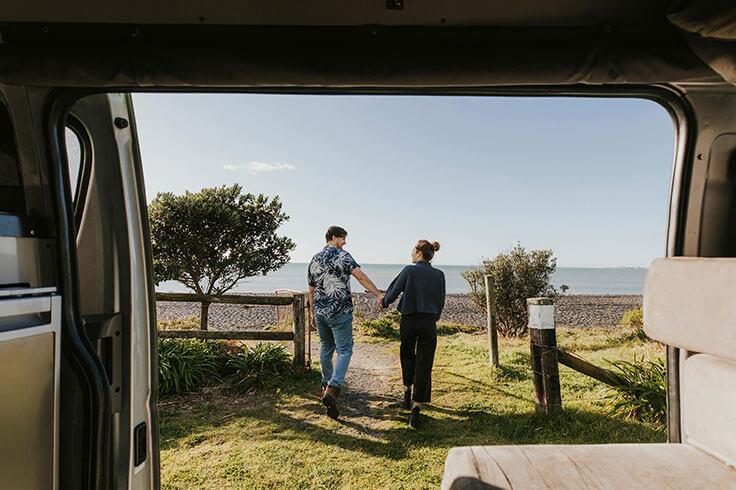 If you like to tick a feat off while you're on a roadie, then heading to Colac Bay is a mish worth accepting. This is pretty much the furthest south you will likely surf – both on mainland New Zealand and possibly the world! This exposed beach break offers year-round surfing fun.
Given how close to Antarctica you are, your warmest suit will be needed here. The 1ft waves – soft and wally – make Colac Bay good for beginners upwards. If you're looking for something a little wilder, Beaton's (near Riverton) is advanced surf with a left-hand point break on a rocky shore.
While in Colac, be sure to put 'Surfer on wave' into your GPS, because if there is one trip to snap a selfie with a giant surfing statue, this is it!
From here, return to Dunedin, a 3-hour inland drive.
Day 4: Dunedin to Christchurch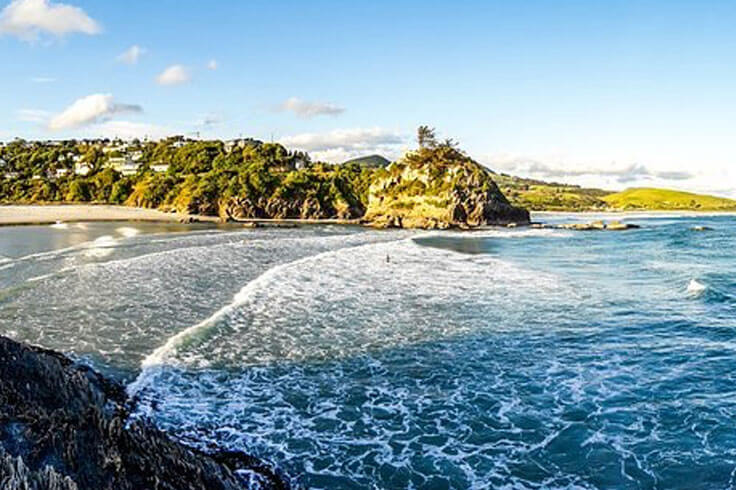 You can't leave Otago without a farewell surf, and the right-hand point beauty of St Clair is perfect due to its consistency and sometimes hollow waves. For a less-crowded final surf, venture 30-minutes north to Aramoana Beach.
From here, allow four and a half hours to get back to our JUCY Christchurch branch.

A West Coast Wipe Out: Westport & Farewell Spit
Day 1: Christchurch to Punakaiki Beach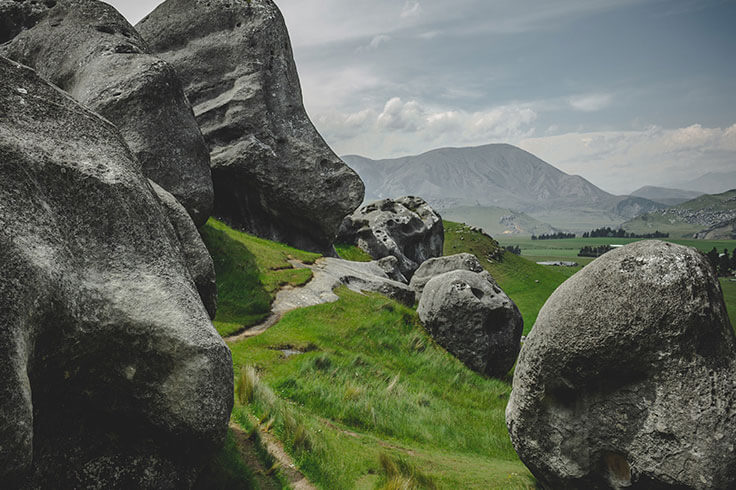 Pick up your JUCY wheels at our Christchurch Airport branch and start your South Island surf road trip by crossing one of New Zealand's iconic roadways – Arthur's Pass. It's so stunning here, you may even want to exchange some valuable surf time to take in more of the sights. Yes really!
En-route, stop at Castle Hill (Kura Tāwhiti). The Dalai Lama called Castle Hill the spiritual centre of the universe. Not New Zealand, not the world – the universe! It's about an hour into your journey, so why not get an 'om' top-up during your pee break?
If you're into hiking as much as surfing, you could stop at Arthur's Pass National Park. The Bealey Valley Track is rewarding.
Back on the road, journey 190 kilometres to Punakaiki Beach Camp, your suggested home for the night. Punakaiki Beach offers surfers some epic left-handers in a decent-sized swell, thanks to the sheltered locale. Your camp is only a 15-minute walk to the iconic Pancake Rocks, too.


Day 2: Punakaiki Beach to Westport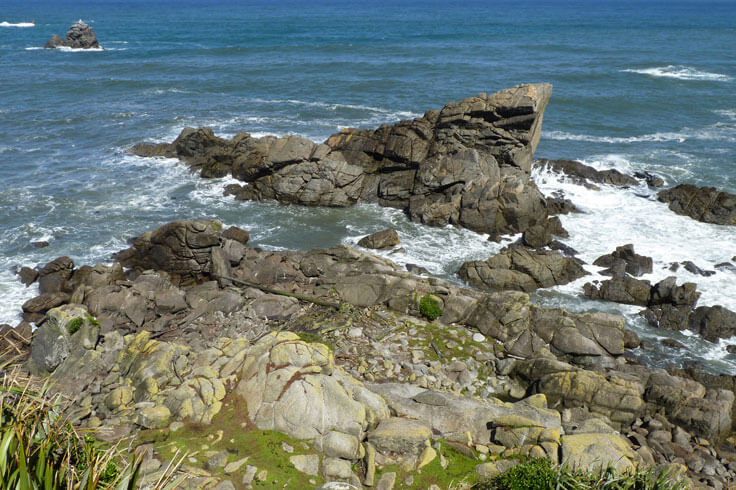 Today head 50 minutes north to Nine Mile Beach. One of the region's best left-hand reef breaks, there are also some powerful right-handers. Suitable for beginners to pro, the swell is as sweet as a ripe feijoa. Thrillseekers head to the northern end of the beach.
Another 30 minutes north is Tauranga Bay. This left-hand break often hosts national surfing comps. It's best surfed at low tide for intermediate surfers up. Check out the seal colony here, too.
For an afternoon surf, consider Carters or North Beach, both close to Westport town. If you need a caffeine hit to keep you going, Pr's is the place.
If the surf sucks a tall one, take a 2-ish-hour hike on the Cape Foulwind Walkway. If it's raining (and you're parked up), the West Coast Brewery seems a smart wet-weather idea, no?
Camp at Carters Beach Top 10 Holiday Park.


Day 3: Westport to Farewell Spit

Rise early today to continue your South Island surf road trip – this time to the wild north-west coast and epic Pillar Point. Located at the western end of Farewell Spit, this is a thrill-seeking, surf-loving, road-trip cruising dream. Why? Because this remote beach offers fun, fast waves for longer rides. Farewell Spit is suitable for all surf levels and you'll be more likely to spot a penguin or dolphin hanging around, than a fellow human.
If you want to break up the 4.5-hour journey, the Buller Gorge Swing Bridge gives you an excuse to stretch your legs. From there you're heading to the Tasman coast.
To reach Farewell Spit – the longest sand spit in New Zealand - drive past the Farewell Spit Café in Puponga. Cross the paddocks and dunes on foot to surf Pillar Point at the western end of the beach.
Camp at eco-friendly Farewell Gardens in Puponga. If you're surfed out, the Hilltop Walk right from camp affords epic views across the Tasman Sea and Golden Bay.


Day 4: Farewell Spit to Christchurch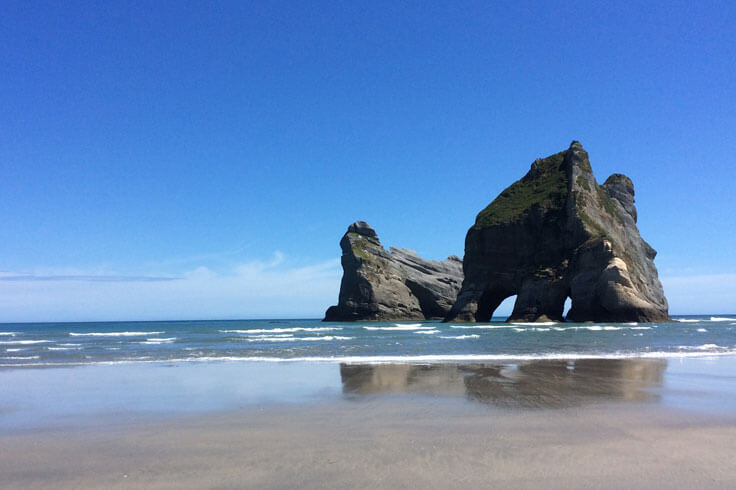 Wake with a dawn patrol surf at the beach break at Whakariki Beach before hot-footing it back to Christchurch. This is another stunning Kiwi sandy beach with several peaks for both left- and right-handers.
If you've got more time, add a day to your itinerary to surf the intermediate Anatori Beach or plunge into the waves at Paturau Beach.
The drive back to our Christchurch Airport branch is close to seven hours, so be sure to leave early enough to reach us by 3:30 pm.
Ready to drop-in to any of these sweet-as South Island surf road trip itineraries? Call our chill-as JUCY crew on 0800 399 736 or click BOOK NOW to lock your JUCY wheels in.