Take a North Island West Coast Road Trip
The Quieter Side of Life? Find out on a North Island West Coast Road Trip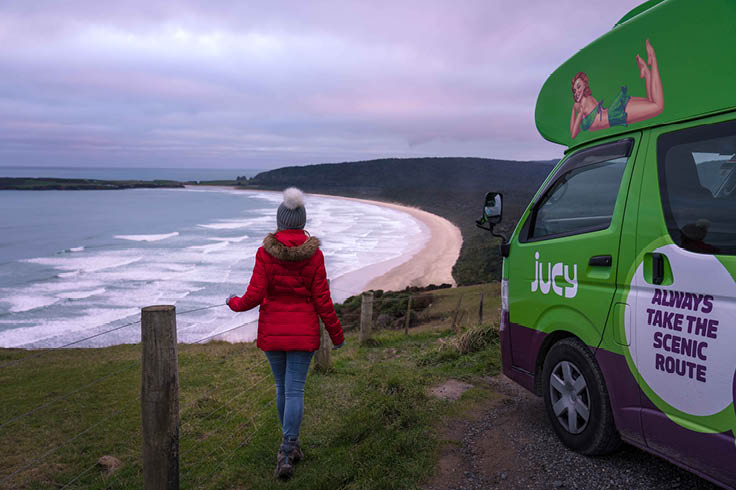 It's always the quiet ones, they say. Of course, they may be referring to shy kids who blossom into Hollywood stars or strange children who evolve into serial killers. However, we mean the quieter destinations in New Zealand. The not-so-out-there spots with the most incredible rewards. Like this North Island West Coast road trip!
Think about it. Tourism ads vie for your attention, encouraging you to book dolphin swimming in the Bay of Islands or wine tours out of Wellington. When was the last time you saw a campaign promoting a trip to Taranaki?
Until this one!
The southwest coast offers mind-boggling natural sights, countless cultural gems, and more outdoor activities than a Hobbit has hairs on their feet. So yes, the quiet ones are always the ones to watch for, and we're about to show you how to blossom on a 5-day North Island West Coast road trip.
Day 1: Auckland to Raglan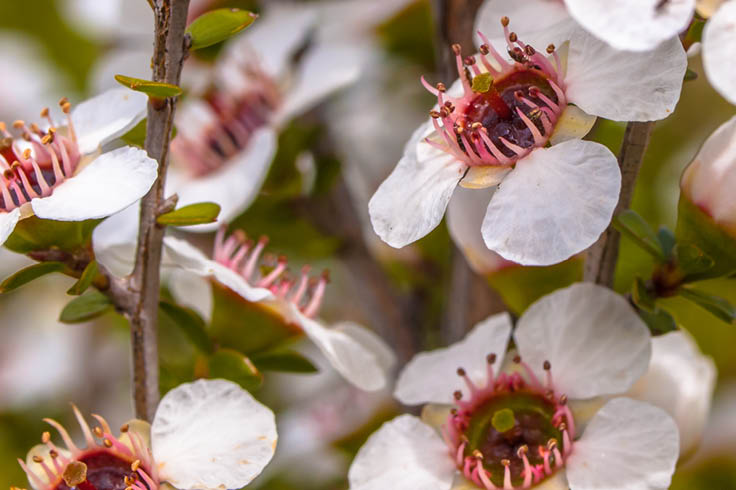 Pick up your JUCY wheels at our convenient Auckland airport branch today. If you're flying in, you'll appreciate our complimentary airport shuttle (during business hours).
We're all about streamlining your check-in experience so you can get on the road faster. Be sure to complete your pre-departure email ahead of time. Less time with us means more time exploring your first stop: Hamilton and its surrounds.
First up, explore the ancient forest and gushing waterfalls of Waikato's Hakariamata Scenic Reserve. Soak up the rainforest flora and fauna hiking the 2km return Summit Track. Or, take a more leisurely stroll on the Kauri Loop Track, with its kauri tree said to be over 1,000 years old!
Next up, head to the centre of the 'Tron. That's Hamilton if you want to get formal. Nestled on the banks of the Waikato River, the award-winning Hamilton Gardens is worthy of a gander. If your tummy has started rumbling, the Sugar Bowl Cafe makes a mean mussel fritter or the salmon hash at the River Kitchen is a melt-in-your-mouth morsel.
From here, head to the coast to wake to the sounds of the ocean from the Raglan Holiday Park - it's almost entirely surrounded by water!
Day 2: Raglan to New Plymouth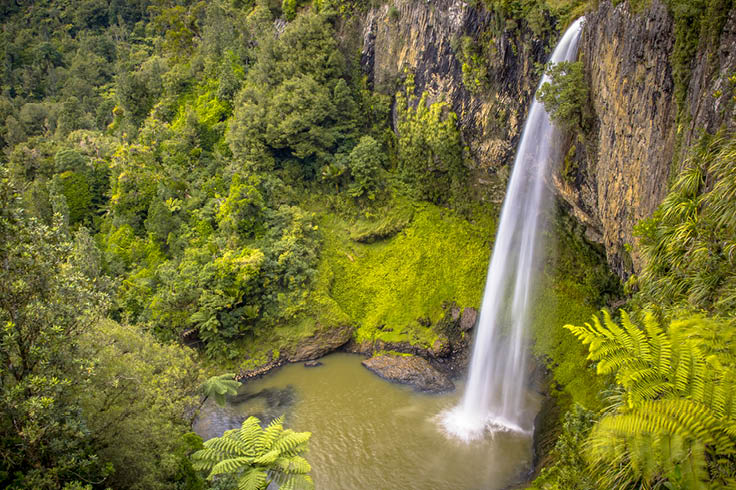 Start the day on a camping high, cooking a pancake feast in your custom JUCY camper kitchen. From chewy, chocolatey pancakes to one that would definitely crack a tooth, rent a kayak or paddleboard and make your way to the unusual rock formations of the Raglan Pancake Rocks.
Raglan is one of New Zealand's top surfing spots, so you'd be cray-cray to miss out on some time rocking the numerous point breaks here if you're a surfer. Ngarunui Beach is a firm fave.
On your way out of Raglan, stop by the Bridal Veil Falls, with its 55-metre Wairēinga Falls. For die-hard trampers with extra time on their North Island West Coast road trip (allow six hours), hike the ancient volcano on the Karioi Summit Track. The views go all the way to Mt Taranaki.
Kiwi road trip tunes pumping, travel south to New Plymouth and the 25-metre rock formations of the Three Sisters and Elephant Rock. Okay, it's actually now two sisters and an elephant without a trunk, thanks to sea erosion. However, it's still an epic roadside stop.
Continue to New Plymouth. There's no better way to welcome yourself into the folds of this 85,000-strong community than with a selfie at Te Rewa Rewa Bridge. Iconic out-there architecture, the bridge arches perfectly frame Mt Taranaki in the distance.
It's a stones' throw to a JUCY camping fave, the Fitzroy Beach Holiday Park, New Plymouth's only beachfront campground. Grab some supper at nearby Snappers Fish and Chips and watch the west-is-best sunset.
If you're visiting New Plymouth in summer, check out the Festival of Lights. Alternatively, the Taranaki Thermal Spa is a great place to soak year-round.
Day 3: New Plymouth to Hawera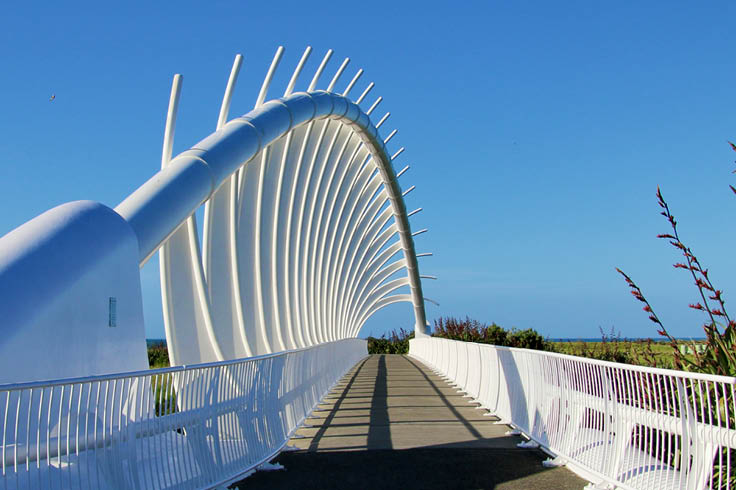 After cooking brekkie-out-the-back, stroll the Coastal Walkway from the campground to the CBD. This sea-edge promenade is an excellent way to reach the Govett-Brewster Art Gallery. New Plymouth has a solid arts and culture scene, with Govett-Brewster surpassing the contemporary galleries of the larger NZ cities.
Stroll inland to Pukekura Park, one of New Plymouth's botanical highlights. While you won't have time to explore all the botanical wonders of these 52-hectare grounds, you'll likely want to head to Poets Bridge to see Mt Taranaki looking majestic in the background.
Return to your camper (45 minutes on foot, or rent a Blip Scooter) and drive 15 minutes to spy the two million-year-old Sugar Loaf Islands. Snap some pics from the shore or get up close on a 1-hour Chaddy's Charter boat tour.
Onwards for some of nature's best-looking scenery and a North Island West Coast road trip highlight: driving around Egmont National Park on Surf Highway 45. Along the way, pop into the coastal communities, cool art galleries, and yumtastic cafés, plus, stop at the postcard-perfect Cape Egmont Lighthouse.
If time, visit the quirky, cultural Traders and Whalers museum. Aotearoa tales, twinkling lights, and a boat. We'll say no more.
Tonight, get as close to Mt Taranaki as possible and camp at Stratford Holiday Park.
Day 4: Taranaki to Rotorua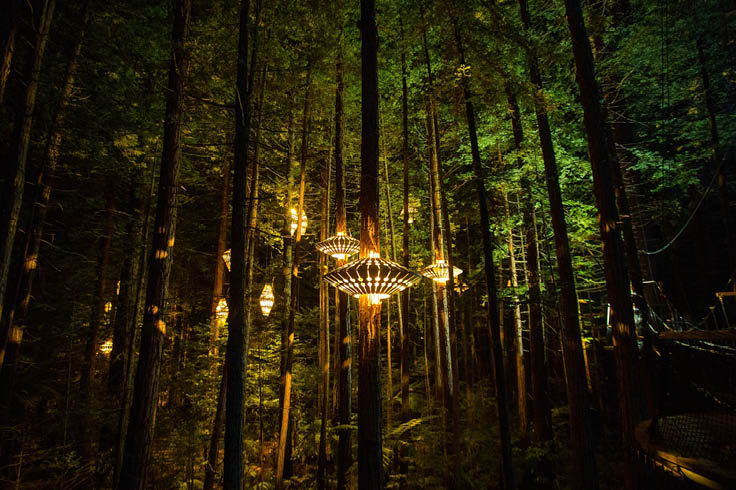 Start the day exploring the regional highlight – the lush and majestic Mt Egmont National Park. The light 1-hour Wilkies Pool Loop Track takes you through the Goblin Forest with its impressive, twisted, mossy kamahi trunks. You can also check out the 10-minute Dawson Falls, and for another hour on foot, add the Kapuni Loop Track.
From Stratford, take the Forgotten World Highway, travelling along SH43. This former colonial horse track takes you through unspoiled scenery, including the narrow Moki Tunnel and views from Whangamonoma Saddle.
After four hours (and some cool stops) in your JUCY, you'll have earned a relaxing soak in Rotorua. After freshening up at the All Seasons Holiday Park, head south to Kerosene Creek, where relaxing thermal springs await. If you'd prefer to stay local, the (hella romantic) Secret Spot Hot Tubs are a lush alternative.
The Redwoods Nightlights offer an enchanting, fairytale-like night walk through the treetops of the Whakarewarewa Forest.
Day 5: Rotorua to Auckland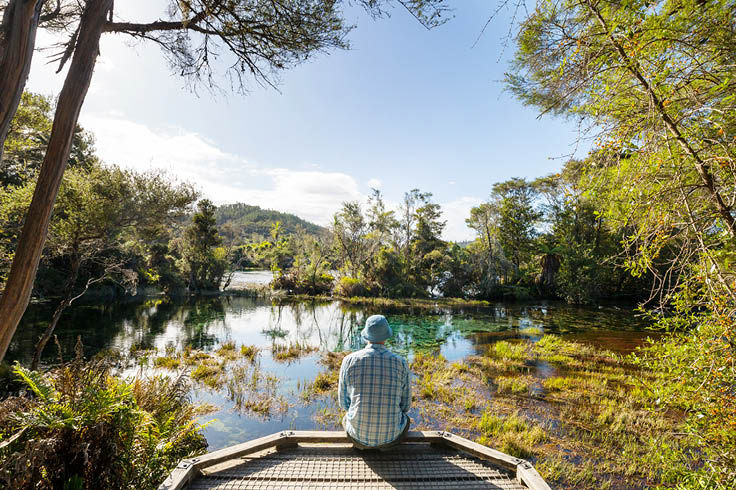 The last day. Noooo! You can't possibly think we'd encourage you to just drive back to our Auckland branch with no stops? No way, bro!
The last stop of the trip will likely be another trip highlight: the Blue Springs. The stunning crystal spring waters sparkle, and if you were to taste it, you would know them well. Why? Because most of the country's bottled water comes from here! Follow the Te Waihou Walkway to reach the springs.
After being almost blinded by the incredible array of natural colours on display at the Blue Springs, it's time to go. Allow two hours to reach our branch, but also factor in arriving 30 minutes before we close if you want to catch the last airport shuttle.
Short on Time? Your Long Weekend Itinerary Edit
We know that it's sometimes hard to get away for a full five days. Even for an incredible North Island West Coast road trip! No problem, edit this itinerary down by skipping Rotorua. Plus, switch your Hamilton and the Blue Springs visit for your return drive. You'll still have a blast, either way!
Decided you do like the quiet things in life? Along with this in-depth itinerary, we've got campervans waiting and an excited crew ready to set you up.
Now is the time to start LIVING JUCY so book your jucy campervan hire now or call us for free on 0800 399 736!